Interactive Brokers Review
What Is Interactive Brokers?
Interactive Brokers is a US-based brokerage firm.
Founded in 1977 in New York, Interactive Brokers' headquarters is based in Connecticut.
Interactive Brokers is one of the biggest electronic trading platforms, averaging 1.9 million trades per day and over 980,000 brokerage accounts.
It specializes in forex and CFDs.
As it operates globally, trading is available when those specific markets are open, meaning that you can potentially trade 24/7.
Is Interactive Brokers Regulated and Safe to Use?
Interactive Brokers is publicly listed on the NASDAQ Index and regulated by six tier-1 jurisdictions:
It is not regulated by tier-2 or tier-3 countries, which have little to no trust ratings.
As Interactive Brokers is publicly listed and regulated by many top-tier regulators, it makes it one of the safest brokers in the world.
Who Is Interactive Brokers For?
Interactive Brokers offers some of the best trading tools on the market. As such, the platform is recommended for more advanced traders with experience in research and data tools.
However, to make its platform more accessible, Interactive Brokers created a Client Portal.
This trading platform offers simpler trading tools and an easier interface, so new traders can join.
Interactive Brokers is also recommended for:
International investors
Margin accounts
Interactive Brokers' Products and Services
Interactive Brokers is available to customers all over the world. It has access to 125 market centers across 31 countries.
Its product range includes:
Stocks
Options and future options
Warrants
Combinations
Mutual funds
Shared products
Inter-commodity spreads
Services include:
Bonds, mutual funds and investors' marketplaces
No transaction-fee EFTs
Short securities availability
Third-party integration
Portfolio analysis
Interactive advisers
All products and services are available to all traders, with the only exception of retail forex trading not being available to US-based users.
Interactive Brokers' Platform Features and Tools
Interactive Brokers is considered the best in the world for its tools and platform.
It does not use MetaTrader or any other external program. Instead, it has developed its own trading platform.
Trader Workstation is available in: English, French, German, Italian, Japanese, Russian, Simplified Chinese, Spanish and Traditional Chinese.

The mobile app is available in: English, Dutch, French, German, Italian, Japanese, Russian, Simplified Chinese, Spanish and Traditional Chinese.

The Client Portal is available in: English, Dutch, French, German, Italian, Japanese, Russian, Simplified Chinese, Slovakian, Spanish and Traditional Chinese.
Trader Workstation
The Trader Workstation is the most definitive desktop platform on the market. It has 494 data points available for your column customization and 104 available studies.
Advanced features include:
Algo trading
Options strategy lab
Risk navigator
Strategy builder
This platform consists of many tools and charts; therefore, users need to be experienced enough to understand what they are looking at.
It is for this reason that Interactive Brokers is recommended for advanced traders and not beginners or part-time traders.
IBKR Mobile
IBKR Mobile is an app replica of the Trading Workstation.
It links directly to your desktop and features all the same tools.
The app is available to both Lite and Pro users.
Client Portal
Online trading saw an unprecedented rise in popularity during the 2020 Covid-19 pandemic.
Having a reputation as a platform for advanced traders, Interactive Brokers developed the Client Portal, allowing the company to access this new market.
This platform is designed for less-experienced traders with basic portfolio needs.
While it may be easier to use and organize, the features are not lacking in any way.
Client Portal offers:
Portfolio performance
IBot – A AI digital assistant to help you with anything you need
Forex charts with 16 optional indicators
Forex news headlines
Economic calendar and events
Syncing watch lists
Interactive Brokers' Account Types
Interactive Brokers offers many different account types.
For those living in the US, you have the option of:
IBKR Lite – Designed for casual or beginner traders and free to use for stock and EFTs listed on US exchanges.

IBKR Pro – Targeted at professional traders and has different pricing depending on the account amount.
For all users, there are account types to suit different ownership.
The main categories fall into accounts for individuals and accounts for institutions.
The options for you to choose from are:
Individual
Joint – Account owned and used by two people
Trust – Account is held by a trustee
IRA – US residents only
UGMA/UTMA – Accounts for minors and US residents only
Friends and Family – For up to 15 members
Family Office – For an individual who is a Family Office Member
Small Business
Money Manager
Advisor
Interactive Brokers Commission and Fees
Minimum deposit: $0 for both account types

Inactivity fees: 0forlite,20 per month for Pro users who have under 2,000accountbalanceandfailtomakea20 commission. Users with over $2,000 balance pay £10 per month

Transfer fees: One free wire transfer and one free paper check per month for both account types. Fees are then 10foreverywiretransferand4 for every paper check

Commission: No commission for Lite account for any stocks and EFT traded on US exchanges. Pro accounts are subject to tiered-based per-share pricing fees, which vary depending on the monthly order activity

Additional fees: Orders outside of stocks and EFTs may carry a fee or commission. The charge depends on the user's activity, size of the order and location. Broker-assisted trades carry a charge of 30,andmutualfundtradefeesare14.95
Interactive Brokers promotes itself as a low-cost broker and is ranked #1 for commission and fees in the StockBrokers.com 2020 review.
However, before placing an order, double-check the fees associated with that trade type and apply risk-reducing methods to limit potential losses.
For the accounts decided by ownership, different fees apply.
Interactive Brokers Research and Education
The research available through Interactive Brokers can not be faulted.
It offers free access to fundamental data on over 30,000 companies (data provided by Thomas Reuters), more than 5,000 analyst ratings and 70 third-party providers with free or paid subscriptions.
The Trader Workstation also has PortfolioAnalysist, drawbacks and ESG Research for further understanding and analysis.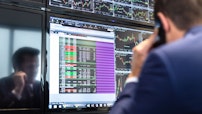 Interactive Brokers: A Review
Education-wise, the platform has the Trader's Academy, which offers:
Courses and webinars
Dedicated YouTube channel
IBot
Regularly updated blog
Quizzes
Demo account
Advantages of Interactive Brokers
It Is Regulated
Knowing that your money is protected under federal law is one of the most important factors when investing and trading.
The 2008 recession was the fault of top-level investors that found grey areas in financial legislation. These regulators do their best to ensure that that never happens again.
The fact that they are tier-1 regulators indicates that Interactive Brokers is potentially a trustworthy broker.
Tier-1 regulators are those nations with a solid financial presence and governance. Australia's ASIC has the maximum leverage restrictions for forex traders, followed by the UK, Germany and the US.
Wide Range of Offerings
While there are fees associated with different trades, Interactive Brokers has a vast product range for you to build a diverse portfolio.
Tools like PortfolioAnalysist help you maximize your investments and create a profitable portfolio.
Low Commission
US clients trading EFTs and stocks do not pay any commission on their trades.
For other types, the commission is low and competitive.
Exceptional Research Tools
There are limitless research possibilities with this broker, making users some of the most informed traders in the world.
Socially Responsible Investing
For socially responsible investing, Interactive Brokers offers a suite of environment, social and governance (ESG) tools to help you make trades that match your values.
The dashboard allows you to score a trade, market, index or country based on the things that matter most to you.
You can select from 13 principles, including LGBTQ inclusion, gender equality and clear air.
You can also exclude investments based on 10 categories, such as hazardous waste production, animal testing and lobbying.
There is also the option to set up notifications, so you will be instantly notified when that score drops.
Two-Step Verification
Cybersecurity is critical, especially where large amounts of money are concerned.
All Interactive Brokers' platforms require a two-step verification process before you can access your dashboard.
While having to enter a password and then a code sent to your mobile may get tedious, it does help prevent hackers from accessing your account.
24-Hour Customer Support
For those who trade through different time zones, knowing you can receive help when you need it creates a level of confidence.
Mobile, web and desktop platforms may all experience technical issues that need resolving. If you are in the middle of a trade, you want that fixed as soon as possible.
Disadvantages of Interactive Brokers
No Additional Platforms
Several competitors use various platforms, such as MetaTrader4, alongside their platforms.
However, Interactive Brokers only has its own platform.
This means that if your Trader Workstation goes down, there are no alternatives.
It Can Only Stream Data on One Device
You can not log into multiple devices; so you can use your phone or your desktop, not both together.
Inactivity Fees
Inactivity fees only apply to the Pro account.
They are charged monthly when you fail to make a $20 commission.
You can be the most active trader on Interactive Brokers, but if you do not make that minimum commission target, you will be charged 20(foraccountbalancesunder2,000) or 10(balancesover2,000).
How to Set Up an Account With Interactive Brokers
Opening an account with Interactive Brokers is fully digital but can be complicated with a lengthy verification process.
No minimum deposits are needed unless you intend on margin trading or making short sales. In that case, you need a $2,000 deposit.
Step 1: Select Account Type
For US residents, that includes Lite or Pro, as well as the ownership type. For everyone outside of the US, you select the ownership type.
After selecting ownership, you need to decide if your account is:
Cash
Portfolio Margin
Reg T Margin
Step 2: Personal Information
Name, address, tax residency, employment.
Step 3: Regulatory Information
Assets and income, investment objectives, trading countries, self-certification of tax residences.
Step 4: General Disclosures
Terms and conditions, agreements, signatures.
Step 5: Funding
Transfer and transaction type.
Step 6: Application Process and Verification
Verification of identity: Passport, driver's license, national ID.
Verification of residency: Utility bill, bank statement, driver's license, credit card statement.
The verification process takes about two business days which is longer than average.
Some reviews state that they encountered errors and technical problems while completing their application, so give yourself plenty of time to complete this process.
Final Thoughts
Interactive Brokers is a reliable and established broker with a large number of services and products.
Its desktop platform excels in research but can be difficult to use. The web-based Client Portal is an excellent alternative for those who are just starting their trading journey.
If you are looking for a broker that you can grow with, that has excellent resources and that will help you build a diverse portfolio, then Interactive Brokers could be the platform for you.
Additionally, the ESG tool makes it easier for you to make ethically smart trades and investments.
However, despite the rigorous regulations, Interactive Brokers received fines of $38 million in 2020 from FINRA, SEC and CFTC for widespread failures in its anti-money laundering program.
Before committing, it is recommended that you do as much research as possible and find a broker that matches all your needs.
Take advantage of any demo accounts, check for hidden or additional fees and apply as many risk-management techniques as you can.
WikiJob does not provide tax, investment, or financial services and advice. The information is being presented without consideration of the investment objectives, risk tolerance, or financial circumstances of any specific investor and might not be suitable for all investors. Past performance is not indicative of future results. Investing involves risk including the possible loss of principal.
---