DHL Application Process
All products and services featured are independently selected by WikiJob. When you register or purchase through links on this page, we may earn a commission.
With over 380,000 employees around the world, DHL is the world's leading logistics company.
The scope of its operation means it is able to offer a wide range of careers, from marketing assistants to IT professionals to delivery drivers, all united by a passion for delivering great service.
The company's application process consists of multiple steps, designed to help it select the right candidates for its award-winning business.
Introduction to DHL
DHL International GmbH (DHL) is a parcel carrier and express postage delivery company that operates in 220 territories around the world.
It specializes in delivering packages, documents and mail from door to door, even offering same-day delivery internationally with its Express and Sprintline services.
DHL is a division of the German company Deutsche Post and claims to handle 1.5 billion packages each year.
It describes itself as being 'as innovative as a start-up, with the power of an international organization'.
The company has won awards from the Great Place To Work Institute in various countries including Ireland, and in 2019, DHL Express was recognized by the Top Employers Institute.
The company is constantly on the lookout for new talented employees across all levels of the organization.
DHL has built a culture based on what it refers to as the two 'Rs' – Respect and Results – and conducts an annual Employee Opinion Survey which helps to gauge employees' feelings about their workplace and potentially influence decisions on how the company moves forward.
The company has made pledges to diversity – citing the way the company is able to bring together workers from so many different backgrounds as one of its principal strengths; as well as to sustainability with initiatives like Global Volunteer Day or the GoGreen program that it actively encourages employees to get involved in.
Through various on-site training programs, DHL encourages employees to develop their professional skills and progress in their career.
Many employees are able to move not only through departments, but to different locations, even transferring to different countries during their careers with this continually expanding, global company.
DHL Career Opportunities
The scope of operation at DHL means there is a wide range of career options available.
These include
Entry-level jobs (such as couriers or warehouse assistants)
Apprenticeships and graduate schemes
In-house Health, Safety and Environment teams
IT support workers
Engineering teams
The company claims to pay a competitive salary to workers as well as offering opportunities for career progression and on-the-job training.
The divisional leadership program and e-learning portals aim to equip employees with additional skills and expertise including language skills and health and safety training.
The company also offers added incentives to all staff, such as employee of the month.
Graduates and Students – Internships
DHL has been partnered with the AIESEC since 1996 to offer postgraduate and undergraduate students the opportunity to complete a six to 12-month internship at the company.
To qualify for a graduate internship, students must be studying for an undergraduate or master's degree.
Further eligibility criteria apply depending on the role; however, students are expected to maintain above-average grades and possess excellent communication skills and a working knowledge of MS Office, as well as being dedicated team players.
DHL Express Graduate Careers (UK and Ireland)
Guided by a dedicated mentor, graduates are encouraged to take a leading role right from the very start of their career with DHL.
The company aims to support university graduates into the workplace, teaching them the skills involved to succeed in the International Express Logistics industry, as well as covering a broader range of topics within business in general.
The application process for the graduate programs is similar to the general application process at DHL:
Online application – This is where you complete personal details, education and training information, and submit it online.
Strengths journey – This test is based on real-life situations that graduates have encountered. You will be asked to rank a set of responses according to your preference. This gives applicants the opportunity to demonstrate their problem-solving skills.
Interview with the hiring manager – This may be a video interview. It gives applicants the chance to show their personalities and explain their motivations for applying to DHL.
Experience day – You may be asked to attend an experience day. You will be given time to prepare and told in advance what to expect.
Onboarding – This is where the job offer is formalized and paperwork is completed.
DHL also offers a specialist DHL Supply Chain Graduate Program as part of its Emerging Talent initiative.
Graduate programs are not available in every territory in which DHL operates and recruitment processes may vary.
Experienced Hires
As a company, DHL is always keen to hear from skilled individuals who are seeking career progression and new opportunities.
The company has challenging or executive roles available for people who can demonstrate relevant experience and a passion for the company's core values.
Ex-Forces
DHL has signed the Armed Forces Covenant and offers career opportunities to ex-military personnel, working with the Career Transition Partnership to reintegrate service leavers into the workplace.
Apprenticeships
DHL offers various apprenticeship programs from level two to level seven, as well as a Degree-Level Apprenticeship Program that starts each year in September.
While learning valuable skills at DHL, apprentices can expect to work a minimum of 30 hours per week and earn at least the national minimum apprenticeship wage.
These programs take up to five years to complete, depending on the level of apprenticeship or qualification you are working towards.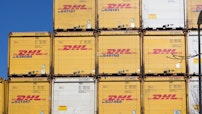 DHL Application Process
Application Process at DHL
The application process at DHL may vary slightly due to the nature of the job, the location or the area of the business you are applying to.
Different divisions of the business may use a different combination of selection tools; for example, applicant days, interviews or assessments.
However, this is the basic framework that the company aims to follow to select the right candidates for its vacancies:
Online Application
Searching for jobs online is quick and easy. Once you have found a vacancy at DHL, you will need to select the 'Apply' button and fill out all of your relevant information.
You may also need to attach supporting documents such as a current CV or cover letter.
Once you have sent off your application, an automated email will confirm that it has been received, so it is important to make sure you provide your correct email address and check your spam/junk folder if you don't see the confirmation right away.
If you are considered a viable candidate for the role, you will be contacted to progress to the next stage of the interview process.
Telephone or Video Interview
The next stage in DHL's hiring process may be a telephone or video interview.
This is not usually a live chat but a chance to record and send answers to some questions that you have been provided with. Your responses will be reviewed by a hiring manager.
This can be done on any electronic device (PC, laptop, smartphone or tablet) at a convenient time for you.
It is best to pick a place that is free from background noise and try to speak clearly and calmly.
Personal Interview
If the hiring manager is suitably impressed with your telephone/video interview, they will invite you to attend a face-to-face interview with them and a member of HR.
This will give you a chance to highlight your relevant skills and experience and show them who you are as a person. This also gives you a chance to ask any questions and learn a little more about the company you are applying to.
Assessment Centers
If you are successful at all of the previous stages, you will be invited to attend a session at one of DHL's assessment centers.
This will give you the opportunity to meet other applicants and some current employees at DHL, including those in senior positions.
You will be observed as you complete tasks and try to work as a team.
Onboarding
If you have completed the various parts of the application process and are offered a job at DHL, you will be able to sign your contract and collect documents that will prepare you for your first day.
Top Tips for Applying to DHL
Focus On Your Application
Your initial application and CV will give any potential employers their first impression of you, so it is vital that you get this right.
Proofread your CV and application for spelling and grammar errors.

Structure any text correctly and include everything that is needed but try to be clear and concise.

Mentioning any hobbies or interests outside of work is a great way to add a personal touch, but the bulk of information you provide should be about your education and employment history.

DHL is a progressive company, with technology at the center, so it prefers online applications.

Check you have included or attached everything that the job advert requires – do not send an application with bits missing or without supporting documents as this will delay the recruitment process.
Go the Extra Mile
DHL is particularly impressed by applicants who include a letter of motivation.
This is your chance to go the extra mile and show how passionate you are about the company, how your skill set can help to improve things and why you are the best fit for the role.
Dress to Impress
DHL wants to attract candidates who are passionate about making a positive difference and delivering great service.
Try to present yourself in a professional way – no jeans or chipped nail varnish.
It might not be necessary to wear a suit for an interview to work in a warehouse, but you can still demonstrate a level of professionalism.
Wash your hair, shine your shoes, arrive on time – first impressions count.
Be Knowledgeable
One of the key values that DHL embodies is putting customers at the center and delivering high standards of service – impress the interviewer by showing that you have researched the company and that you understand more than just the facts of what a logistics company is.
Stay Calm
By the time you reach the face-to-face interview or assessment stages, the recruitment team will already have had time to scrutinize your application, CV and phone/video answers.
If you are progressing successfully through the stages, there is a high chance you have exactly the skills that DHL are looking for, so try to keep nerves to a minimum and just be yourself.
Listen and Engage
Once you are at the assessment center (or experience day) stage, try not to get overwhelmed.
DHL is looking for candidates who can work well as part of a team, so make sure to engage with your team mates at every stage and listen to them.
As a company, it also prides itself on an ethos of 'getting it right first time, every time' so try to demonstrate that you have high levels of accuracy and attention to detail.
Try not to be negative, even if some of the challenges you are presented with are difficult.
DHL wants to recruit people who have a positive outlook and a can-do attitude – focus on your strengths and not your weaknesses, and make use of the skills of others around you.
Final Thoughts
If you are passionate about logistics and providing great service and would like to be part of a global network that offers a host of different career paths, consider making an application to DHL.
You will need some patience and organization to follow the recruitment process through from start to finish, but try to keep in mind that DHL only wants to recruit dedicated, focused individuals who will thrive within the company.
This is why even its application procedure isn't without challenges of its own.
---