What to Wear to An Interview: Outfits and Clothes for Women & Men
Due to an increasing shift towards a more informal working culture, it can be hard to know what to wear to an interview.
Whilst some industries still expect interviewees to attend in formal business wear, others take a more casual approach to recruitment. This article will discuss interview outfit trends, and why what to wear for an interview remains as important as ever.
Why Is Dressing Correctly for an Interview Important?
The purpose of an interview is to provide a potential employer with the opportunity to assess your suitability for the role on offer.
While judgement will be predominantly based on your interview performance, first impressions count for a lot – and how you present yourself can carry major weight.
Dressing appropriately for an interview is important because:
It presents you in a professional light. Regardless of whether you attend your interview in formal business wear or something more casual, a well-presented outfit shows that you are serious about the opportunity on offer, that you understand and respect professional standards, and that you take pride in your appearance. From an employer's perspective, a candidate that puts little effort into how they look may well have the same laid-back approach to their work.

It demonstrates industry understanding. Attending an interview in a carefully chosen outfit can show the employer that you have a good understanding of the professional norms associated with your chosen industry. For example, formal business wear would be the standard for a job in the finance sector, whereas a role in graphic design would generally come with a more casual look.

It shows you've looked into the company culture. A well thought-out interview outfit not only proves you understand the industry, but it can also show that you've done your research and identify with the hiring organisation's company culture. Turning up in full-blown business attire when the interview panel are all dressed down could give the impression that you've misjudged the company's ethos and, subsequently, aren't quite the right fit.

It can boost your confidence. Putting thought into what to wear to an interview can also bring a personal benefit by way of self-confidence. An outfit in which you feel both comfortable and professional can put you in a positive frame of mind and help to calm the nerves. Ultimately, the right level of self-confidence will go a long way towards a strong first impression.
When choosing what to wear to an interview, consider how your physical appearance can complement your skills and experience, and help to demonstrate that you are a good fit for both the role and the hiring organisation.
What to Wear in Different Interview Scenarios
Different industries have different expectations when it comes to what to wear to an interview.
The following examples provide guidance on business formal, business casual and smart casual wear, the types of roles they are associated with, and interview dress tips for each scenario.
1. Business Formal
Industries such as finance, banking, legal, high-profile sales and HR all fall into the business formal category of interview attire. You'll want a polished outfit that presents you as assertive, confident and professional.
Stick to a tailored suit with the jacket buttoned up, a plain, light-coloured shirt and a tie. Avoid black as this can appear stuffy. Greys and dark blues offer a much more approachable look.
Keep your tie simple and avoid heavy patterns, bright colours or novelty ties. Colour match it to your suit or choose pastel tones to complement.
Finish off with smart leather shoes (well polished), a leather belt and perhaps a briefcase. Compliment the look with a nice watch but avoid any other jewellery.
Wear a skirt or trouser suit in dark tones with a light coloured buttoned blouse or shirt. It's generally acceptable for women to go without a jacket, particularly in warmer months, but it's a good idea to carry it with you. Keep the skirt below or just slightly above the knee and complement with nude tights.
If you're comfortable in them, wear a tapered heel of no more than three inches. If not, opt for smart flats; avoid open toes or slingbacks. 
Complete with a briefcase or smart business bag, and subtle jewellery such as a simple bracelet watch. Don't accessorise with cheap jewellery, as it will harm your professional appearance. If you don't own something smart, simply go without.
2. Business Casual
Technology, education, marketing and hospitality are examples of the industries more commonly associated with business casual wear.
This style of dress is more difficult to define than business formal as different people have different views on what it means in practice. A good rule of thumb is to try and balance elements of casual wear with more formal attire.
What to Wear to an Interview: Male
Smart trousers or chinos are generally good foundations for men. When it comes to your top half, blend business with casual. For example, a button-down shirt with an open blazer or sports jacket, or a fitted V-neck sweater with a collared shirt and tie beneath.
Colours tend to move more towards lighter tones for business casual but remember to keep them neutral.
Complete the look with a coordinated belt and smart casual shoes, such as leather brogues or Oxfords, and consider swapping out the briefcase for an over-the-shoulder leather satchel.
What to Wear to an Interview: Female
Smart trousers, chinos, khakis and knee-length skirts all work well for business casual. Match them with blouses, shirts or smart tops and a casual blazer over the top. Again, lighter tones are acceptable, as are short sleeves for women.
Whilst a smart dress is also appropriate, a two-piece generally gives a more professional look.
Stick to low heels (either block or tapered) or flat shoes, avoiding open toes. Choose subtle accessories and complete with a smart tote bag or portfolio.
3. Smart Casual
Smart casual is a dress code most commonly associated with the creative industries and start-up business culture, where the workforce is generally younger.
In creative interview scenarios, it can be acceptable to present a little of your personality through your outfit. In certain roles, such as the arts or fashion, showing a little personality is advisable, as individual style can help to showcase your artistic flair.
Remember, though, you are still attending a professional appointment and your outfit should reflect that.
What to Wear to an Interview: Male
Button-down shirts, either plain or in simple check, V-neck sweaters, relaxed fit tops or a plain t-shirt and blazer combination are all acceptable for the smart casual interview. As always, keep your colours neutral and coordinated. Try and stick to full-length sleeves, as they generally give men a smarter appearance.
For your bottom half, khaki pants, chinos and well fitted dark wash jeans can all be worn in a smart casual interview. Try and balance your choice of trouser against your choice of top: for example, dress up jeans with a blazer, or dress down chinos with a V-neck sweater.
Stick to shoes such as brogues or loafers (suede is acceptable for smart casual) and a smart shoulder bag or satchel.
What to Wear to an Interview: Female
The female version of smart casual is essentially a step down from business casual. Feel free to swap out the trousers or skirt for dark wash skinny or tailored jeans, and add a simple pattern such as a check to your top half (of course, plain is also fine if that's what you prefer).
Flat shoes or boots are acceptable for a smart casual look.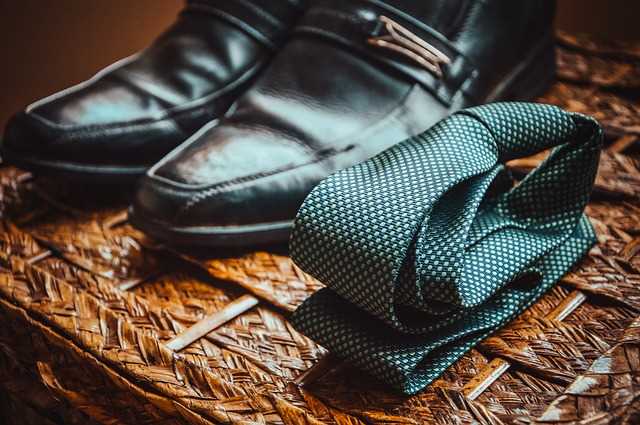 What to Do If You're Unsure of the Dress Code
For some job roles, the guidelines are pretty clear-cut when it comes to what to wear to an interview. For others, it can be a little harder to determine the expectations around appropriate attire.
If you're unsure, always play it safe, as it's far better to turn up overdressed than underdressed.
For your peace of mind, there are a few steps you can take to help you plan an appropriate style:
Visit the company's website and social media pages and see if there's any indication of its workplace dress code. As a general rule, aim to go one step up from this in your interview attire.

Reread all correspondence relating to the role, including the initial advert, job description and invitation to interview, and consider the language used. This will give a good indication of whether the company adopts a formal or casual business style.

If you have any contacts from within the company, get in touch and ask for some interview dress tips. You could also contact the company's HR department for guidance.
As stated, if you have any doubts at all, err on the side of caution. Business casual is generally a good fail-safe since it falls between the more formal and casual styles.
What Not to Wear to an Interview
When choosing what to wear to an interview, it's important to remember that you are presenting yourself in a professional capacity and, whilst you may adopt a unique personal style out of work, this is not necessarily suitable for the interview room.
As discussed, in some cases it may be appropriate to show a little of your personality through your outfit but, generally speaking, it's best to let your individuality come across through your interview performance rather than your dress sense. With that in mind, always opt for professional over personal style.
In addition, there are guidelines you should follow when it comes to what not to wear to an interview:
Don't wear anything that shows too much flesh or that could be deemed inappropriate, such as short skirts or low-cut tops.

Stay away from anything too casual, including sportswear, t-shirts, shorts, flip flops and trainers, even in hot weather.

Avoid anything that could be seen as untidy in the eyes of the employer, such as distressed or ripped jeans, and baggy or oversized clothing.

Don't over-accessorise and keep jewellery to a minimum. If you have any visible piercings, it's also advisable to remove these for your interview as well.

Steer clear of loud colours and patterns, as these can be a distraction. Stick to a simple style in dark or neutral colours.

Refrain from wearing anything that is visibly branded. Avoid logos and printed graphics.

Don't wear heavy makeup or go overboard with perfume or aftershave. Keep it subtle and let the interviewer focus on you as a person.

If you have tattoos, choose an outfit that covers them up. It may be perfectly acceptable to have them on show in the day-to-day working environment, but it's best to err on the side of caution at interview stage.

Finally, avoid anything that is overly prone to creasing or likely to shift. You want to be confident that you'll look as presentable upon arrival as you did when you left the house.
Final Thoughts
Choosing what to wear to an interview is an integral part of your preparation. You should plan your outfit way ahead of time to prevent any last-minute emergencies that may well impact your nerves.
Make sure that whatever you choose makes you feel relaxed and confident. If you appear uncomfortable at interview, the employer may mark this down as a negative point.
You could even consider a dress rehearsal – a practice interview with a friend or family member in which you wear your chosen outfit. This will not only ensure you're comfortable with what you have picked, but also provide the opportunity to get a second opinion.
For more tips on how to succeed at interview, see our article on general interview advice.
---