Babcock Graduate Scheme
Recruiting the Brightest Individuals
Founded in 1891, the aerospace and defence pioneer has grown to become internationally recognised.
Babcock has more than 34,000 employees and its headquarters are based in London. The company's origins started off in the manufacturing of steam boilers for transport.
Today, Babcock has extended its operations into areas such as nuclear submarine systems and marine technology solutions. It stands as one of the most important defence support agencies across the UK.
The corporation works closely with the Ministry of Defence. It is consistently recruiting the brightest individuals who can consolidate Babcock's position in the world of military strategy.
In this article, you will find out what some of these opportunities are and how you can get your foot in the door. You will also learn what the general recruitment process entails and what you will need to revise.
Babcock Graduate Scheme Opportunities
Joining Babcock, whether that is in naval architecture or aerospace architecture, will be the start of a prosperous career.
The programmes offered at Babcock are vast and wide, and there are as many as 28 programmes to choose from. Collectively, all of these programmes overlap to contribute to the success of Babcock.
However, each one of them provides a separate career path. Depending upon your skill set, your education and experience, there will be some programmes that are more suited to you than others.
Most of the programmes offered at Babcock start at an annual salary between £29,000 and £32,000, but this is only a starting position. With these career pathways being so well-developed, the salaries will increase quickly over time.
Rather than discuss every individual requirement of each programme, it is more important to outline the general opportunities available and what you may be best suited towards.
Engineering and Science Opportunities
With Babcock being a corporation built around military defence, most of the graduate opportunities are engineering-based.
Civil and structural engineering, and aerospace engineering, are programmes geared towards the physical construction of Babcock's infrastructure and military projects.
Further, these types of programmes are suited towards candidates with a desire to work hands-on in the industry.
If you have an undergraduate degree in an engineering field, then these programmes will suit your strengths.
It is worth mentioning that engineering is not just restricted to the development of physical projects. There are also graduate schemes offered in design and software. These types of programmes suit candidates who have a strong background in architectural design.
Engineering opportunities are available internationally, but it is likely the opportunity you are interested in will be located in the area where the physical construction is taking place.
Many of the engineering projects are based in Bristol and Plymouth. If you have a strong degree in this area and are interested in working in the south of England, these graduate opportunities are for you.
Analytics and Technology Management
The analytical programmes are more suited to candidates who are strong with data and design.
Working under one of the analytics schemes will lead you towards working on some of Babcock's most innovative projects. You will be collaborating in the modelling of computer systems, statistical portfolios and technological simulations.
If you have graduated in mathematics, statistics, physics or computer science, these programmes are tailored towards your knowledge.
Whether the scheme is in data analytics, creative technologies or computer science, or science and analytical chemistry, your career will be channelled towards improving Babcock's industrial practices.
As you will be working with some of the most technologically developed systems at Babcock's disposal, you will most likely be located in the major sites such as Plymouth and Bristol.
Babcock is constantly on the search for the creatives who will help modernise their company. It is on these programmes that you will be able to showcase these creative skills.
Project Management, Solutions and Commercial Practice
With Babcock being an international company with global influence, there is a strong emphasis on business cultivation.
Graduate schemes based in these three areas are unique in that they prioritise the image of Babcock and its business communications.
If you have a background or education in business, economics or finance, then these programmes will ensure a prosperous career in your chosen field.
The location varies widely in these roles, as you will be sent to areas where there is a need to improve business practices. If you are looking for a career that spans across the globe, then these programmes may be a great choice.
Further, your communication, negotiation and customer service skills will be challenged in these schemes.
Some of the programmes include business solutions in IT development and management, commercial support and management, and business operations management.
These roles are essential for Babcock's profitability and require candidates who are confident and extroverted.
Security, Safety and IT
For Babcock to run efficiently, it relies upon its intricate protocols of security and information assurance. Further, Babcock's solutions and products must meet the industry standards of safety.
The graduate programmes offered in these three areas are all geared towards ensuring Babcock's industry practices are safe and viable.
For instance, the health and safety graduate scheme prioritises that the nuclear appliances meet safety guidelines to ensure human and environmental protection.
As well as this, these programmes ensure Babcock recruits workers who are able to contribute to the corporation's intricate cyber defence teams.
Today online security is a genuine threat, particularly to a corporation that mechanises nuclear defence systems.
These roles are becoming more and more essential as the world of cyber security is expanding.
If you have a degree in information security, environmental management and even behavioural science, then these graduate programmes are suited for you.
The schemes are located primarily in Plymouth, Bristol and Portsmouth, but as with all of Babcock's career pathways, there is an opportunity to work in various locations.
Choose one of these pathways will lead to a valuable position with Babcock.
What Are the Requirements for the Babcock Graduate Scheme?
With Babcock's schemes being so enticing and popular, it prioritises candidates who can bring the best to the company.
However, Babcock prides itself on its inclusivity and opportunities. The company offers many benefits to encourage application.
As discussed above, Babcock takes candidates from various academic backgrounds. You do not have to just be an engineer to apply at Babcock. If you have a background in mathematics, physics, or even finance, there will be opportunities available.
Further, you do not have to be located in one of Babcock's headquarters. The corporation does offer relocation assistance, and even payment, for it, after the appropriate discussions have taken place.
Whatever your concerns may be, Babcock has created these schemes to be accessible to candidates from many different backgrounds.
The requirements to apply for a Babcock graduate programme are standardised. Most of the schemes require graduates to have at least a 2:2 in an appropriate degree field.
Some programmes, such as health physics, outline that candidates with a postgraduate qualification in radiology would be desirable; however, it is not a basic requirement.
Further, it must be stated that, currently, Babcock is not offering visa sponsorship to work in the UK, so it is primarily looking for British citizens.
Many candidates do want to apply for more than one of the graduate schemes, and though it is possible to do so, Babcock advises that candidates prioritise one course.
If you have the credentials that are suitable for another graduate scheme, Babcock will consider you for any other roles that may be available.
However, despite this, it is much more preferable to put all of your energy into one application. This will serve you better than spreading yourself thin over too many applications.
Moreover, Babcock does offer feedback on your applications, but only if you reach the assessment centre stage.
The reason for this is that it receives many applications and does not have the time to offer feedback to everybody.
If you do receive feedback on how to improve your application, you are free to apply to the next intake of positions, once the registration is open.
In addition, Babcock does not accept any deferred applications. Your application must be for the intake of the same year, which is usually between July to October. Registration for these positions opens in autumn.
Babcock Recruitment Process
There are four steps to the hiring process at Babcock, and each is designed to identify a specific set of skills and qualifications.
As you get deeper into the application process, you will come into contact with more members of the recruitment team and other potential candidates.
It is important to understand what you will need to demonstrate to give yourself the best opportunity of obtaining a career at Babcock.
Here are the four steps:
1. Applying
Once you have selected the graduate scheme that best suits your career goals, you will be taken through an online application process.
It is in this application that you will fill out your basic details, your experience and your educational background.
When tailoring a CV for the Babcock graduate programme, it advises that you make a CV that is short, well-formatted and, most of all, honest. You may think this advice is commonplace, but it is always surprising how many candidates skip over the basics.
Here are WikiJob's best tips and hints to help you create an impressive and informative CV.
Once you have submitted your online application and the correct documents, you will be shortlisted if you have the skill set Babcock is looking for.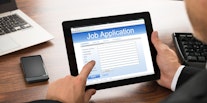 Babcock Graduate Scheme
2. Online Tests
Completing online tests can be the most daunting part of a corporate application process for many people. However, once you have a solid understanding of what you will be answering, there is little to fear.
Babcock wants a workforce that has versatility and skill sets in all facets. Do not worry if you come across an online test that you feel perplexed by, as there will be another test that will certainly suit your strengths.
There is a range of tests that you will be asked to take, but these are the major ones to look out for:
Psychometric Tests
These are tests to calculate your preferences, abilities, attitudes and facets of personality. It must be stressed that there are no outright correct answers in a psychometric test, but instead there are answers that are more favourable than others.
You will most likely be presented with a selection of scenarios, and you will be asked to choose from a set of answers to demonstrate how you would respond.
The response you choose is a measurement of your conscientiousness, your agreeability and your temperament.
To prepare for these personality tests, it is important to get yourself in the right frame of mind. Meditate or exercise beforehand, ensure that you eat well and, as with all tests, be honest with your answers.
Saville Test
The Saville test is another form of a psychometric test, but it is geared towards testing your numerical reasoning skills and logical aptitude.
You will be asked mathematical and statistical questions, and you will be presented with scenarios where you must decipher certain patterns.
Whatever the test may be, it is important to note that Saville tests are often a combination of various assessments. Babcock uses such tests to find candidates who have a wide range of skills and abilities.
The best way to prepare is through practice. Saville tests are often short and do not require much time to complete.
When taking these types of tests, remember to check your answers and be accurate when answering. Use a calculator, if permitted, and record your workings thoroughly.
3. Assessment Centre
Once you have completed a set of online tests, you will be invited to an assessment centre, where you will meet other candidates and members of the recruitment team.
This is your opportunity to gain insight into how Babcock functions as a corporation. Take interest in your surroundings and the company's practices.
You should prepare for this as you would for an interview. These are some of the most essential points to bear in mind:
Be well-rested and have breakfast
Arrive on time
Be approachable. Shake hands and ask lots of questions
Have all the appropriate documents to hand
Be prepared to take notes
After the meeting and greeting everybody, Babcock will take you through the assessment day.
Here is what to expect:
A Company Presentation
At this stage, Babcock will outline the company ethos and inform all candidates about the type of company they are applying to.
Listen carefully during this presentation, as it will serve you in the subsequent exercises. Keeping in line with the company's principles during the team exercises and presentations is a great way to show how aware you are of the corporation's aims.
Ice-Breaker Exercise
As with all introductions, the ice-breaker exercise will prove to be daunting for those who are not extroverted.
Rather than worry about what you will say to a question such as, 'What would you consider to be your biggest achievement to date?', instead consider how your answer sits with the other candidates'.
Remember that you are breaking the ice. The opportunities to impress will come later.
Speed Interviews
For all candidates, Babcock organises eight smaller interviews. The process will last around 45 minutes, but you will be asked an array of questions from each different interviewer.
You will need to expand upon your experience, your reasons for applying and your knowledge prior to application. The aim is to get you to respond in a variety of ways. Each member of the recruitment team will have a different approach and you will have to navigate this.
For the very competitive roles, there will most likely be a separate interview. In this circumstance, you will be interviewed by a team rather than separate individuals.
Presentations
The presentation will take no longer than 15 minutes, and it will be on a subject provided to you by the recruitment team.
You will be given a short amount of time to prepare for the presentation, but the aim is to make you think on their feet.
Demonstrating your knowledge and your communication skills is more important than learning everything you have been provided with.
Business and Team Exercise
The business exercises are towards the end of assessment day, and at this point you will have become well-acquainted with the other potential candidates.
You will be presented with a scenario and, to succeed, you will have to work out the solutions between you.
It is often related to the business practices of Babcock, but it could be entirely random. The recruitment team will be carefully observing how you negotiate with other team members and what role you play within a team.
Do not attempt to be domineering, as this will only antagonise other members, but be assertive and confident. Compromise with the suggestions given and work towards a collective goal.
4. The Offer
After leaving the assessment centre, you will most likely feel exhausted. This is to be expected, and Babcock does recognise this.
There is no definitive timeframe when it will let you know if you are successful, but it does ensure that it is soon after the assessment day.
If you succeed, then you have potentially a prosperous career ahead. If you do not, try not to be disheartened by the rejection.
As stated above, Babcock does provide feedback on any unsuccessful applications at this point. Take advantage of this and ask where you can improve on.
If you are still wanting to pursue a career at Babcock, then learn from your mistakes, revise the areas you want to improve on and get ready for the next intake period.
Tips for Getting Hired at Babcock
As with all corporations, Babcock's recruitment process is rigorous, as it wants to find the most suitable candidates.
Here are some tips for getting that edge during the recruitment process.
Do Your Research
This applies not only to the role, but also to Babcock itself. Become familiar with the industry practices, the career trajectory and the ways in which you can contribute.
You cannot be over-prepared for an application like this one, so do not hesitate to put the time in.
Prepare and Practise
Collate all of your documents, your achievements and your previous experiences before starting the application process.
Practise your presentation skills, the available aptitude tests and your interviews in front of friends, family and even your pet dog.
Get to Grips With the Assessment Process
Babcock's application process is undeniably assessment-heavy, and so it is essential to get to grips with what you will be faced with.
Before practising these assessments, take the time to consider what they are looking for. It will help you to familiarise yourself with the process and alleviate any nerves.
It is often anxiety and apprehension that can be the determining factor in many presentations and interviews. Confidence is key.
Final Thoughts
The graduate schemes offered at Babcock are expanding, as the corporation's influence grows. It is consistently looking for versatile personnel who want to contribute to Babcock's practices.
If you feel that you are an ideal candidate, then use this article as a stepping stone for your application. Take the time to research and prepare, and you will succeed.
---