Aviva Application Process
All products and services featured are independently selected by WikiJob. When you register or purchase through links on this page, we may earn a commission.
Aviva is a British insurance and financial services organisation, formed from the merger of Norwich Union and CGU.
Based in the UK, Aviva has a global reach and employs over 28,000 people. Its principal UK subsidiaries are Aviva Insurance, Aviva Life, and Aviva Investors.
In addition to the Aviva-branded companies owned by this FTSE 100 PLC, Aviva also owns:
Friends Life FPLMA Limited
Friends Life Funds Limited
The Lancashire and Yorkshire Reversionary Interest Company Limited
The Ocean Marine Insurance Company Limited
Sesame Bankhall Group Limited
Solus (London) Limited
Suntrust Limited
Plus other principal subsidiaries worldwide such as Aviva Canada and Aviva India.
Aviva promotes a work culture of inclusivity and diversity, offers its employees a generous benefits package and runs a two-year graduate leadership programme.
Aviva's values include caring for the environment – in 2006, Aviva became the first carbon-neutral international insurer – and having a positive involvement in both the UK and global communities, with their community investment topping £17 million.
Aviva offers around 50 employment opportunities for graduates each year.
Aviva's Application Process
If you are interested in a career with Aviva, here are the steps you will face in the application process.
Online Application
Your online application will start with a job search on the Aviva website. Clicking through to the job advert, use the 'Apply' button to begin your application.
Alternatively, if you wish to join the graduate leadership programme, the window for the graduate leadership programme opens in October each year.
You will be asked to upload your CV and answer a number of questions.
At this point, your CV is the key to successfully moving on to the next stage so make sure it is tailored to the job and Aviva itself.
Online Testing
Should you progress to this stage, you will face a number of online tests which will generally include:
The purpose of these tests is to assess whether your skills and personal behaviours are a good fit for a career with Aviva.
Video Interview
Should you successfully progress through the online testing, you will next face a video interview.
This may be a real-time video interview where you are questioned by the employer or a recorded video interview if you apply for the graduate leadership programme.
In certain circumstances, you will be offered a telephone interview instead of a live video interview.
Assessment Day
If you have applied for the graduate leadership programme, you will also face an assessment day.
On the assessment day, you will meet other graduates who have applied for the graduate leadership programme and Aviva employees.
Generally, you will face a group exercise to demonstrate how well you work with others, be that as a team member or as a leader.
Job Offer and Screening
Should your application be successful, you will receive a verbal job offer.
A link to an online form will be emailed to you. This is to begin your pre-employment screening (PES) checks. PES checks will verify your identity and that you have permission to work in the country.
Once you have completed and submitted the form, you should receive your employment contract within two working days.
You will be notified of your start date after successfully passed the PES checks.
If you have any questions for Aviva, this is the time to ask them.
Dos and Don'ts
The key to successfully proceeding through the Aviva application process is preparation.
Follow our tips to find out what you can do to prepare for each stage and what you should avoid.
Do
Do: Tailor Your CV
At the first stage of the application process, your suitability for the job and as an Aviva employee will be judged by the contents of your CV. Make sure your CV demonstrates the value you would bring to the company and what a great fit you are for the position.
With each new job application, it is always recommended to tailor your CV to make it relevant to the vacancy, the employer and the industry.
Look through the job description to find the key skills and experience needed, then re-focus your CV to fit.
The first place to start is with your CV objective. This is a piece at the beginning of your CV that states who you are – for instance, accountancy graduate or experienced financial services professional – what skills you can bring to the employer and how you envision your career progressing.
The purpose of your objective is to demonstrate that your skills and attitude are a good fit for the organisation.
After that, alter your list of skills and achievements, and tweak the job descriptions in your employment history to demonstrate your suitability for the job applied for.
This is not a dishonest act of attempting to deceive the employer but rather a shifting of focus to the required skills and experience needed for the job.
To find out more about the type of skills employers may be interested in and how to include them in your CV, read The 10 Most Important Skills to include in your CV.
Do: Put In the Research
Before you apply for a job at Aviva, make sure you put in the time to research the job, how the role fits into the overall organisation, any related career paths, Aviva itself and the financial services industry.
Try to develop an informed grasp on the company's values and work culture, their approach to employee development and how Aviva fits into the global financial services arena.
All of this information will help your application, CV, interview and assessment day experience.
This research will be particularly helpful when it comes to the interview, giving you the opportunity to impress with incisive questions.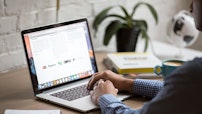 Aviva Application Process: Dos and Don'ts
Do: Thoroughly Prepare for the Online Tests and Assessment Day
The best way to prepare for the online tests, and the group exercise on the assessment day if you apply for the graduate leadership programme, is to use practice resources.
There are several providers of Aviva-specific practice resources:
More general advice on assessment day group exercises can be found here.
Do: Set Everything Up for Your Video Interview
Whether this is a live or recorded video interview, make sure that everything is set up well in advance.
You will receive details beforehand – make sure you follow these instructions and, if you do have problems, contact Aviva as soon as possible.
Here are more tips on how to handle the video interview:
Dress the part – This may not be an in-person interview, but you can still be seen. Dress as smartly as you would for an in-person interview or business meeting.
Pick a good time – If you can decide when the interview takes place, arrange it for the time of day when you will perform your best or, failing that, Tuesday morning.
Pre-check technical elements – Whether live or recorded, check all technical elements before you begin, such as the camera, microphone and internet connection.
Find a private place –Try to find a quiet location where you are unlikely to be disturbed for the video interview. If at home, you may like to tell your family to leave you alone for that period of time.
Remember your body language – Act in a professional manner but be upbeat. A smile can work wonders for the impression you portray and your own self-confidence.
Do: Use the STAR Method
One effective way to formulate answers to questions you may face at an interview or any stage of a recruitment process is the STAR method:
S – Find a situation that is relevant to the question asked
T – Talk about the task you were asked to carry out
A – Explain the action you took and the value it provided
R – Describe the result and how you reached it
Use the STAR method to answer questions in a manner that demonstrates your suitability for the job and a career with Aviva.
Do: Be Your Best Self
From the tailored CV to taking the online tests, the video interview and, for graduates, the assessment day, your entire application is your chance to promote yourself as an ideal candidate for employment with Aviva.
Be your best self:
Do not be shy – Fully demonstrate your suitability for the job by tailoring your CV to fit and confidently using any opportunities to show the extent of your skills and experience. Aviva sees the way you behave, not the way you think, so even if your confidence feels fake to you it could be real to them.
Practice – Preparation is the key to passing the online tests. There are plenty of Aviva-specific practice resources available; some are linked above.
Sell yourself – Use your video interview, whether recorded or live to promote yourself and emphasise your best aspects. Demonstrate that you have the skills, experience and personality by doing your research and using the STAR method to answer questions.
Look after your health and wellbeing – Eat a nutritionally balanced diet, stay hydrated by drinking enough water, get some exercise, get enough sleep and keep your brain agile by reading widely and using puzzle games.
Don't
Don't: Use the Same CV for Every Job
Your CV is your first chance to impress Aviva and show them that you are a brilliant match for the job advertised.
A CV that has not been written or altered to demonstrate your suitability for this particular role will at best send your application to the 'maybe' pile.
At worst, a generic CV will deny you a job that you are perfectly suited for and would love to land.
First impressions really do count. Make the right impression with a tailored CV.
Don't: Rush Through the Tests
The tests will have time limits, but the challenge is not to get through the questions as quickly as possible. It is more important to get the answers you do give correct.
Using practice resources should give you an idea of how long each question will take to complete so when it comes to the real thing, you can apportion your time accordingly.
Make sure you read each question fully as well to avoid unnecessary mistakes.
Don't: Give Interview Answers Without Explanation
This will apply to your video interview, but it could also be pertinent for the assessment day if you attend one.
Avoid answering yes or no to a question with no further explanation.
This makes you come off as uninteresting and uninterested.
Use the STAR method to give a relevant response to any questions you may face, so that your answer indicates your suitability for a job with Aviva.
Remember, this is your chance to promote yourself as an ideal candidate.
Don't: Stay Quiet or Keep To Yourself at the Assessment Day
Not everyone is an extrovert, but they do tend to do better at assessment days as they socialise easily.
Introverts can be just as assertive and talented but need to put deliberate effort to shine in a group.
Should you attend an assessment day, you will meet other graduates also vying for a job at Aviva. They are both your competition and likely your future colleagues if you are recruited.
By participating in the group exercises and other elements of the assessment day, you will demonstrate your teamwork and leadership skills. You may also build some lasting relationships with the people who will work alongside you.
Final Thoughts
Aviva is a major employer with an excellent reputation for investing in its workforce. Their thorough approach to business also extends to their recruitment process.
Give yourself the best chance possible of a successful application by researching the job and the company, preparing in advance, and having the confidence to promote yourself as an ideal candidate.
---