How to Answer the Interview Question: "How Do You Deal With Adversity?"
Understandably, many people find interviews hugely intimidating.
However, the key to a successful interview is thorough preparation. Remember, you are here to evaluate the role as much as the employer is here to assess you.
Competency-based interview questions are extremely common and will usually feature some variation of 'How do you overcome adversity in the workplace?'.
These questions vary significantly from the more traditional 'tell me your strengths', and generally require much more elaboration and explanation. This is because employers love to see real-world examples of how you have navigated obstacles, and the lessons you learned from the experience.
Why Do Employers Ask This Question?
Dealing with adversity is a hugely important skill, required for every role in every company.
Customer service roles involve dealing with irate customers, a fast-paced environment and being under a lot of pressure at times. Whereas those in back-office positions may face tight deadlines, or even personal prejudices with colleagues questioning their credentials.
Moreover, the ability to overcome adversity in management roles is crucial. Here, you will be expected to deal with challenging employees and demanding targets.
What Qualities Help People Deal With Conflict, Challenge and Adversity?
As mentioned, when employers ask for examples of adversity, they are checking you have the fundamental skills relevant for the role.
Interviewers are looking to see if you can work well under pressure, both independently and as part of a team.
The ability to deal with adversity also shows you are enthusiastic and resilient. Employers need confirmation that you will not give up when times get tough. The ability to problem-solve and navigate periods of adversity indicates you are likely to have a long and successful career with the company.
Interviewers often recruit ground-level staff intending to promote them over the coming months and years. However, if you cannot demonstrate how you have dealt with adversity in the more entry-level positions, it's clear that you will struggle in the senior roles.
What Are Employers Looking for in Your Answer?
Many interviewees feel that the adversity interview question is there to catch them out. This is not the case at all.
First, open-ended questions like this will test your communication skills. Interviewers want to observe your rational thinking and ability to convey your thoughts and ideas.
Next, and perhaps most obviously, this question shows you can deal with difficult situations, learning from them and using the challenge to progress your career.
Additionally, employers use the adversity interview question to see whether you have fully interrogated the job description. An answer that mentions specific qualities relevant to the role will set you apart from other candidates.
Similar Interview Questions
Often, interviewers use the terms adversity and challenge interchangeably.
However, adversity tends to focus on a broader, often prolonged issue, whereas challenge may be a one-off situation.
Explaining the repercussions of your action and lessons learned from the problem will emphasize the adversity you faced.
Other similar questions include:
In each of the questions above, your prospective employer is asking you to describe a challenging situation, what you did to overcome it and what you learned from it.
How to Answer the Interview Question "How Do You Deal With Adversity?"
While we have all undoubtedly dealt with challenging times throughout our careers and education, it can be overwhelming when asked this question in an interview.
Choose the Event
First, you must choose the right situation where there was evident adversity.
Remember always to be honest. Do not invent a situation, as this will leave you in a very uncomfortable position when the interviewers ask further questions.
Follow the STAR Method
For any competency-based questions, you should always follow the STAR method to provide your interviewer with the most thorough answer.
Situation
It is essential first to explain the situation where the event occurred.
This sets the scene and gives context to your explanation. Of course, an example in the workplace is ideal but not critical for a thorough answer.
Employers want to see your real-life experiences, so feel free to use your volunteering, education or even personal life where the context is appropriate.
Task
Next, you must describe your exact role in this challenge.
While it is likely that your situation involved your whole team and company facing a challenge, it is important to clearly state how you overcame it.
Perhaps the team was on track to miss a huge deadline. Did you streamline the work to facilitate this being met?
Or maybe you negotiated an extension on the deadline? Your hirer must understand the critical role that you personally played.
Action
You must now describe the action you took to complete this task.
Simply advising your hirer you 'negotiated an extension' might not be enough to explain how you handled the challenge.
Highlight the communication methods you used, and why you chose them.
In all likelihood, opting for email would not be sufficient. You would need a video call or even a face-to-face meeting to discuss something this significant.
Explain the tactics you used to secure your team the extension.
Result
Finally, you must show the outcome of your work and what the challenge taught you.
So, if your negotiations were successful, make this abundantly clear to your hirer.
Then, you could discuss how this taught you the value of agreeing to realistic timeframes moving forward. You can link this to your strong organizational and time management skills.
Example Answers – Interview Question Adversity
1. I Failed an Exam in My First Year of University
Many fresh graduates may not have examples of overcoming adversity in the workplace, and therefore using a scenario from education will be the next best option.
Situation
I recently completed my university course. I studied Math, a subject I have a personal passion for, and one that I believe makes me a great candidate for this role.
Task
However, in my first year of university, I failed one of my core exams. Unfortunately, this meant I had to retake it in the summer or face starting the whole year over.

Here, I faced a considerable amount of adversity. Not only was I studying for an additional exam, but I felt like tutors and fellow students had a lower opinion of my ability.
Action
I first put a strict study timetable in place. This was a mixture of independent learning, extra classes and group study sessions.

I regularly worked on past papers and asked tutors for feedback to check I was on track.
Result
I passed the exam with an extremely high mark and continued into my second year of study with my peers.

This experience taught me the value of being persistent and resilient. It also highlights that I take responsibility for my actions.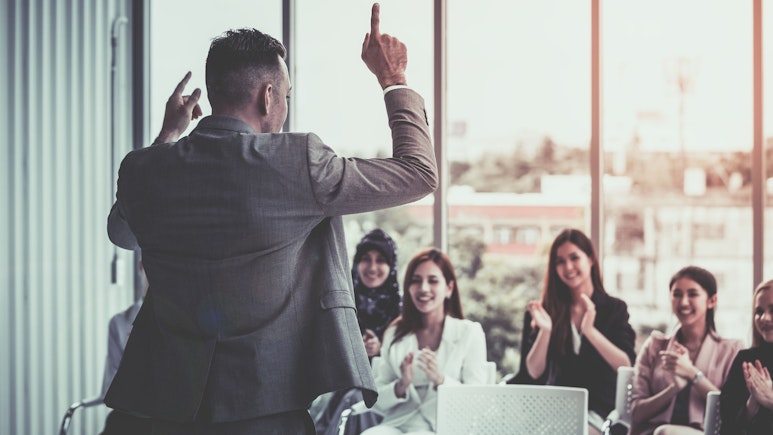 How to Answer the Interview Question: How Do You Deal With Adversity?
2. The Speaker Cancelled the Day Before a Huge Event I Had Organized
This is a great example for someone moving into a more senior position, where organization will be a key element of the role.
It shows you can take responsibility and work completely independently, calling on skills and connections you have made throughout your career thus far.
Situation
I previously worked as an events coordinator in a college. I loved this role as it allowed me to combine my passion for further education with my enthusiasm for events.

This role taught me a huge amount, and made me particularly aware of the importance of exceptional organization skills.
Task
I was tasked with the role of booking a speaker for the start-of-year welcome meetings. I was incredibly proud to have been given this role and conducted thorough research into finding the ideal guest.

However, this guest cancelled with less than 24 hours notice, leaving me in an unbelievably difficult situation. The students and staff were all anticipating a fantastic speech.
Action
At first, I felt overwhelmed.

However, I knew that I needed to work quickly under pressure to ensure the students were not let down the following day.

Thankfully, I have an extensive network of connections from my experience in events management. Therefore, I was able to secure an alternative speaker.

Once I had booked this, I got back in touch with the original speaker and rearranged their talk for the following month.
Result
Meaning, the students got a fantastic talk, albeit a slightly different one than I had initially planned.

This incident taught me the importance of quick problem-solving. The nature of working with people means that plans can change in the blink of an eye.
In events management, developing an excellent network is integral. This will allow plans to run smoothly even when the unexpected happens.
Additionally, thoroughly understanding your clients' needs will allow you to book the correct guests and plan outstanding events.
3. I Moved Into an Industry Where I Had No Prior Experience
This is an excellent example of how you have faced adversity and achieved a goal over a more extended period.
Situation
I was offered a role as an accounting assistant in the early stages of my career. Although I had no prior experience, I had demonstrated an eagerness to learn and many transferable skills throughout the interview process.
Task
Here, I had to quickly understand the company's software and the day-to-day running of the organization. I knew that the company offered a short grace period due to my lack of experience, but I wanted to prove myself as competent.
Action
Therefore, I dedicated the first month of the job to absorbing as much information as possible. I did this through a combination of workplace training, shadowing experienced staff and wider reading outside of the role.
Result
Within weeks my confidence had grown dramatically. I proved to my coworkers and myself that I had the drive and ability to go above and beyond for the role.

This experience taught me the power of learning from many different sources. It also highlighted the importance of completing independent research before seeking help, which enabled me to ask my colleagues more considered and thoughtful questions.
Answers to Avoid
"My Last Boss Was Horrible, So I Quit"
Your answers are about showing how you overcame adversity, not how you ran away from it.
There should always be a resolution to your issue and an example of what it taught you.
"My Friends Say…"
Lessons from your personal life should be used sparingly and carefully.
While it might be the case that what you are saying is entirely accurate, try to keep away from personal anecdotes.
Overly Negative Responses
You should concisely explain the issue or error and spend most of your answer focusing on the positives.
Dedicating too much time to the problem will imprint this in your interviewer's mind, drawing attention away from your excellent solution.
Top Tips for Answering Adversity Questions
Put a positive spin on every answer you give. For example, you should never speak badly of past employers or colleagues and always show the lessons you learned from the experience.
Don't be afraid to take a moment to think. Employers do not expect you to reply with an answer immediately. Taking your time will ensure you give the most thorough, accurate response.
Be as specific as possible. Rather than saying 'I negotiated a longer deadline', state 'I negotiated a deadline extension of 24 hours, and I did this by first speaking with senior management, and then external stakeholders.'
Make sure your answer relates to the role wherever possible. For example, avoid talking about troublesome customers for non-customer-facing jobs.
Final Thoughts
Competency-based questions are a crucial element of most interviews, so preparing for a range of questions beforehand is essential.
Adversity can present itself in various ways, so try to think of examples and answers that will help you stand out.
Always follow the STAR method to ensure you provide your employer with the most rounded and complete answer.
Remember, employers are testing your charisma and personality as much as they are testing your resilience, so remember to smile and talk in a friendly manner.
---