Cheating on Aptitude Tests (2023)
All products and services featured are independently selected by WikiJob. When you register or purchase through links on this page, we may earn a commission.
When it comes to recruitment or further academic study, it's highly likely that you may be asked to take an aptitude test.
Instead of solely focusing on face-to-face interviews to discover an individual's strengths, weaknesses and capability to do the job, employers and educational establishments are increasingly relying on an algorithm to tell them who is best for the position.
Perhaps you're looking to study for an MBA and you need to pass your GMAT to start business school.
Or maybe you harbor dreams of being a pilot or a doctor and you know that taking an aptitude test is the only way you'll be able to progress onto a training or development program.
When it comes to aptitude tests, the stakes are high.
With all this riding on a single test, it's no wonder that many people are tempted to try and cheat. After all, if it gives you the score that you need to succeed, it's a harmless crime. Right?
Well, unfortunately not. Cheating on aptitude tests can have serious consequences.
Aptitude tests are designed to help schools and businesses filter prospective candidates based on ability.
Therefore, it stands to reason that if you cheat on an aptitude test, you may quickly find yourself out of your depth.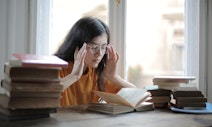 aptitude tests cheating
What Tempts People to Try and Cheat on an Aptitude Test?
Many people justify cheating on aptitude tests because they believe the end justifies the means.
Here are some of the most common reasons:
They have their heart set on a specific job or educational program.

They haven't left enough time to prepare.

They believe that algorithms are unfairly set and see it as a way of leveling the playing field.

They may be highly qualified or immensely talented but have difficulties working under exam pressures.

They may have anxiety at the thought of being assessed or have difficulties in working under timed conditions.

They may lack confidence in their ability to pass the aptitude test.
Prepare for Any Job Assessment Test with JobTestPrep
How Is It Possible to Cheat on an Aptitude Test?
You may be questioning how it is even possible to cheat on an aptitude test.
After all, if the test is held online, it must be impossible to see an advance copy of the test.
The most common ways to cheat include:
Asking a friend to sit the test on your behalf

Working with a team to help identify the correct answers
There are clear drawbacks here – not only will you be less likely to achieve a high score, but you could also waste valuable exam time conferring with others, reducing your prospects even further.
Some people have even turned to technology as a way of cheating on an aptitude test.
If your test is an online multiple-choice exam, some have taken to switching off their internet connections halfway through in a bid to start again.
The hope is that if they remember the questions that have already been asked, they can research the answer and get it right if the question appears again.
Of course, these days most aptitude tests have a bank of hundreds of pre-set questions, so the likelihood of the same question appearing is slim to none.
In our view, your time is better spent focusing on ways to prepare and study rather than by researching ways to cheat on your aptitude test.
How Are Employers Catching People Who Cheat on Aptitude Tests?
Employers and recruiters are becoming increasingly aware of the methods used by cheaters and are incorporating new tactics to overcome cheating.
This may include setting up exam rooms where participants have to take the exam in person or as part of an assessment day (complete with valid identification).
It can also include increasing the number of questions available within the question bank, therefore limiting the potential for questions to re-appear.
It's also increasingly common for recruiters to factor in a two-stage aptitude test process.
You may be asked to repeat the test in person a few weeks after the initial test. This is so recruiters can see if there is a consistency within your score.
If your scores between the two tests differ dramatically, they may suspect cheating and you could be removed from consideration.
It's important to remember that in today's technical age, you are likely to leave a digital footprint behind.
If an employer wanted to employ technical tactics to catch cheaters, they may look at the IP address of your application and compare it to the IP address of the exam taker.
They can track what questions have been sent to your email address or even your device.
If you are tempted to cheat on your aptitude test, you should assume that you will get caught red-handed, and this could have serious consequences for your career.
Why Cheating on an Aptitude Test Is a Bad Idea
We know that cheating is bad, but what could the consequences be if you do get caught?
You will be immediately withdrawn from the selection process. You won't be given another opportunity to retake the test. Aptitude tests are used by companies and education providers who can afford to be selective about their talent pool. Therefore, you'll immediately be disqualified and it is unlikely that you'll be allowed to try again.

Your results could follow you around. It may surprise you to know that employers do not create the aptitude tests themselves. They merely pay a test vendor to handle the test on their behalf. If this is the case, there is a likelihood that the test vendor will keep your details on file. If a different employer uses the same test vendor, then your name will appear on the blacklist. Not only will you have to explain to the second prospective employer, but there is a chance that they may also withdraw you from consideration.

You may have to retake the test. As we previously stated, many employers are starting to implement secondary aptitude tests as part of the recruitment process. This is often the case if the first test has been conducted by the applicant at home. They may invite you into their offices to retake a test under exam supervision. This will allow them to verify your identity as well as check that your scores remain consistent.

Cheating will not help you when doing the job. If you cheat on your aptitude test and are lucky enough not to get caught, it is likely that the employer will have gained an unrealistic expectation of your skills and capabilities. You may also find that certain questions were included within the test because they were vital to the job itself. If you cheated on your aptitude test, you may not have the skills required to do the job and may quickly find yourself in an unmanageable situation.
If you need to prepare for a number of different employment tests and want to outsmart the competition, choose a Premium Membership from JobTestPrep.

You will get access to three PrepPacks of your choice, from a database that covers all the major test providers and employers and tailored profession packs.
Prepare for Any Job Assessment Test with JobTestPrep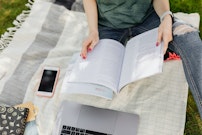 should you cheat on aptitude tests
How to Properly Prepare for Your Next Aptitude Test in 2023
If you are nervous about taking an aptitude test, then your time is best spent focusing on preparation and further study.
Any time that you spend figuring out a way to cheat on your aptitude test will be wasted time that could be put to better use elsewhere.
At WikiJob, you will find an array of resources that are designed to help your preparation.
As well as free practice aptitude tests, we have a range of insightful articles designed to help you identify what to expect from all the major types of test.
We've even reviewed study aids for courses like GMAT, GRE, SAT, LSAT, MCAT and many more, to help you decide which is best for you.
Here is our step by step guide to help you plan your study:
Step 1. Look at What the Test Could Involve
Different types of aptitude tests will be looking for different things. We highly recommend reading about the type of test to help you understand what it's looking for and the types of questions you might face.
For example, the GMAT is often used for those interested in applying to study an MBA. The test looks at problems and situations that may be encountered by business leaders.
In contrast, an in-tray exercise is about allowing employers to see how you can prioritize tasks and justify decision-making processes.
A Watson Glaser Test allows examiners to test your critical thinking skills.
Step 2. Consider How the Aptitude Test May Relate to the Job
If the aptitude test is being implemented by an employer, how will it relate to the job description? Can you understand what the employer is looking to find out and why?
If you are successful and get invited to an interview, you may be able to use this knowledge and understanding to impress the interview panel.
Step 3. Take a Few Practice Tests to Assess Your Strengths and Weaknesses
This will allow you to identify the areas where you need more practice.
You may find that your math is good, but your verbal reasoning needs extra help.
Or perhaps you can answer the questions competently, but you have difficulty adhering to the timescales involved.
When it comes to aptitude tests, practice does make perfect.
Visit JobTestPrep for practice questions for all major tests.
Step 4. Prepare a Study Timetable
We know that it can be difficult to find the time to study. Especially if you are juggling a job with family commitments.
But study and preparation can make a big difference.
You may wish to develop a comprehensive study schedule taking into account the time you have left until your test date.
Take a look at the elements involved in your aptitude test and break this down into manageable chunks.
For instance, you could allocate one night a week to verbal reasoning, one night a week to math, one night a week to critical thinking, etc.
This will ensure that you are covering each aspect of the test in full.
Step 5. Take a Comprehensive Study Course
You will be able to find prep courses for all the major aptitude tests.
To find the best study course for you, check out our articles comparing the major providers for the following courses:
For a fee, you will be offered a full study program either online or in-person and may be able to access resources that include:
Video lessons
Practice questions and practice tests
Tutor support
Study books
For many, these courses are invaluable for getting top scores on their aptitude test.
Final Thoughts
It's important to remember that, whether you are applying for a new job or study program, the aptitude test won't be the only deciding factor.
Yes, they can be used to filter through applications and to ensure that each candidate meets a similar standard. But aptitude tests are rarely used in isolation.
Recruiters may also factor in other assessments as well as interviews to get to know candidates before a decision is made.
Therefore, it's unwise to focus any effort on establishing a seemingly foolproof way to cheat on an aptitude test. You may pass the aptitude test with flying colors but then struggle to impress the recruitment panel during a job interview.
It's also worth remembering that aptitude tests are based on a standardized algorithm. They are never going to be 100% accurate.
The employer will know the limitations and will factor this into their decision making processes. They may only use these tests to gauge an opinion of you as a candidate at that specific moment in time.
Cheating on an aptitude test will not give you insights into areas for potential improvement. It's also not possible to cheat on every single aptitude test that you are ever likely to take.
If you are unhappy with your aptitude test scores, then use them as motivation to make lasting improvements to your future employability. Remember, you can usually cancel your score or retake your test if you feel you haven't performed your best.
Spend time focusing on the areas you are not so confident in to build up your skills and capabilities.
This will give you a much greater chance of success in the future.
---