5 Best Forex VPS in 2022
Not sure what a forex VPS is?
Otherwise known as a Virtual Private Server, it is a device that works on its own, like a computer.
Traders use a VPS as an operating system they can use remotely to control their trades 24/7.
The Virtual Private Server contains all the data you need to operate your trades independently, and they are configured according to the individual trader and their needs.
This article will examine some of the best forex VPS platforms and what forex VPS platform might be best suited for you and your trading journey.
It will also highlight the best cheap VPS on the market.
What Are The Best Forex VPS In 2022?
Pros
Highly optimized – This VPS is known to be very highly optimized
Downtime update schedule – Provides a time in which the platform will be updated, so it does not interfere with your trades
Auto-boot option
Cons
The trading software needs to be manually installed
Known for its ability to provide a VPS service for trading servers, ForecVPS.net is a VPS that provides a line of top-tier machinery that is designed to offer a high-performing platform for its users.
Latency – ForexVPS.net's latency measures 1 ms+.

RAM/CPU – The RAM for this VPS is 2 to 3 GB, while the CPU is high frequency.

Number of locations available – ForexVPS.net has servers in eight countries. The US and UK are its strongest countries with the highest concentration, but the platform is known to have good coverage around Asia and other locations too.

Price – ForexVPS.net has several plans designed to appeal to lone traders or traders that want to collaborate. The four plans include: Basic (29.74/month)∗∗,∗∗Basic+(33.99/month), Standard (50.14/month)∗∗and∗∗HighFrequency(57.79/month). Each package offers an increase in Ram, CPU and storage.
Pros
Top-tier cloud infrastructure – This helps to enforce a fully robust system and also means storage is relatively fast
Known for its excellent scalability
Many data centers to choose from
Cons
Most of the locations are based in the US
Its forex virtual trading does not include any CPUs
VPSServer is a popular platform that focuses specifically on VPS servers.
There are many different models to choose from. It has a large network of 17 data centers, most of which are in the UK.
However, this does not affect the coverage in the other four continents it covers.
Latency – The latency depends on the location. If you head to its website, it will show the latency per location.

RAM/CPU – The RAM for this VPS is 192 GB, while the CPU is up to 32 core.

Number of locations available – As mentioned above, VOSServer.com is available in 17 locations; however, these locations are mainly in the US.

Price – VPSServer.com offers a free forex VPS server for seven days. This will provide new users the chance to test out the server before they commit. Thereafter, there is a three-tier pricing system to choose from, with the starting price at $24.99/per month.
Pros
It offers remote access so you can access your trades while you are on the move
The pricing system is easy to understand for all traders
There are discounts on offer
Cons
Some traders might prefer a more specific and specific pricing structure
The platform is only available in three locations
Want to try one of the very first hosts in the world?
Well, NextPointHost was one of the first to offer forex servers and is still going strong with its VPSs today.
Latency – NextPointHost offers low-latency data centers.

Number of locations available – NextPointHost is available in three top-tier locations and is known as one of the top forex exchanges in these areas. It has servers in Singapore, London and New York.

Uptime – The server has an uptime of 99.9% and is available for remote access.

Price – NextPointHost is one of the cheapest VPS servers. Its pricing model is easy to get on board with – users pay €35/month for single server use and receive 10 trading licenses; you can also get a 25% discount if you pre-pay for three years.
Pros
Fast speed servers
Top-notch data protection
A varied pricing plan structure
Cons
It might be quite pricey compared to other servers
Known for its extensive range of trading machines, Trading FX VPS is ideal for both tenured traders and newbies.
Latency – Trading FX VPS offers low-latency servers.

Number of locations available – Trading FX VPS has seven locations in total: London, Amsterdam, Singapore, Honk Kong, Frankfurt, Chicago and New York.

RAM/CPU – RAM for Trading FX VPS measures 2 to 8 GB, while the CPU is 1 to 4 cores.
Price – Trading FX VPS offers three price plans to choose from: standard VPS 25/month∗∗(offers2GBRAM,oneCPUcore,30GBstorage);∗∗AdvancedVPS45/month (plan offers 4 GB RAM, two CPU cores, 40 GB storage); expert VPS $90/month (8 GB RAM, four CPU cores and 50 GB storage).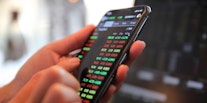 Best Forex VPS in
Pros
The price points are quite reasonable
AccuWeb Hosting is known to have an exceptionally reliable security system
Cons
You might be required to submit reviews to the site
If you are looking for a VPS provider that specializes in Windows hosting then AccuWeb Hosting is the one for you.
Do not worry if you're not. It has introduced an array of new services over the years.
Latency – 1 to 10 ms.

Number of locations available – AccuWeb Hosting is available in 15 locations, which you will be able to see on its website. It allows traders to target the largest forex exchanges around.

RAM/CPU – Its RAM measures 1 to 32 GB, while its CPU offers 2 to 8 cores.

Price – AccuWeb Hosting offers six different pricing plans to choose from, ranging from 15/month(whichofferstwoCPUcores,1GBRAM,35GBstorage)to386.99/month (which offers eight CPU cores, 32 GB RAM, 640 GB storage).
Is VPS Good for Forex Trading?
Also known as currency trading, forex (foreign exchange) is the world's biggest financial market, with a large volume of assets being traded daily.
Even if you do not invest too much, you will need to consistently be advised of the ever-changing market and different scenarios.
This is where the VPS comes in.
As mentioned above, it allows you to remotely access your device wherever you are and keep on top of your trades and the market.
This helps traders who might continually lose their connection in the middle of a trade or potentially miss trade operations if they are traveling away from their central device.
How to Choose the Right Forex VPS
If you are new to the world of forex trading, you might not be familiar with what a VPS does and how it can help with the technical limitations associated with trading.
Sometimes you might experience technical issues or want to trade while on the move. Either way, a VPS can help with this.
There are other factors to think about too when considering which VPS to choose.
How Secure the Data Is
This is a crucial factor to think about. Most VPS platforms around have vase security measures.
However, you might find some have more security steps than others that might feel safer, especially if you are a new trader.
Do check each platform's security process before you sign up.
If the VPS Offers Support
Another important part of your VPS journey is exploring whether the platforms have an easy-to-use support network or customer service center.
This is especially key for new traders as they might need a helping hand from time to time.
Look at the platform's website and get a feel for what its customer service protocol is.
For some of them, you might be able to have instant support via a chat functionality, while for others, you might only be able to email them.
If the VPS Provides Several Locations to Increase Speed
Again, this will depend on whether you want to make your trades at home or if one of the reasons you are using a VPS is to trade while you are traveling.
As mentioned in the list above, some providers will have a variety of locations where the speed might be more impactful.
This information will be on the provider's website, and it should give you the speed in various locations so you can tailor your own experience.
Response Time
You might wonder about a VPS' response time and how often they go offline. For example, you cannot trade using the VPS if it is offline.
Check to see if the provider can guarantee a certain percentage of uptime. You will be able to find this out when you do your research on the provider's site.
Configuration and Compatibility
This should be understood, and you will need to have a look at how to configure the VPS.
If you are a new trader, you might want to look for a VPS that might have an easier configuration.
The same applies to compatibility, and you will need to ensure the VPS you choose is compatible with your technology.
Frequently Asked Questions
A VPS (otherwise known as a Virtual Private Server is an independent platform that works virtually similar to a computer.
A VPS is good for forex trading as it means you can get to make your trades while you are on the move and 24/7.
So, if you want to trade throughout the day and night, a VPS is a great option to investigate.
If you are looking for a VPS that works best for MT4, then you could try Kametera Express.
This is an exceptionally reliable platform that specializes in ultra-fast speed and zero latency. It is also very secure.
There are many different Virtual Private Servers that work well for forex trading.
You will need to have a look at certain factors you are looking for before you pick a specific provider.
Final Thoughts
Picking the best VPS platform for forex traders takes a lot of research and homework into what you are looking to gain from the provider.
For example, security and speed might be at the top of your agenda, which means these are the two factors you need to consider when looking at providers.
Write a list of what you are looking for. From speed and security to customer services and compatibility, you will surely find the perfect platform for you once you determine your key requirements.
---