Interview Question: 'Tell Me About a Time You Had to Learn Something Quickly'
All products and services featured are independently selected by WikiJob. When you register or purchase through links on this page, we may earn a commission.
Interviewers will often ask you questions to find out how good you are at thinking on your feet. They want to know how you will cope with unexpected situations and how well you act under pressure.
Questions such as 'Tell me about a time you had to learn something quickly' or 'Tell me about a situation when you had to learn something new in a short time. How did you proceed?' are often used for this purpose.
These types of questions are popular across all industries. No matter what your position, there will be situations when you need to think creatively or learn a new way of solving a problem unexpectedly.
It is always worth making sure that you have prepared an answer to this sort of question before you go for your interview.
What Is the Interviewer Really Asking?
Questions that ask about your experiences may sometimes feel as though the interviewer is trying to trip you up, but they are a lot easier to answer than you think.
Essentially, by asking a question such as 'Tell me about a time when you had to learn something quickly', the interviewer wants to know how adaptable you are and how willing you are to learn new skills.
Being able to quickly adjust your way of doing things to take into account new processes or requirements is an important skill and shows a willingness to change.
Interviewers will want to know that you are going to be able to adapt to their company. Although there are similarities between businesses, and even between industries, each company will have a slightly different way of doing things.
It could also be that the company regularly updates software or procedures and they will want to know that you can change your thought processes and working patterns accordingly.
Skills the Interviewer Is Looking For
Every question asked during an interview will be there for a reason. Even though it seems obscure, the interviewer will be looking for particular skills or attitudes.
When asking, 'Tell me about a time when you had to learn something quickly', the interviewer is looking for:
Adaptability
Thinking under pressure
A willingness to learn
The ability to react quickly to changes
The ability to recognize skills within yourself which need improving
A determination to continuously improve performance
Different Versions of the Question
Although many interviewers will use the same style of questions when meeting potential candidates, the wording may sometimes change.
Examples of questions that sound different but are looking for similar skills are:
"Can you tell me of a time when you had to overcome an obstacle?"
"Can you give me an example of something you have had to learn at work?"
"Have there been any times when you have had to learn new skills unexpectedly?"
"Have you ever been in a situation when you had to learn something new?"
"Can you tell me about something that you have learned recently?"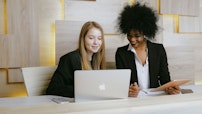 How to answer the interview question 'Tell me about a time you had to learn something quickly'
Answering the Question 'Tell Me About a Time You Had to Learn Something Quickly'
Using Previous Work Experience
There have probably been many times when you have learned new skills quickly in the workplace, possibly without consciously thinking about it.
Consider times when processes or systems have changed, or an occasion when you realized that you weren't as good at something as you had thought you were.
How did you manage that situation?
Catering Example
If you work in catering, it could be that health and safety or food hygiene requirements changed.
For example:
While I was working as a cook, the systems at work changed. It became company policy that we needed to have a higher level of hygiene certificate than was previously required.

I worked quickly to make sure that my paperwork and qualifications were up to date. This meant doing an online food hygiene course in my own time so that I was fully compliant with the requirements.
To find out which jobs fit your personality best, visit our partner CareerFitter and take the Career Test for FREE.
Office Example
If you work in an office environment, you may have had to adapt to new managers or change your marketing approach.
For example:
When we ran our last campaign, the feedback from clients wasn't as positive as we had hoped.

As a team, we quickly brainstormed a new approach and implemented new techniques and ideas which resulted in improved feedback.

For my part in this, I had to learn new skills using software with which I wasn't previously familiar. By quickly implementing the skills that I had learned, we were able to adapt the project and received much better feedback from previous and potential clients.
What if You Don't Have Any Work Experience?
If you don't have any working experience, it may feel impossible to answer certain interview questions.
There is no need to feel that way. Even if you don't have any work history, there will be experiences from your everyday life that show the skills the interviewer is looking for.
Volunteer Work Example
If you have any experience in a voluntary role (charity work, church volunteering, school PTA), you can use this experience to answer interview questions.
For example:
When I was a volunteer for the community group at church, we all chipped in and did a bit of everything.

I was asked to keep the minutes for a meeting one evening as the usual person hadn't arrived.

I had never done this before, but I took the minutes, typed everything up and made sure that everyone on the committee received the document within the deadline.

This meant that the meeting could go ahead as planned without any delays and the people who had been unable to attend were still able to receive the minutes as expected.
Life Experience Example
If you haven't done any voluntary work, there are still experiences from life that you can use when answering questions.
For example, if you have children, you could say:
When my children started school, I had to very quickly adapt to the new ways that they were being taught.

The curriculum and approaches to teaching had changed a lot since I was at school. I made an effort to brush up on all of those skills so that I could help with homework and make sure that I was teaching them in the same way as their teachers.
Mistakes to Avoid
Don't be vague – The interviewer is looking for a specific example. They want to know what the situation was, what you learned and what the result was.

Be careful of your facial expressions – Our nonverbal language tells an interviewer just as much as our words. By clenching up or grimacing, you are telling the interviewer that you don't feel comfortable with the question. Remember to relax.

Try to keep your answer relevant – While this is not always possible, try to give examples that are relevant to the job you are being interviewed for, although any example is better than none.

Keep your examples as recent as possible – The interviewer is looking for examples of how willing you are to learn now, not 10 years ago. Try to keep your examples recent.
Top Tips for Successfully Answering This Question
There are a few ways to answer questions like 'Tell me about a time when you had to learn something quickly'.
A few of the best methods are below:
Step 1. STAR Method
The STAR method stands for Situation, Task, Action, Result.
This is a really easy way of making sure that your answers stay on point but also ensures that you give the interviewer enough information.
Situation – Briefly outline the situation in which you found yourself
Task – What was the problem you had to overcome?
Action – What action did you take to overcome the problem?
Result – What was the result of your actions?
Step 2. Practice Answering This Question Beforehand
It is always important to thoroughly prepare for any interview. This will include practicing answers to questions which you might find tricky to answer in the heat of the moment.
Questions such as 'Tell me about a time when you had to learn something quickly' are easy to prepare answers to. It is worth taking the time to think of a few examples so that you don't get flustered when you are in the interview.
Step 3. Speak With Pride
If you are proud of the way that you handled or adapted to a situation, make sure that the interviewer knows it.
The way we talk about our achievements tells others a lot about who we are as a person and also what we might be like as employees. Make sure that you make eye contact when talking and emphasize any areas which you are most proud of.
If you talk with pride about the new skills you learned, it tells the employer that you value continued learning and are willing to rise to a challenge.
Step 4. Use Examples Which Have Tangible Outcomes
It is easy to give vague answers that don't explain what you did, how you did it or the outcome.
When answering the question, try to give a firm outcome. If you are too vague, it won't give the interviewer enough information about you and your attitude towards adapting to change.
If you used an example about changing marketing processes, talk about the outcome. You could mention how the changes gave you new skills and improved the company's performance. If something that you did as part of the project had a direct, positive impact on the results, make sure that you mention it.
If you have no working experience and say that you relearnt the school curriculum so that you could help your children, finish with something like:
... and now I have been able to support the learning that has been achieved at school by ensuring that we are all on the same page. I have also been asked if I would be willing to volunteer in the classroom at times because I understand the teaching methods.
Final Thoughts
'Tell me about a time when you had to learn something quickly' and similar questions are very popular with interviewers. It may seem daunting when you are asked to give examples but remember:
The interviewer wants to hear about you and your experiences.
While there are ways to answer these questions well, there are no truly wrong answers. As long as you show that you are willing to learn and that you can adapt to different situations, you are answering the question which has been asked.
---