The Best Ways to Learn More About Forex Trading
All products and services featured are independently selected by WikiJob. When you register or purchase through links on this page, we may earn a commission.
Learning as much as you can about the forex market and the trading methods used is vital to your future success as a forex trader.
Solid background knowledge will help you to carefully manage your risk and exploit the opportunities for increased profit. It can be tempting to launch into forex trading to try and make money as soon as possible, but preparation is key.
Whilst fluke or luck may yield results in the short term, it is risky to trade large (or even small) volumes of money in a market you do not fully understand.
Taking the time to build a comprehensive theoretical and practical grasp of forex trading will ensure you have a higher chance of securing profits over the long term.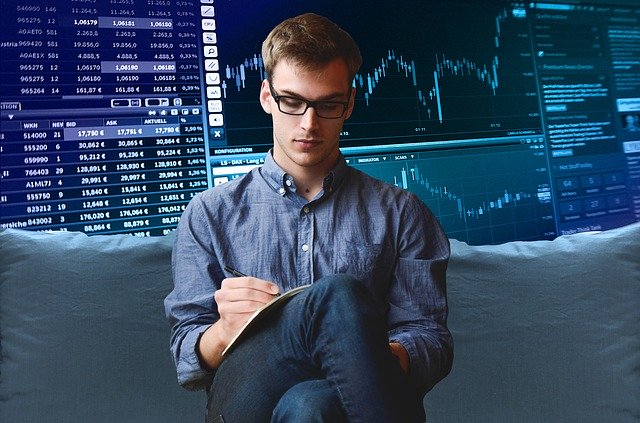 Key topics to cover in your learning include:
How the forex market operates
How to set yourself up to make trades
How to know when to place and end a trade
The key trading times in different regions
How to put in place an all-important risk management strategy
Whilst research is valuable, it is sensible to also gain practical experience of trading before making higher-stake trades. A balance between theory and practical knowledge will ensure you are in the best possible position to begin your trading career.
There are multiple online platforms and approaches from which to gather this initial trading information and experience. Due to the wealth of information, it is most effective to learn about the forex market step-by-step.
This article will give you a run-through of ten helpful steps to take to learn more and increase your chances of being successful in forex trading.
At WikiJob, we are not financial advisors and any information provided throughout this article is for educational purposes only.
The 10 Steps You Need to Take to Learn About Forex Trading
1. Read up on the Basics
As the currency market is incredibly volatile, forex trading can be risky for investors. To be successful in making your trades in the forex market, it is important to read up on the basics.
Online articles, finance and trading websites, books and videos are all good places to start learning in an accessible way.
It is useful to begin by learning about the currencies you intend to trade in.
Choosing currency pairs and analysing their movements will help you to become accustomed to certain trends in the market, for example, being able to judge when fluctuation is temporary so you do not exit a trade too soon. This type of analysis will come with practice and it is productive become used to the rhythms of the currencies.
It is also important to increase and maintain your consumption of economic news. Keeping up to date with economic and political developments in your countries of choice will help you to stay informed of potential impacts on the forex market.
Traders should also seek to have a good knowledge of the technical elements involved in trading such as:
Learning how to use leverage safely is also a good time investment. Trading with leverage has the potential to vastly increase the profits to be made from currency movements (but it can also amplify losses). Learning how to set up and use leverage is important on an operational level, whilst being aware of the risks of leverage is crucial to retaining the capital to trade long term.
Reading up on risk management and setting a risk management strategy before beginning to trade is vital. Often, trading success relies on the ability to remain objective when executing a trade as emotions can cloud judgment and lead to unnecessary risks and losses. Look carefully into different risk management strategies, such as setting up stop-loss orders, to safeguard your capital.
Successful traders keep their risk (and therefore their leverage) as low as possible.
2. Read Trading Forums
There are many trading forums online and these can be great places to glean tips and advice about forex trading. These forums are online communities for traders, where members can ask questions and glean insight from the conversations of others.
Forums will have directories with links to different threads, making it easier to find the specific information that may be useful to you. There is no need to be an active member of a forum, they are just as useful for observing and learning from others' comments and experiences.
One of the most popular forums for forex trading is Forex Factory. It has a good reputation amongst traders and gives good analysis, news updates and market data.
This site has different sub-forums and features different threads on its forum homepage, organised according to time and popularity.
Baby Pips is another popular forum, particularly with beginners. This forum is aimed at amateur traders, providing an aesthetic and easy to use interface. Its logical organisation into categories and question topics makes it very accessible.
Forums provide the opportunity to learn from the mistakes and successes of others. If you have a question regarding forex trading, it is likely that someone has already answered it on a trading forum.
There are many forex forums full of trader insights out there, so have a browse and find one that is useful for your trading level and approach.
3. Sign up for a Free Trading Account and Practice
Reading widely and doing your research before beginning your foray into forex trading is important to ensure you are starting from a knowledgeable base, but it is no substitute for real experience of trading in the market.
Opening a forex demo account and practising making demo trades will help you to gain experience of the process and mechanisms involved in making a trade. It will also allow you to gain experience of employing different forex trading methodologies to decide when to place your trades.
The most common forex trading platforms are MetaTrader4 (MT4) and MetaTrader5 (MT5) but, whichever trading platform you choose, there will be information on it available for free online.
Brokers, such as eToro, often provide additional platforms but be aware that these may be unique to the individual broker and may not be available through other brokers.
Testing out different strategies without the risk of using a live forex account enables you to make initial mistakes in a safe environment. As a guide, it is recommended to place at least 50 demo trades to learn the platform and its crucial features before placing real trades. It is suggested that this should have a time frame of around a month.
With your free trading account, you should become accustomed to:
Using the platform's interface
Changing its settings
Viewing currency pair charts
Opening forex orders
Buying & selling
You will find that, as you trade, you will learn from your successes and mistakes, gaining invaluable experience of deciding when risk is likely to reap rewards and when it is time to close the trade.
Learning when to exit the market is an important skill. It is often compromised by heightened emotions, enthusiasm or irrationality. Many traders find it tempting to stick with their trade, believing the market will change and no longer go against them. Due to the volatility of the market, it is safer to close your trade before losing further.
It can initially be tricky to know when to make calls such as this but, when using a demo account, you can experience a simulation of the pressure and quick decision-making that is required when making trades for real.
Some people find, however, that a demo account does not provide an adequate simulation of the conditions of trading as no money is on the line.
If you feel that you would like to begin trading with cash but aren't yet ready to trade with large amounts, setting up a micro account may be a compromise.
A micro account allows you to trade in small micro-lots. This means you can gain a true-to-life experience of trading with your own money, but with smaller amounts and reduced risk.
It is also worth noting that, as every trading platform is slightly different, if you decide to change platforms, it is good practice to open a demo account again before trading with your money.
4. Sign up for a Course or Webinar
Whilst researching independently can be incredibly beneficial, some people will find they can learn better when provided with the material in a structured way. Many brokers offer online courses on a variety of aspects of forex trading.
The benefit of a webinar is that it can be accessed from any location with an internet connection. Information tends to be provided on a single topic, which can help to focus your learning and improve your knowledge of a particular aspect of trading you are finding challenging. For example, reading forex charts or understanding ratios.
If you are seeking a more comprehensive overview of forex trading, a multi-staged online course, such as Asia Forex Mentor's One Core Program, may be more appropriate for you. These courses vary in delivery but tend to be composed of online videos, background reading and tasks for completion.
Some will provide online contact with a teacher, with the potential for feedback, whilst others will be automated and unmonitored.
There are both free and paid courses available, which will vary in quality, content and usefulness.
Beginner courses are available to develop basic trading knowledge and confidence, as well as intermediate courses to master new skills and improve your current trading performance.
Take the time to find a course that suits your needs, level and preferred learning style.
5. Research Brokers
Your choice of broker will have a large impact on how you trade and, particularly if you are intending to use leverage, your profit margins.
For scalping, you will need a No Dealing Desk (NDD) broker. NDD brokers use Straight Through Processing (STP) or Electronic Communication Network (ECN) technology without a dealing desk, which allows faster access to the market.
Market-making forex brokers should be avoided – this is a practice where brokers take the opposite side of trades to their clients.
STP and ECN brokers offer different mechanisms of entry into the market. It is important to understand the differences between brokers and what they can provide. They may offer different liquidity pools, lot sizes and spreads. It is also worth checking their execution guarantees to avoid unnecessary losses from slippage.
Brokers also provide access to different online trading platforms, so ensure you are also comfortable with this aspect of your selection. Most trading platforms are fairly easy to get to grips with, which is important when actioning rapid decisions.
Brokers will offer leverage in different amounts and have differing initial margin requirements. This may be influenced by your intended position size. If you are planning to open a margin account and trade with leverage, look into these conditions before settling on a broker.
The main concern when choosing a broker is that they are reputable and hold a license. FCA UK (the Financial Conduct Authority) is the top regulator in Europe. If your broker is not regulated, your money may not be secure.
Choosing the right broker for you is important so don't feel rushed or under pressure to make a decision. Instead, take your time to research and speak to brokers until you find one you are comfortable trusting with your hard-earned money.
6. Open a Real Account and Start Trading on a Strict Budget
Once you have picked up the basics and are feeling more confident in your abilities, it may be time to open a real trading account and gain experience placing trades with your own money.
This will most likely be after around a month of gaining practice using a demo account.
To open a real forex trading account, you will first have settled upon the broker you wish to use.
To open the account, you will need to provide personal information such as your name, address, date of birth, citizenship, employment status, national insurance number or tax ID, and contact information.
You will also need to provide your account currency type. Additional information on your finances such as your annual income and net worth will be required.
Expect to also be asked about your trading experience to date and your trading objectives.
This information is necessary for industry compliance and you shouldn't be able to open an account without it. If you are not required to submit this information, check that your broker is legitimate, registered and licensed.
Once your information has been submitted, it will need to be processed and verified, which will require submission of relevant documentation such as ID and proof of address.
Once your account is open, you can put funds into the account and begin trading.
After practising with a demo account, beginners can feel more confident and be keen to launch into trading in the market. It is important to keep your confidence in check, however, as it can lead to unnecessary risks and early losses.
Start by trading small and never put more money into your account than you can afford to lose. Setting this strict budget will ensure you do not lose all your capital in the first few weeks.
Trading with a live forex account triggers different emotions from placing practice trades in a demo account. It is sensible to be reserved until you have gained experience with your live account as logic should always guide trades, not emotion.
If you find you are making mistakes with your live account, reassess your strategy. This may involve going back and reviewing the basics to help you reach your goals. Forex trading often requires reevaluation of methods to be successful.
7. Sign up for Forex Signals
Understanding the signals of the forex market takes a good knowledge of market analysis – such as through technical or fundamental analysis.
For the beginner or amateur traders who trade alongside their day job, this can be a steep and time-consuming learning curve.
To ease the burden of market analysis and constantly tracking your trades, traders can sign up to receive trading signals.
Forex trading signal services are offered by certain brokers or forex analysts. They monitor and analyse the market to identify trends.
This analysis provides information on entry points, profit-taking points and stop losses to ensure a trader has the most up to date analysis on which to base their trading decisions.
Users subscribe to receive forex signals from a particular source and then receive updates via email, text or a dedicated app depending on preference.
As trading orders are updated in real-time, traders can immediately apply signals to their trades. Some providers offer the option to copy their signals to your trading platform so they are completed automatically – this will most likely be a paid-for service.
There are often two tiers of signal provided: free and premium.
Unsurprisingly, premium signals tend to have more support and are more accurate. It should be possible to test free signals on a demo account before signing up to receive paid signals.
You should be able to look up the signal history statistics of a provider to make a judgement on their accuracy and worth.
Forex signals are particularly useful for those who do not have much time to dedicate to watching the market, but they can be a useful strategy reference for all traders.
8. Create Trading Rules That You Will Not Break
Due to its intensity and volatility, forex trading can easily become consuming. Your emotions are easily heightened and this can cause decision making to become distorted.
It is therefore important to set out some rules for yourself that dictate the limits of your trading account.
Decide how much money you are willing to risk by calculating how much you can afford to lose. Stick to this limitation as if it is set in stone.
It can be sensible to set up some more concrete controls on your trading account.
As part of your risk management strategy, creating a stop loss – also known as a stop order or a stop-loss order – helps to safeguard against unexpected losses if the market turns in an unfavourable direction.
A stop-loss order is a computer activated trade tool that sends an emergency instruction to your broker, telling them to exit a trade when it reaches a specified price.
Due to the volatility of the forex market and the element of human emotion that comes into play in a high-intensity trading environment, setting rules through pre-determined mechanisms such as stop-loss orders ensures your capital is protected.
It is also important to set personal rules for yourself to manage your trading and work-life balance. Make the promise that you will step back from trading if it is becoming all-consuming or having a detrimental impact on your mental health.
Set yourself a schedule with regular breaks and ensure you stick to them to manage your screen time and prevent fatigue.
Setting both strategic and personal guidelines for trading is the best way to support your own success.
9. Research Different Trading Strategies
Forex trading is complex and can be operated under a variety of different strategies. Traders use these strategies to determine the best entry and exit points to buy and sell currencies.
Fundamental analysis is conducted by looking at fundamental economic indicators to assess currency valuations and likely relative movements. It involves a deep grasp of complex economic data to speculate around future trade and investment trends.
For beginners, knowledge of this kind of analysis will begin by analysing currency flows and keeping up to date with macro-scale economic news.
Technical analysis involves looking at the past and most recent trends (depending on your chosen timeframe) using forex charts. Technical analysis is an umbrella term that encompasses many different methods of trend detection.
An example of some of these specific methods would be inserting trend lines or using moving averages to inform the execution chart in your chosen timeframe.
Using tools such as moving averages, which indicate the trends in movement, is referred to as a trend-trading strategy.
Other trading strategies include:
Range trading
Momentum trading
Breakout trading
Reversal trading
Position trading
There are also differing overarching trading strategies such as forex day trading or forex scalping.
Strategies and approaches to forex trading tend to overlap, with any single overall strategy consisting of multiple smaller strategic choices of approach.
For example, a trend trading strategy is regularly employed in most types of overall trading strategy, whether it is scalping, day trading or swing trading.
Understanding the approaches of the most common trading strategies will help you to form a personal strategy for trading in the forex market.
10. Find a Forex Mentor
A mentor is a counsellor or guide who can aid your learning in a particular subject. A forex trading mentor, such as Asia Forex Mentor, should be an experienced trader who has a high level of knowledge to impart to individuals beginning their forex trading journey.
Beginners may feel overwhelmed by the forex market and a mentor can provide the extra support and guidance needed.
Finding a mentor can significantly improve trading performance as they provide hands-on guidance and support. A mentor can help you to realise the mistakes you are making sooner and fast-track your way to becoming a more successful forex trader.
Mentors should be credible with a proven track record of success. A good mentor should be able to clearly explain their trading process and have records to back up their strategy.
It is also crucial that your mentor is currently trading in the market themselves, either trading their own money or managing money for other people. This means they are immersed in the current market and will be carefully following market trends.
Your mentor should inspire you to become a better trader whilst respecting your individual traits and emotions. The best mentors aim to build your skills and confidence whilst helping you to cultivate your own trading style.
It is important that you feel comfortable talking to your chosen mentor and trust their judgement and teaching. If you don't respect the ability of your mentor, you will not want to base your own trading strategy off their advice and guidance.
The most rewarding mentor-mentee relationships come from the understanding that mentoring is a two-way street. Both parties can enrich their learning and approaches through the process and find it extremely rewarding.
Mentorship often comes at a cost. Therefore, it is important to take the time to find a knowledgeable and honest mentor who will provide ongoing support, making your investment worthwhile.
Our Top Trading Courses
Thomas Kralow is a well-known trader who offers students the opportunity to get a university-grade education in trading – including everything you need to know, not just the fancy stuff.
There is a free, basic course available. Lasting 21 days, with access to 20 video lessons, seven interactive tasks as homework, and 19 quizzes, this serves as a good introduction to the type of learning that you will be doing if you decide to take on either the full or shortened course.
The Complete course lasts 150 days and is split into 16 chapters. You will have access to 202 video lessons, will need to complete homework in the form of 82 interactive tasks, complete more than 145 quizzes, and take a final exam.
The Shortened course has the same content – just without the basics, so it is more suitable for experienced traders.
The costs depend on the level of support you need in your learning. If you are happy to complete the course independently, then the Standard package will be enough. This costs $395 per month for 4 months, or a $2,980 one-time payment.
The Assisted package includes a personal live assistant, with private real money trading support for 30 days after graduating. This costs $875 a month, or a one-time payment of $2,980.
The Assisted Plus is the top-level option, which includes personal attention from Thomas Krakow – private mentorship, a private line of communication, and one-on-one sessions, as well as your trading algorithm personally checked by Thomas himself. This costs $6,125 per month for four months, or $19,900 as a one-time payment.
Thomas Kralow is confident in his method, and if you are unhappy with the content, you can get your money back within the first 30 days, and there are no hidden fees.
Providing a trading education that is designed to take you from the basics through to the advanced strategy, How to Trade has a wealth of world-class educational resources.
There are more than 50 free trading lessons, designed by globally recognised mentors, and when you complete them, you will receive a certificate. You can expect the free courses to include both forex and stocks education – from a basic introduction through to charts, technical analysis, indicators, risk management and psychology.
Alongside the free courses, there is premium content that comes with membership of the Trading Room. There are three different membership levels, with increasing benefits as the price goes up. Every level includes access to the Trading Room, all the premium content in the modular video academy, daily live trading sessions, trade sentiment analysis, weekly hot pick analysis, real time global news stream, live interactive workshops and access to pro trader tools.
The different pricing structures are as follows:
The Apprentice – £77 per month, billed monthly. Includes one month access to the Trading Room.
The Committed – £39 per month, billed six monthly. Includes six months access to the Trading Room. This also includes exclusive brokerage access and one-on-one with a mentor.
The Professional – £36 per month, billed annually. Includes a year's access to the Trading Room, all the features of the Apprentice and Committed subscription, but also a direct line to the mentors, the Trend Surfing Expert Advisor, and a license key to Forex Tester 5.
Final Thoughts
Entering the forex market requires a steep learning curve that can be daunting. Most of this information is, however, available online and for free.
Some brokers and providers will charge for the curation and delivery of their course content. These courses may be a great time saver but, if you don't wish to invest early on, similar information can be found through targeted research.
Whether or not you intend to invest money into your forex education, you must invest your time.
Before beginning to trade with your money, it is prudent to gain enough background knowledge to be able to speak confidently about technical aspects such as spreads, ratios and forex charts.
It is also crucial to take the time to gain practical experience in a safe environment, through practising with a demo account before setting up a live forex account.
A solid forex education will ensure you begin your trading career – whether it is amateur or professional – with knowledge of the tools and skills needed for the best possible chance at success.
WikiJob does not provide tax, investment or financial services and advice. The information is being presented without consideration of the investment objectives, risk tolerance, or financial circumstances of any specific investor and might not be suitable for all investors. Past performance is not indicative of future results. Investing involves risk including the possible loss of principal.
---