How to Buy Binance Coin (BNB)
In recent years, a new form of trading has appeared and has taken the world by storm: Cryptocurrency.
Cryptocurrency is a form of digital currency which can be exchanged for goods or traded through online platforms.
One of the reasons for the success of cryptocurrency is the fact it's almost impossible to counterfeit or double-spend.
This article will explore one of the most popular options for cryptocurrency: Binance.
What Is Binance?
Binance is a global exchange for cryptocurrency, which has quickly become one of the biggest platforms in the world.
It also offers its own cryptocurrency coin, known as the Binance Coin, or BNB.
Since being established in 2017 in China, Binance has quickly become one of the world's leading cryptocurrency trading platforms, with a market cap of over $90 million.
Traders can choose to trade on the global Binance platform or the US trading platform, Binance.us, and a variety of other currency exchange platforms.
When people talk about buying and selling Binance, they are referring to the coin rather than the platform itself.
Binance Coin, or BNB, is the token used to trade on the Binance exchange globally.
Using BNB also means that individuals can take advantage of a 25% reduction in trading fees.
Why Would You Buy BNB?
People who are looking to invest in cryptocurrencies would do so by purchasing coins in their chosen currency.
For those looking to trade with Binance, that would mean buying BNB.
Binance is one of the largest investment platforms in the world when it comes to cryptocurrency, and, thanks to lax Chinese regulations, that is unlikely to change.
The platform has shown consistently steady growth, which means that there is a good potential for individuals to gain when they buy, trade and sell BNB.
BNB can be used to trade on the Binance platform, and it is fast becoming one of the most trusted forms of cryptocurrency for businesses.
This means that it can be used to make purchases on anything from meals to flights.
How to Buy BNB?
If you have never traded in cryptocurrencies before, then it may feel as though you are entering a strange new world.
Once you get to grips with it, the process of buying and selling BNB is relatively simple.
There are a few things you should consider before making your first investment.
Look at All of the Platforms
Binance isn't the only platform where you are able to purchase BNB.
Platforms such as eToro, BC Bitcoin and Paybis also offer users the opportunity to buy and sell Binance Coin.
Cryptoassets are highly volatile and unregulated in the UK. No consumer protection. Tax on profits may apply.
Alternative platforms will specialise in different types of cryptocurrency.
Therefore, it's worth considering using an alternative platform if you are looking at buying and trading more than one currency.
Decide How Much You Are Able to Invest
It could be a good idea to decide how much you are able to invest before choosing which platform you wish to trade with.
Some platforms will have minimum investment amounts; therefore, always check that you are not going to be committing yourself to investing more than you can afford.
Remember that all types of trading and investment come with an element of risk. BNB is no different. Never invest more than you can afford to lose.
Once you have established how much you are able to invest and considered all of the platforms available, it is time to choose your preferred exchange.
Make sure to be aware of fraudulent platforms and take the time to choose a legitimate exchange.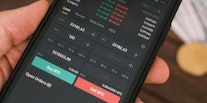 How To Buy Binance Coin (BNB)
Using eToro you are able to purchase BNB alongside a variety of other cryptocurrencies.
Minimum deposits will vary for users around the world.
There are also various trading and overnight fees, which are variable. Withdrawals are charged at £5 per £50 withdrawn.
Cryptoassets are highly volatile and unregulated in the UK. No consumer protection. Tax on profits may apply. Past performance is not an indication of future results
Binance will allow you to purchase BNB and over 50 other cryptocurrencies.
Users who are trading BNB on Binance will be able to take advantage of a 25% traders discount.
There is a minimum deposit of $10 for US account holders and fees are charged at 0.1% to 5% depending on the payment method which is used.
With a smaller selection of cryptocurrencies to choose from compared to other exchanges, Paybis may not be suitable for those looking to create an extensive cryptocurrency portfolio.
Trading fees are variable depending on the payment and deposit methods used, so make sure to thoroughly read the fee information before purchasing.
There are no additional fees for withdrawing funds.
Important Things to Remember
Take Note of Trading Fees
Binance reduces trading fees by 25% for users who trade with BNB; however, this will not be the case for all platforms.
Make sure that you are aware of any fees which will occur and ensure that you fully understand the terms and conditions of trading.
Verify Your Account
Once you have opened your account, you will be asked to verify it.
This will be done in multiple ways, such as confirmation emails, and being asked to supply identification which can be used to verify your identity.
Choose Your Payment Method
BNB can be purchased in a variety of ways.
Most platforms will allow you to use bank cards or alternative cryptocurrencies.
Some will also allow you to make purchases using credit cards.
Deposit Funds
The next step is to deposit funds from your bank account into your trading account.
This may need to be verified with your bank to allow for the transaction to be completed.
Convert Cash or Your Chosen Cryptocurrency to BNB
When your account is open and verified, and you have deposited funds into it, you are ready to purchase your Binance Coin. This can be done in a variety of ways.
Most commonly, you would use a debit card to convert money from your bank account into BNB.
Some platforms will also allow you to use credit cards or exchange existing cryptocurrency.
Consider Setting up an External Wallet
Once you have begun investing, it is worth considering setting up an external wallet in which to store your BNB and other cryptocurrencies.
This can be done via software which can be used on mobile devices or your desktop as well as hardware options which can be stored somewhere of your choosing.
Software – There are many software options for individuals looking to create a wallet which can be accessed via their mobile or desktop devices. Coinomi and Atomic Wallet are popular choices

Hardware – A hardware wallet is generally considered to be the safest way of storing your cryptocurrencies. This is a physical device which stores the private key to your coins offline. Many people prefer this as it is virtually impossible for anyone to access your cryptocurrency as long as the device stays in your possession

Binance Web Wallet – Alternatively, you can store your BNB on your Binance account. This is a popular choice with individuals who don't have a huge amount of cryptocurrency as it helps them to avoid withdrawal and exchange fees. Keep in mind though that if you choose to leave your coins on the exchange then you are effectively handing over control of them to Binance
Final Thoughts
Cryptocurrency investment has increased in popularity in recent years to the point that it is now a standard investment choice for many people.
This is why investing in Binance can be a positive move for those looking to take the first step into the world of cryptocurrencies and online exchanges.
As with all investments, however, make sure that you do your research before committing and never invest more than you can afford to lose.
---