Dixon Wilson Graduate Scheme
The Dixon Wilson Graduate Scheme Explained
Anybody studying or interested in accountancy is very likely to have heard of Dixon Wilson.
Dixon Wilson is a leader in chartered accountants with opportunities for graduates and interns to work in the London or Paris office.
The graduate scheme is extremely sought after so therefore highly competitive.
There are two intakes a year, generally in March and September, with a maximum of 10 trainee places each intake, and Paris takes a maximum of two a year.
The training is very broad and of a high quality, which makes future career opportunities limitless.
Most of Dixon Wilson's managers and senior staff start as trainees, with a successful mentoring and progress scheme, internal retraining and promotion.
Gaining a job at Dixon Wilson can lead to a life-long career.
So how does the Graduate scheme work, and what is a good strategy to successfully gain a place on the scheme?
This article explains it all.
What Does the Dixon Wilson Graduate Scheme Offer?
The Dixon Wilson Graduate Scheme is designed for those who have the skills required for a career in accounting, and the passion, commitment, drive and flexibility.
The scheme aims to find the top candidate through the Dixon Wilson application process, which will filter out those who have prepared and worked hard.
It is very competitive, so applicants need to show they are a cut above the rest.
That doesn't mean all applicants should be overwhelmed, though, as preparation will help with the process.
For those who are successful, the three-year training scheme offers a unique and exciting extensive list of opportunities for the trainees.
The graduate scheme offers some of the following:
Competitive salary – Trainees will receive increments in salary throughout their training, and many will receive settling-in pay if they have to relocate for the role.

Real responsibility – The scheme does not give trainees menial and basic tasks, but projects that will challenge them. It gives both practical and theoretical responsibility that gives a great grounding for success.

An introduction to clients at all levels, including the key decision makers – The trainees can start to build professional relationships from the outset.

A vast range of in-house training in all areas – Including a variety of projects from taxation, audit and accountancy.

Advice and training from external tutors that are in the profession.

The chance to travel – This could be to see clients in other parts of the country or abroad.

There is often travel between the London and Paris office – Closely working with senior management and mentors.
What Do You Need to Apply?
Dixon Wilson requires applicants to have a minimum of 300 UCAS points and a second-class degree in any discipline.
Candidates also need to have good academic ability, particularly numeracy and communication skills (which will be assessed in the application process) and a drive to work hard and study.
Lastly, they need to be adaptable and be able to apply certain skills to different professional scenarios and assignments,
Deadlines for Applications
Typically, the graduate scheme's deadline for applications (stage one) is February and August each year. The second stage commonly commences in March and September.
Stages and Strategies When Applying to the Dixon Wilson Graduate Scheme
There are three main stages for the Dixon Wilson application process.
Stage One – Application
There is an extensive five-step application form to complete online as the initial stage.
As well as personal information such as age, address and name, it also asks for qualifications, employment history, extra certificates and skills, languages spoken, and reasons why you should be considered for the job.
You can register and log in to complete and add to the form if you do not want to do it all in one sitting.
Stage Two – Assessments and First Interview
The successful candidates from the first stage will be asked to take part in the assessment stage.
There are three tests, one in math, one in verbal reasoning and one in written communication.
Math
The math assessment consists of approximately 20 questions and lasts 45 minutes.
It covers basic math skills, such as working out percentages for income tax, accountancy-based questions (such as finding the accounts receivable amount) and general numerical puzzles to solve.
Verbal
The verbal assessment is typically 18 minutes long with 30 questions.
There is commonly several sentences or passages followed by true or false statements about the text that the applicant has to answer.
Or there could be questions that the examinee needs to answer referencing the text.
Written
The final assessment is a written test. This is normally shorter, at around 15 minutes long, and a common task is to ask the candidate to write a letter to a customer.
The letter will be tested on spelling, grammar, and that it includes all correct and relevant data.
Those applying for a role at the Paris office will have to take a further assessment, showcasing their written French skills.
This will be grammar, tenses and basic sentences. They will then be interviewed in the Paris office.
These tests are generally taken at a Dixon Wilson assessment centre or online. It is common for the candidate to find out immediately after if they have scored enough to go through to the next stage.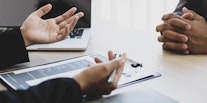 Dixon Wilson Graduate Scheme: Stages and Strategies
If they have been successful, they are then invited to a first stage interview with an HR representative, which can often occur on the same day as the assessment.
They will also have the chance to meet one of Dixon Wilson's current trainees.
There are some example questions that may be asked at this first stage interview.
Here's a few of them:
1. "Why do you want to work for Dixon Wilson?" 2. "What is the average taxable income of our clients?" 3. "Why do you want to work in accountancy, apart from because you have the desirable skills?" 4. "How many people work for Dixon Wilson? Name three advantages of working for a company of this size" 5. "If you found $10,000 that seemed to not belong to anybody, what would you do?" 6. "What has been the biggest challenge in your life so far?" 7. "What is more important, gaining sales or having great customer service?"
These will, of course, vary, but can be a basis for a candidate when doing research.
After this interview, applicants are contacted within a few days. Successful candidates will be invited to a second interview.
Stage Three – Final Interview
This interview will only be for the top potential graduates who have shone the brightest in the previous two stages. They will not only have the academic credentials but the personality, mindset and passion to fit Dixon Wilson and the scheme.
This interview is with a partner or senior employee of the company already.
This is the candidate's last chance to show what they are made of and prove they are right for the scheme.
Often with interviews such as these, the topics covered will flow conversationally, and will vary depending on who is doing the interview.
There are some typical questions that may be asked, though:
1. "What makes you different from other applicants?" 2. "What is the best thing you have ever done so far in your life?" 3. "Talk us through how you would help on this certain assignment" 4. "List five things that make you stressed/happy" 5. "What is your biggest mistake in life so far?" 6. "How would you describe accountancy to a five-year-old?" 7. "How do you match the ethos of Dixon Wilson?"
If you have been one of the successful ones, you will shortly be invited to join the scheme.
Strategies for Successfully Passing the Dixon Wilson Application Process
The application process is long and tough. It requires focus, certain skills, research and preparation.
There are some research and preparation tips that can help to become successful though, which we have listed below.
Application Stage
For the application stage, it is worth highlighting all your achievements both educational, but also and, perhaps more so, your extracurricular successes and prizes.
It shows you have the commitment and ability to achieve outside of education, which will prove a lot to the employers of Dixon Wilson.
With the application, ensure you read each question and point carefully, answer correctly and check for spelling and grammar.
As you do not have to complete it all in one go, it is worth taking the time to go back in and read it through before sending it.
Assessment Stage
The assessment stage will require you to show your basic skills in the areas covered.
As well as searching for and trying to do as many practice papers online as you can, it is recommended to practice actual math skills rather than just numerical reasoning. You may even need to get your school books out.
For verbal reasoning, ensure that you practice online and fine-tune your reading and comprehension skills.
Practice your letter-writing technique for the written communication test. You can look up a template of what is needed to be included in a formal letter.
Interview Stage
Ensure you know everything there is to know about the company, how many employees it has, a list of clients past and present, its ethos, and anything else relevant.
You can then apply all the information to yourself – look at the company's benefits and mentally note which of them would be the biggest advantages to you.
Equally, consider what challenges you feel you may have.
Check the website and online for news of the company before you sit your assessment and subsequent interview. There may be a question related to some recent updates.
Finally, consider and research the implications of working for a medium-sized company where you will most certainly need to travel abroad at some times.
Final Thoughts
Dixon Wilson is a great accountancy company to work for, which is why it is one of the leading firms in this industry.
The Dixon Wilson graduate scheme sees trainees learn immense amounts in the first three years, and internal promotion within the company is a good bet.
As a long-running business, the company looks after all its staff, and people are very keen to work there and stay there for a long time.
The company likes to employ the best but is open to many different backgrounds, and especially those who possess passion and drive.
With some top strategies that include thorough research and preparation, candidates have every chance of success.
---