Credit Cards With Air Miles: Best 5 in the UK
What Are Credit Cards With Air Miles?
Air miles are points that you can use towards the cost of a flight ticket or other airport and airline services. Some credit cards reward customers with points that can be converted to air miles. The more you spend on your credit card, the more air miles you accrue.
It can help to view air mile points as a type of currency to spend as you wish within the rules and limitations of the credit card to which you sign up. You might decide to spend them on flight tickets, in-flight purchases or airport upgrades.
So, how much are air miles worth? Typically, one air mile is equivalent to approximately one penny. Based on this conversion rate, if you have 100,000 air miles, you can claim £1,000 to spend. So, it takes a lot of spending to accrue enough air miles to cover the cost of one flight ticket.
For this reason, air mile credit cards are usually aimed at high earners who travel frequently and who can afford to spend large amounts on their credit card. Some credit cards do offer a higher reward-to-spend ratio, although they often come with higher annual fees and APRs.
If you are not planning to make good use of the air miles feature, it might be better to choose a different credit card option with a lower interest rate, lower fees, and other benefits and perks better suited to your lifestyle.
Collecting air miles is a perk that has been enjoyed by frequent travellers for years, but it pays to review the different options on the market and choose the credit card that gives you the most return on your spending.
What Are the Benefits of Credit Cards With Air Miles?
Bonus Air Miles
Some credit cards offer bonus air miles during the initial period after you sign up. The number of air miles can be pretty significant and are worth considering when choosing which credit card to opt for.
There is usually a minimum spend amount on your new credit card within the first few months to qualify for the bonus air miles but, if that's achievable for you, it is a perk not to be missed.
Extra Privileges
Along with the points to convert to air miles, an air mile credit card offers you extra privileges and benefits for which you would usually have to pay.
One of the popular perks is access to airport lounges worldwide as a credit-card holder. Airport lounges provide complimentary food and drinks, newspapers and magazines, and a quiet place to sit while you use the free Wi-Fi.
You might also receive priority boarding as an airline credit-card holder, allowing you to board the plane and get seated and comfortable before the rest of the passengers embark.
Depending upon the airline credit card that you choose, you might also receive additional benefits such as the ability to claim air miles for a travelling companion's airline ticket (see below) and the option to top up your air miles with cash if you so wish.
Elite Status at Hotels
One of the most enjoyable and exclusive benefits of using an air miles credit card is that it may qualify you for elite status at some hotels around the world. This elite status can include complimentary room upgrades, free breakfasts, late checkout and extra air-mile bonus points.
Companion Ticket
Finally, a standout benefit of an air miles credit card is the ability to earn a companion ticket which allows you to take a travelling companion on the same flight, included on your ticket.
This perk requires a minimum annual spend (usually £10,000 or £20,000, depending on the particular card) and you will still have to pay any fees and taxes due for your companion.
What Is the Difference Between Air Miles and Frequent Flyer Miles?
You may have heard of frequent flyer miles, which can sometimes be confused with air miles. However, there are important differences between the two.
Frequent flyer miles are usually awarded by a credit card that is associated with one specific airline. The aim is to reward their 'frequent flyers' to encourage brand loyalty.
For example, a Flying Club Miles credit card awards points that can be used for air miles only redeemable on Virgin Atlantic flights (or flights with their named associates and partner airlines). The AAdvantage Miles credit card awards points only to be spent on American Airlines, and Avios air miles are tied to British Airways.
Restrictions on using frequent flyer miles often balance out with more spending power for your points. Frequent flyer miles might allow you to upgrade to business-class travel with fewer points, for example.
Where air miles usually convert at a rate of 100,000 miles to £1,000, frequent flyer miles can convert to a much higher amount of currency. The exact amount can vary significantly between airline credit cards, so do your research before making a decision. Usually, long-haul flights offer a better air-mile conversion rate than shorter flights.
If you tend to use the same airline or take the same route often, frequent flyer miles can be more beneficial than general air miles. Business travellers who frequently fly between international offices can significantly benefit from building up frequent flyer miles with the airline that serves those routes.
You might find that most benefits come from additional services rather than the points you accrue. Many airline credit cards offer priority boarding, free luggage check-in, and the chance to receive elite status at luxury hotels around the world.
Air miles can typically be used on any airline from a specified list, giving you more flexibility in how you spend them. If you are not yet sure how you want to claim your air miles, you can start accruing them, knowing that you can decide which airline to spend them with at a later date.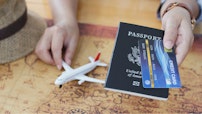 Top 5 UK Credit Cards With Air Miles
Virgin awards Virgin Points as its rewards currency. With the Virgin Atlantic Reward credit card, you earn 0.75 Virgin Points for every £1 spent on card purchases and 1.5 Virgin Points for every £1 spent at Virgin Atlantic or Virgin Holidays.
As an example, Virgin states that if you spend £650 a month on your Virgin Atlantic Reward credit card, you'll receive 5,850 points per year. You need just 3,000 points in your account to start claiming your rewards by using your points as part-payment on flight tickets and topping up with cash.
This Virgin Atlantic Reward card could be considered a low-cost, low-commitment air miles credit card. It doesn't offer any bonus points with an initial spend, but it also has no annual fee. APR is 22.9%, based on a credit limit of £1,200.
It does, however, have the option of earning either an upgrade to a Premium seat or an additional companion ticket if you spend £20,000 in a year.
The Virgin Atlantic Reward+ credit card is a step up from the Virgin Atlantic Reward, offering bigger rewards for greater spending.
When you sign up for a Virgin Atlantic Reward+ credit card, as long as you make your first card purchase within 90 days of opening your account, you receive 15,000 bonus Virgin Points. You go on to earn 1.5 Virgin Points for every £1 you spend on everyday purchases using your card, increasing to 3 points for every £1 you spend with Virgin Atlantic or Virgin Holidays.
With this card, you can upgrade to Premium or receive a Companion Voucher with a £10,000 a year spend. It comes with an annual fee of £160. It has a purchase rate APR of 22.9% variable based on a credit limit of £1,200, and a representative APR of 63.9% variable.
The British Airways American Express Premium Plus credit card awards Avios points, which are air miles redeemable only on British Airways flights.
With every £1 spent on purchases, you receive 1.5 Avios points, rising to 3 Avios points with every £1 spent with BA Holidays or British Airways. As an introductory offer, you receive 25,000 Avios points if you spend £3,000 in the first three months of having the card.
If you spend £10,000 annually on the card, you earn a 2 for 1 Companion Voucher that allows you to include another person when you redeem your points for a British Airways flight. The voucher is valid for two years, and you are still required to pay the remaining fees, taxes and charges for your companion.
The annual fee is low at just £195 per year, but the representative APR on this card is 74.7% variable and the purchase rate is 22.2% variable, with an assumed credit limit of £1,200.
The American Express Preferred Rewards Gold credit card offers 20,000 Membership Rewards points when you spend £3,000 within the initial three months of membership.
You receive 1 Membership Rewards point for every £1 spent on the card, 2 Membership Rewards points for every £1 spent directly with an airline, and 3 Membership Rewards points for every £1 spent at American Express Travel.
The annual fee for this card is waived during the first year and is payable at £140 per year after that. With an assumed credit limit of £1,200, representative APR is 56.6% variable, and purchase rate APR is 22.2% variable.
The American Express Business Platinum credit card is a charge card rather than a credit card. That means you must pay off the balance by the end of each month (although you do have a maximum 54-day payment period with this particular charge card).
It offers a substantial 100,000 Membership Rewards points if you spend £10,000 on your card within the first three months. After this initial time period, you earn 1 Membership Rewards point for every £1 you spend on the card, and 2 Membership Rewards points for every £1 spent at American Express Travel.
The annual fee for the American Express Business Platinum credit card is a pretty hefty £595. Additional benefits include access for you and a guest to airport lounges worldwide and complimentary benefits at many luxury hotels, including early check-in, late check-out and free breakfasts.
Final Thoughts
Credit cards that reward spending with air miles can be incredibly beneficial for people who travel frequently. You typically earn more points from travel purchases and can spend your air miles on flight tickets or services. You also receive plenty of other perks including hotel upgrades, airport lounge access and even the chance of bringing a companion along with you.
The various airline credit cards on the market all have slightly different features and benefits, so it is important to research which best suits your situation. With the right choice, you can earn air miles just by continuing with your normal, everyday spending.
WikiJob does not provide tax, investment or financial services and advice. The information provided is for general reference and you should not rely on it to make (or refrain from making) any financial decisions. Personal situations will vary. Always seek independent financial advice when choosing how to manage your finances.
---