Top 10 Stock Brokers in Australia
All products and services featured are independently selected by WikiJob. When you make a purchase through links on this page, we may earn a commission.
eToro - №1 Trading Platform
As more people realize that you do not need piles of money to start investing, stock trading platforms are doing what they can to attract new customers.
To help you start investing, we are taking a look at how to find the right Australian stock broker for you.
What Is a Stock Broker?
A stock broker is someone who buys and sells stocks on behalf of someone else.
This could be on behalf of an individual or an organization such as a hedge fund.
Stock brokers work in one of three ways:
Discretionary – Whereby they take over the complete management of the portfolio and make decisions on the client's behalf.

Advisory – Here, they can offer suggestions and advise on the best course of action, but they cannot make any trades without their client's authorization.

Execution-only – The stock broker does not offer any advice. They simply make the trades and investments they are told to.
What Are the Different Types of Stock Brokers?
As the stock markets can be complex and difficult to understand, you must first learn the different types of stock brokers operating in Australia:
Full-Service Brokers
As the name suggests, full-service brokers do everything to make your investing experience as easy as possible.
They will make suggestions, offer advice, and action trades and investments on your behalf.
Full-service brokers also provide detailed financial reports detailing your portfolio's performance.
Discount Brokers
Discount brokers are more affordable than full-service brokers and only make trades when their clients want them to.
They often do not offer any advice, so you still need to manage your finances and do your research.
Online Stock Brokers
Online stock brokers are increasing in popularity as you can make investments and manage your portfolio anywhere and at any time from your mobile phone.
They sometimes offer educational material and data analysis tools.
These types of brokers are for beginners and experienced traders.
How Do Stock Brokers Make Money?
Stock brokers make money by charging a commission, subscription fees, or additional fees for different investments, trades and management levels.
Are Australian Stock Brokers Regulated?
Australian stock brokers are regulated under the Australian Securities and Investments Commission (ASIC).
It acts under the Parliamentary Secretary to the Treasurer and regulates all Australian companies, financial markets, and financial services organizations and professionals who advise on:
Insurance
Superannuation
Credit
Deposit-taking
Its role is to:
Facilitate and improve Australia's financial system's performance
Promote informed investor participation
Enforce the law efficiently and effectively
Make important information publicly available as soon as possible
Key Considerations Before You Choose an Australian Stock Broker
Know What You Need
Before researching, make a list of everything you want from your stock broker.
If you are a beginner, you might want educational material and easy-to-use software and analytical tools.
More experienced traders may want the best data and research tools.
Establish where you are in your trading journey and decide what features will benefit you now.
You should also consider if you want a platform with social copy trading.
Listen to Other Investors
Read online reviews and seek the opinions of investors that have used the platforms before.
Consider that what is difficult for them to use could be easy for you; therefore, find as many opinions as you can to further your understanding.
Is the Stock Broker Regulated?
The Australian regulator is ASIC.
If your stock broker is regulated, it will share those details on its website.
Alternatively, you can search the ASIC database.
When looking at the safety of a broker, the most reliable have been trading for at least two years or have survived a recession.
If the broker is outside Australia, check if it is regulated by a Tier one reputable country such as the UK or US.
What Assets Does It Trade?
In addition to stocks and shares, many brokers now trade forex and cryptocurrencies.
Using a stock broker with multiple tradable assets allows you to diversify your portfolio and maximize your investments.
What Trading Platforms Are Available?
A trading platform is software designed for investors to make trades.
Some platforms are very easy to use with modern interfaces. Others are more dated and simpler.
There may also be different charges or subscription options for the different platforms available.
What Is the Withdrawal Amount?
Check the maximum amount you can withdraw in a single transaction, as well as how you can withdraw and what the fees are.
The average transfer time should be two or three days.
Stock brokers that make withdrawals difficult may not be trustworthy.
What Is Its Customer Service Like?
There is no excuse for poor customer service in today's age. Dedicated software allows businesses to reach their customers in a variety of ways.
If you need tech support, find a broker with 24/7 help via telephone or live chat.
Regardless of how much support you need, the broker should have at least two ways you can communicate with it, and it should respond within two working days.
What Do Its Platforms Offer?
It is easy to get drawn to stock brokers with introductory offers, but look at what it provides beyond that.
Find what educational materials it has. Some brokers have limited materials, while others have webinars, podcasts and demo accounts.
You should also assess its research and data tools. Not every broker offers fundamental data, yet it is a valuable tool for analysis.
Deciding what educational and research tools you have to have will help you narrow your choices.
The 10 Best Australian Stock Brokers
Now that we have covered what a stock broker is and how to choose one, here is a review of the 10 best stock brokers in Australia.
This list provides a brief description of the different brokers to help assist you in your research.
It is important to remember that this is not a definitive list and should not be considered financial advice.
Before making your final decision, ensure you have conducted further and more substantial research.
All prices and values are in US dollars unless specified as A$, which represents Australian Dollars.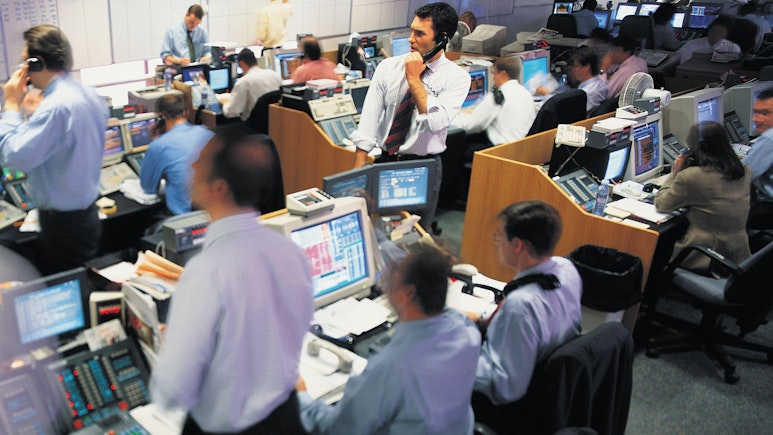 Top 10 Stock Brokers in Australia
Best for: Social trading
Commission: $0
Minimum deposit: $200
Withdrawal fee: $5
Tradable assets: Stocks, EFT, forex, CFD, cryptocurrencies
Number of stocks: 2,000+
eToro is an Israeli fintech company that has been operating since 2007.
It is not listed on any stock exchanges, nor does it disclose its financial information. However, it is safe to use as it is regulated by ASIC.
eToro excels at social trading with over a million users, highly active social feeds and up-to-date public trading profiles.
Its innovative CopyTrader feature allows users to see what other, more experienced traders are doing in real-time.
It also automatically copies their trades to your portfolio. This is ideal if you are new to trading or do not have the time to manage your portfolio.
The broker allows you to invest in stocks from across the world, including the New York and London Stock Exchanges.
Best for: Forex trading
Commission: Fees included in the spread
Minimum deposit: $0
Withdrawal fee: $5
Tradable assets: Stocks, EFT, forex, CFD, cryptocurrencies
Number of stocks: 1000+
XTB is listed on the Warsaw Stock Exchange and regulated by the UK's FCA. It is not regulated in Australia but is still considered safe to use.
Forex fees are very competitive; however, stock CFD fees are higher than some competitors.
It offers multiple withdrawal options and educational material; but lacks fundamental data and offers limited research tools.
Best for: Research tools
Commission: 0.08% of the trade
Minimum deposit: $100
Withdrawal fee: $0
Tradable assets: Forex, CFD, cryptocurrencies
Number of stocks: 4,500+
City Index is known for its use of spread betting as the money you make from your bets are tax-exempt.
It is a short-term strategy rather than a long-term investment.
The platform has an interactive dashboard with multiple market views, charts and technical indicators, making it more suited for experienced traders.
City Index offers low and competitive fees but has limited stock options.
Best for: All-round service
Commission: 0.10% minimum fee of A$7
Minimum deposit: $0
Withdrawal fee: $0 (a fee may apply for same-day and international withdrawals)
Tradable assets: Forex, indices, commodities, CFD, cryptocurrencies, shares, treasures
Number of stocks: 10,000+
CMC Markets won six awards in Australia in 2018, including 'highest overall client satisfaction', 'platform features' and 'educational material/program'.
It is regulated by ASIC, and CMC opened its Sydney office in 2002.
CMC Markets is considered one of the best trading platforms with a diverse portfolio.
Its education tools include downloadable guides that detail how to trade and what strategies to use to get the most from your investments.
Best for: CFD trading
Commission: 0.10% minimum fee of A$10
Minimum deposit: $0
Withdrawal fee: $0
Tradable assets: EFT, forex, options, CFD, stocks
Number of stocks: 10,000+
IG Group is listed on the London Stock Exchange and is regulated by ASIC, making it safe to use in Australia.
It is described as the world's number one CFD provider and is ideal for traders of all levels.
It provides excellent education tools and has one of the best-designed platforms.
IG is best for forex trading as the prices are more competitive. The stocks CFD fees are not as competitive and do run higher than other stock brokers.
The platform provides automated trading meaning your trades can be managed when you do not have the time to do it yourself.
Best for: CFD trading
Commission: Included in trading fees
Minimum deposit: A$100
Withdrawal fee: $0
Tradable assets: Forex, CFD, cryptocurrencies, commodities
Number of stocks: 500+
AvaTrade comes with a variety of deposit and withdrawal options that are free. However, the broker does implement high inactivity fees, and trading fees are not as competitive as other online brokers.
It is ASIC regulated but not listed on any stock exchanges, nor does it release its financial information.
The trading platform is user-friendly but offers limited customization.
It has excellent educational tools and a demo account to get you started.
Best for: Professionals
Commission: 0.08% trade value
Minimum deposit: $0
Withdrawal fee: $0
Tradable assets: Stocks, EFT, forex, funds, bonds, options, futures, CFD, cryptocurrencies, warrants, structured products
Number of stocks: 7,000+
Interactive Brokers offers an extensive portfolio with many tradable assets.
Its platform is designed for professionals and day traders as it has unlimited research possibilities that are sometimes difficult to follow.
The account opening process can also be challenging.
Once registered, users have access to an education suite that includes courses, webinars and tutorial videos.
Interactive Brokers is regulated in Australia and considered safe to use.
Best for: Shared trading
Commission: A$10+
Minimum deposit: A$50
Withdrawal fee: Unlimited fee-free electronic withdrawals, two fee-free assisted withdrawals per month
Tradable assets: ETF, forex, bank direct debits, CFD
CommSec is run by the Commonwealth Bank of Australia, making it Australia's leading online broker.
It received Money Magazine's 2021 'Best of Best' and 'Best Feature-Packed Bank Online Broker' awards.
The platform is user-friendly, has excellent data and monitoring tools, and extensive educational materials.
Users have access to the New York and London Stock Exchange and the Asia Pacific listed companies.
Best for: Australian markets
Commission: 0.08% of the trade
Minimum deposit: A$100
Withdrawal fee: $0
Tradable assets: Forex, CFD, cryptocurrencies, stocks traded on Australian Securities Exchange
Number of stocks: 9,000+
FP Market has low forex fees; however, stock CFD fees can be pretty high with a limited product lineup.
As an Australian company, it only trades stocks listed on the Australian Securities Exchange.
Account opening and deposits are fast and effective.
Users have access to e-books and a demo account. However, the desktop trading platform and MetaTrader4's web platform have an outdated design.
Best for: Beginners
Commission: Included in the trading fee
Minimum deposit: $0
Withdrawal fee: $0
Tradable assets: Stocks, cryptocurrencies
Revolut is a fast-growing digital bank regulated in the UK and US.
It is entirely digital but very limited in resources.
You can only trade US stocks, there are few research tools and no educational materials.
However, it does have very competitive fees.
There are four account options:
Standard account: Offers one free trade per month
Plus account ($4.99): Offers three free trades per month
Premium account ($9.99 per month): Five free trades per month
Metal account ($14.99): Unlimited free trades per month
Final Thoughts
As you can see, there are many things to consider before choosing an Australian stock broker.
Each online broker has its pros and cons, and what appeals to one person may not appeal to another.
The eToro platform always features related articles across the web. It has an attractive interface and enough features to suit all trading levels.
The CopyTrader feature is particularly popular as it allows traders from all over the world to connect and learn from each other.
Before making your final decision, we recommend that you spend time working through this list, comparing it with others and taking advantage of the free demos.
Reputable stock brokers will allow you to set up a virtual account with fake money. Use these accounts to test your trading strategy and all the platform features, including customer care and trading/non-trading fees.
There is no limit to the number of brokers you can open accounts with; therefore, try as many as you like and until you find a platform that works for you.
You should continue using a demo account until you are confident you are ready to invest your own money. These signs will indicate if you are ready to live trade.
WikiJob does not provide tax, investment or financial services and advice. The information is being presented without consideration of the investment objectives, risk tolerance, or financial circumstances of any specific investor and might not be suitable for all investors. Past performance is not indicative of future results. Investing involves risk including the possible loss of principal.
---