Best Options Trading Courses in 2021
All products and services featured are independently selected by WikiJob. When you register or purchase through links on this page, we may earn a commission.
Options trading is often considered to have one of the steepest learning curves of all forms of investment.
That learning curve is not insurmountable, however, when you have a well-written options trading course under your belt.
An option is a derivative because its value is based on that of the underlying asset.
It is a contract that permits you to buy or sell the underlying asset, such as stocks and shares, at a pre-negotiated price on or before a set date. The option contract carries no obligation to buy or sell.
The trader may simply allow the contract to expire and lose their investment.
There are two types of options:
A 'call' option to buy
A 'put' option to sell
Three Main Advantages to Trading Options
So, why would you trade options instead of simply buying shares, commodities or any actual trading asset?
There are three main advantages to trading options instead of the underlying asset:
1. More Cost-effective
Purchasing an option will cost you less money than buying the equivalent amount of the underlying asset.
For example, if you bought 100 shares priced at $25, you would pay $2,500.
However, if you purchased an option for the same where the premium is $10 and the contract is for 100 shares, you would only pay $1,000.
2. Lower Level of Risk
Options trading can carry a lower level of risk because of the smaller investment (in comparison to buying an equivalent amount of the underlying asset) and the setting of the value to buy or sell at a particular price regardless of market behavior.
3. Higher Returns
The potential for earning a higher return is created by the simple fact that your investment in purchasing an options contract is lower.
You spend less, so you put less money at the risk of loss.
You might also be interested in The Best Stock Trading Courses in 2021
Get Better at Trading with Thomas Kralow Course
What to Look For in an Options Trading Course
There are many options trading courses available, so what factors should you look for when choosing the right course for you?
Covers the Fundamentals of Options Trading
Options trading can be a difficult topic to get your head around, so it is important that any course you take covers the basics of this form of investment.
By the end of the course, you should be in no doubt as to exactly how options trading works, what the benefits and risks are, and how best you can use this strategy to your advantage.
Real-life Simulations
A real-life market simulation is an online tool that allows you to practice your trading skills without investing real money.
The best options trading courses will offer access to real-life simulations so that you can not only practice your trading but also use real-life scenarios to understand how options trading fits in with trading in general.
Affordable
You will find both free and paid options trading courses on the market. As a starting point, you might like to choose a free or lower priced course to get your footing in the subject matter.
If you feel you need to learn more after that, a higher priced course may offer further and more detailed insight.
Taught by Industry Professionals
A course taught by an industry professional, for example, an individual who is qualified to talk about the topic of options trading and also has experience in the area, is more likely to offer you the in-depth and informed knowledge you need.
Self Paced
As you will generally be fitting your course around your day job, it is probably more helpful to take a course that is self-paced.
Only consider signing up for an options trading course that has a strict schedule and deadlines if you can adhere to them.
Be realistic about how much study time you can commit to each week.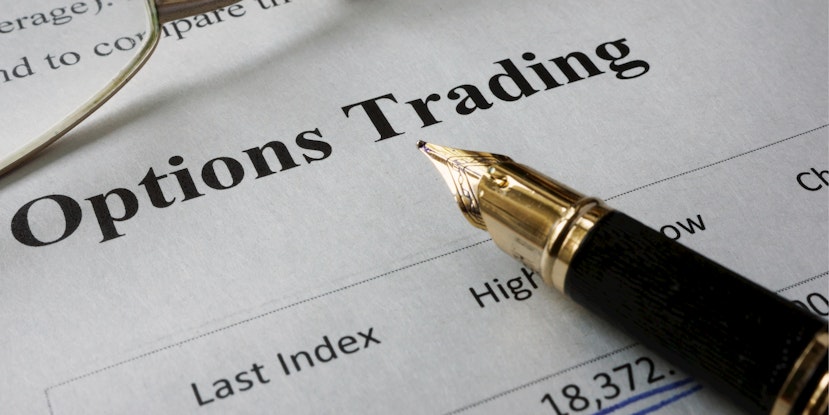 Best Options Trading Courses in 2021
Best Options Trading Courses in 2021
Now that you know how an options trading course might benefit you and what to look for when making your choice, here are our best options trading courses in 2021.
Best for: Traders who want to learn about trading in its entirety
Free or Paid: Paid
Self Paced or Instructor Led: Self Paced with Assistance Options
Thomas Kralow is an experienced, successful day trader living in Latvia who decided to share his trading knowledge through this extensive course.
His course covers the entirety of trading as a career or venture and includes an online learning platform with 24/7 access, interactive quizzes, video lessons, access to professional instruments, homework assignments, and a final exam.
Should you pass the final exam, you will be awarded a diploma.
The course comes in two formats, Complete and Shortened. The Complete course is for beginners and experienced traders.
The Shortened course is for experienced traders only. Both courses are designed to take around five months to complete and also include the option to have additional assistance to the otherwise independent study.
If you are interested in learning about trading as a whole, this course will prove a valuable learning tool.
However, if you are only interested in learning about options trading, have a low budget to spend, or have little time to commit, this course is unlikely to suit your needs.
Best for: Traders with no budget
Free or Paid: Free
Self Paced or Instructor Led: Self Paced
These free options trading courses come in three versions, beginner, intermediate and advanced.
There is an overall course at each level, and courses on specific areas of options trading for each level of expertise too, such as Entries & Exits (beginner), Bullish Options Strategies (intermediate), and Portfolio Management (advanced).
Each course is a series of video lessons, and if you like, you may progress from the beginner course to the intermediate and then to the advanced course.
Each course varies in the number of lessons and length of course time.
If you do not want to spend any money at this stage and are happy to work through the courses with no extra guidance, then the Option Alpha free offering may well suit you.
However, if you want extra support, this is not the course for you.
Best for: Traders at all levels who have a healthy budget
Free or Paid: Paid
Self Paced or Instructor Led: Self Paced
Another online course that offers extensive knowledge on options trading, the Simpler Trading Options 101 course, is written by experienced trader John Carter.
The course includes video lessons, recorded live trading, course slides and notes, and chat transcripts.
If you want to learn from an experienced trading professional and you can afford the $497 fee, Options 101 may suit your needs.
However, if you want a free or low cost course, Options 101 is not what you are looking for.
Best for: Traders who already know about options trading
Free or Paid: Paid
Self Paced or Instructor Led: Both options are available.
This online course is aimed at an intermediate level of trading knowledge and takes approximately 17 hours to complete.
The course includes videos, reading materials, and graded assignments and quizzes. Successful completion of the course leads to a certificate.
This course is ideal for intermediate level traders who want to improve their knowledge of options trading. However, if you are just starting out as a trader, this course is not for you.
Best for: Traders who want to return to course resources
Free or Paid: Paid
Self Paced or Instructor Led: Self Paced
Sharper Traders offers four options trading courses at a beginner level which may be bundled together:
Understand options completely
Basic stock options strategies
Make and manage profitable trades
Complete guide to stock options
Each course costs £14.99 (or equivalent) and includes on-demand video lectures and tutorials, articles, downloadable resources, and full lifetime access to course materials.
If you are a beginner to options trading, with a medium budget, and do not need support, then the Sharper Trades courses are likely to be suitable for you.
If you want a more advanced course, however, it might be best to look elsewhere.
Best for: Traders who want a platform that offers multiple trading courses for one fee
Free or Paid: Paid as a subscription to Skillshare
Self Paced or Instructor Led: Self Paced
This course consists of 11 video lessons. It is available once you subscribe to the Skillshare platform, offering the chance to return to the course material as long as your subscription is in place.
The main benefit of this course is the availability of other trading courses on the Skillshare platform once you subscribe. The main downside is the limited educational material in this course.
Best for: Traders who are just starting out
Free or Paid: Paid
Self Paced or Instructor Led: Self Paced
This Udemy course, written by Hari Swaminathan, offers an extensive level of knowledge and specific zones in on call and put options.
This online course includes on-demand video lessons and downloadable resources.
The course is accompanied by a certificate of completion and lifetime access to course resources.
There is also a more advanced options trading course written by Hari Swaminathan called Advanced Options Analysis
Visit Hari Swaminathan on Udemy
Best For: Traders who want to learn from an experienced options trader
Free or Paid: Both options are available
Self Paced or Instructor Led: Self Paced
Written by trader Chris Douthit, Options Strategies Insider offers options training at all levels of expertise as part of a membership arrangement.
There are four membership levels:
Free – Access to the beginner and intermediate options courses
Executive – The above plus access to the advanced options course
Ultra
Lifetime
Whichever level of membership you choose, you also gain access to a multitude of resources and tools in addition to the courses.
The courses include animated video tutorials and quizzes.
The main benefit of learning through Options Strategies Insider is the opportunity to take up a trading membership that will offer you access to a whole host of resources and material, including a member forum.
However, if you just want a course, then the Options Strategies Insider offering may be a step too far.
Visit Options Strategies Insider
How to Get the Most From Your Options Trading Course
Once you decide which options trading course to take, here are our tips on how to get the most out of it:
Check what you have learned at the end of each course section. If you are unsure about any element, go over it again

Take full advantage of any resources and tools included in the course

If you can revisit course material and resources, do it. If access is online, bookmark it for future reference

Do not choose a course that demands a greater time commitment each week than you can manage

Before you dive into options trading, do the sums on paper first or use a demo account to check your knowledge
Final Thoughts
Options trading can be highly profitable, but getting your head around the strategy and terminology can be difficult to begin with.
The right course will equip you with the level of knowledge you need to move into this area of trading.
WikiJob does not provide tax, investment, or financial services and advice. The information is being presented without consideration of the investment objectives, risk tolerance, or financial circumstances of any specific investor and might not be suitable for all investors. Past performance is not indicative of future results. Investing involves risk including the possible loss of principal capital.
---