Best Places to Buy Cryptocurrency in the UK
All products and services featured are independently selected by WikiJob. When you register or purchase through links on this page, we may earn a commission.
While the UK may be a relatively small island, it stands as one of the world's top cryptocurrency-friendly countries and one of the best places to buy crypto.
To date, just over two and a half million people have purchased cryptocurrency in the UK, according to the Financial Conduct Authority (FCA).
With the UK Chancellor of the Exchequer, Rishi Sunak, pushing to replace physical money with a cryptocurrency, there's a renewed interest in the best place to buy cryptocurrency in the UK.
Things You Need to Consider When Buying Cryptocurrency
So, what is the best site to buy cryptocurrency in the UK? What different types of cryptocurrencies are there? And, more to the point, what is the safest way to buy bitcoin in the UK?
It depends on what you want to achieve. Are you simply wanting to use cryptocurrency such as bitcoin to supplement personal savings, or are you looking to trade? You may not be entirely sure at this stage.
However, there are a few things that every inexperienced crypto customer needs to be aware of when buying cryptocurrency for the first time, and these are:
Online Wallet
You'll need an online wallet. This is an online app that holds your cryptocurrency.
Typically speaking, there are two types of storage commonly referred to as light and heavy purses. As you would expect, a light purse storage solution would be for someone purchasing small amounts of cryptocurrency.
There are hundreds of these, and so you'll need to do your research, or you may find that your chosen trading platform has a light purse app.
For larger sums of money that you want to transfer into crypto, it's a good idea to store your coins on a PC and make sure they are backed up and recoverable.
You will also find that many of the best places to buy cryptocurrency in the UK offer secure offline wallets using sophisticated trusted technology solutions.
Be Careful With Purchasing
Look for a provider that supports convenient and safe payment methods when deciding on the best place to buy crypto.
Think About Your Timing
How and when you purchase digital currency is entirely up to you, but you'll want to exercise some caution before purchasing a new crypto coin because it's 'taking off'; a sharp rise could simply be a currency correcting itself after a fall.
Do a bit of research first. Sometimes it is best to buy a digital currency when it is at its lowest price.
Check Out Reviews
Before settling on a specific platform, check out what other people have to say. The best reviews can be found on financial news sites. WikiJobs has also been writing on the subject of cryptocurrency for quite some time.
So you'll find some helpful articles on bitcoin for beginners, what is bitcoin cash and gold, the best crypto trading courses and more.
Best Place to Buy Cryptocurrency in the UK
Best known for: Social copy and cryptocurrency trading
Aimed at: Investors, from beginners to experts
eToro is best known for its social copy and cryptocurrency trading.
The platform offers an exceptionally easy way for people to purchase cryptocurrencies and crypto crosses.
Being one of the best sites to buy cryptocurrency, eToro has a range of integrated charts and analysis tools to enable you to track coin trends. You can even create a custom watchlist and stay informed with real-time updates.
eToro is great for beginners, as you can use its social trading features to connect with over 20 million crypto traders worldwide and copy their performance through the CopyTrader platform.
You can also stake cryptocurrencies through eToro's staking service and enjoy hassle-free growth on your cryptocurrency investment.
Cryptoasset investing is unregulated in most EU countries and the UK. No consumer protection. Your capital is at risk. 67% of retail investor accounts lose money when trading CFDs with this provider. You should consider whether you can afford to take the high risk of losing your money.*
Best known for: Trading cryptocurrencies using CFDs
Aimed at: CFD traders
Pepperstone account holders can trade cryptocurrencies on a contract for difference (CFD) basis, much like any other asset.
This is where you trade on the rise or fall of the price of a cryptocurrency, usually over a short period of time. You essentially speculate on a cryptocurrency's asset price movement in either direction.
You do not take ownership of the coins. Therefore, you do not need a digital wallet. Instead, you use a Pepperstone account where you can access the most popular cryptocurrency markets.
Pepperstone's spreads are highly competitive with multiple liquidity providers, and the platform enables you to trade any cryptocurrencies. This makes it one of the best places to trade crypto.
One-click dealing facilitates quick trading, and its industry-leading MT4, MT5 and cTrader platforms enable excellent insight and management.
Risk warning: Spread bets and CFDs are complex instruments and come with a high risk of losing money rapidly due to leverage. 76.6% of retail investor accounts lose money when trading spread bets and CFDs with this provider. You should consider whether you understand how spread bets and CFDs work and whether you can afford to take the high risk of losing your money.
Best known for: Buying and selling cryptocurrency
Aimed at: New and existing crypto investors
What makes Coinbase the best place to buy cryptocurrency? As an advanced platform, Coinbase offers a wide range of cryptocurrency investment options.
Initially, when it was set up in 2012, it only allowed bitcoin trading but quickly added other cryptocurrencies such as Ethereum, XRP, Bitcoin Cash and many others (the current list stands at 25 and growing).
It is well known for its user-friendly platform and is a secure way to invest and trade cryptocurrencies. It is easy to sign-up and start buying within a matter of minutes and has an in-built learning program with an added incentive. Users get paid (in cryptocurrency) to learn more about cryptocurrency trading.
Coinbase also ranks highly on liquidity, meaning that investors are more protected from serious price falls, which can and do happen with cryptocurrency.
Best known for: Flexibility in buying and selling cryptocurrency
Aimed at: Retail investors
Since it started trading in 2014, Bitpanda has become a leading retail broker of Bitcoin, Litecoin, Ethereum and other cryptocurrencies.
It is the best place to buy crypto for retail investors. There are several ways to pay for cryptocurrency, including credit or debit card, bank transfer, GiroPay, SEPA, EPS, Sofort, Neteller, Skrill, and cash (through Bitpanda To Go).
Bitpanda's multi-currency wallet scores highly on security with two-factor identification and multiple signatures to authorize use.
You can get started from just €1 (after a minimum account deposit of €25) and spend your crypto much like regular cash using the Bitpanda Card.
Tracking price movement with targeted notifications is also very helpful for beginners. If you have the Bitpanda App, you can invest in crypto as well as stocks and metals using just one platform.
Best known for: Wide range of trading options
Aimed at: Experienced investors
Currency.com is one of the best places to buy crypto for experienced investors, as the platform offers in-depth technical features, price alerts, charts and trading tools that require understanding to put them to best use.
As such, Currency.com is well known in the cryptocurrency trading market, offering more than 225 tradable assets.
Technically rich, Currency.com allows members to check market prices, percentage changes, spreads and historical charts to help them make informed trading decisions.
Currency.com is also the first regulated tokenized assets exchange. Therefore, users can easily buy and sell digital tokens on different exchanges through a public distributed ledger.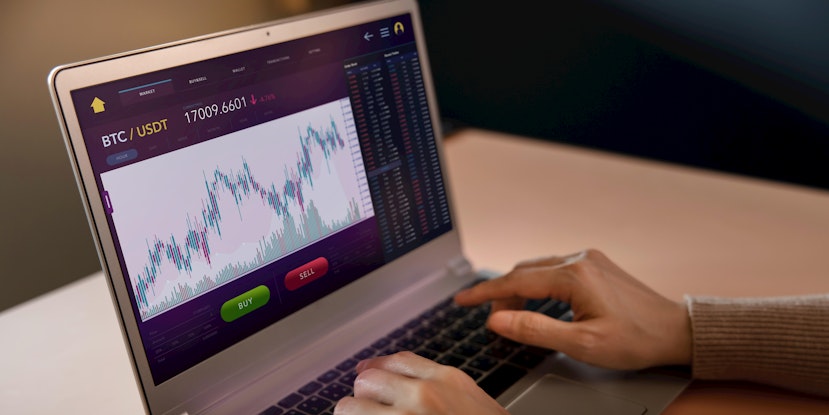 Best Places to Buy Cryptocurrency in the UK
Best known for: CFD trading of cryptocurrencies
Aimed at: Mid-level investors
With Capital.com, you do not own the coins. Instead, you trade on a contract for difference basis.
This type of investing is really for those who are familiar with CFD trading, since CFDs can be complex instruments and come with a high risk of losing money.
However, Capital.com offers one of the best CFD trading platforms on the market and takes a keen interest in helping its traders learn through a wide range of tools and courses.
As a result, it is one of the most intuitive and best places to trade crypto, as its members continue to grow their knowledge and skills in this area.
75.26% of retail investor accounts lose money when spread betting and/or trading CFDs with this provider. You should consider whether you can afford to take the high risk of losing your money.
Best known for: One-stop shop for all crypto purchasing and investment needs
Aimed at: Investors of any experience
Crypto.com is one of the world's fastest-growing crypto apps, making it one of the best sites to buy cryptocurrency.
It boasts more than 10 million users and more than 100 cryptocurrencies who are rewarded for using the platform and other products.
When you spend with the Crypto.com Visa Card, you can get up to 8% back, and when you grow your portfolio, you can earn extra rewards.
Crypto.com heavily promotes buying and selling more than 100 cryptocurrencies at true cost. In addition, holders of CRO, Crypto.com's digital currency, are offered lower trading fees.
Like other exchange sites, you can earn interest by lending cryptocurrency to other users. Here, you can earn up to 14% per year on your cryptocurrency deposits.
This does, however, depend on your chosen crypto and how much CRO you hold. There's quite a bit of flexibility over interest rates too, and you're able to fix these on a one-month or three-month basis.
Best known for: Crypto exchange
Aimed at: Investors (from beginners upwards)
With nearly 1.5 million transactions per second, Binance is one of the best places to buy crypto in the world.
Although its primary exchange is crypto-to-crypto, it has recently enabled fiat deposits and withdrawals (supporting bank account and credit card deposits).
Binance offers more than 500 cryptocurrency pairs, making it one of the biggest cryptocurrency exchanges globally. You can expect the usual currency pairs of Bitcoin and the like, as well as small and even micro-cap tokens.
As another attractive feature, the trading fees are very low (standard fees at 0.1%), which can be brought down further when you hold Binance Coin.
If you're philanthropic, you'll be interested to know that Binance is also famous for helping those less fortunate through its Binance Charity Foundation.
Best known for: Regulated broker for all trader types
Aimed at: Investors looking to sharpen their trading
Through Switch Markets, you can trade CFDs, Forex, commodities and cryptocurrency.
You can trade the most popular digital currencies such as Litecoin, Ethereum, Bitcoin and Ripple on a contract for difference (CFD) basis.
One of the major appeals of Switch Markets is that it offers ultra-competitive spreads. You can also trade on the award-winning MetaTrader 4 platform (MT4).
Near-instant deposits are possible (with no deposit fees), and you only need around $50 to start trading. You can even leverage up to 1:500 if you wish.
The platform itself promotes the growth of its members and is ideal for beginners too. You can put your skills to the test with a demo account by testing up to 100,000 virtual funds of your chosen currency.
Risk warning: Trading OTC derivatives is risky; please read our PDS and disclaimer before trading with us. We encourage you to seek your own independent advice and to consider your own financial situation, needs and objectives prior to making any decisions.
Best known for: Buying, selling, and storing cryptocurrency
Aimed at: Beginners and experienced traders
CoinBurp is a UK-based cryptocurrency broker and is heralded as the best place to buy crypto. Its founders created the company in 2018 to make it easier to buy, sell and store cryptocurrencies.
As such, CoinBurp breaks the belief that crypto trading is just for technically astute individuals. Its user-friendly platform makes it super easy for anyone of any age and ability.
It is the first cryptocurrency platform in the UK to provide free trading and no fees on GBP deposits. This is to encourage uptake.
Users can trade six cryptocurrencies, including Bitcoin, Bitcoin Cash, Ethereum, Stellar, Litecoin and Ripple, with a small starting deposit of €5. It also happens to have some of the most competitive cryptocurrency prices on the market.
Its online wallet is incredibly secure and insured by BitGo custodial solutions for added reassurance, and customer support can be reached by email, live chat, Facebook messenger and telegram.
Best known for: Cryptocurrency brokerage across all crypto-related services
Aimed at: Beginners (and above)
Through BC Bitcoin, you can buy and sell almost all cryptocurrencies either directly through its platform or with the help of a BC Bitcoin broker.
BC Bitcoin has its draws for those serious about cryptocurrency trading, offering deep pools of liquidity and OTC trading.
Furthermore, as an execution-only broker, every order is tailored to the client's specific needs or instructions.
Best known for: Crypto exchange for everyone
Aimed at: All investor types
Kraken is a particularly good platform to choose if you are new to crypto, meaning it is one of the best ways to buy crypto for beginners.
The creators of Kraken have spent a lot of time creating guides and other useful tools to get novices up to speed quickly.
The aim is to build an intuitive crypto exchange from the first use of the platform. Their customer support service is available 24/7 through a live chat. Excellent security, low trading fees, and a range of cryptocurrencies make it a great starting point.
Best known for: Quick and easy Bitcoin purchasing
Aimed at: Investors looking to connect with brokers
Bittylicious has been around since 2013 and is a marketplace platform.
When you purchase cryptocurrency (there are eight to choose from) through Bittylicious, you do not buy or sell to them.
The platform simply connects people looking to buy or sell cryptocurrency with registered brokers who Bittylicious verify. This means that you do not have to worry about vetting a broker yourself.
Quick and easy to use, purchases are usually confirmed in under five minutes, with cryptocurrencies credited to your wallet within the hour.
Best known for: Super quick cryptocurrency purchasing
Aimed at: Beginners looking to purchase Bitcoin
Coinmama is known as the best site to buy crypto with a credit card, as well as through wire transfer and Apple Pay.
There's a strong focus on customer service, and new account verification takes just half an hour. It is great for beginners seeking to make their first Bitcoin purchase, and the company boasts over two million customers in more than 180 countries.
When you purchase Bitcoin and other digital currencies through Coinmama, you do so from them directly. It is not a trading platform. It's not the cheapest way to buy crypto, though, as fees are comparatively high.
Best known for: Peer-to-peer cryptocurrency marketplace
Aimed at: Experienced traders
As a marketplace, LocalBitcoins enables buyers and sellers to communicate directly to trade cryptocurrencies. Funds are held in escrow during the exchange process for added security.
There is a wide range of payment offers available too, which is one of the biggest draws of LocalBitcoins.
Each trader using the platform has a reputation rank and public history for transparency, and the customer support team is on hand to help answer any queries. This makes it one of the best marketplace sites to buy cryptocurrency.
Best known for: Buying cryptocurrency and managing traditional money
Aimed at: Those looking to introduce cryptocurrency into their personal banking
With Bit2me, you can manage cryptocurrencies and traditional money through a single platform.
The friction has been removed from buying and selling cryptocurrencies with a wide range of acceptable payment methods. The platform contains 19 different solutions to help members.
The Bit2Me Wallet offers one-click cryptocurrency exchange, free and instant off-chain transfers, asset trading, price verification, a detailed movement history and so much more.
Best known for: Margin trading, crypto loans, and staking rewards
Aimed at: Advanced traders
Known for its accessibility, CEX.IO was one of the first cryptocurrency platforms to introduce fiat transactions (where USD and EUR money could be exchanged for cryptocurrency).
Today, CEX.IO is known among retail and institutional investors for its advanced trading products.
Cryptocurrencies can be purchased instantly by traders using credit or debit cards, and in its investment portfolio, there are more than 80 assets to choose from.
Staking (where you earn interest for holding specified assets) is a feature for advanced traders, as is spot trading. Crypto-backed loans are also available, and you can borrow up to 100 times the balance of your account to trade.
Best known for: Aggregator crypto-to-crypto exchange
Aimed at: Traders seeking best exchange rate
If you spend a fair amount of time comparing cryptocurrency rates, Swapzone could be helpful.
As an aggregator platform, it enables users to exchange crypto coins at the most preferential rates, making it the best place to buy cryptocurrency.
The platform displays information from multiple exchanges to help traders get the maximum return.
Final Thoughts
If you're an experienced cryptocurrency trader, you'll already have a good idea of what you need from a platform, but the choices can be quite overwhelming if you're just starting out.
When deciding on the best place to buy crypto, our best advice is to do your research (hopefully, this guide has helped) and set up a demo account with your chosen platform, if available.
The key points to take away are to make sure:
Your money is protected through a secure wallet (or equivalent)
You understand the fees and rewards
You are happy and able to take the risk (if trading)
Most importantly, don't be afraid to ask for help. Most of the platforms listed here have an in-built customer service facility and an existing community of members all too happy to offer their support.
WikiJob does not provide tax, investment or financial services and advice. The information is being presented without consideration of the investment objectives, risk tolerance or financial circumstances of any specific investor and might not be suitable for all investors. Past performance is not indicative of future results. Investing involves risk including the possible loss of principal.
---