How to Pass the Swift Executive Test
All products and services featured are independently selected by WikiJob. When you register or purchase through links on this page, we may earn a commission.
Companies who are looking to hire individuals for graduate, managerial or director roles will often ask candidates to complete the Swift Executive Test.
This is a timed, three-stage, multiple-choice aptitude test designed to assess candidates' skills and abilities in relation to the role they will be taking on.
Companies looking to hire individuals at this level will have a very firm idea of the type of person they are looking for and the skills that they need to be able to show.
The Swift Executive Aptitude test is usually offered to candidates as one of the early stages within the recruitment process.
A successful test will often result in an invitation to attend an interview.
The assessment is most commonly completed by candidates online.
However, candidates will sometimes be asked to complete a longer version of the test at a designated assessment centre or an alternative location which is decided by the employer.
What Are the Sections of the Test?
There are three separate sections to the Swift Executive Aptitude test:
Each section is timed and candidates will be required to complete all three sections.
Duration: Six minutes
The verbal reasoning section of the assessment is designed to evaluate written language skills.
It will assess each candidate's ability to understand, infer and draw conclusions from a series of written passages.
During this stage of the test, candidates will be presented with a series of texts on a wide variety of topics.
They will then be asked to answer a series of multiple-choice questions which relate to the text.
Duration: Six minutes
During the second stage of the assessment, candidates will be required to answer questions relating to their numerical reasoning skills.
The main purpose of this section is to evaluate how well you are able to analyse data and draw conclusions from the information you are shown.
Each question will be accompanied by graphs, tables or numerical data relating to the question.
You will use this information to choose the correct answer from a list of multiple-choice options.
Not all of the data given will necessarily be relevant, so it is important to know how to identify the valuable information.
Duration: Six minutes
Finally, candidates will answer questions designed to assess their abstract reasoning skills. Primarily, these will be based around logic and reason.
Questions will be formatted in the same way as the previous sections, with a question and multiple-choice options to choose from.
Candidates will be shown a variety of patterns or shapes where one of the groupings is missing.
The objective is to choose the correct image from the options to complete the pattern or group.
After the Assessment
Once you have completed the assessment, the results are usually available quickly.
The employer will evaluate these results and responses alongside their criteria before deciding which candidates should move to the next stage of the process.
This will often involve attending a face-to-face interview.
Although this is essentially a test which considers the skills you already have, there are a few things you can do to perform at your best on the day.
Prepare for Swift Executive Test with Job Test Prep
Take Practice Papers
Practice papers are invaluable when it comes to sitting an assessment.
There are a number of websites which will let you practice questions similar to the real thing for free.
Alternatively, you can sign up for packages which will help you to prepare for the test.
Practice Timing Yourself
You will have 18 minutes to complete the entire assessment of 24 questions, so you will need to be able to think and respond quickly.
Timing yourself when practicing similar questions and working to a time limit can help you to avoid panicking on the day.
Use the Process of Elimination
Rather than spending too long on a question you are unsure of, sometimes it is better to use the process of elimination.
If there are answers which you know definitely can't be correct, this can help you to consider which of the remaining options is the most likely choice.
By answering in this way, you will avoid losing too much of your time limit on tricky questions.
Identify the Question Types You Find Most Challenging
Nobody is good at everything and it is possible that you will find one section or style of question more difficult than others.
Each section makes up a third of your overall result; therefore, it is important to identify anything which you find more difficult.
This way, you can focus more of your time on practicing these areas to achieve a better score.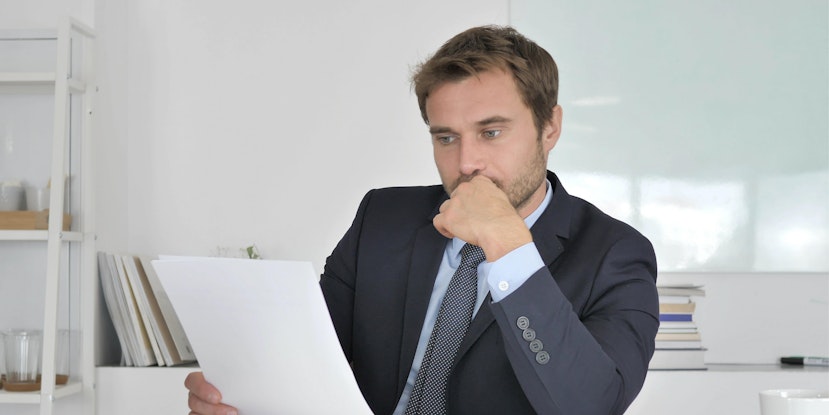 How To Pass the Swift Executive Test
Read Complex Texts and Technical Information
You will be presented with a variety of texts during the verbal reasoning section of the assessment. Some of these may be technical in nature.
For this reason, it is important to make sure that you are able to read and understand complex information.
Some of the numerical questions will also involve complex data.
It is a good idea to familiarise yourself with the wide variety of ways that data can be presented. This way, you will already be familiar with any style of graph or chart you are shown.
Read the Question Carefully
This is important for any assessment – always make sure to carefully read the question before answering it.
This can help you avoid unnecessary mistakes from misunderstood or misread questions.
Get Enough Sleep
Scientific studies have shown that a lack of sleep can significantly impact our ability to perform well in tests.
Not only can it affect our cognitive abilities, it can also reduce reaction times which are especially important in timed situations.
For this reason, it is important to make sure that you are well rested before taking the Swift Executive Test as this will help you to feel alert, focused and responsive.
Practice Mindfulness
If you find that you sometimes struggle under pressure, it can be helpful to practice mindfulness techniques.
Simple practices can help you to feel calm and in control ahead of sitting the test. You will then be able to perform at a better level than if you are feeling anxious.
Final Thoughts
It is easy to feel overwhelmed when you are asked to complete an aptitude test as part of a recruitment process.
This test is designed to look at your core skills and abilities in relation to what the employer needs from their staff.
Your core skills are unique to you, so there is no reason to try and cheat the system.
Practice and preparation are some of the most important skills which you can show ahead of the assessment.
The ability to focus and plan your time, practicing and improving in areas which you find difficult, will help you in the long term as well as throughout the testing process.
Taking steps to look after yourself and getting used to the style of question with which you will be presented will ensure that you are able to perform to the very best of your ability on the day.
---