Accounting Assessment Test
Free Practice Aptitude Test
What Are Accounting Tests?
When applying for an accountancy position within a business, you may be asked to take additional assessments. These could be psychometric assessments , abilities tests or a combination of both.
Such tests are designed to tell an employer more about you and whether you would be a good fit for the position and their company.
There is a wide range of assessments for potential employers to choose from, so you may be asked to take different tests for different positions. This is why it is important to research the types of tests before applying. This way, you can be prepared for any eventuality.
When accounting assessments are used as part of the hiring process , they are typically completed before any face-to-face interviews will occur.
Typically, applicants will submit their application and then complete assessments. The results are then used alongside an application to shortlist candidates for interviews.
Who Takes Accountancy Assessment Tests?
Most accountancy assessment tests will be taken by graduates as a way to showcase their abilities, but companies may ask all applicants for a role to take their chosen assessments.
For employers, the idea of taking assessments is to accurately gauge an applicant's level of skill in relation to the position they have applied for. Because of this, assessments will often have various levels of difficulty depending on the role they are being used for.
For example, an accountant would be expected to have better maths skills than a secretary; therefore the numerical tests would be at different levels.
The accountancy assessments are not only used by firms specifically looking to hire an accountant. Many areas of the finance industry will ask applicants to complete some form of accountancy assessment.
What Accounting Skills Should You Have?
The most important aspect of an accountant is a love of numbers. However, there are other skills and abilities useful within a financial environment.
Most accountants will also hold a degree in mathematics, economics or accounting. If you are considering a career in accountancy, but do not hold a relevant degree, then there are other introductory courses which can help you to learn the basic skills required.
While the relevant qualifications are undoubtedly important, there is also a range of other key skills which accountancy firms find desirable. These are more often personality traits and will tell potential employers how well you are likely to fit within their company.
Key skills accounting employers look for:
Problem-solving
Self-motivation
Strong numeracy abilities
Integrity
Strong communication skills
Teamwork
Organizational skills
Analytical thinking
An interest in the business
What Are the Accounting Aptitude Tests?
As previously mentioned, there is a wide range of tests that employers may use to help guide their recruitment process. They may choose to use all of the tests available or a selection of those which are most relevant to the position.
Accounting Fundamentals
This assessment is designed to test whether candidates have the core knowledge and skills required for an accountancy position.
Questions are usually multiple-choice and are designed to cover a range of subjects such as:
The language used in accountancy
Payroll
Financial statements
Closing procedures
Analyzing business transactions
Accounting Numerical Reasoning
This is the most common test to be asked to complete during the recruitment process. Numeracy is at the top of the list of skills for an accountant.
As an accountant, numeracy is key to being able to do your job properly, but it isn't just a case of being able to add up different sets of numbers. You must also be able to analyze data and use it to form conclusions or guide your decision-making process.
During the numerical reasoning test, you will be required to quickly and accurately analyze numerical information to reach a conclusion.
The information can be presented in a variety of formats such as graphs and tables, and you may be required to answer in a number of ways such as percentages , currencies and fractions .
The questions will all be styled in a way relevant to accounting. This could be economic data, currency conversions, transport costs, profit and loss calculations or any other process that an accountant would regularly have to undertake.
Accounting Verbal Reasoning
The verbal reasoning tests are designed to assess your understanding and comprehension skills. This is usually done in the format of a reading comprehension style test.
When taking the verbal reasoning assessment, candidates will usually be presented with a passage that needs to be read and understood. They will then answer a series of questions using information from the text. These questions are usually formatted as multiple-choice.
By asking candidates to complete a verbal reasoning test, accountancy firms are looking for evidence that you will be able to accurately read, analyze and form conclusions about reports and other data.
Accounting Logical Reasoning
As the name indicates, a logical reasoning test is designed to measure how well you are able to deduce rules from a situation and apply them to incomplete data.
The test is usually presented as a series of multiple-choice questions, where you will need to use rules you deduce to decide on the correct answer. This will usually involve considering a series of patterns or numbers and deciding which of the options is the next one in the sequence.
Accounting Abstract Reasoning
In a similar way to the logical reasoning assessment, an abstract reasoning test looks to assess how well you are able to use reasoning to answer questions. Rather than expecting you to use logic in order to answer questions, abstract reasoning requires you to think more laterally.
This is likely to be formatted as a series of multiple-choice questions. You will be shown a series of patterns or questions and you will need to quickly and accurately decide which of the given answers is correct.
Accountancy firms will be looking to see your problem-solving skills. This will give them an indication as to how well you will handle unexpected situations as well as your ability to learn new skills.
Accounting Situational Judgement
A situational judgment test is an effective way for employers to see how well you are able to solve problems that may occur in the workplace. The answers that you give will help recruiters to see how you would fit within the company and whether you would be a good choice for the role.
During the assessment, you will be presented with a series of hypothetical scenarios. These will all be styled to a workplace setting and may involve how to manage conflict between employees, solving disagreements and customer relationships.
This test can come in a variety of formats. Commonly, it will be presented as a multiple-choice test where you will need to select your preferred response to the problem. You may also find that you need to fill in tables with your most likely to least likely responses or boxes where you explain your answer.
Questions are usually presented as a video that outlines the scenario followed by options to choose from.
Accounting Personality Quiz
There are several styles of personality tests an employer may ask candidates to complete. Typically, these tests are designed to see what your personality is likely to be within a workplace and how well you would fit with the dynamic of a company.
Personality tests are likely to be in a multiple-choice format with a Likert scale – choices follow one to five, with one end meaning "Strongly Agree" and the other "Strongly Disagree". You will be shown a series of personality traits or questions and be asked to select how well each trait applies to you.
Some of the key personality traits which accounting firms are likely to be looking for in a candidate include:
Attention to detail
A professional attitude
Observation of rules and regulations
An ability to manage tasks effectively
Good social skills
Assessment Centre/In-Tray Tests
Assessment centres or in-tray tests are a commonly used tool for accountancy firms to gain detailed insight as to how a potential employee will work as part of their company.
If you are asked to attend an assessment centre , it will typically be for a day of assessments with other candidates.
You will be expected to complete a series of tests, which can include group exercises, aptitude tests, presentations and case studies. You may also complete a face-to-face interview .
Along with the other candidates, you may be asked to complete a task as part of a group. This is likely to be something relevant to the position you have applied for but can also be an unrelated task to see how you work with others.
It is important that your approach to these exercises should showcase your team-working abilities as well as problem-solving skills.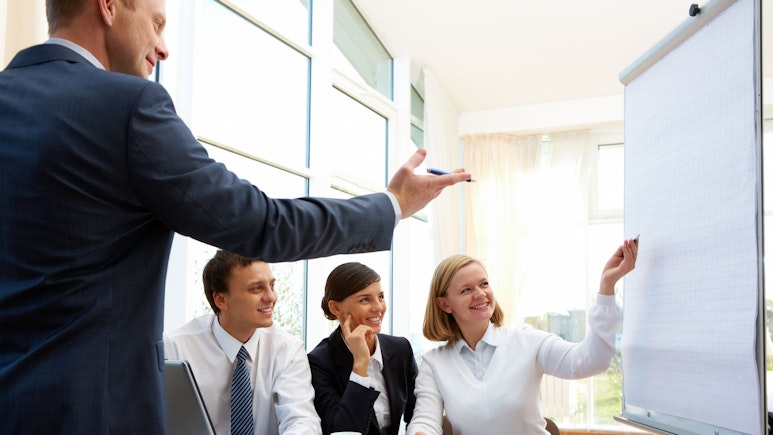 Accounting Assessment Test
During the assessment day, you will usually be asked to give some kind of presentation . This will usually be on a subject chosen by the employer. You will present this to a mixed group of assessors and other candidates.
During your presentation, it is important to remember to stay on topic and make eye contact. Body language is an important form of subconscious communication.
You should also make sure not to spend too long talking. Most presentations will only need to be around five minutes long. If you are offered the option to use powerpoints, flip charts or other resources, make sure that you use these to your advantage.
Rather than completing tests such as the numerical reasoning or situational judgement assessments online, you may be asked to complete various aptitude tests as part of your assessment centre day.
If you are asked to complete these tests at an assessment centre, they are likely to follow a similar format to the online assessments with a combination of multiple-choice questions designed to assess your skills in relevant areas.
Accounting Aptitude Test – Questions and Answers
The exact formatting of the questions you will face will vary depending on the brand of tests you take, but the examples below should help to give you an idea of what to expect.
Numerical Reasoning
Question 1
The HR department spent $15,000 in 2019. Spending increased by 15% in 2020 and is likely to increase by a further 8% in 2021. How much is spending likely to be at the end of 2021?
The correct answer is: $18,630
Make sure to perform each percentage calculation sequentially – remember you want to add 8% of (15,000 + 15%), not 8% of 15,000.
Question 2
The cost of stationery has gone up by 2/5 in 6 months. In January 2018, stationary spending was £15 per person per month. In June, it was £21 per person per month. If it increases by another 2/5, how much will spending be per person by the end of the year?
The correct answer is: £29.40
Like the example above, taking a moment to think through the question reveals you need to calculate 2/5 of £21 and not £15.
Verbal Reasoning
Question 1
Is the following statement true or false?
An asset is a resource that has value and is owned by a company. There is an expectation that an asset will provide benefits to the business in the future.
a) True
b) False
The correct answer is: True
It can be reasoned that a company would not consider something to have value unless it was expected that it would continue to provide benefits or provide benefits in the future, therefore the statement is true.
Question 2
When looking to authorize a purchase transaction, which documents will you need?
a) Purchase requisition
b) Invoice or bill
c) Credit memo
d) Purchase order
The correct answer is: a) Purchase requisition
This question requires thinking about the meaning of words very carefully. You initially think d) is correct. But by carefully considering 'order' in the context of buying something, it becomes clear it does not mean 'command' but instead is something to be given to the vendor.
Therefore, the answer must be a).
Situational Judgement
Question 1
A client comes to you with a problem. You can fix the issue, but you also know that another person is responsible for the mistake. Do you:
a) Tell the customer that it's not your fault and point them towards the person responsible.
b) Do your best to resolve the problem, but tell the person who was responsible for the incident about the customer.
c) Tell the client who is responsible for the issue and direct them to a manager.
The correct answer is: Situational judgement tests do not have objectively correct answers; each company will have particular ways they would like employees to react to various situations.
However, most companies would be happy with b), which shows you are willing to help coworkers and work as part of a team.
Some companies may also like c); depending on the level of seniority you are applying for, certain issues may be above your training to solve, and passing the situation on to a manager shows an understanding of it.
Question 2
_Your supervisor has asked you to put together a presentation about the company's spending. It needs to be ready by the end of the week, but you already have a number of other things which you need to do. Do you:
a) Ignore the work you already have and work on the presentation.
b) Tell your supervisor that you are happy to work on the presentation, but you already have a lot of work to do and so require extensions on some of your other deadlines.
c) Refuse to do it, you already have too many other things to do.
d) Say that you are happy to put the presentation together, but won't be able to get it done by the end of the week due to your workload.
The correct answer is: Again, situational tests do not have objectively correct answers. However, answers b) and c) show a high level of self-awareness of your abilities and a realistic understanding of what is possible.
b) shows greater comfort in asking for help, which is good for companies with a strong teamwork ethic. c) shows healthy assertiveness, which is a sign of good self-confidence.
How to Prepare for your Accountancy Test
Find out exactly which tests you will be taking – The first step in your preparations should be to find out exactly which tests you will be taking and if they will be online or in-person. This way, you can make sure that you are only spending time practising the tests you will be taking.

Practice tests – The next step is to take practice papers. This will help familiarise you with the assessments' format and time limits. It is important to initially practice all areas of testing equally, as this will help to ensure that you can complete all of the assessments and will also reveal which areas may need improvement.

Study packs – Many companies such as Job Test Prep offer comprehensive test packages, which enable you to practice a range of tests ahead of your assessments. Using a study pack is a good way of ensuring that you are covering all of the relevant areas.

Identify your weak points – Find the areas that you perform less well on in your practice tests. These are the areas you need to focus on improving. It could be, for example, that you struggle with the timing aspect. By spending more of your preparation focusing on timed exercises, your response time speeds up so you are more likely to be able to finish the real tests in time.

Research the company – Taking some time to research the company you are applying to work for can help highlight particular core skills or personality traits they value in employees. It is also an opportunity to make sure that their values align with your own.
Key Tips for Your Accounting Test
Final Thoughts
There is a wide range of tests and assessments that may be used by employers when hiring accountants, but they are all an opportunity to showcase your skills and abilities. It is important to remember that preparation is key to being able to give your best performance on the day.
Making sure to take practice papers will help you to know what to expect when it comes to the real assessments. It is also a good idea to research the company you are applying to work with so that you know what they are looking for in an employee.
Take care of your health and practice the tests, and you will ace these assessments.
---