Talent Q Tests
All products and services featured are independently selected by WikiJob. When you make a purchase through links on this page, we may earn a commission.
Talent Q covers a range of psychometric tests used by companies to assess personality, competency, ability and motivation during the recruitment process and for colleague development.
The tests were established in 2006 by a small team led by Roger Holdsworth, one of the world's leading authorities on objective assessment and a co-founder of the testing company SHL. The team aimed to develop a new approach to psychometric testing.
In 2014, Talent Q was acquired by the Hay Group, an international management consulting organisation. Today, the tests are administered by Korn Ferry, part of the Hay Group.
How Is Talent Q Different from Other Psychometric Tests?
Traditionally, aptitude tests served very different purposes, with different tests used for recruitment, development, team-building and identifying potential.
Talent Q set out to provide flexible psychometric assessments where a single test could be used for a wide range of different applications (eg verbal and numerical proficiency, logical ability, as well as personality assessments). A candidate could be assessed once and then different reports generated when they were needed.
Talent Q tests differ from traditional psychometric tests in several ways: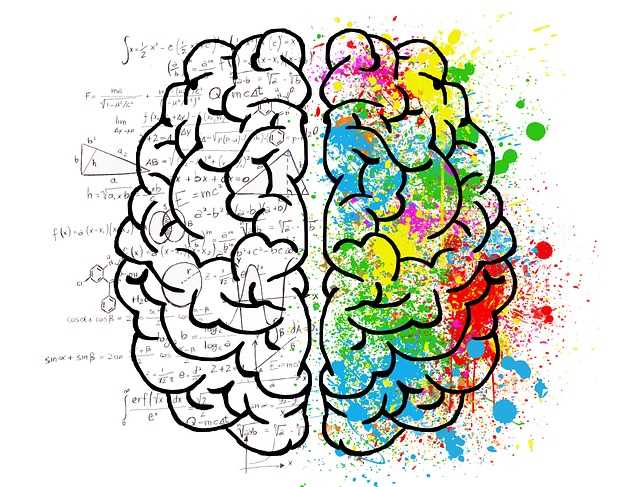 How should you prepare for a Talent Q test? Watch this video from JobTestPrep for some expert advice.
Who Uses Talent Q Tests?
Talent Q tests are becoming increasingly well used. Organisations that use Talent Q tests include:
RBS
Virgin Atlantic
Royal Mail Group
Lloyds Banking Group
Ford
B&Q
Citi
AstraZeneca
Types of Talent Q Tests
The innovative way that Talent Q tests are designed means that they offer a small number of very flexible tests, as detailed below.
Dimensions
Dimensions is a flexible personality questionnaire that considers an individual's preferences within the workplace, their style of relationship management, how they approach tasks, and what they find energising and motivating.
Ultimately, it is an indicator of how an individual will perform at work.
The test will present a series of statements that the candidate will rank from 'Completely untrue' to 'Very true'.
These personality dimensions are then used to generate a range of reports including:
A trait profile
A behavioural type at work report – How an individual prefers to work
A team profile – Exploring how an individual is likely to work within a team
A sales profile – How comfortable an individual is with each element of the sales process
A role match profile – How well an individual's dimensions report matches the requirements of a particular role
A derailment report – The personality characteristics that may cause an individual to come off track in times of pressure or stress
A potential report – The individual's likely strengths and development areas in relation to leadership potential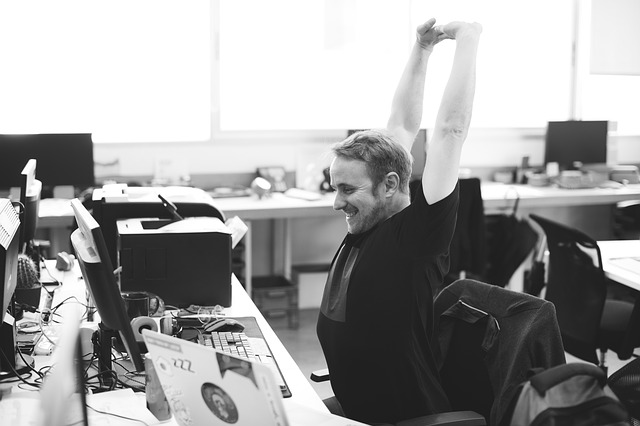 Motivations
This is a questionnaire that explores an individual's motivations, values and drivers at work.
This can then be used to coach individuals on what sorts of roles/tasks might fit with them, or help leaders understand how to engage and motivate their teams.
The questionnaire provides a series of statements that relate to motivation and the candidate must rate them from 'Not important' to 'Extremely important'.
Elements
The Elements ability tests are designed for graduate, professional, managerial and executive-level recruitment. They assess verbal, numerical and logical reasoning, among other skills.
During the Elements test, you might be asked to review and analyse passages of text, data, and shapes or symbols. The checking test looks at how quickly you can spot errors in data.
Try an Elements practice test on the Korn Ferry website.
Aspects
Aspects Ability – These are designed for volume recruitment for frontline, customer service and sales roles. They assess verbal, numerical and checking skills.

Aspects Styles – This is a questionnaire that assesses behavioural preferences at work, and compares these to the competency requirements of a particular role. It is used in volume recruitment to help quickly reject candidates that do not hold certain key competencies.
Try an Aspects practice test on the Korn Ferry website.
Situational Judgement
This situational judgement test is designed for volume recruitment. It helps identify how an individual will respond in particular situations and compares this to the requirements of a particular role.
The Talent Q situational judgement test will present the candidate with some work-based scenarios and a number of potential actions, and will ask them to decide which will be the most effective.
Talent Q Verbal Practice Test
Try this practice test before reading on:
Talent Q Verbal Test: question 1 of 5
Please choose the correct answer
Labour Crisis
A prolonged labour market recession is in the making as long-term unemployment is on the rise and many workers are becoming excluded from the labour market. The shift to austerity measures has further deteriorated labour market conditions in countries hit by the debt crisis. The depressed employment situation has been accompanied by growing job precariousness for those who have a job. The incidence of part-time work has risen significantly as has that of temporary employment.
Given the significant slowdown in economic growth, job loss can increase severely as businesses tend to decrease expenditure, leading to higher unemployment. At the same time, the crisis has resulted in the contraction of bank credit for small and medium-sized businesses and this, in turn, has reduced the growth in self-employment.
Measures that will increase employment and speed up economic growth should be taken promptly. Given the impossibility of financing expenditures with deficits, one can realistically suggest budget-neutral increases in training programmes and subsidies to businesses. This must be coupled with government programmes to facilitate credit to small- and medium- sized businesses, financed with increases in taxes in other areas such as environmental or tourist taxes that will not distort the economy adversely.
Adapted from europa.eu
Which one of the following is NOT given as a cause of the labour market recession?
---
Talent Q Verbal Test: question 2 of 5
Please choose the correct answer
The Evolution of Education
Over the past decade, higher education has become increasingly international. More and more students choose to study abroad, enrol in foreign educational programmes and institutions in their home country, or simply use the Internet to take courses at colleges or universities in other countries.
Today, drawing in foreign students has become a major consideration for universities. More than £27m is to be invested over the next two years to attract more foreign students to UK universities. The internationalisation of higher education means that in university courses – especially but not exclusively post-graduate courses – you increasingly find someone whose mother-tongue is not English teaching a group of students, very few of whom have English as their first language. This undoubtedly affects the way people learn and how people teach. This also affects their professional skills later on – many students believe that studying with international students would help prepare them for working life. Not an insignificant amount of London University PhD students are multilingual and write in English, although French and Italian are also regular working languages.
The European University Institute (EUI) is an international postgraduate and post-doctoral teaching and research institute established by European Union member states to contribute to scientific development in the social sciences, an ideal place to debate the challenges ahead for other institutions. 'There is a kind of denationalised way of looking at the disciplines that we teach; it's not ignoring the national traditions but we're not so constrained by them and we tend automatically to see things from a comparative and transnational perspective. We are therefore able to start thinking seriously about what it means to teach in this way and in these international environments', explains the president of EUI.
Adapted from BBC News
International university courses are aimed at which one of the following groups?
---
Talent Q Verbal Test: question 3 of 5
Please choose the correct answer
Consumerism in the 21st century – how can EU policymakers keep up with new trends?
Over the past few years, the EU has put more emphasis on consumer protection issues. The reasons for this are that the EU market includes over 500 million consumers so a well-functioning Single Digital Market for consumers is essential to the EU economy, and the shift towards digital markets poses new challenges to consumer's rights requiring new policies and legislations.
When updating legislation and enforcement to the 21st century, the EU faces many challenges. Among them are: Geographical discrimination in the provision of goods and services for consumers; ensuring online consumer protection; copyright rules appropriate for the digital age; adequate protection of personal data.
There are also other challenges regarding consumers' protection in the digital age: safe online environment; accessibility of true and reliable information on goods and services; effective cross-border consumer dispute selling mechanisms, and others. Digitalisation has also made the supply chains of goods so complex, that it has become a challenge to ensure the safety of consumer goods.
Mrs. Zaiga Liepina, Deputy State Secretary of the Ministry of Economics of Latvia, says: "Policymakers today cannot be ahead of the new trends – but they can be ready to react fast. The legislation needs to be developed in a way that fits the digital age."
The EU regulatory framework should find ways to enhance consumers' trust in the EU Digital Single Market. It should make purchasing goods and services everywhere in the EU easy.
According to Mrs. Liepina: "These goals can be achieved by establishing clear and consistent common rules at the EU level and vigorous enforcement. Enforcement of existing consumer protection rules is crucial. Without proper enforcement, it does not really matter how good the consumer protection laws are. Better enforcement will continue to be a central priority on the consumer agenda."
Adapted from eesc.europa.eu
Which of the below is the reason why enforcement is important in achieving the EU's goals, according to Mrs. Liepina?
---
Talent Q Verbal Test: question 4 of 5
Please choose the correct answer
Drug Offences
Across Europe, the three most common ways of punishing a person for a drug possession offence are warning, fine and suspended prison sentence. With the exception of a few countries, community work orders are very rarely used to sanction this offence. Those convicted of supply offences are likely to receive a prison sentence, though many of these are suspended sentences, and few receive the long sentences that are often brought up in public debate. Considerable differences between countries exist regarding how strongly they draw the line between users as individuals needing treatment or counseling, and traffickers as criminals. An individual country's criminal justice system recognizes some people as sick, and thus tries to divert them to treatment, following one of its primary aims of deterrence, and channels others towards punishment.
Although it is widely felt that users should not go to prison for offences against drug laws, some still do: usually a small percent of those who appear before a court.
Further research would be needed to understand why: whether they are addicts who have no money for a fine, are in breach of probation, or are recidivists for whom treatment has not proven successful.
Adapted from europa.eu
A user may receive the same punishment as a trafficker.
---
Talent Q Verbal Test: question 5 of 5
Please choose the correct answer
Prudential Regulation Authority
The Prudential Regulation Authority (PRA) is the regulatory body for financial services in the United Kingdom. Its responsibilities include regulation and supervision of approximately 1,700 banks, building societies, credit unions, insurers and major investment firms. The authority is owned by the Bank of England, making it not a governmental body but a quasi-governmental regulator.
The PRA was created as part of the 2012 Financial Services Act. This Act sought to reform financial regulations that failed to protect the UK's economy during the financial crisis of 2008. Hector Sants, the chief executive of the Financial Services Authority, says: "The PRA's purpose is fundamentally different from that of previous regulatory regimes. Its most important objective is to promote the financial stability of the UK financial system."
There are three statutory objectives to the PRA. These are: to promote the safety and soundness of the firms it regulates; to contribute to the protection for insurance policyholders or future policyholders; and to facilitate effective competition.
The PRA advances its objectives using two key tools – regulation and supervision. It sets regulatory standards or policies that it expects firms to meet, and it assesses the risks that firms pose to its objectives. Where necessary, action is taken to reduce the risks. Supervision is done at each individual firm separately.
Significant supervisory decisions are taken by the Board. This Board consists of the Governor of the Bank of England, the Deputy Governor for Financial Stability, the Chief Executive Officer of the PRA, and other independent non-executive members. The PRA seeks to ensure that a financial firm which fails will not cause significant disruption to the supply of critical financial services and will not need taxpayer help.
Adapted from telegraph.co.uk and bankofengland.co.uk
What is the main objective of the PRA, as mentioned by Hector Sants?
---
How Talent Q Tests Work
If you have been asked to take a Talent Q test, you will normally be sent a link from the company you have applied to, and will be required to log in to the Talent Q assessment system to take the test.
Yiu can take the personality questionnaires on a tablet or mobile device. The Aspects and Elements tests are best taken on a laptop, as the question types are more complex.
For numerical tests, you will need a calculator and a pen and paper to hand.
Only the ability tests are timed; they take between 5 and 15 minutes to complete. Each question will be individually timed.
These time limits are set to be challenging. They are testing your ability to find the answer quickly and in a pressurised environment.
The personality tests are not timed; they typically take between 8 and 25 minutes to complete.
If you feel that you need extra time or other adjustments due to a disability or other special requirements, get in touch with the recruiter, as various adjustments can be made to the test.
After the test, the results will be sent to the recruitment contact at the company you are applying to. They will then contact you with your results and next steps.
The ability tests are scored either via a 'benchmark score' that is set by the company you are applying to, or by a percentile score calculated by comparing your performance to a test group of people who have previously taken the test.
There is no official 'pass' or 'fail' score.
Psychometric tests are normally assessed via a report on the personality traits you display.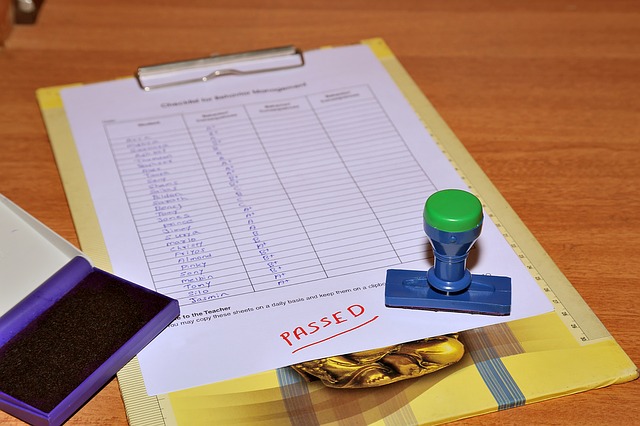 Talent Q Numerial Practice Test
Talent Q Numerical Test: question 1 of 5
This is a numerical series. Find the next item.
Monthly cost of mobile packages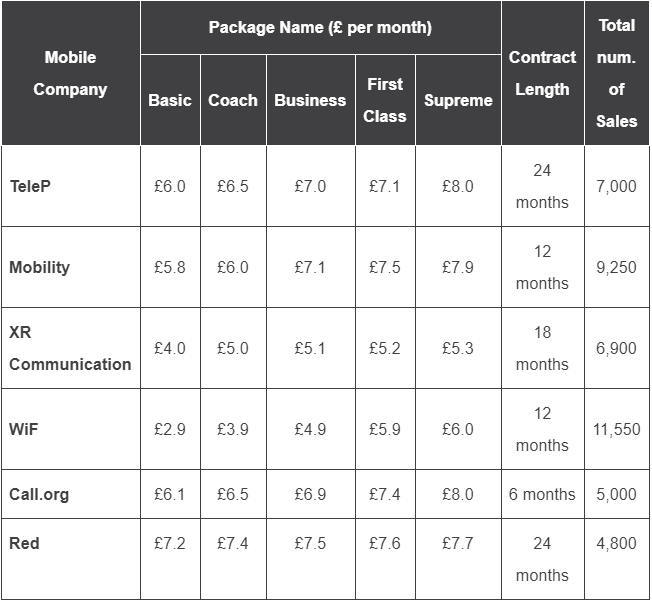 Sales are distributed evenly across 5 different packages
Which company has the highest monthly turnover?
---
Talent Q Numerical Test: question 2 of 5
This is a numerical series. Find the next item.
Employees per sector in the UK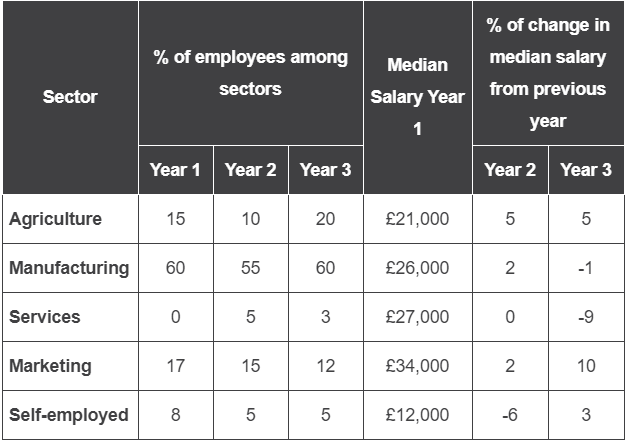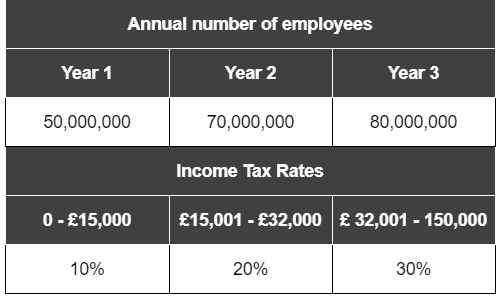 Assume the tax rate applies to the entire salary.
In which sector did the number of employees increase the most from year 1 to year 2?
---
Talent Q Numerical Test: question 3 of 5
This is a numerical series. Find the next item.
UK insurance companies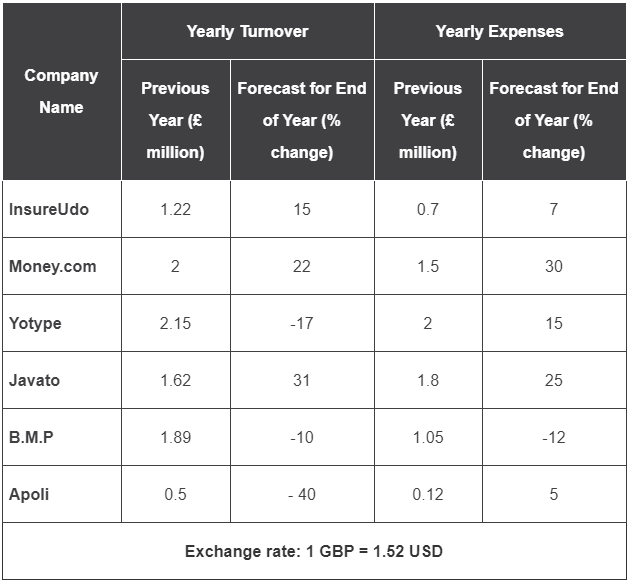 Which company presents the highest turnover-expense ratio for the end-of-the-year forecast?
---
Talent Q Numerical Test: question 4 of 5
This is a numerical series. Find the next item.
London - Sydney departure time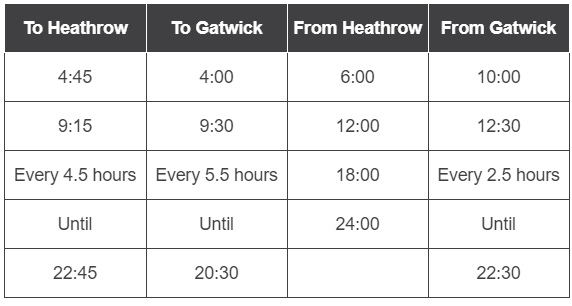 Schedule in GMT. Sydney is GMT+10
Flight time 26 hours
Which flight would you have to catch from London to reach Sydney on the same day?
---
Talent Q Numerical Test: question 5 of 5
This is a numerical series. Find the next item.
Reports Given to 18-Year-Old Drivers
Type A – £300
Type B – £200
Type C – £100
Which offence generated the second highest revenue for the month of May?
---
How to Practice Talent Q Tests
As with all psychometric tests, to perform at your best you may find it useful to familiarise yourself with the types of questions used, the timings involved, and the general look and feel of the material.
Developing skills such as general and verbal reasoning, logic and maths will help you succeed in these tests.
Remember, Talent Q tests can look quite different from other psychometric tests so it is worth taking the time to sit some practice tests, such as those offered by JobTestPrep.
Tips for Success
When taking personality tests, remember to be yourself. Never try and second-guess what you think the right answer should be; there are no right answers. The test is designed to find out more about you, your approach to different work scenarios and your preferences.

The Talent Q tests are usually taken online, either at home or at an assessment centre. Make sure you have a quiet place where you will not be disturbed for the duration of the test, and that your internet connection is reliable. All tests should be taken in one sitting, but if you lose internet connection, you will be able to log back in to that point in the test.

Take the practice questions that are offered at the start of the test. It will help you to familiarise yourself with the test system and format of the questions.

Work quickly but accurately. The Talent Q ability tests measure your speed, but don't rush. Read the question properly and spend a few moments checking you have chosen the correct answer. Each question will be timed individually. so you will be able to see the time left for each one as you're working.
Final Thoughts
If you have been asked to take a Talent Q ability or personality test as part of the recruitment process for a new job or while at work, don't panic. Thorough preparation and practice will help you succeed.
Personality questions aren't designed to trip you up, so answer them thoughtfully and honestly. Talent Q's ability tests might require some practice, but they are designed to be responsive to your level of ability.
---