The Best Graphic Design Software
All products and services featured are independently selected by WikiJob. When you register or purchase through links on this page, we may earn a commission.
Pros
Brand suit allows you to create cohesive social media images
Very easy to use, with an appealing interface
Unlimited design options
All work is autosaved in the Cloud
Allows for team collaborations
Cons
Cannot use offline
Advanced graphic designers may find it too basic
Difficult to use on small screens or mobile phones
Best for: Creating social media graphics
Pricing: Starts at $12.99 per user, per month with a 30-day free trial. There is also a free version.
Due to its wide range of design options and ease of use, Canva is one of the world's most popular graphic design software.
The free version is suitable for bloggers and beginners, while the paid version is ideal for small businesses.
Features:
Web-based with a mobile app
Drag and drop tool
Can upload company branding colors and fonts
1,000s of templates
Pros
The Cloud makes for easy sharing and collaboration
Can export any layer as a PNG file
You can mirror designs to see how it would look on a device
Easy to use
Cons
For Mac devices only
As it's a new tool, there are many areas for improvement, such as layout flowing options and inability to render in high resolution
Best for: App design
Pricing: Yearly subscription of $99 or $9 per month with a 30-day free trial. There is no free version.
Sketch is a vector-only software from the Netherlands. It is for Mac users only and promises an easy learning curve and great UX designs.
Features:
Custom plugins for different tasks
Library of templates for web design and iOS devices
Phone and email support
Training videos and documents
Excellent auto-save function
Pros
Easy to use
Excellent customer support
Similar to the Adobe programs
Cons
Crashes often
Reports of lots of bugs
Reports that it is expensive
Best for: Designers working with B2B companies and brands
Pricing: Undisclosed – You need to sign up and wait to be contacted to use the software
Ceros is one of the best graphic design tools globally and is used by companies such as Red Bull and NBC. It allows you to create interactive digital content without needed to use code.
Features:
Customizable templates, branding and forms
Collaboration tools
Multi-channel distribution and campaigns
Analytics and conversion tracking
Configurable workflow
Creative freedom
Interactive look-books
Pros
Easy to use
Create banners and designs quickly
Cons
Autosave does not always work
Cannot always customize the way you want to
Best for: Ease of use and creating banners
Pricing: Seven-day free trial, then prices start from $17 per month for Create account and $35 for Automate.
There is also a free account and a custom Enterprise account.
Formerly known as Bannersnack, Creatopy is used by SMEs and Fortune 500 companies to fulfill their creative needs.
It is Cloud and web-based with extensive support and learning tools.
Features:
Drag and drop function
Stock image library
Font selection
Collaboration tools
Pros
Complimentary app
Lots of assistance and help tools
3D design tools
Edit different animation, photo and video layers
Cons
Interface is difficult for new users
Number of tools and features can be overwhelming
Subscriptions can be costly
Best for: Picture editing
Pricing: Photoshop subscription alone is $20.99 per month, but the Adobe Photography plan (Lightroom and Photoshop) is $9.99 per month. The All App plan is $52.99 per month.
Adobe Photoshop is probably the best-known graphic design software. It is the go-to for many photographers and digital designers. The Adobe Suit makes it part of the most comprehensive selection of design software in the world.
Features:
Innovative design tools
Extensive Creative Cloud
Customizable interface
Available for all devices
Pros
Easier to use than Photoshop
Can combine graphics and texts
Can add captions with hyperlinks, footnotes, contents, and indexes
Supports HTML exporting
Cons
Less intuitive interface compared to Photoshop
Can be costly if only using casually
Best for: Creating stunning PDFs
Pricing: $20.99 for the single app or $52.99 for Adobe Suite
Adobe InDesign is renowned for creating incredible-looking e-books, magazines, and brochures.
Features:
Adjust layout feature
Sensei Technology that enables automatic resizing and arrangement
Collaboration tools such as Adobe InCopy
Eyedropper tool for small details
The industry-standard program for desktop publishing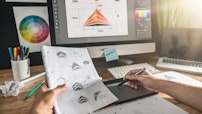 Best Graphic Design Software for Your Business
Pros
Incredibly customizable
Compatible with both Windows and Mac
User-friendly and fully customizable interface
Uses mathematical equations instead of pixels to generate the best quality image
Cons
One of the most expensive vector-based design tools
Can be overwhelming for new users
Takes up a large amount of space on your computer
Best for: Illustrations and vectors
Pricing: Individual app costs $20.99 per month. The Adobe Suite is available for $52.99.
Illustrator is Adobe's design tool that creates perfect illustrative artwork, website mockups, and logos. It is an industry leader in vector creation tools.
Features:
In-panel editing that allows the designer to edit multiple artboards at the same time
Access to over 90 million images and graphics through Adobe Stock
Pros
Regular updates
Compatible with multiple operating systems
Has a layers feature
Only uses the space it needs
Cons
Interface is not as compatible for Mac
User community is small
Best for: Photo editing
GNU Image Manipulation Program (GIMP) is a desktop program very similar to Photoshop. It allows users to fine-tune pictures and design incredible artwork from scratch.
Features:
Highly customizable interface
Additional plugins for more advanced users
GEGL Scripts
Tutorials
Pros
It is free
It has excellent features and tools for a free program
Can create complex combinations
Customizable
Cons
Errors are common on the Mac version
Processing can take longer than other graphic design software
Compatibility issues
Best for: Beginners or casual designers
Inkscape software is a free tool designed for those interested in vector drawing but does not want to commit to a paid subscription.
Features:
Similar Adobe tools and interface
Regular updates influenced by community needs
You can change the open-source code manually
Pros
Constant upgrades and enhancements
Wide choice of templates
Easy to use
High-quality downloads
Cons
Schedule and publish not available on the free version
Free version is not as comprehensive as other free graphic design software
Customer service is difficult to contact
Best for: Beginners and small businesses
PostMyWall is a free program that allows you to create posters, social media posts, and videos quickly.
There is also a paid version, costing $8.33.
Features:
Collaboration tools
Post scheduling
Automated publishing
Customizable branding
Specialized creation tools
Pros
Ideal for interactive PDFs
Easily edit layers
Scales images without losing quality
Cons
Opening some file types can be difficult
No spell check feature
Can run slow with multiple pages open
As it is open-source, some documentation is unorganized and difficult to find
Best for: Indi magazine makers
Scribus is one of the few free graphic design software that matches its paid alternative. It is perfect for those who want to produce high-quality magazines and newsletters without paying large subscription fees.
Features:
Vector drawing tools
Works with CMYK and spot colors
Works like Adobe InDesign
What Is Graphic Design Software?
Graphic design software is a program that allows you to create a wide range of image or text-based items.
Depending on the company, you might make:
Social media posts
Promotional videos
Posters
Brochures
Magazines, E-zines or E-books
Illustrations
Artwork
Logos
Digital advertising such as banners
As social media is such a massive part of our lives, businesses and brands now focus their promotional activities on these networks.
The internet and social media have also allowed more people to work from home, start their own businesses, or create side-hustles.
As the internet relies heavily on imagery and videos, the need for tools that can create these memorable posts has increased.
Today, there are hundreds of available graphic design software for your business. However, not all are created equal.
Paid software usually comes with more features, customization, and innovative tools. While the free options usually have a limited or simpler version of the paid tools.
There is also software more suited to different types of imagery, for example, vector and bitmap.
Vector is made up of lines, shapes, and points. They can be edited to the smallest detail and scaled to any size, as often as you need.
A logo is a vector image. It can be used in almost any circumstance and printed in different locations, from the head of a letter page to a billboard on the side of a building.
Vectors are incredibly versatile.
Bitmaps also referred to as raster images, are made with pixels. They are commonly photographs and images. As they are made up of pixels, they risk becoming blurry or unproportionate when resized.
How Can Graphic Design Software Help Your Business?
For those considering investing in graphic design software for your business, there are several advantages:
1. Flexibility – This software enables you to create incredible images and graphics in a matter of minutes without having to shoot the content. This saves much time and allows you to quickly and constantly generate content

2. Cost-Efficient – Even the most expensive software is more cost-efficient than hiring a graphic designer to create your content. You can also save the images/videos you create and edit them as needed, saving time and money

3. Streamlines your branding – A majority of graphic design programs allow you to upload your brand colors and fonts to create cohesive designs every time. Some even have the option to resize an image to fit all social media posts flawlessly

4. Improve engagement – A cohesive message and branding increases awareness and eventually engagement: the more creative and exciting a brand is, the more engagement they receive

5. Diversity – Graphic design software can be used in almost all areas of your business, from marketing, invoicing, rebranding, web design, and content creation
Key Features of Graphic Design Software
Before committing to graphic design software for your business, you should decide what tools and features you need.
The most common features you should look for are:
Templates
Creating something from scratch can be time-consuming and frustrating, especially if you are not a particularly creative person. Having access to a bank of templates gives you a good place to start.
When assessing templates, consider what you will be creating more as different content has different sizes.
If you are more focused on web design, look for a graphic design program specializing in website templates, the same for videos, reading material, and social media posts.
Image Bank
Buying props and taking professional photos can get expensive.
Look for graphic design software that also comes with stock photos and images. For the Adobe apps, there is Adobe Stock, a directory of thousands of images, pictures, photographs, and graphics.
Image banks take the stress out of gathering all the resources for a photoshoot and taking the perfect image.
They also save much time and much money.
Collaboration Tools
For those businesses with multiple employees, collaboration tools make operations more streamlined.
Having all the content saved in one Cloud, accessible by everyone, enables quick and easy sharing and cohesive designs.
Some programs also allow you to add comments or feedback to individual pieces. This encourages all employees to follow a standard and make adjustments.
User Interface
Most importantly, you want to feel comfortable using the software.
Depending on your skills, you may want a program that:
Is easy to use
Has a clean look
Has easily accessible tools
Can be customized
Final Thoughts
Picking the right software for your business is never easy, especially when it comes to creative tasks.
Social media moves so quickly that any delay in generating content could see you missing out on sales or new customers.
Before committing to a program, take advantage of the free trials to see which one meets all your needs.
If you have employees, have them test the software to all agree on one that works.
Unfortunately, no one program will tick every box.
Start by deciding whether you will use the graphic design software for website design, content creation or readable material such as brochures and magazines.
This will help narrow down your options.
From there, you can see which matches your budget and suits your other needs.
---