Sky Application Process and Interview Questions
All products and services featured are independently selected by WikiJob. When you register or purchase through links on this page, we may earn a commission.
Sky is a British telecommunications company and broadcaster that was founded by Rupert Murdoch in 1990.
Sky provides TV, broadband and fixed-line telephone services, as well as a mobile telephone network across Europe, employing 34,000 people in several different teams.
For an applicant, the roles are all advertised on the Sky Careers website, and are under the following working areas:
Technology
Content and production
Corporate
Home service
Retail
Contact centre
Business to business
NOW
Getting Started With Sky
Sky offers many options for young people in its Early Careers provision, aimed at school leavers and graduates as well as those seeking work experience.
Sky has a programme matcher available on the careers site to help you choose the most appropriate pathway, depending on your skills and interests, through a simple questionnaire.
Insight days are a launchpad into the world of Sky, allowing applicants to get to know the corporation behind the screen with various themed days. These have included inclusivity, technology and content in the past, and are all advertised on the website.

Work experience is a week-long placement at Sky News, Sky Sports, Soccer AM or Sky Sports News for students.

Content Academy is a range of different placement options to help 'launch a career in the world of Sky'. Aimed at school or college leavers or graduates, they are year-long opportunities to get immersed in either Sky Sports, Sky News, Sky Studios or UK Content.

Apprenticeships at Sky are available in both customer service and business and technology.

Summer internships offer paid placements for university students in the last year of study, immersing them in their chosen business area with hands-on experience from the start. Internships are available in the following business areas:

Software engineering

Commercial

Corporate affairs

Data and analytics

Finance

Marketing

Strategy

Technology

Graduate programmes at Sky are intense two-year courses that are often rotational – meaning that you will get to experience a wide range of business areas while learning. Graduates can choose between:

Business strategy

Technology

Data and analytics

Software engineering

Cyber security

Finance

Business analysis

Change delivery
Benefits of Working for Sky
There are many benefits of working for Sky – rewards such as free Sky Q TV, broadband and discounted Talk, as well as discounts for shopping, mobile phones, travel and gym.
Employees are offered 25 days' holiday, pension and life insurance, a healthcare and dental plan, as well as childcare support and flexible working options. A share plan is also available.
At Sky HQ in Isleworth, the campus is a great location – consisting of all the major business areas as well as 13 subsidised restaurants and cafes, a Waitrose, a cinema, a subsidised gym, a car wash and a beauty salon on site.
What Does Sky Look For in an Employee?
Sky is all about being a fast-paced, collaborative environment to work in, where confidence and hard work helps to reach goals.
To be successful at Sky, candidates need to be able to rise to the challenge and be resilient and flexible to find insightful solutions to new and diverse problems – all while striving to do things faster and in a simpler way.
Great Sky employees are in touch with new technologies and stay ahead of the curve of innovation, applying new knowledge as they find it.
To be brilliant, Sky employees are pushing themselves at every opportunity, learning new skills and are not afraid to take on a wide range of challenges and responsibilities.
Teamwork and collaboration are especially important at Sky, so dealing with the fast-paced and constantly evolving work isn't a solo venture.
What Is the Sky Recruitment Process?
Application
The application process begins with registering interest; you will need to provide some basic contact information and details about your education, including qualifications (specifically for any of the Early Career positions).
Sky is recognised as being an inclusive employer, so if there are any adjustments needed at any stage of the application process, you can bring them up at this point so the recruitment team can help to make that possible.
Digital Assessments
The online assessments that you will be required to take depend on what business area you are looking to work in.
For example, if you are looking to take a position in finance, you will be expected to take a numerical reasoning test; while a software position will require a coding skills test.
You may also have to take some other aptitude assessments too.
Aptitude tests are not designed to test your knowledge of the content – they are simply assessing your ability to learn, as well as how you deal with pressure.
You will need to read, understand and apply the information given in the question to choose the right answer.
You will be told what tests you need to take if your application is taken forward to this stage.
As part of the digital assessment, you will be expected to complete a video interview.
This is not a live or face-to-face interview; instead, you will be asked several questions, both competency-based and general, and will need to film yourself answering them.
Assessment Centre
The assessment centre is the final stage of the Sky application process, and depending on the career path you are following, you will have one or more of the following tasks:
For the assessment centre, you will either be expected to travel to one of Sky's offices (most likely the HQ in Isleworth, although some take place in Livingston), or you will be invited to a virtual assessment centre.
This will often be the first time you have interacted 'live' with the recruitment team, so it is a real time to shine and demonstrate the personal skills and attributes that Sky looks for in its employees.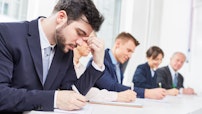 Sky Interview Recruitment Process and Interview Questions
What Sky Interview Questions May Come Up?
During the Sky interviews, both through video interviews and during the assessment centre, there are a few interview questions that are likely to come up, and these can be broadly segregated into two types – competency-based and general.
General Interview Questions
According to recent interviewees, the general questions that are asked are quite typical of most interviews.
These are likely to be biographical questions about your work history and experience, education and qualifications, as well as future plans – all to get a sense of who you are.
"Tell Me About Yourself"
This is a great question but might lead to rambling if you don't already have a plan.
Make sure that you are giving information that is not only relevant to the business but also demonstrates the way you match to the desired behaviours Sky is looking for in its applicants.
Here is more detailed knowledge about how to answer this question if you are looking for more details.
"Why Did You Choose Sky?"
This question allows you to demonstrate the research you have done about the business of Sky, rather than just listing all the perks and benefits that you are excited about.
What interests you about this job might be that it is an area that you are passionate about or have studied in depth – or it could be a pathway to your future career aspirations – which is especially true if you are applying for a graduate position.
"Why Should We Hire You?"
This can be a difficult question to answer because a lot of interviewees can feel awkward singing their own praises during an interview; but you can position yourself well with this question if you know what the recruitment team are looking for.
Preparing by pulling details from your CV and education that demonstrate core competencies makes it easier to show your skills rather than feeling like you are bragging.
Competency-Based Questions
For many interviewees, the competency-based questions can seem challenging, but once you know what the interviewer is looking for in your answer, you should feel more confident.
Some of the questions that have been asked in Sky interviews include:
"Tell Me About a Time When You Have Been in a Successful Team"
This is a great competency question because it addresses your leadership skills, collaboration, communication and work behaviours all at once.
To answer this question, you can either use the STAR technique or the CAR technique to help you structure your answers in a way that is simple, straightforward and easy to understand.
Be clear on what the situation was, what task you had to complete, what actions you took as part of the team, and what the results were.
This could be a project at work or something you did as part of your studying.
"Describe a Time When You Received Great Customer Service"
This competency question puts you in the customer position so that you can demonstrate what great customer service means to you.
If you are in a role that needs interaction with customers, Sky wants you to know what good customer service looks and feels like to you so that you can apply that in your work.
There are many customer service interview questions that could come up as part of a competency-based interview, even if you are not applying for a directly customer-facing role.
WikiJob has a range of articles related to different interview questions and techniques to ensure that you feel confident giving the most appropriate answers.
Key Tips for Applying for a Job With Sky
Be Prepared
Knowing what role you are applying for – whether that is a position on a graduate programme or an advertised job for experienced hires – is the first step in your preparation process.
Know all you can about Sky through its corporate website, find out what people are saying about Sky as customers and keep up to date with any Sky-related news.
If you get a chance, make sure that you demonstrate this research whenever possible, and include any relevant knowledge you might have about the role or business area on a more global level too.
For example, if you are applying for a role in finance, show that you are aware of news and developments in the wider financial markets.
Be Yourself
In both the video interview and the assessment centre, it is natural to be nervous – and the recruitment team know that too.
Sky is open to questions, so at any point if you do not understand something or need clarity, just ask – they want you to be curious and to have all the information you need.
Bear in mind the qualities that Sky is looking for in its employees and be sure to demonstrate those qualities in yourself whenever you are interacting with the recruitment team.
Video Interview Preparation
Treat the video interview the same way as you would a face-to-face interview. Dress smartly, do your research and have important information like your CV and application to hand so that you can refer to it when needed.
Make sure that you are somewhere quiet, where there are no distractions and you are unlikely to be interrupted.
Try and ensure that your audio and video equipment are all working correctly in advance of your interview so that the recruitment team can hear and see you well in your video responses.
You have a unique opportunity to prepare your responses before being filmed, so take the time to ensure that you get your thoughts in order before hitting record – so that you don't end up waffling.
Practice
This is important, both for any aptitude assessments and for the interview too.
Practice will not only make you perform better on the day, but it will also give you more confidence in your own abilities too.
Rehearse possible answers to popular interview questions and think about how you can relate your work or school experience to the different skills and attributes that Sky is looking for.
You may not be able to predict accurately what questions you are likely to be asked, so give yourself the best chance by preparing and practising where you can.
Final Thoughts
The Sky application process seems to be geared more towards soft skills and personalities than specific qualifications
With a comprehensive Early Careers provision, Sky seems to offer lots of incentives and opportunities to school leavers and graduates in a wide range of career paths.
Working for Sky offers rewards and benefits that will attract and retain top talent in the industry, and this means that Sky is interested in interview questions and getting to know candidates on a more personal level.
Taking the time to research the business and practise answers to competency and biographical interview questions will ensure that you give yourself the best opportunities to succeed in the Sky interview process.
---