Ford Assessments and Application Process
All products and services featured are independently selected by WikiJob. When you register or purchase through links on this page, we may earn a commission.
Introduction to Ford
The international motor company is renowned for its lucrative job opportunities and far-reaching influence.
It remains to be one of the most prolific automakers and has been since 1903.
With the Ford motor company being globally influential, Ford's positives are not just limited to the United Kingdom.
Employees have the opportunity of a career that can often take them to all corners of the world.
The positions at Ford are not limited to manufacturing and engineering. Instead, the leading global organization specializes in corporate and logistical roles
Further, if you consider yourself a salesperson, then Ford has positions to cater to your strengths.
Not only will Ford support a wide variety of occupations, the company will also give you the right training to develop the skills to make a lifelong career.
Ford prioritizes the idea of teamwork and valued contribution, and it wants team members who can sustain this ethos.
Job Opportunities at Ford
Whether you are looking for an apprenticeship to kick-start a potential career, or are a fresh graduate looking to use your degree, there are plenty of opportunities at Ford.
Apprenticeships
Five apprenticeship schemes at Ford range from engineering positions to the Ford Masters Apprenticeship Programme (FMAP).
This scheme specializes in training with the most modern computer technology.
Each apprenticeship scheme offers a potentially different career pathway. Still, they all have the aim of developing personnel who can sustain a long-term career.
The graduate pathways are equally diverse, with roles ranging from business strategy to product development.
Like the apprenticeships offered by Ford, the graduate programs will create the best-trained individuals to maintain a prosperous career.
Graduate Schemes
The graduate schemes are tailored to those who have succeeded in a degree program.
The criteria for success varies, however. For example, Ford looks for astute individuals with strong communication abilities and the skill of learning complex technologies quickly.
There are also graduate roles offered by Ford that are not linked explicitly to product or motor development.
The Ford Credit Europe Bank offers roles in automotive financial services for graduates who have a particular interest in economics and banking.
These roles tend to be some of the highest-paid in the respective industry.
Placements
Other than the graduate and apprenticeship schemes, Ford offers business placements for experienced employees and students.
The student programs usually consist of 12-month paid placements.
For experienced workers and those with an astute knowledge of the motor industry, working at Ford can be an excellent opportunity to develop a career.
Internships
There is also a selection of internships for individuals who want to develop their skills further.
These differ from the apprenticeships offered. They last a maximum of 12-months, giving the potential candidate an indication of what is to expect if they pursue a career at Ford.
With all of the opportunities offered at Ford, there is the accompaniment of vocational training.
This can help you become comfortable in a new working role and even give you the best chance to make a Ford career an exciting one.
Application Process
The careers offered at Ford are undoubtedly popular and contested, so the application process is intricate.
For each role offered at Ford, the application steps differ and are tailored towards finding the most suitable candidate for the specific position.
For example, an individual who has applied for an engineering apprenticeship will have had to undergo a different application process to someone who wants to develop a career in customer service.
All of the application procedures start with an online application.
Within this section, the candidate has the opportunity to showcase their best experience, skills and qualifications.
After the online application, the steps that follow widely differ depending on what position the candidate has applied for.
Here are some of the steps to look out for:
After outlining the various steps of the Ford application process, it is understandable that one may feel daunted.
However, Ford includes these procedures to measure your strengths rather than scrutinize your weaknesses.
Ford wants you to showcase your best skills.
Aptitude Tests
As mentioned above, the aptitude tests are usually broken into two sections:
Numerical reasoning tests
Inductive reasoning tests
The numerical reasoning aptitude test consists of specific exercises that assess the individual's capacity to perform mathematical tasks.
These tasks could be in the shape of statistical analysis or numerical calculations.
The candidate is presented with a collection of data, either in written or numerical form. From the given data, they must come to an answer usually offered in multiple-choice.
Other than answering correctly, the candidate may be asked to show how they arrived at their answer. Such requests enable Ford to assess the cognitive processes of candidates.
Similar to the numerical reasoning test, the inductive reasoning test measures the candidate's cognitive abilities.
However, instead of doing this through mathematical data, the candidate must solve puzzles.
The inductive reasoning test is also often referred to as the abstract reasoning test.
The inclusion of the term 'abstract' should give the candidate an idea of the types of puzzles they will be asked to solve.
For example, they may come in the form of the organization of shapes or the re-orientation of a diagram.
These tests are less formulaic than numerical reasoning tests. Their purpose is to engage the candidate more flexibly.
A candidate will often have to figure out the pattern of an abstract diagram themselves.
To find the rules and patterns of each question on an inductive reasoning test, a candidate is forced to use their logical thinking abilities.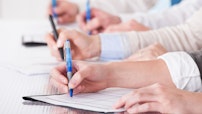 Ford Assessments and Application Process
Ford includes these tests as many of their working procedures rely upon logical reasoning.
Your strengths may lie more in one area than the other; however, this should not be discouraging.
Most individuals are more suited to either numerical or inductive reasoning.
The online aptitude tests at Ford are designed to identify where you will perform best and where you will best fit within their organization.
The Ford Assessment Center
Like the aptitude tests, the candidate's activities at the Ford assessment center will examine a set of skills that are transferable to the working procedures at Ford.
The interview is the candidate's opportunity to interact with those who present Ford's working ethos. Further, it is the best opportunity for a candidate to present themselves separately to all other potential candidates.
There are various ways an individual can prepare for an interview, but there are a few things to bear in mind when approaching Ford.
First, ensure that you are familiar with Ford's products and some of the distinct advantages of Ford's practices.
It is essential that you study the industry's working practices that you are potentially entering. Ford desires candidates who are knowledgeable about the work they will be doing.
Do not hesitate to ask questions either. As much as Ford is looking for candidates that will be well suited to a career with the company, they are looking for inquisitive and enthusiastic individuals.
A question may show an interviewer that you are looking to learn as much as possible.
Besides the fundamental skills of a good interview – presentation of a candidate, good communication skills and professionalism, a good candidate will show willingness if they come prepared.
Revision of industrial practices and product specifications is the best way to highlight this.
The three exercises at the Ford assessment center test particular skills of all potential candidates and aim to simulate a working environment.
Group Exercise
The group exercise usually involves around six to ten candidates. They have to work together to come to a solution regarding either a task or decision.
These exercises are designed to test how an individual works within a group and examines what role they assume.
Some individuals who are more extroverted may find these exercises inviting as they will feel more naturally inclined to engage with the rest of the group.
However, communication is only one aspect of the group exercise. The group's decision is based as much on work as conversation.
Individuals must not be domineering in their approach to suggestions. Individuals who enforce themselves as leaders often cause tension in the rest of the group.
Likewise, those who are indifferent towards contribution will be left out of a discussion.
Ford is looking to identify candidates who will fit well within their established working environment.
If you come across as disruptive or aggressive, then you could harm your chances of success.
Further, it is essential to be inclusive and considerate within a group exercise.
Understanding other points of view and even inviting others to speak can bode well in the eyes of an employee.
Role Play Exercise
The role-play exercise forces candidates to act out a working scenario either as a team or as individuals.
This working scenario is often a reflection of day-to-day working practices.
Those involved in the exercise will usually be given the scenario beforehand, giving them time to examine the best approach to the problem.
Often the candidate is given a scenario where they will have to deal with a complaint of some form.
This may either be from a customer, an inquiry from a colleague or a managerial position.
To deal with the problem, the candidate should prioritize the industry practices of the respective employer.
At Ford, there is an emphasis on the range of products offered and a fit for everyone within this broad choice.
To succeed in a role-play exercise, it is vital that you identify the problem through inquiries and analysis of your own.
Ensure that you ask questions, be patient, and most of all, work towards a satisfactory compromise or solution.
In-Tray Exercise
The in tray exercise, much like the role-play exercise, is a scenario that reflects a day-to-day working situation.
However, the most significant difference between the two is that the in-tray exercise is often a written examination.
The candidate will be given a scenario where they will have to formulate a response to an in-house concern.
This may come in the form of an email from a supervisor requesting the progress of a report. It could even be shaped as a request that ultimately forces the candidate to negotiate with extra work.
To impress on an in-tray exercise, a candidate must pay attention to detail in the material given to them.
Suppose a candidate is unable to understand the requests framed within the scenario. In that case, they will not be able to form a good response.
The response within an in-tray exercise must also be representative of the working environment you are enacting.
For example, if you are being examined on your response to managerial staff at Ford, you would not write your response in a casual style.
The in-tray exercise can often be the longest task at the assessment center.
This is because the candidate needs time to examine the given material and formulate a response.
If you have strong analytical skills, patience and can focus on creating detailed arguments you will likely be successful at this task.
Whatever material you are presented with, remain patient and work methodically.
Key Tips and Advice for Applying for a Role at Ford
It is essential to remember that Ford is looking for candidates who can build a career from a starting position.
With this in mind, one must enter into an application at Ford with the idea that this may be the start of a career.
The best way to prepare for this idea is to research the job you are applying for and the application procedures.
It is good to take recommended practice tests and understand the industry you will be working within.
Have answers prepared for potential exam situations that are related to the position you are interested in.
Make sure you know what would make an individual successful in that position.
Final Thoughts
Now that you have had the opportunity to contemplate the application process at Ford, there is only one thing left to do.
Begin preparing, researching and practicing all of the facets of the process.
Remember that Ford encourages applications apprenticeship schemes and especially graduate pathways.
They do not expect you to have an established career. More so, Ford is looking to be the starting point.
Therefore, you are already more than ready to pursue an application at Ford.
---