How to End a Formal Letter
Throughout your life, you will have many occasions that call for a formal letter.
These might include:
Thank you letters
Letters for financial gain
Letters for other people's needs
Even in these days of texting and emailing, the formal letter still has a place and knowing how to create one, and end it properly, will serve you well in many areas of your life and career.
A well-written letter can easily make the goal you are aiming for that much easier to reach. A good letter shows you to be articulate, professional and polite.
While the body of your letter is important, it holds all the key information you want to impart, the final paragraph is just as important. This is your last chance to leave a good impression and invite further action.
The closing is essentially a few words to sign off. Doing so correctly shows professionalism, respect and appreciation for the person reading.
Primarily, you want your reader to feel positive about the letter and you. You also want to leave them wanting to know more and, in the case of a job cover letter, wanting to meet with you to discuss things further.
The Benefits of a Strong Closing
In many ways, the closing of your letter is more important than the opening. By the end of the letter, the reader has likely forgotten your opening but will remember your closing.
Your closing is essentially your last word, and your last chance to make your point. It allows you to emphasize again your enthusiasm and interest, as well as to encourage the conversation to continue further.
The wrong conclusion can send the message that you are not interested in furthering your discussion and may work to end the professional relationship.
Things to Consider When Writing Your Ending
There are a few things to consider when ending your letter.
You want to be polite, professional, summarize your purpose and leave an opening for them to contact you.
Polite. Even if you are writing a letter you do not want to be writing, or to someone whom you dislike, it is always important to remain polite. If you are rude this time, that reputation could follow you.

Professional. Always remain professional when writing a formal letter, even if the recipient is someone you know well. If you are in a professional setting, keep the closing formal.

Summarize your purpose. By the ending, your reader may have forgotten some important points you raised early on. Give a brief summary of those points.

Leave an open ending. Ensure that your ending encourages the recipient to take further action. You want them to be open to speaking or meeting with you to discuss things further and have a way to do so.
What to Include in Your Ending?
There are several things to consider when crafting your ending:
Call to Action
The call to action is important because it lays out what you would like the next steps to be and how your reader can get things moving.
They may be unsure themselves, so inviting them to contact you or follow up will move things in the right direction.
Reiterate Your Skills and Values
Depending on the type of letter you are writing, you have likely gone into some detail about your skills in the main part of your letter.
While you do not need to go into a lot of detail in your closing, it is good to mention them again to emphasize the ones that are most important.
Show Your Appreciation
Whatever your letter is about, it is usually appropriate to acknowledge the time the reader took to read or respond to your letter and give your thanks.
Professional Sign Off
Even if your letter is directed to someone you know well, your sign off should remain professional.
'Sincerely' or 'Yours truly' are most often used.
The following are some examples of letter endings for three situations:
Formal Endings: Have Not Meet the Recipient
In this example, your reader does not know you from any other stranger sending them a letter.
It is important to remain very professional because there is no personal relationship here, only business.
Several closings can be used in this case:
Yours faithfully
Yours sincerely
Yours respectfully
Respectfully
'Yours faithfully' should only be used when you don't know the name of the recipient (for example, addressing it to 'Dear Sir/Madam'); 'Yours sincerely' is most commonly used for letters addressed by name.
For example,
Dear Mr Jones,

[Body text]

Thank you for taking the time to look over my resume. I believe I have the skills and experience necessary to fill the position you have open.

I would love the chance to meet and discuss the position further at your convenience. I can be reached at the information below.

Yours sincerely,

Jessica Bones
Dear Sir/Madam

[Body text]

Thank you for allowing me to bring these issues to your attention. I believe they deserve prompt attention so please do not hesitate to contact me at your earliest convenience. I am open to meeting in person as well.

Yours faithfully,

Fiona Smithe
Formal Endings: Met the Recipient
These endings are for instances where you may have met the recipient of your letter, but you did not establish a relationship.
Keep in mind that your reader may not remember you and you may have to refresh their memory. Do not rely on them having the same memory of your meeting.
Several closings can be used in this case:
Warm regards
Thank you
Sincerely yours
With gratitude
Best regards
With appreciation
Faithfully
Sincerely
Here are some examples:
Again, it was wonderful to have met you at the career fair in July. I enjoyed our talk about the job market and what is available in our field right now. I will be graduating in two weeks and would love to get together to go over any job openings you might have or prospects at other places.

I look forward to hearing from you, you can contact me on the number below.

Warm regards,

Hayley Coles
I thank you again for taking the time to show me the apartment. As promised, I have attached the signed lease and have enclosed a cheque for my deposit. As noted on the paperwork, I will be there to move in on [date]. I look forward to a good relationship as I continue as a tenant.

With gratitude,

Megan Creech
I found my experience as part of your work/study team to be unparalleled. I cannot express how much I both enjoyed the work and how much knowledge I gained from it. I would love to be considered for any groups you do in the future.

I look forward to hearing from you on the email address provided.

Sincerely yours,

Alisha Ahuja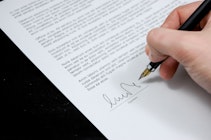 How to End a Formal Letter Properly
Less Formal Endings
These endings are for correspondence that is still formal, but perhaps you have met the recipient a few times or have established a relationship.
Closings do not need to be as formal in these instances:
Best
All the best
Best wishes
Kind regards
Many thanks
Warm regards
Regards
Cordially
I found my internship experience to be amazingly fulfilling. I feel that I gained so much and learned so much from you over the past three months. I look forward to receiving my evaluation and I hope that you keep me in mind should you have any job openings soon.

All the best,

Joanna
In summary, I think I could do a lot of good at [your charity]. I have the skills and connections you need, and I am impressed with the work you do. I am so thankful that [mutual friend] put us in touch with each other. I believe this could be a beneficial working relationship. I look forward to hearing from you soon to discuss.

Many thanks,

Phoebe Horkam
In conclusion I would like to again express my interest in purchasing your house. Because you are selling without an agent, I can assure you that I have all my financials in order. I have a pre-approved mortgage, a solid down payment and many references both personal and business. It was great to meet with you both times to view the house and I hope that we can move forward soon with a sale.

Thanks again,

Montgomery Haftash
How to Format the Closing
Depending on how your letter is being sent – email or hard copy – there are a few things to note regarding the format for the closing.
Your sign off should always be followed by a comma.
For example, 'Regards,' 'Yours truly,' 'Best regards,' 'Sincerely,' and so on.
Only capitalize the first word of your closing.
If you are sending your letter as a hard copy, leave four lines after your sign off and type your name. Sign your signature by hand in the space.
If sending your letter by email, leave one space between the ending and your typed name and then add your contact information under your name.
If sending by email, you can always include a link to your online portfolio if you have one and it is appropriate to do so.
What Not to Do
There are several things you should not do when ending a formal letter.
Do not be overconfident and assume that you know the outcome, you have the job or that everything has been decided. The final decision still rests with the person to whom you are writing.

Do not be too personal. Even if the recipient is someone you know well, it is still a formal letter. A proper closing is still required and should not have an informal sign off such as 'See you' or 'Stay cool'.

No sign off. Using no sign off at all comes across as either too unprofessional or too abrupt. Either one you want to avoid.

Do not make spelling or grammar mistakes. Nothing turns off a reader like easily correctable mistakes.
Letter Closing Examples
Below are some examples of closing sentences for different types of letter:
Letters of Interest
Letters of interest are letters that are sent to apply for or enquire about a job.
Here are some example closings:
'If you need any further information, please do not hesitate to contact me.'

'I look forward to hearing from you and await your reply.'

'I am eager to discuss the position further and how I would be an asset to your team.'
Notice of Resignation
A resignation letter is to let your client or team know that you will no longer be working with them.
Example closings:
'It has been a pleasure working with you and I trust that my replacement will meet your needs fully.'

'I have enjoyed our working relationship and will remain available to answer any questions you may have during the transition.'
Formal Letter
A formal letter could be from one business to another or from a business to a bank or similar.
The closing should be formal with no personal touches:
'I hope that we can make this working relationship a profitable one, and one that is beneficial to both parties.'

'Please look over the contracts and contact us with any questions you might have. We hope this becomes a profitable partnership.'
Applying for a Loan
A letter applying for a loan is one where you hope the institution in question will loan you some money.
Example closings:
'As you can see, I have all my financial paperwork in order and accompanying this letter. I look forward to hearing from you soon.'

'Thank you for taking the time to look over my loan application and please feel free to contact me if you need any more information.'
A Letter to a Professor
A letter to your professor could be for a work/study group or a special project.
Example closings:
'I have gained so much working with your group and I hope you keep me in mind for any further projects you have on [topic].'

'I thank you for taking the time to look over my application for your work/study program. I would welcome the chance to be a part of your group and hope you keep me in mind.'
Final Thoughts
Closing and ending a letter is a lot more important than it first appears.
While your opening introduces you, it is the ending that your reader will likely take away with them the most.
Make sure you understand the tone of your letter, your reader and what you are trying to accomplish with the letter. Remembering those things will help you craft the ideal closing.
---