The Best Trading Platforms in Ireland
All products and services featured are independently selected by WikiJob. When you register or purchase through links on this page, we may earn a commission.
What Is a Trading Platform?
A trading platform is a place where users can buy, sell and trade assets like stocks, forex, indices, futures, CFDs, ETFs and cryptocurrencies.
The platform connects buyers and sellers and makes money on trades by charging fees – these might be commission-based or built into the spread, and sometimes there are charges for withdrawals, deposits or monthly accounts.
Choosing the right trading platform needs consideration. The platform you choose must have the trading instruments you want to use, and you need to consider how much it will cost you to make trades.
The safety of your money is also important – the trading platform needs to be regulated by a recognized financial institution to give you confidence.
What to Consider When Choosing a Trading Platform
Ireland has long been a well-respected financial hub in the world. The Irish Stock Exchange was established in 1793, and in 2018 it merged with Euronext to become the sixth-largest stock exchange group by market capitalization in the world.
This makes it a great market for those who want to trade on global exchanges.
The Central Bank of Ireland (CBI) prohibits the marketing, distribution or sale of binary options and restricts the marketing, distribution and sale of CFDs, so it is worth bearing this in mind for your portfolio and trading strategies.
If you are trading stocks, the CBI operates on a First In, First Out (FIFO) basis – your broker will be able to provide more information about this.
Given that Ireland uses the Euro, most trading platforms will not require any currency conversions as they use EUR as well as USD and GBP as the base currency.
Regulatory Status
The regulatory status of a trading platform can be used as a guide to the safety of your money. Trading platforms that are regulated have to meet certain standards, and some regulatory bodies are considered safer than others.
In Ireland, the main regulatory body is the CBI, but your platform does not have to be regulated by the CBI for trading in Ireland.
There are other bodies, like the Financial Conduct Authority (FCA) in the UK, and the Australian Commitments and Investments Commission (ASIC) in Australia, that are considered highly trustworthy.
Level of Assumed Knowledge
Not all platforms are designed with a beginner in mind. Some assume that traders will have more than a rudimentary knowledge of trading, and this can be confusing for a beginner and might lead to poor strategy and losses.
Others offer a high level of education and research that makes it simple for a brand new trader to develop new skills and learn how the process works.
If you are an experienced trader, you might prefer a trading platform that is designed for advanced strategies. If you are new to the world of trading, it may be better to choose a platform with plenty of educational resources.
Free Demo Accounts
A demo account is an excellent resource for those new to trading. It is also a useful tool for experienced traders because you can use it to simulate trades and try out new strategies.
Level of Customer Support
Customer support is usually provided in one of three ways – through phone, email or live chat.
Sometimes this support is available 24/7, while other trading platforms might only offer help during normal trading hours.
Educational Materials
The education provided by the platform will usually include tutorials on how to use the trading tools, research and other facilities provided. However, it is important to have additional educational resources to hand so that you can learn more, especially if you are new to trading.
Education can be as simple as articles and webinars, but some platforms have how-to guides, ebooks and even complete training courses designed for beginner, intermediate and advanced trading.
Nudges and Alerts
Making quick decisions is an important part of successful trading. Knowing about price movements and keeping up with the market is easier if you receive notifications.
Most platforms offer web, desktop and mobile trading, and through notifications, you can react quickly, whenever and wherever you are.
Compatibility With Your Investment Strategy
Every trader has a different strategy, and you want to be sure that the platform you use will support the way you want to trade.
Whether using copy trading, algorithmic trading, scalping, hedging, or any other strategy, you need to know that the platform can deliver.
Also consider the number of trading instruments that the platform provides. For many traders, the ability to diversify their portfolio can offer more investment opportunities, so they may want a trading platform that offers more than just stocks, forex or commodities.
User Interface/Ease of Use
Trading platforms can be complicated. The interface on the platform you choose should be simple to navigate, and easily customizable so you can view the charts and other tools in the way that suits you best.
Most platforms offer mobile versions designed for iOS and Android, and this should provide a seamless user experience whether you are trading on a desktop computer, tablet or your smartphone.
Security
Security of the trading platform is not just about regulation, but also about how your money is kept. Trading platforms that have been around for a long time are considered to be safer than newcomers, and it is a good sign if the company is publicly traded.
Security also comes from how you can access the platform. Is there two-factor authentication? Do you need ID to sign up for an account?
Security is important. It is your money that is on the line, after all.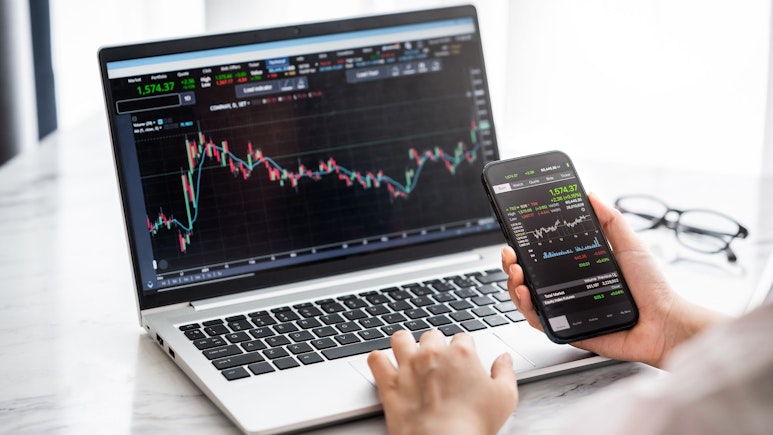 The Best Trading Platforms in Ireland
Top Trading Platforms in Ireland
eToro is best known for being a social trading specialist. This Israeli fintech startup has a lot to offer beginner traders.
The simple account setup and great training available with eToro make this a popular choice for those looking for a simple trading platform offering a wide range of trading instruments without too many complicated tools.
eToro has relatively low fees, and the minimum deposit to start is just $200. This platform uses USD as the base currency, so all deposits and withdrawals need to be made in USD, and there is a $5 withdrawal fee.
eToro offers traders the opportunity to not only copy the trading actions of successful traders but also the ability to completely copy their portfolio.
XTB has a powerful, fast trading platform called xStation, and with a standard account there is no commission to pay but trading fees are built into the spread.
The 'heatmap' that shows market sentiment is a unique tool, and the education is top-notch.
XTB is great for beginners who would like the opportunity to trade different assets, from forex to cryptocurrency, without high account fees.
The demo account allows users to place trades and test out new strategies, while a whole range of learning resources are available to suit the newer investor.
These include the Trading Academy, a series of educational videos, tutorials and articles.
For the savvy trader, the Pro account offers tight spreads, with a very low $4 per lot commission.
CFDs are complex instruments and come with a high risk of losing money rapidly due to leverage. 74% of retail investor accounts lose money when trading CFDs with this provider. You should consider whether you understand how CFDs work and whether you can afford to take the high risk of losing your money.
FXCM has been recognized as the best zero-commission broker and is a leading provider of forex and CFD trading. It is regulated by the FCA, ASIC, CySEC and FSCA, with client funds held in segregated accounts.
Trading Station is the name of FXCM's platform, with excellent research tools available including charting and trading analytics. It is available on the web, as a desktop download, and as a native app for iOS and Android to offer simple and easy trading on the go.
Traders can add automated strategies and robots to the platform in just a few clicks. The only downside to Trading Station is that you cannot set up notifications on the web, desktop or mobile versions.
Established in 1999, FXCM has a great track record for safety, and in terms of cost, there are no fees for accounts, withdrawals or deposits. There are inactivity fees and costs if you want to withdraw to a bank account. The minimum deposit is 300EUR.
FXCM has a wide array of customer service routes, including SMS, email and phone, as well as WhatsApp and live chat.
The education includes a demo account, and you can receive emails with some free learning materials when you open your account. There are lots of videos available, as well as ebooks and tutorials, making this is an excellent platform for the beginner trader who is mostly interested in forex and CFDs.
CFDs are complex instruments and come with a high risk of losing money rapidly due to leverage. 67% of retail investor accounts lose money when trading CFDs with this provider. You should consider whether you understand how CFDs work and whether you can afford to take the high risk of losing your money.
Davy Select is an Irish wealth and asset management company that specializes in capital markets and provides financial advice. Founded in 1926, it offers both a proprietary platform and access to advice and research, but it may not be suited to beginner investors.
myDavy is the name of the trading platform. It is simple to use and navigate with a seamless user experience between the desktop and mobile applications.
With Davy Select, investors can trade more than 7,500 shares in 30 international markets, as well as 1,250 funds and more than 650 ETFs. Customized alerts can be set up based on value or timing metrics.
The account that is most popular for traders is the Trading Plus Account. This is an 'execution-only' account – which means that you can decide what trades you want to place and when. This differs from an investment account where your portfolio will be built for you by a trading expert.
Trading accounts at Davy Select are subject to an annual charge of 0.90% of the balance (with a minimum of 400 EUR). Withdrawals and deposits carry a charge.
Davy Select is regulated by the CBI.
IC Markets offers access to MetaTrader 4 and 5 as well as cTrader. It is well regulated, including ASIC and FCA, and was established in Australia in 2007.
The IC Markets platform is accessible through the web, desktop and mobile for a seamless trading experience, including notifications about price movements and access to research tools and a demo account.
IC Markets has a good level of education available, including articles, tutorials and videos. In terms of research and tools, IC Markets does not have as wide an offering as some of the other trading platforms listed, but there is enough to help with trading ideas and charting.
The trading costs for most accounts with IC Markets are built into the spread, but the ECN account charges $6 per lot in commission which makes the spread a cheaper option.
You can trade CFDs, cryptocurrency and forex using IC Markets, which makes it a good option for those who want a diverse portfolio without it being too complicated.
Goodbody is an Irish investment and wealth management bank that has been trading for more than 145 years. It is an award-winning stockbroker regulated by the CBI and the FCA that is most suitable for experienced, high-net-worth investors.
Goodbody has two types of investment models available – personalized advice to create a diversified portfolio, and a solo trade option through its platform, Goodbody Connect.
With more than 1,000 shares and some ETFs available to trade across 10 global markets, the platform is accessible through desktop, tablet and mobile for seamless interaction.
There are user-friendly tools and professional research to hand on all devices, and you can set up notifications to include market news.
The minimum deposit to use Goodbody Connect is 5,000 EUR.
In terms of regulation and protection, Goodbody is also traded on the London Stock Exchange and Euronext Dublin, making it a high-trust place for investors looking to build a larger portfolio.
However, the high minimum deposit and lack of educational material make it unsuitable for the casual or beginner investor.
AvaTrade is another Irish broker, established in 2006. AvaTrade offers a proprietary trading platform only available on mobile and also allows social trading.
AvaTrade is regulated by the CBI, FCA, ASIC and more. With its long track record and multiple jurisdiction regulations, it is considered to be a safe place to trade forex, CFDs and cryptocurrencies.
Trading fees are built into the spread, and there are no account fees or charges for withdrawals or deposits.
The AvaTradeGo app has a native design for either iOS or Android, making it seamless to use on whatever device you have. Account opening is fast and simple and can be completed within the app if necessary.
There are lots of research tools available including charting, and access to social trading tools like ZuluTrade make this a great option for beginners. The education includes videos, webinars and tutorials.
Established in 1992, Saxo Bank has a distinguished track record and is regulated by the Danish FSA and the FCA.
Stocks, bonds, ETFs, CFDs, cryptocurrencies, forex, options and futures can all be traded, giving Saxo Bank the edge on other trading platforms when it comes to trading instruments.
Saxo Bank offers excellent customer service, but some of the transactional fees are higher than other platforms, so it could be an issue for the more casual trader. One of these issues is that the minimum deposit is $10,000 – making this platform out of reach for many beginner traders.
For the more experienced or professional trader, however, the seamless, intuitive interface combined with detailed research, analysis and tools make the proprietary platform perfect.
Available on the web and as an app for iOS and Android, both devices can be customized to your needs, including setting up notifications for the information that matters most to you.
As this platform is not geared towards the beginner or casual investor, the education selection is limited but there are some videos and webinars available.
Revolut is a fintech company setting out to disrupt both personal and business banking as well as making trading more accessible.
It is a banking app that offers normal banking operations and savings, and now the trading of cryptocurrencies, commodities and US stocks.
The stock trading is only available on USD accounts, but for both cryptocurrency and commodities the minimum deposit is just 1 EUR, and price alerts can be set up as notifications.
With a standard account, traders can earn up to 0.65% APY on their holdings (depending on account type), and the Standard account allows one free trade a month, with subsequent trades costing a commission of just 1EUR.
Revolut was founded in 2015, making it a relative newcomer on the trading scene, but its banking services are regulated by the FCA, FINRA and SEC.
NinjaTrader differs from the options above because it is a platform only, with no brokerage service.
Founded in 2003 with offices in Colorado and Illinois, this platform is designed to be used alongside a broker to provide fast execution and multiple asset trading.
NinjaTrader can be considered a futures specialist. There are limited trading instruments available on the platform unless you use them in conjunction with a broker that has access to other assets. However, it is packed with features and is simple to use.
Full of technical tools and research but limited on education other than a good demo account and some webinars, this platform might not be the ideal first choice for a beginner, but an experienced trader will enjoy being able to make use of all the interesting charting and analysis tools available.
While the platform has no account fees – the Free account has access to everything you need to get started – the inactivity fee is quite high and there is a charge for withdrawals.
NinjaTrader is connected to two well-regulated US brokers – Phillip Capital and Dorman Trading – but you can also connect it to your account on Interactive Brokers, OANDA, Forex.com and FXCM, among others.
As a futures trading platform, it is regulated by the NFA. The broker you use with the platform will have custody of your investment, so the security and regulation provided should give you an idea of how safe it is.
Final Thoughts
There are many trading platforms available that allow accounts from Irish investors – this article offers in no way an exhaustive list.
Trading is risky. As with anything that involves your financial health, you must take the time to know and understand the trading platforms you are interested in working with, whether you are a casual trader or a professional investor.
WikiJob does not provide tax, investment, or financial services and advice. The information is being presented without consideration of the investment objectives, risk tolerance, or financial circumstances of any specific investor and might not be suitable for all investors. Past performance is not indicative of future results. Investing involves risk including the possible loss of principal.
---