XM Broker Review
If you've ever researched methods and means to trade online, you are likely to have come across XM brokers.
In this article, we'll take an in-depth look at XM – who they are for, what they offer, and the pros and cons of choosing them as your broker.
What Is XM?
XM is an online broker, with the parent company Trading Point Holding, established in 2009.
XM became available globally in 2015 and is currently regulated by:
Cyprus Securities and Exchange Commission (CySEC)
Australian Securities and Investments Commission (ASIC)
International Financial Services Commission (IFSC)
With a history of 3.5 million clients in 196 countries, XM offers two MetaTrader platforms, both accessible from actual accounts and a demo account for traders to try.
With low spread and small withdrawal fees, XM prides itself on being available for beginner traders and those with smaller budgets.
XM's mission is to give every client personalized service, no matter how much they are investing. There are great educational tools within the platforms to help beginners and to advise them on the best route.
XM – Who Is It For?
XM deals in more than 1,000 markets, making it suitable for contract for difference (CFD) traders. CFD involves trading on hundreds of financial assets without owning them.
The investor will trade on the asset and if the market moves in their favor, they make a profit; if it doesn't, they make a loss.
Traders only need a small budget to invest in something large. This is another reason XM is great for CFD investors, as an XM account is easy to open with a minimum deposit of 5forstandardandmicro−accounts,and100 for a zero account. Stock fees are also low.
There is also the ultra-low account, which requires a $50 deposit, although this is not available in all areas.
XM also suits many forex traders as, although they tend to buy and sell in many markets, they usually specialize in the currency market.
Forex traders may be better suited to the MetaTrader 4 platform, which focuses on these types of trades. You cannot trade CFDs on MetaTrader 4.
XM Accounts and Platforms
MetaTrader 5 is a multi-asset platform more suited to CFD trading. It also offers accessibility to stocks, assets and precious metals.
MetaTrader 4 and 5 are both available on Apple and Android devices. The accounts are easy to use but require a level of understanding of the devices and applications to use successfully.
You can log on with Touch ID, making it quick and easy to access your account.
The app offers real-time information on trade volumes and markets, and optional tools such as an economic calendar.
XM aims to be seen as more than a broker and gives each member the human experience, with bespoke customer service.
Official identification in the form of a passport or driving license is required when opening the account, as well as a utility bill from the last three months.
You will need to supply a name, email address and contact phone number, and state the country you reside in. It also asks for your date of birth, address, financial information and level of financial knowledge.
Once this is complete, you choose your preferred account, trading platform, currency and leverage size.
As stated above, XM appeals to beginner traders and those with little experience or a low budget, as well as seasoned and high-value investors.
The demo account is perfect for beginners. A potential trader can set up the demo account in a few easy steps and start trading with a virtual balance of $100,000.
There is no limit on how long you can use your demo account. It's worth allowing time to find out if this kind of trading through XM is the right route for you to invest your money.
Perhaps most importantly, anyone with a demo account can trade using the same conditions as someone with a real account.
XM Fees
XM has a no commission and no hidden fees policy, apart from on XM Zero accounts where commission is charged.
There is also no fee for transferring money.
Research and Education
XM's ethos is to appeal to both newcomers and seasoned users, so the platform has a wealth of educational materials available through regular webinars. It also encourages users to learn through its team of experts.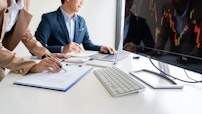 XM Broker Review
What's more, XM conducts a wealth of research, the results of which are available on the platform.
Pros of Using XM as a Broker
There are many pros of using XM as a trading broker:
Regulated by ASIC, CySEC and IFSC – XM is regulated by these recognized and approved bodies, so they can serve in many countries, and clients can rest assured that all guidelines are met.

Award-winning – XM has been awarded Best MT4/MT5 Brokers 2021 by DayTrading.com and Global Forex Broker of the Year 2020 at the Global Forex Awards. This shows XM is highly regarded and recognized as being the best in these areas.

Seamless account opening – It is very easy to open an account, with minimal deposits required.

Low stock CFD fees and deposit – This is great for new traders and those who have minimal budgets as the fees for trading in CFDs are low, but still give good leverage. Only a $5 deposit is required on opening a standard and micro account, which makes the platform more accessible.

No or small withdrawal fee – Nobody wants to be charged for accessing their money. XM understands this and charges nothing for withdrawals in most cases (though bank withdrawals of 200orlesscarrya15 charge). It also guarantees a one-day turnaround on the money being in your bank (although some tests have shown it to take two days)

Good customer service and customizability – XM prides itself on good, bespoke customer service and has live chat functions for anyone with immediate questions and concerns. They also tailor your account specifically to you.

Educational videos and training – XM wants to keep their users educated and doesn't want them to miss out on anything related to the market and trading world. They offer webinars and one-to-one advice to this end.

Demo account available – Perhaps one of XM's best features is its demo account, which offers unlimited usage time and gives users the same trading conditions as a real account.
Cons of Using XM as a Broker
XM is not for everyone. Some of the disadvantages are:
Limited – The products are limited to forex and CFDs, and you cannot trade both on both platforms.

No difference in platforms – Apart from the different minimum deposit requirements, there is very little difference in the range of accounts, so people do not feel they are getting that personal experience XM prides itself on.

No investor protection for non-EU users – Due to licensing, Australia, the Middle East and the rest of the world not in Europe do not get protection if investing through XM, even though it is a global broker.

PayPal transactions not supported – Many people use PayPal for ease and quickness, particularly when trading across countries. Unfortunately, XM does not support PayPal deposits, which can cause huge inconvenience. One great feature of PayPal is that it converts money from one currency to another automatically, which would be ideal for XM users.

No 24/7 customer service – Even though XM support is good, it is only available Monday to Friday. XM trading hours are from Sunday 10:05 p.m. GMT until Friday 09:50 p.m. GMT.

No two-step security verification – Many users dislike the lack of security when accessing their account. Most apps and accounts of this nature require two-step verification (password, code, etc). XM does not, though you can set up fingerprint recognition on mobile devices.

Inactivity fee – Inactive accounts will be charged a maintenance fee of 15afteroneyearofnoactivity,withasubsequentchargeof5 for each month the account remains inactive.
XM is easy to use from the initial set-up, and most users can start using it the same day their account is opened.
Many customers find it easy to use and navigate, especially with the in-house guides, technical support (when open) and webinars.
In general, all levels of traders can use it, and it is efficient, fast and accurate, offering a fairly seamless user journey.
Final Thoughts
XM suits CFD and forex traders at all levels – beginner, intermediate and experienced traders. It is popular due to the low deposit and withdrawal fees, and the demo account's infinite availability and great functionality.
Comprehensive, detailed research and educational information are constantly added to the platforms, showing XM's reliability within the industry.
However, the products are not extensive, which can dampen the experience for people. It is also not up to date in all respects, such as not allowing deposits from PayPal or having two-step verification.
XM is, on the whole, a customer-friendly broker for those keen on CFD and forex trading.
WikiJob does not provide tax, investment, or financial services and advice. The information is being presented without consideration of the investment objectives, risk tolerance, or financial circumstances of any specific investor and might not be suitable for all investors. Past performance is not indicative of future results. Investing involves risk including the possible loss of principal.
---