FxPro Review
FxPro is a CFD and spread betting broker operating mainly in the forex market. Established in 2006, FxPro operates globally, welcomes clients from over 170 countries and has offices in London, Cyprus, Monaco and the Bahamas.
As a global broker, FxPro is regulated by:
Financial Conduct Authority (FCA) in the UK
Cyprus Securities and Exchange Commission (CySEC)
Financial Sector Conduct Authority (FSCA) in South Africa
Securities Commission of The Bahamas (SCB)
and operates in line with the MIFID II Directive 2014/65/EU.
With the above level of regulation, FxPro is considered to be a safe, low-risk service to use. Interested in trading forex but not sure you can afford it? Read Trading Forex on a Low Budget.
Pros
Regulated by four bodies
Choice of trading platforms
No hidden fees
Zero deposit and withdrawal fees in most circumstances
Cons
High fees
Inactivity fees
Only offers CFDs and spread betting
Who Is FxPro For?
FxPro is suitable for traders who are:
Interested in trading a wide range of forex and CFDs
Familiar with the MetaTrader and cTrader platforms
Looking for a brokerage that is regulated to a standard that makes the company low-risk
Keen to invest via spread betting
Interested in trading cryptocurrencies through CFDs only
Not resident in the US, as CFDs and spread betting are not available there
FxPro provides a customer service in a wide range of languages including English, Arabic, Chinese, French and Russian.
FxPro offers educational tools for both beginner traders and those who have more advanced levels of knowledge, suggesting that FxPro is suitable for a wide range of traders, regardless of experience.
CFDs and spread betting are not legal in all countries around the world, so it is always advised to investigate trading laws where you live before applying for a trading account.
To find out more about CFDs, read Stocks vs. CFDs: The Key Differences.
FxPro Products and Services
As its name would suggest, FxPro concentrates its CFDs mainly on forex but also operates across other trading markets.
Forex
FxPro CFDs cover over 70 forex pairs including both major pairs, such as EURGBP and USDJPY, and minor pairs like AUDCAD and NZDCHF.
Futures
FxPro offers CFDs in a wide range of global futures, including:
Cocoa
Sugar
Cotton
US100
EUR50
Indices
If your interest lies in indices, FxPro offers the opportunity to trade CFDs in indices from America, Europe and Asia.
Popular indices include the AUS200, HongKong50 and US30.
Shares and Stocks
FxPro offers the opportunity to trade share CFDs on over 150 global companies, including:
3M
JPMorgan
Adobe
Mastercard
Nike
Metals
Trading on the current price (spot) rather than the futures price, FxPro offers CFDs in precious metal markets, such as GOLDgr, SILVEREURO, and PLATINUM.
Gold, silver and platinum are just three of the many commodities you may be interested in trading.
Read Top Commodities to Trade to find out more.
Energies
Again, trading on spot energies instead of futures energies, FxPro offers CFDs in Brent Oil, Natural Gas and WTI.
Spread Betting
FxPro also offers a spread betting service across all of the above markets.
To find out more, read How to Spread Bet.
FxPro Platform Features and Tools
FxPro has three main features and tools:
FxPro Edge
Currently in a beta version, FxPro Edge is a web platform, available to download through Google Play and Apple App Store, that assists traders in placing spread bets across:
Forex
Shares
Spot indices
Spot metals
Spot energies
There is no commission involved in spread betting through FxPro Edge.
MetaTrader Suite
FxPro customers have access to MetaTrader 4 (MT4) and MetaTrader 5 (MT5). MetaTrader is a retail trading platform that is most prevalently used for trading forex.
However, it can be used to trade other markets, such as indices or shares, through CFDs or spread betting.
At FxPro, MetaTrader can be used to trade in the following markets:
Forex
Metals
Indices
Energies
Futures
Shares
MetaTrader features a wide range of technical indicators and market analysis tools and also has a trading reporting function. MetaTrader charts are easily customized to meet your needs and level of expertise.
MetaTrader can be downloaded to your Windows PC or Mac, and to most mobile devices too.
cTrader
cTrader is also a trading platform with a similar level of indicators and analysis tools to MetaTrader. It is customizable and the main factor in choosing between cTrader and MetaTrader appears to be simply personal choice. Which interface do you prefer and what trading software are you familiar with?
The number of markets available through cTrader via FxPro is, however, reduced in comparison to those available through MetaTrader.
They are:
Forex
Metals
Indices
Energies
cTrader can be downloaded to your Windows PC, and to mobile devices via Google Play or Apple App Store. It is currently not downloadable to Macs.
FxPro Account Types
There are a number of account types available for FxPro customers, depending on which trading platform you would like to use and a number of other factors too.
Demo Account
One of the easiest and least risky ways to enter trading is to practice in a virtual arena with virtual funds before you try out the real thing. The FxPro demo account allows you to do just that.
Ideal for beginners and traders who want to familiarize themselves with the way that FxPro operates, the demo account allows you to set the amount of your virtual funds.
This can add a level of realism to your virtual experience if you choose an amount that will reflect how much actual money you will invest once you open a live trading account with FxPro.
To open a demo account, click on the 'Try Demo Account' link under the blue 'Start Trading Now' button on the FxPro website. There is no need to supply documentation or proof of identity for a demo account. Simply fill in your personal details, indicate the platform of choice and provide your email address.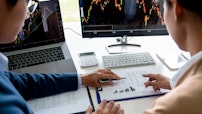 FxPro Review
MT4 Account
This is the live trading account to apply for if you wish to use MetaTrader 4 via FxPro. Choose between fixed spreads and floating spreads, and between instant execution and market execution.
To apply, click on the blue 'Start Trading Now' button on the FxPro website. On the first screen, complete your country of residence, full name and email address. Provide a password and click on the register button. You may at this point read the FxPro privacy policy.
You will then be asked questions on:
Your nationality
Date of birth
Contact details
Occupation
Education level
Financial status and investment plans
Trading experience
To complete the process, you will be asked to upload digital copies of identification documents.
Finally, you will receive a welcome email from FxPro that will include your account credentials.
MT5 Account
If you would prefer to use the more recent version of MetaTrader, MT5, then this is the FxPro account for you. The application process is exactly the same as that for MT4.
cTrader Account
This is the live trading account to open if you would prefer to use cTrader via FxPro. The application process is the exact same as for MT4.
FxPro Edge Account
If your main focus is to place spread bets, then an FxPro Edge account is probably the live trading account most suited to you.
Again, the application process is the same as for an MT4 account. Just click on the 'Start Trading Now' button to begin.
VIP Account
VIP accounts are understandably limited. However, once you have deposited more than $50,000, or the equivalent in another currency, into your FxPro wallet, you may apply for a VIP account.
Acceptance is not automatic and will depend on many factors, but regularly trading high volumes will play in your favor when seeking a VIP account.
The benefits of a VIP account include:
30% discount on market spreads
Access to a virtual private server from which you can run trading expert advisors on a remote basis, 24 hours Monday to Friday
Up to 30% cut in cTrader account commission
Joint Account
Joint accounts are available through FxPro if you wish for joint access to a live trading account. This type of account is only available for married couples or first-degree relatives, such as a parent, child or full sibling.
To apply, both individuals must open a live trading account with FxPro before submitting a Joint Account Request Form.
Islamic Account
For traders who wish to trade within the rules of Sharia law, FxPro offers a swap-free live trading account.
An email request for this type of account should be forwarded to FxPro before making an online application.
FxPro Commissions and Fees
There is no commission on most FxPro trades, although it is always advised to investigate any commission likely to be incurred before entering into a trade.
FxPro provides zero transfer fees for withdrawals and deposits. The exception to this is making a withdrawal from an account that has made no trades.
The minimum deposit is $100, or your currency equivalent, although FxPro advises that $500 is a more suitable amount.
There is an inactivity fee, should your account be left dormant for more than three months. This is $15, followed by $5 per month of inactivity.
FxPro Research and Education
FxPro offers considerable resources for both top-level research and education purposes, whether you are a beginner or more experienced.
Research
Under its News and Analysis section, FxPro offers:
Economic Calendar: Providing information on upcoming economic events
Earnings Calendar: Reporting on upcoming earnings and stocks/indices dividends
Market Holidays: Listing worldwide holidays when trading markets will be closed or otherwise affected
FxPro Market News: FxPro's own financial newsfeed, providing worldwide trading news and analytics reported by the FxPro news team
Technical Analysis by Trading Central: Third-party trading software offered to FxPro MetaTrader customers providing more detailed analysis and forecasting
Education
FxPro offers online educational materials for both beginner and advanced traders. Beginner 'cards' cover:
Basics
Fundamental analysis
Technical analysis
Psychology
Advanced cards cover fundamental analysis 2.0.
FxPro customers may also access a number of self-check online trading tests, video lessons and webinars.
Pros of FxPro
After all that, what are the pros of FxPro? Why use this CFD and spread betting broker over others?
FxPro is a safe, low-risk brokerage to trade through, regulated by four bodies – FCA in the UK, CySEC in Cyprus, FSCA in South Africa and SCB in the Bahamas.
FxPro offers a choice of trading platforms that will appeal to most CFD traders or spread betters – MT4, MT5, cTrader and FxPro Edge.
FxPro offers MT4, MT5, and cTrader in mobile-friendly formats for trading on the go.
There are no hidden fees and zero deposit and withdrawal fees in most circumstances.
Through its research resources, FxPro offers real-time news and events to assist your trading decisions.
Cons of FxPro
Now for the downsides; what are the cons of using FxPro to trade CFDs and spread bet?
The FxPro educational offering, while hardly meager, is not as extensive or detailed as that provided by similar companies. The information is accessible but tends to be top-level and does not drill down into the more complicated aspects of trading.
The pricing offered by FxPro is not as competitive as that offered by other brokers.
Should your trading account be inactive for more than three months, you will be charged an initial penalty fee, and then an ongoing monthly fee while your account is dormant.
FxPro only offers CFDs and spread betting. This means that you cannot buy actual trading assets. Instead, you buy a contract for difference with FxPro or place a bet on the price movement of specific markets.
Final Thoughts
FxPro is a safe option for those who wish to trade CFDs in forex and the other markets covered by this broker, are familiar with MetaTrader and cTrader platforms, and like an easy account opening process.
It is always advised, however, to check that FxPro accepts customers from the country that you live in.
WikiJob does not provide tax, investment, or financial services and advice. The information is being presented without consideration of the investment objectives, risk tolerance, or financial circumstances of any specific investor and might not be suitable for all investors. Past performance is not indicative of future results. Investing involves risk including the possible loss of principal.
---