FOREX.com Review
All products and services featured are independently selected by WikiJob. When you register or purchase through links on this page, we may earn a commission.
What Is FOREX.com?
FOREX.com was established as a broker in 2001 and has become the number one broker in the US according to the number of active traders. It is now part of StoneX Group Inc., a publicly-traded company.
As an online forex broker, FOREX.com allows users to buy and sell currency pairs, as well as commodities, cryptocurrencies and other trading instruments.
FOREX.com has an extensive range of offerings, such as currency pairs, but also futures, CFDs, commodities, indices, individual stocks, bonds, ETFs, gold/silver and cryptocurrencies.
This makes it straightforward for traders to hold a diverse portfolio with one broker.
FOREX.com trades currency pairs 24-hours a day, although there are different hours over Christmas and public holidays.
Is FOREX.com Regulated?
FOREX.com is a well-known and trusted online broker. Although it is regulated in several global jurisdictions, not all products are available for every country.
For example, CFDs are not available in the US.
FOREX.com is regulated by the following authorities:
CFTC
NFA
FCA
IIROC
ASIC
MAS
FSA
CIMA
Is FOREX.com Safe to Use?
FOREX.com is a subsidiary of StoneX; therefore, it has a credibility for traders as it is publicly traded on the NY Stock Exchange.
Alongside this, client funds are segregated from FOREX.com's own money, so it remains protected should the company have financial issues or become liquidated.
In the UK and EU, traders are protected by the FSCS for up to £85,000. Guaranteed stop-loss and negative balance protection are also available, although there might be an extra cost.
For Canadian traders, the Canadian Investor Protection Fund looks after trader investments with FOREX.com.
In terms of user security, the data is encrypted using SHA256, TripleDes and MD5, while access is protected through Two-Factor Authentication (2FA) and biometrics (mobile application).
Traders in the US have less access to certain trading instruments and potentially less safety in terms of their funds.
There is no stop-loss or negative balance protection, and no access to protection if FOREX.com goes into administration or suffers other financial issues.
FOREX.com is considered safe due to its regulation in high-trust, tier 1 jurisdictions, segregation of funds, and because StoneX is a publicly-traded entity.
Who Is FOREX.com For?
FOREX.com offers a wide range of products and is particularly good for high-volume trading. The broker as a whole is reliable and fast, with several account types and platforms.
There is a large number of research resources available to support traders, and the education provision is aimed at beginner, intermediate and even advanced users.
Therefore, it is a wide-ranging broker that is suitable for all traders.
The combination of low fees, a wide product portfolio and great customer support make FOREX.com a broker that is popular with traders around the world.
The simple-to-use interface is available online and on mobile. This makes it accessible on the move too.
FOREX.com Products and Services
Although not all products are available in every jurisdiction, the portfolio options on FOREX.com include:
91 Currency pairs
Unleveraged gold and silver
Five Futures products (through FuturesOnline)
20 Stock Index CFDs
380 Stock CFDs
20 ETFs
29 Commodity CFDs
Nine Cryptocurrencies
This is not as diverse as other brokers online; however, for pure forex traders, there is good coverage.
FOREX.com Platform Features and Tools
Web Trading
The proprietary Web Trader platform is simple, fast and reliable. It offers a choice of pre-defined or customizable layouts designed to offer users total control.
Traders can find powerful charts with advanced charting tools and accurate reporting.
For those who need support or like to remain updated on trends, can take advantage of tools that can suggest where and when to trade, including FX trade signals, market strategist and market analysis.
Mobile Trading
The mobile trading platform is available on both Android and iOS and offers a full trading experience.
Unlike several mobile applications, the FOREX.com mobile experience allows for almost all trading activity to take place in the app, including Advanced TradingView charting and analysis.
The mobile application is renowned for the speed at which it allows you to trade. It uses one-swipe execution based on real-time price alerts that come through as push notifications.
The mobile app still includes integrated market analysis, Reuters news and a full economic calendar to help you make decisions on the move.
FOREX.com Account Types
Standard Account
The Standard account is the basic, easy to access and use account suitable for the majority of traders. It can only be used on the proprietary FOREX.com Web Trader platform.
Charges for this account are worked into the spread, and there are no account opening, maintenance or withdrawal fees.
There is no commission charged on Standard accounts, and the minimum deposit is 100 of your base currency.
MetaTrader Account
This account is the same as a Standard account; however, it is to be used on the MetaTrader 4 platform.
Commission Account
The Commission account is for traders who deposit at least 10,000andtrademorethan25m a month.
There are no account opening, maintenance or withdrawal fees.
However, there is a set commission depending on the amount you are trading. This is set at $5 per 100,000 traded.
The spreads are typically noticeably lower for Commission accounts, and they are not available to use on MT4.
DMA/STP Pro Account
The DMA account is a tiered account best for serious, high-volume traders.
While the spreads are much lower (as little as 0.1 pip), the level of the commission depends on the volume traded.
This top-level account offers significant support from a highly-trained market strategist and through priority service. Therefore, there are many premium features available.
The DMA Account has the most potential for discounts based on volume.
However, it requires a considerable monthly trading amount to remain qualified; therefore, it is most suitable for institutional traders.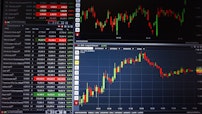 FOREX.com Review
Active Trader
This program is for high-volume traders and offers reduced trading costs (up to 15% with cash rebates).
Active Trader accounts receive 1% APY interest based on the average daily available margin, one-on-one support from an experienced market strategist and bank fees for wire transfers reimbursed.
The Active Trader account requires a minimum account balance of 10,000oracalendarmonthlytradingvolumeofmorethan50m.
If your trading account hits these minimums, you will automatically qualify.
Demo Account
FOREX.com offers a demo account for those who are looking for a trading account to try without putting any capital at risk.
The demo account is a fully functioning trading account that includes all of the features of a normal account.
FOREX.com Commissions and Fees
The minimum deposit for a FOREX.com account is 100 of your base currency. For example, $100, £100, etc.
However, for the best experience and flexibility, FOREX.com recommends a minimum deposit of 2,500 of your base currency.
For forex trading in a Standard account, there is no commission; however, the fees are built into the spread (averaging around 1.4 pips), and the spreads for CFDs are about average in terms of costs.
Several parts of the FOREX.com offering do not have any fees associated, which makes this broker one of the most competitively priced in the market, even on a standard account.
These include:
No account opening fee
No deposit fees
No withdrawal fees
No account management fee
There is an inactivity fee of $15 (or whatever your base currency is) that is charged monthly after the account is inactive for more than 12 consecutive months.
FOREX.com is generally recognized as a low-cost brokerage.
FOREX.com Research and Education
Research
The team of researchers at FOREX.com provide a significant quantity of research, including articles, weekly reports and insights, and trading ideas.
There is also research from news channels, including Reuters, and all the data directly from Trading Central, a popular third-party trade resource that is invaluable to traders at all levels.
The research is in-depth, and the content is particularly useful to traders.
Education
The education offering can be accessed according to your level of experience in trading.
At each level, you can use the learning as a trading course or complete the topics that you need the most help in.
Whether you are a beginner, intermediate or experienced trader, there are educational resources suitable for your needs, including the following topics:
Market basics
Trading concepts
Trading strategies
Risk management
Fundamental and technical analysis
There is a useful glossary of terms available to ensure you understand all the terminology used, regardless of what you are trading.
Advantages of FOREX.com
Low Forex Fees
With no commission and the trading fees built into the spread on a standard account, FOREX.com is recognized as a low-cost broker.
There are no charges for account opening, maintenance or withdrawal. This makes it much simpler for you to calculate the ongoing costs of trading forex.
Well-Regulated
Few online brokers can compete with the regulation of the FOREX.com provision. FOREX.com represents one of the safest trading platforms thanks to regulation in jurisdictions in the US, UK, Japan and throughout the world.
Good Customer Service
The FOREX.com broker possesses exemplary customer support available on the phone.
Good customer service is an essential part of the experience. In the rare case that you have a problem, it can be easily solved.
However, some users report that the live chat function is not quite as helpful or straightforward.
Advice and information can be found through articles and blog posts, as well as a very thorough FAQ section.
Wide Range of Forex Pairs
Currently, FOREX.com offers 91 currency pairs to trade, all with market-leading spreads.
This is a great variety for people who are just looking to buy and sell currency, and when you consider that there are other trading instruments available too, it is a good broker for a wide range of portfolios.
Protection for EU and UK Accounts
EU and UK accounts have extended protection thanks to the combination of FSCS and specific account management options.
FOREX.com is a member of the FSCS. Therefore, users have their investments protected up to £85,000 if something should happen to the business, such as bankruptcy or administration.
The second part of the extended protection is the negative balance protection. This was mandated by FSMA rules back in 2018, and it means that people in the UK and the EU cannot end up owing more than they have deposited.
For an extra charge, British and European users can also add guaranteed stop losses.
High Volume Trading Discounts
The Active Trader platform offers up to 15% in rebates for high volume users, and 1% interest on the average daily margin.
This is a good way for institutional traders to make more profitable trades and reduce expenditure on commissions and spreads.
Bank charges on wire transfers are returned; therefore, the Active Trader platform offers the best opportunities for a discount.
Good Research Tools
FOREX.com team offers tools for users to complete their research. These include charts, access to news reports and FX trade signals, as well as a good reporting function so you can see the progress of your trades.
Mobile App
The mobile app offered by FOREX.com is fully functional. All trading actions can be managed through the app alone without use of a computer. You can even open an account through the app.
The lightning-fast responses needed to make the most of trades are easier with simple to set up push notifications about price action.
Multiple Deposit Options
The funding options for FOREX.com include:
Credit/Debit Card
PayPal
Wire Transfer
Bank Transfer
You can use multiple cards to fund the account.
Demo Accounts
The fully-functioning demo account is available for 90 days, giving users a risk-free opportunity to learn more about how the broker works.
This is especially useful for beginners or those who are unsure about putting money into FOREX.com.
24 Hour Trading
Forex trading over 24 hours means that you can trade whenever and wherever you are.
Other trading instruments have different trading windows based on your time zone.
Disadvantages of FOREX.com
No Account Protection for US Accounts
Despite FOREX.com being a US company, there is a lack of account protection for US accounts which could make these riskier.
This includes no negative balance protection; therefore, it is important to ensure that you don't overstretch your deposits.
US Accounts Do Not Have Guaranteed Stop-Losses
Guaranteed stop-losses ensure that your position is automatically closed at your pre-selected choice.
Lacking a guaranteed stop-loss could ensure you end up closing a position at a significant loss.
Limited Portfolio
Although FOREX.com has a large range of currency pairs, there are limited options for other types of trading which could put off traders that are looking to create a more varied portfolio.
Other brokers have a similar number of currency pairs as well as other trading instruments, although they could come with more commissions and fees.
How to Set Up a FOREX.com Account
Setting up a FOREX.com account is straightforward and can be completed online.
All you need to provide is your name, address and tax ID to establish your identity. You will need to provide evidence of your identity and address.
The evidence needed for your identity is one of the following:
Valid and current passport
Valid and current driver's license
Valid and current national ID
Your residence can be proved by providing:
Government-issued photo ID with address
Utility bills
Bank or credit card statement
You can upload these documents online through the MyAccount section of the website.
It is possible to open a joint or corporate account, with some extra steps.
Final Thoughts
FOREX.com is a low-cost online broker that has a great reputation and is the number one online forex broker in the US.
For those looking for a simple and straightforward way to trade multiple currency pairs, FOREX.com is an obvious choice that is well-regulated in many jurisdictions.
Great customer service, good research tools and extensive education make FOREX.com suitable for both beginners and experienced traders.
The opportunity to upgrade accounts for more discounts on more trading volume is suitable for institutional traders.
WikiJob does not provide tax, investment, or financial services and advice. The information is being presented without consideration of the investment objectives, risk tolerance, or financial circumstances of any specific investor and might not be suitable for all investors. Past performance is not indicative of future results. Investing involves risk including the possible loss of principal.
---