CMC Markets Review
All products and services featured are independently selected by WikiJob. When you register or purchase through links on this page, we may earn a commission.
CMC Markets provides an award-winning global online trading platform.
Established in 1989, CMC Markets offers spread betting and CFDs across a wide variety of trading instruments, including:
69% Of Retail CFD or Spread betting Accounts Lose Money with CMC Markets.
CMC Markets is based in London, UK, and is listed on the London Stock Exchange (LSE). It serves both individual and business clients and claims to be suitable for both new and experienced traders.
However, it does not accept US clients.
Currently, spread betting is only available through CMC Markets if you live in the UK or Ireland.
CMC Markets provides ongoing access to your trading account through its mobile app and seeks to educate its clients via a range of trading webinars, videos and guides.
Is CMC Markets Regulated?
CMC Markets is regulated by the Financial Conduct Authority (FCA), offering a financial safety-net to CMC Markets clients through the Financial Services Compensation Scheme (FSCS).
For those trading through CMC Markets Canada Inc., regulation is offered through the Investment Industry Regulatory Organization of Canada and the Canadian Investor Protection Fund.
A financial safety-net is available through the Canadian Investor Protection Fund (CIPF).
CMC Markets is further regulated by the Australian Securities and Investment Commission (ASIC), the Investment Industry Regulatory Organization of Canada (IIROC) and the Monetary Authority of Singapore (MAS).
Who Is CMC Markets For?
CMC Markets is aimed at both experienced traders and those just starting on the trading path who wish to invest via CFDs or spread betting.
Its 24-hour Monday to Friday customer service, educational offering and user-friendly platform provide an ideal way for a new trader to learn as they go.
CMC Markets serves both individual and business clients worldwide, except for the US, where trading CFDs and spread betting are banned.
69% Of Retail CFD or Spread betting Accounts Lose Money with CMC Markets.
CMC Markets Products
CMC Markets offers two products, CFD (contract for difference) and spread betting.
CFD
When you purchase a CFD, you enter into a contract to trade on the value of a stock, commodity or another trading instrument without actually owning it.
Where the instrument is shared, you may also receive dividend payments for the period of the contract.
Leveraging is available to fund the purchase of CFDs, meaning that you can enter into a contract with a modest initial outlay, only a fraction of the full cost of the trading asset.
CFDs are subject to capital gains tax. Should you receive dividend payments, these will incur a dividend tax liability.
CMC Markets CFDs cover the following instruments:
Over 9,000 share and ETF
More than 330 forex
100+ commodity
Over 80 indices
More than 50 treasuries
14 cryptocurrency
For more information on CFDs, read Stocks vs. CFDs: The Key Differences.
Spread Betting
In spread betting, you make a bet on whether a financial instrument will rise in price or drop. As with a CFD, there is no element of ownership.
The amount of money you make or lose is reliant on whether the price acts in the way you believed it would.
You choose how much money to put at risk by deciding on the value of your bet.
The broker offers two prices, the buying price and the selling price.
If you believe the instrument price will rise, you purchase at the 'buying price'.
If you think the instrument price will fall, you purchase at the 'selling price'.
The 'spread' in the title refers to the range of value between the buy and sell prices.
As with CFDs, leveraging is available for spread betting purposes. Unlike CFDs, spread betting is free of capital gains tax and incurs no commission fees in the UK.
CMC Markets currently offer spread betting to UK and Ireland residents only.
CMC Markets spread betting is available on more than 10,000 instruments, including forex, commodities, shares and ETFs, indices, and rates and bonds.
Alternatively, you can spread bet on CMC Markets share baskets, all of which are linked to current trends, such as:
Automation and robotics
Driverless cars
Social media
Renewable energy
Luxury lifestyle
Want to find out more about spread betting? Have a look at how to spread bet.
69% Of Retail CFD or Spread betting Accounts Lose Money with CMC Markets.
CMC Markets Platform Features and Tools
CMC Markets aims to make its platform accessible to traders at all levels, from complete beginners to well-experienced traders, by providing a high level of customization.
Furthermore, there is a wide range of help and support on how to use and access the CMC Markets platform, including platform tour videos, trading strategy tutorials and live chat.
Next Generation Web Platform
The Next Generation Web Platform offers you the chance to customize it to suit your needs and level of expertise.
The platform includes:
A wide range of technical indicators and drawing tools
Price projection tool
The ability to group modules
Access to an online trading forum
The ability to trade directly from your charts
Pattern recognition scanner
Mobile Trading Platform
The CMC Markets award-winning mobile trading platform (Investment Trends 2017 UK and Online Personal Wealth Awards 2016) makes trading possible on the go as well as simply from your desktop.
Available in versions for iPhone, iPad and Android, the CMC Markets mobile trading platform provides a live market calendar and push alerts.
Metatrader 4 Desktop
Metatrader 4 (MT4) is an online trading platform generally used to trade forex.
Using automated programs called 'expert advisors', you can set up MT4 to trade for you.
In the hands of CMC Markets, you can use MT4 to trade indices and commodities as well as forex. MT4 can be used to trade both CFDs and make spread bets.
MT4 can be downloaded to your computer, iPad, iPhone or Android mobile device.
CMC Market Account Types
There are several available options if you decide to open an account with CMC Markets:
Demo Account
If you would like to build your trading skills and try out the CMC Markets platform before you put any funds at risk, the demo account may be the perfect solution.
Sign up for free to open a demo account and choose whether you want to trade CFDs or spread betting using virtual money instead of the real thing.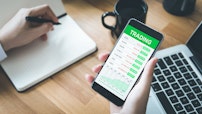 CMC Markets Review
Live Spread Betting Account
Only available to residents of the UK and Ireland, this account allows you to spread bets across over 10,000 instruments with no commission fees.
The number of available share instruments is limited to 8,000.
There is no cost to open a live spread betting account. However, you must deposit funds in your account before you can start to trade.
Live CFD Account
Also free to open; however, it requires funds in your account before trading can begin with CMC Markets. This is the account to choose to trade with CFDs.
This type of account can be used to trade CFDs across more than 10,000 instruments, but with a larger number of share instruments, rising to over 8,500.
Commission fees are applicable with this type of account when trading in shares.
Live Corporate Account
This type of account trades CFDs only and is generally registered in the name of your business or your trading brand.
Opening a corporate account may incur a fee, so it is advised to check with CMC Markets before doing so.
CMC Markets Commission and Fees
There is no minimum deposit to open a live CMC Markets account, although you must have paid money into your account before you can begin to trade.
The commission is charged for CFD and corporate accounts when trading in shares and ETFs.
Should your account be inactive for over a year, you will be charged £10 (or the local currency equivalent) per month.
There are no withdrawal fees if you use a bank, credit or debit card, or an electronic wallet; however, instant bank transfers and international bank transfers incur a fee of £15.
CMC Markets Research and Education
Trading is an ongoing journey of investigation and learning. CMC Markets knows this and provides a wide range of assistance:
Research
CMC Markets provides news and insights to keep you up-to-date with the latest trading developments.
Available resources include:
A live feed of Reuters financial market news
Analyst insights on market activity, company announcements and the most recent news throughout the day
Morningstar Quantitative Equity Research which provides share price insight
A live market calendar provided by Thomson Reuters that inform you of events and factors affecting the trading markets;6 for example, a country's GDP, rising or falling levels of inflation, or developments in employment figures
The CMC Markets blog
CMC TV
CMC Market social media streams
Education
CMC Markets offers a wide range of educational material so that you can learn about trading using the media that suits you and at your speed, including:
Online webinars and events
An extensive library of market analyst videos
Analyst articles ranging from getting started basics to more complicated trading practices
Step-by-step guides for beginners, intermediate and advanced level traders on all aspects of trading with CMC Markets, including how to use its online platform
An online glossary of trading and financial terms
24-hour five days a week support line
Advantages and Disadvantages of CMC Markets
The best way to decide whether to open an account is to examine the benefits and disadvantages of trading with CMC Markets.
Advantages:
Its suitability for traders at all levels
The option to open a demo account to try out CMC Markets with virtual money before you put your actual funds at risk
No minimum deposit to open an account
Access to a wide range of trading instruments
Low forex fees
Its global coverage for trading CFDs, other than the US
The high level of regulation, both locally in the UK and globally
Trading with an award-winning organization
A highly customizable trading platform
An extensive range of trading tools
Plenty of live and up-to-date resources to assist with your research
A wide range of educational material across varying media
Access to a trader chart forum
Mobile app for trading on the go
Disadvantages:
High CFD fees on shares and ETFs
Can only trade with CFDs or spread betting
Does not lead to ownership of trading assets
The account verification process can be complicated
How to Set up an Account With CMC Markets
Set up an account through the CMC Markets website. The application process is completely online.
Follow these steps:
State your country of residence
Provide an email address and password
Enter the code that you will receive from CMC Markets by email
Choose the type of account (spread betting or CFD), base currency and individual or joint account
Enter your details and financial background
You will be taken through the demo platform as a starting point
Upload your documents as proof of your identity and residency
When your account is verified deposit funds, and you are ready to go
Proof of your identity must show a photo of your face. Suitable identity documents include your passport, driving license or national ID card.
Should you wish to use some other form of photo ID, please check with CMC Markets first.
Proof of your residency can be provided by submitting documents that feature your address, such as bank statements, utility bills or credit card bills – these must be no older than three months.
You may be asked to provide more than one document under each category and for your documents to be officially certified.
Both a scan of the complete document sent in an email or a hard copy forwarded in the post is generally acceptable.
Final Thoughts
CMC Markets is an excellent choice for traders of all levels of expertise. It is suitable for global traders, except for the US, who wish to trade CFDs in forex, indices, shares and ETFs, commodities, treasuries and cryptocurrencies, and UK and Ireland residents who wish to try their hand at spread betting.
WikiJob does not provide tax, investment, or financial services and advice. The information is being presented without consideration of the investment objectives, risk tolerance, or financial circumstances of any specific investor and might not be suitable for all investors. Past performance is not indicative of future results. Investing involves risk including the possible loss of principal.
69% Of Retail CFD or Spread betting Accounts Lose Money with CMC Markets.
---