The Best Presentation Software
What Is Presentation Software?
Presentation software is a software package or app that allows you to display your ideas in a visual format.
The majority of the best presentation tools are home to a suite of graphics, text, animation, audio and video components.
As the creator, you can choose from hundreds of different layouts and transitions to create a presentation slide sequence, commonly referred to as a slide-deck.
The majority of online presentation software tools are a more interactive and sharable version of Microsoft PowerPoint.
What Features Should You Look for in Presentation Software?
You will almost certainly be able to name one or two platforms or apps; however, what do the best presentation tools have in common?
Customisation
When selecting the best presentation tools, customisable content is paramount.
Progressing half-way through a presentation and discovering you cannot change the colour of graphics and font type to match the brand would be embarrassing.
The same would be if you were to present at a group assessment centre or interview and realised that another applicant is using the same template.
Usability
No matter how good the best presentation apps report to be, if they are laborious to learn how to use, they will be of limited value to you.
The majority of online presentation software platforms include video tutorials; therefore, it is worth spending a few minutes exploring them before you start.
Shareability
You might need to share your presentation ahead of your interview or meeting.
Therefore, you will not want to send a 25 MB file into the prospective employer's inbox.
The majority of online presentation software tools are hosted in the cloud; therefore, it should be easy to share a link to your content.
Be aware of the limitations of some of the best free presentation software, however.
Signing up for the free version may not give you sharing rights or allow you to send in certain specific formats.
Audience Engagement
You will want your content to engage, inspire and even surprise. Standard slides rarely achieve this.
Therefore, the best presentation tools enable you to bring together media in different formats.
For example, video is widely reported to be 55% more captivating than the written word alone.
Device Compatibility
Rather than using one template that works on a desktop, it is good practice to review the best presentation tools based on how they are optimised for mobile and tablet.
For example, some apps and platforms struggle with Android and iOS devices.
The 8 Best Online Presentation Software Tools
The very best presentation apps and platforms offer unique features of their own. The following selection will help you narrow your search:
Best: Free presentation software
Pricing: Free basic level (subscription prices begin at $7 per month)
Prezi is an online presentation software tool that enables you to create interactive graphics that appear on the screen as you present.
Advantages: Prezi is free to use at a basic level, is accessible anywhere, and can be viewed on most devices.
As one of the best free presentation software tools, you can create up to five visual projects that anyone can see.
Prezi is not your usual slide-based presentation tool because you are not confined to the linear slide-deck display. You can place graphics, text, video and animations anywhere on your presentation board.
For example, as part of your interview, you may be asked to demonstrate your competencies in promoting a new product or concept.
When you are talking about a product launch, you could have interactive elements that zoom in to elevate your pitch.
Disadvantages: More design options can result in inconsistency. If you frequently move from one part of your presentation board to another, it will be difficult for your audience or the interviewing panel to keep up with you.
Retain consistency of design, however, and you will be fine.
Best for: Collaboration
Pricing: Free
Google is a household name; however, not everyone is familiar with Google Slides. Completely free to use, it is one of the best presentation tools on the market.
Advantages: It is 100% free; therefore, you can use Google Slides to create, alter, share and present wherever you are.
There are hundreds of themes, font options, graphics, videos and animations to choose from.
As an accessible best presentation app, you can edit your presentation on any device, including your desktop, mobile or tablet.
You do not even have to have an internet connection to keep creating.
Google Slides allows for real-time collaboration; therefore, it is often the best presentation app for a group interview presentation.
Unlike PowerPoint, Google Slides is fully compatible with Chromebooks, iOS, Android and iPad.
Therefore, if you already have a PowerPoint presentation that you like to enhance and make more accessible, Google Slides is an option.
Disadvantages: You must have a Google account to use Google Slides; however, this is easy to set up.
If you are familiar with PowerPoint, Google Slides will feel different. Therefore, it might take time to become used to the zooming in and out function.
Allow yourself a little time ahead of your interview to master the online presentation software.
There are fewer animation and transition options like Prezi. Google's templates are relatively basic in comparison.
You also have limited options for converting your Google Slides presentation into other formats.
For example, you cannot save your presentation as a video file.
It can, however, be exported as a PowerPoint document, a PDF, an Open Document Presentation or as a JPEG, PNG or SVG file.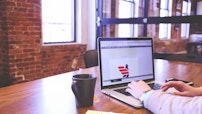 8 Best Presentation Software
Best for: AI
Price: Starts at $8 per month. There is also a free plan
If you appreciate intelligent technology and want to impress at your interview, AI-powered online presentation software solution, Slidebean, could be the appropriate tool.
Advantages: Slidebean is a cloud-based app that allows users to create presentations in one click. Slidebean separates the content creation from the slide design.
You simply upload the text, images and videos that you want to include within your presentation.
Slidebean then generates a full presentation design based on your chosen pitch deck template, and all you need to do is fill in the gaps.
There is much you can do with the free version as it allows you to access a wide range of presentation templates and media galleries.
The finished presentation will undoubtedly highlight your technical skills to an employer.
Disadvantages: While Slidebean does not have the same customisation level as many other presentation apps, there is no PowerPoint template export function either.
Therefore, to share your presentation with others, you will need to sign up for an $8 per month subscription; however, building a presentation can be laborious, so you may feel it is worth the cost.
Best: Video presentation maker
Pricing: Standard user starts at $15. There is also a free option
Powered by Livestorm, Visme is one of the best presentation apps on the market. Visme proudly describes itself as not just an online presentation software tool but also as a 'whole workshop'.
Advantages: Visme allows you to create visually engaging presentations for the person you are looking to impress.
Using creative animation and video, you can turn complex data into compelling infographics to make your point.
You may even choose to use the same font and colour-ways as the employer's brand.
There is a wide selection of templates, millions of free photos and icons and over fifty different types of charts and graphs.
If you have lots of data to present, this is the best video presentation maker.
Disadvantages: Visme is purely web-based. If your internet connection at your interview is poor, it might not be the best option.
If the internet is not an issue, its impressive videos and graphic animation are an advantage.
Best for: Aesthetics
Pricing: Pro package starts at $12 per month. A free plan is also available
If your job requires you to have an excellent eye for design, Beautiful.ai is one of the best presentation apps you could choose.
Advantages: Beautiful.ai states that you can create stunning presentations ten times quicker than PowerPoint. This is perfect if your interview is the next day.
There is real design integrity behind the software, created by expert designers, which has a number of embedded smart templates.
Disadvantages: As with Slidebean, Beautiful.ai limits how much you can change a presentation template.
You need to consider if you are happy moderating the content fit to the design or if you want the design to fit the content?
There is also an issue with display across all devices. Some users have reported display issues on iPhone or Android; however, this may not be a problem at an interview.
Best for: Events
Pricing: Bespoke. There are no fixed pricing fees
Glisser is an online presentation software platform that enables you to weave interactive elements into your presentations.
It is tailored for live events and virtual learning.
If you are looking to engage an interview panel of four or five people, Glisser is a great way to inspire audience interaction.
Advantages: You can introduce a Digital Q&A, Live polling, real-time slide sharing (excellent for group interviews) and custom branding.
There are many other brilliant functions on the Enterprise membership option, including data analytics, multi-room, PowerPoint add-in and training.
Disadvantages: Unfortunately, there is no pricing structure on the Glisser website, which you usually see with the best presentation apps.
You can, however, sign-up for a 14-day free trial to decide if it is the best video presentation maker for you.
Best for: Ease of use
Pricing: Free for personal use and a small monthly fee for business users
If you want to create and publish your presentation quickly and easily and from any device, it's worth exploring Zoho Show.
Advantages: Zoho Show's clutter-free drag and drop interface makes it easy to create your presentation.
Designed for working professionals, there are over 100 templates to choose from, covering every sector.
Best of all, you can collaborate in real-time with others. Therefore, if you have to prepare a presentation as a team it is great.
It is also compatible with PowerPoint, and you can export it using almost every file type you can imagine.
Disadvantages: Although there are many templates, these are spread across different sectors; therefore, you may find only one or two work for you.
However, the colours, animations, video and text can all be changed, and so it is customisable.
Best for: Visuals Pricing: $9.99 per month (with a free 14-day trial option)
Haiku has the largest amount of design assets for you to choose from.
As a presentation software, it confidently asserts that it is impossible to make an unattractive presentation with its tool.
Advantages: If you're looking for the best presentation apps to make your presentation pop from the screen, Haiku can help you tick that box.
You have full access to hundreds of fonts, themes and image filters. Haiku is home to over 40 million free creative images.
Most importantly, your final presentation is super easy to create, looks great on any device, and is shared on the cloud.
Aside from the fantastic graphics, Haiku also has a host of other smart features. You can, for example, add audio narration to presentations and save it as a video.
This is ideal if perhaps one of the interviewers couldn't make it and you want them to experience your presentation as it was delivered.
Disadvantages: Although there is a 14-day trial, you cannot do much with the free version. It is a pay-only presentation software.
You are limited by the structure of each template, even if the design is beautiful.
It can also be difficult to add more than a couple of sentences or bullet-points, which can be frustrating. However, this does encourage you to take a less is more approach.
Final Thoughts
The most important thing to remember when reviewing the best online presentation tools is to carefully consider the following:
Format: Remember, your chosen software only works if it is what your audience would like to see.

Shareability: Many sharable aspects of the best free presentation platforms must be paid for.

Customisation: If you want your presentation to stand out, choose the best presentation apps that give you creative control. Just remember not to go over the top.

Compatibility: Your audience must be able to view your presentation, so check for device compatibility and internet availability.
Lastly, do not be afraid to experiment. If you have time ahead of your interview, trial two of the best presentation apps before you create your presentation.
This will quickly help you decide which is the right one for you.
---