The Best Human Resources (HR) Software
Human resources (HR) software simplifies the management of employees.
It is a digital system that assists the HR function by automating processes, such as:
The storing and organising of employee data
Performance management and appraisals
Employee training and development
Managing employee benefits
Recruitment
HR software, also referred to as a human resources management system or human resources information system, allows the HR department more time to work on the tasks that benefit from or require human interaction.
Benefits of Using Human Resources Software
If your business is unsure whether to invest because of purchase cost or the disruption of using unfamiliar software, here are the most important benefits of using HR software:
Streamline Operational Procedures With Automation
Using HR software has a time-saving benefit for your company. Time consuming tasks, such as organising payroll or collating a report on yearly sickness absence, can be automated by HR software rather than HR personnel.
This increases HR resource and allows HR staff to handle tasks that necessitate a more personalised or sensitive approach.
Using HR software to handle a process also negates the need for key personnel to be available.
For example,
The payroll process is automated in the absence of HR staff (due to sick leave, maternity leave, etc.) or if they are needed elsewhere.
HR software also streamlines processes by removing unnecessary tasks that might have originally been a manual process.
For example,
The on-boarding process of a business requires three new sets of employee details to be sent to three separate departments: HR, accounts and the department the employee will be working in.
Each department, however, requires a different version of the employee details. The accounts department requires tax, address and bank details.
The employee's new manager needs details of their role, working hours and employment history.
The HR department requires the entire employee data set. To further complicate the process, each department has its employee record form to suit its individual needs.
Using HR software could drastically reduce the time it would take to produce three different data sets by automating the process and demonstrating that a common form or report could serve all three departments.
Legal Compliance
HR software is designed with current legislation and best practice in mind.
Numerous software programs will inform you when employment legislation or other related laws are updated.
Using HR software enables a business to:
Accurately and securely store employee details
Make it easy to grant an employee access to the information held on them
Check that they are complying with the type of data legally allowed to be held on employees, the treatment of that data and how it is stored
Make sure that their procedures are lawful
Keep track of employee certifications, professional body memberships and accreditations
Ensure that working practices are lawful and best practice. For example, the number of hours an employee works or severance pay calculations
Be aware of all laws, whether local, state or federal, that affect the management of employees
HR software packages will vary in the extent of their compliance provision, which is one deciding factor to bear in mind when deciding which is best for your business.
Business Analytics
Business analytics is the practice of using business data to:
Measure productivity and cost-effectiveness
Understand the present condition of the business
Predict the likely future of the business
Identify trends in the business's performance
Develop ways to handle future events based on past events
Success for the majority of businesses is reliant on how their employees perform. This is where HR software is beneficial.
For example, reports concerning the length of time spent in the on-boarding and off-boarding processes can point to areas of the business that need to be improved.
HR software can report on employee salaries in comparison to employee costs or suggest a lack of employee engagement through levels of staff turnover and sickness absence.
With a centralised source of data, it becomes easier to identify trends and make predictions based on data drawn from across the entire workforce.
All HR software packages carry a reporting provision; however, it is worth investigating the details and extent of available reporting when deciding which package to invest in.
Applicant Tracking
Applicant tracking is the process of recording an employee's entire lifecycle, from initial job application through employment to their departure from the business.
HR software allows easy viewing of an employee's history with the business, for example:
Certain HR software packages will also link to the recruitment process, for example, posting vacancies to job sites.
Having the ability to view an employee's career within the business can assist in the decision making regarding promotion, reassignment or letting the employee go.
Payroll
If you employ a workforce, one of the monthly HR processes your business must go through is payroll.
Organising payroll, from tallying the monthly hours the employee has worked to calculating their tax and making a payment to them can be a time-consuming process for the HR function and other departments.
HR software can be used to automate this process to:
Collect the relevant data
Carry out the necessary calculations
Ensure all data and conditions are up-to-date; for example, personal income tax rate
Create payslips, either paper or online
Process payments
Benefits Management
The provision for benefits management varies between HR software packages, with some designed specifically to assist with this feature.
If you provide your workforce with benefits, such as a pension plan, stock options or paid holidays, the HR department is responsible for organising these.
HR software can greatly assist in this process by:
Making it easy to access employee and benefit data
Assisting in building an employee benefits package, whether customised or standard
Providing a platform where employees can apply for benefits and monitor their performance
This feature may not remove a task from the HR staff workload; however, it does make it easier.
Employee Engagement
There are three main ways that HR software can help with employee engagement. First, it increases the efficiency of processes that the employee will come into contact with.
For example:
Recruitment and on-boarding
Benefits provision
Performance appraisal
The fact that an employer handles all of these processes in a clear, well-structured way reduces frustration and gives the employee a better impression of the business.
Second, HR software can improve employee engagement is the provision of employee interaction with the software.
For example, accessing details of the performance of their pension plan, being able to easily report a house move or change of bank details or providing information before a performance appraisal.
Finally, some HR software packages provide the opportunity to give employees access to training material and portals.
Read more on the topic of employee engagement in our article on employee satisfaction.
Performance Tracking
Tracking the performance of your employees, whether to inform them of yearly appraisals, assist in their career development or monitor the cost-effectiveness of the workforce as a whole, is an important process in any organisation.
Different HR software packages offer several solutions to this task, concentrating on varying methodologies and focusing on numerous aspects of the process.
HR software can assist your performance tracking process by simplifying:
Recording the progress towards achieving those goals
Suggesting what may be needed to reach goals; for example, training
Scheduling
Certain HR software packages will provide a scheduling tool. This is primarily of use to businesses that employ shift-workers.
For example,
You may need to operate your business for 24 hours each day, and therefore, for example, you run shifts from:
8:00 a.m. to 4:00 p.m.
4:00 p.m. to 12:00 p.m.
12:00 p.m. to 8:00 a.m.
Therefore, you must ensure that you have sufficient staff for each shift and consider holidays and sickness absence while ensuring staff are treated fairly.
The larger your workforce, the more complicated the scheduling process can become.
HR software that offers a scheduling tool can drastically reduce the amount of time needed to create a schedule and reduces the possibility of error.
9 of the Best Human Resources Software
What is the best human resources software?
That will depend on how your business wants to use the software, which is software specifically important to you and the size of your business.
Here is our list of the nine best HR software packages depending on specific factors:
Best: Cloud-Based
Bamboo is a cloud-based HR software system. It provides a complete solution for most small to medium businesses, allowing unlimited users and is available in a trial version.
It offers:
Time off and attendance tracking
Performance management
Payroll
Goal/task tracking
Applicant tracking
401(k) plan management
Bamboo HR is available through an iOS/Android app and is compatible with Outlook and Google. It provides custom email templates and comes with live chat phone support.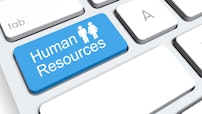 Examples of Giving Positive Feedback
Best: All in One
Zenefits offers an all-in-one HR solution that will suit most businesses.
It provides an Essentials plan onto which you can add more features through the Growth plan (Essentials plan plus compensation management and performance management) and the Zen plan (Growth plan plus the well-being feature).
If you take out the full Zen plan, all of the following features will be available:
Time off and attendance tracking
Performance management
Payroll
Applicant tracking
Benefits administration
401(k) management
W2 and 1099 forms
Termination benefits management
Submitting federal, state, local and payroll taxes
Stock option benefits module
There is also an employee interface where workers can update their details, take employee surveys and access well-being resources.
Zenefits is available through an iOS/Android app and is available in a trial version. It comes with live chat phone support.
Best for: Customisation
Offering a highly customisable product, Namely is suitable for the majority of medium-sized businesses.
One feature that sets it apart from other HR software is its approach to compliance with access to live HR advisers, a handbook and OSHA logs.
Features include:
Time off and attendance tracking
Performance management
Payroll
Benefits administration
401(K) management
Recruitment and onboarding
Talent management
HR compliance
Namely can be accessed through an iOS/Android app, is available in a trial version, and serves a maximum of 3,000 users.
Best for: Performance Tracking
Sap Success Factors is a cloud-based system that attempts to set itself aside from other HR software packages by focusing on employee engagement and experience or Human Experience Management (HXM), as Sap refers to it.
Sap splits its offerings into four sections:
Employee experience management
Core HR and payroll
Talent management
HR analytics and workforce management
Sap Success Factors offers a free trial version and a mobile app.
Best for: Employee engagement
TriNet offers a complete HR solution for small to medium businesses with the ability to tailor features to suit the industry your business operates in or the size of your workforce.
TriNet is suitable for a minimum workforce of five and has no upper limit on the number of users.
Its features categorised as:
HR expertise
Benefit options
Payroll services
Risk mitigation
Technology platform
TriNet's Online Self-Service allows employees to update their details online and manage their employment benefits.
TriNet integrates with many business applications, such as Google Cloud or Microsoft, granting access to all with a single log in.
TriNet provides an iOS/Android mobile app.
Presently, there is no free trial version.
Best for: Recruitment
BullHorn concentrates on the recruitment element of HR and offers a joint applicant tracking and CRM (customer relationship management) system.
There are four plans, each building on the one below. These are:
Team – Candidate management and sourcing, contact and company management, job management and publishing, email integration, tracking and mailing, resume assessment, career portal and reporting

Corporate – Team features plus unlimited data storage, API access, customised fields and workflows, integration with LinkedIn, inbox productivity tool and survey tool

Enterprise – Corporate features plus advanced reporting, Pulse Relationship Intelligence analytics, lead and opportunity tracking, pipeline management, activity goals and sales quotas

Enterprise Plus – Enterprise features plus advanced reporting objects and visualisation
BullHorn does not offer a free trial. There is a Bullhorn mobile app available in iOS and Android versions.
Best for: Small business
Gusto is a cloud-based HR software system that is most suited to small businesses. It provides a complete solution, allowing unlimited users and is available in a free trial version.
It offers:
Time tracking
Payroll
401(K) and 401(K) management
W2 and 1099 forms
Benefits administration
Termination benefits management
Federal, state, local and payroll tax submission
Stock option benefits management
Gusto has four pricing plans: Basic, Core, Complete and Concierge. Each increase in cost and features.
Gusto is available through a mobile app and comes with live chat phone support.
Best for: Mid-sized businesses
This cloud-based HR system is ideal for medium-sized businesses and designed to focus on employee engagement and performance.
Lanteria HR features include:
Core HR
Automated time and attendance tracking
Recruitment management
Performance management
Employee learning provision
Self-service portal for employees
Analytics and reporting
The Lanteria mobile app is available in both iOS and Android versions, and a free trial version of Lanteria HR is available.
Best for: Larger businesses
Workday Human Capital Management combines HR with financial and business planning, making it ideal for larger businesses.
Its features include:
Core HR
Payroll
Workforce management
Employee experience
Talent management
Workforce planning
Analytics and reporting
Workday has a mobile app for iOS and Android.
---