Best Email Marketing Software
What Is Email Marketing?
Email marketing, as a form of digital marketing, is a term used to describe a wide variety of marketing content which is sent via email to consumers and potential clients and/or customers.
Businesses that use email marketing aim to develop relationships with their customers and promote products and services.
Email marketing includes material such as newsletters, welcome emails, special offer emails, transactional emails and re-engagement emails.
Why Use Email Marketing?
Email marketing can be a fantastic tool for businesses when used correctly.
No matter what type of company you run, there are numerous benefits to using email marketing.
These include:
Relationship Building
Email marketing does not just have to be about sales. By using newsletters, blogs, tips and other conversation tools, you can build strong relationships with your customer base.
This means that you can share things that have value to your customer and gain customer loyalty in the process.
Customers Prefer It
Customers prefer to be contacted via email rather than in other formats, such as text or phone calls, when given a choice.
It also ranks higher than platforms such as social media.
This is primarily because social media, texts and phone calls are considered more personal forms of communication.
In contrast, many people consider emails to be more professional.
Higher Conversion Rate
Because of the increase in relationships and customer loyalty, when you send emails that detail special offers or promotions, you are more likely to see a greater conversion rate.
Statistically, you are 6% more likely to see customers click through to your website via an email campaign when compared to a campaign on a social media channel such as Twitter.
This is because the recipients of email marketing are individuals who have specifically chosen to be informed of updates and, therefore, already have an interest in the products and services that your company provides.
Email Is an Open Platform
Whereas complex algorithms limit platforms such as social media, there are no such rules when it comes to email marketing.
This means that it is essentially an open platform.
You can consistently send emails to everyone on your mailing list with no limits on how often those emails will be seen or their reach.
The emails will reach every single recipient every single time.
How Does Email Marketing Software Work?
Email marketing software works by sending emails via an Email Service Provider (ESP). This works to manage and send email marketing campaigns.
While it is technically possible to run an email marketing campaign through a personal email account, you are likely to run into problems.
The main issue is that bulk emails sent from a personal or business email are more likely to be marked as spam and will, therefore, never reach the target customer.
This is why it is better to use a dedicated marketing software.
The best platforms will offer a variety of forms of email marketing. These can include:
Newsletters
These are a fantastic way of ensuring that your company stays at the front of your customers' minds.
Sending regular newsletters means that you can easily update your audience with any news from your company and create a friendly relationship with them.
Transaction
Transactional emails are automatically sent on completion of a transaction. For example, this could be when a customer signs up for a product or service.
In some cases, this could be a confirmation email with login details or a request to 'click' to confirm certain details.
Most commonly, transactional emails are sent to confirm an order or update shipment information.
Dedicated
Unlike the general, friendly nature of a newsletter or update email, a transaction email has only one purpose.
The majority of marketers will use this style of email marketing to promote a special offer or deal they are offering.
Sponsorship
This form of email marketing is primarily used when you are trying to attract a new customer base.
Sponsorship marketing usually means that you are paying for another company to include information about your company in their newsletter or marketing campaign.
This will usually be in the form of either dedicated email content or a placed ad.
Lead Nurturing
These are emails that are sent out to potential clients to engage them and convert the lead into a sale.
For example, this could be an automated message sent by an e-commerce company when a customer has been browsing but left items in their basket, or it could be an introductory email sent to a new contact.
Re-Engagement
When a customer stops responding to other forms of email marketing, this can trigger a re-engagement email.
This will usually involve a special offer designed to encourage the customer to come back to your company.
Re-engagement emails are often used by retail and e-commerce websites when customers have stopped buying from them.
What to Look For in Email Marketing Software
Deliverability
This is the measure of how likely your email is to land in your consumers' inbox rather than ending up in their spam folder.
Most email marketing software will offer a rate of around 80%; however, it is always best to choose one which offers the best possible results.
Pre-Made Designs
A wide variety of pre-made designs and email templates mean that you will find one which is suitable for your business and target market.
Automation
Having a system that offers automation is a huge plus point for businesses.
This way, emails can be triggered by specific events or triggers.
The more automated a system is, the less time you will have to spend thinking about needing to send out emails.
Analytics and Reports
As well as having a high deliverability rate, it is important to be able to analyze the results of the emails which are sent.
Choosing an email marketing platform that offers thorough analytics and reports will mean that you can see exactly how well your marketing campaigns are performing.
List Segmentation
This offers you the option to separate your customers into different categories depending on their behaviors, interests and other customized fields.
By doing this, you can target emails more effectively.
Are Free Email Marketing Softwares Any Good?
While most larger businesses will choose to use paid email marketing platforms, there are plenty of free services that will do everything a small business needs them to.
Some will even allow you to have as many subscribers as you want, with no limits on how many emails can be sent per month.
However, before choosing a free email marketing platform, it is important to make sure that it offers everything you need without any hidden extras.
Things to consider:
Are the templates free, and do you like them?
Is email automation included?
Are you able to use features such as list segmentation?
Are landing pages available, and do you like the way they look?
Is the technical support good?
Does the platform offer the analytics that you want, and are all of the features included?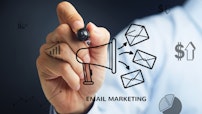 Best Email Marketing Software 2021
Cost: 0to50 per month
Features:
Pre-made templates or the ability to design your own
Handy preview option so that your content looks good no matter which email provider your recipient uses
Comprehensive metrics
Thorough personalization process
The option to adjust your email send time for maximum engagement
99% deliverability rate
Cost: 9to229 per month
Features:
14-day free trial
Over 99% email deliverability
Highly advanced automation features
Comprehensive analytics tools including the ability to see each interaction individual customers have had with your emails and company
Wide variety of templates
Cost: Prices start at $18 per month
Features:
Designed to help small businesses
Over 100 mobile-optimized templates
Real-time reports and analytics
Over 90% deliverability rate
Pricing is tiered depending on the number of contacts on your mailing list, with the most basic package allowing up to 500 contacts)
Drip campaign features
Event management options
A range of extra features, such as money off coupons and polls
Cost: Prices start at $29 per month
Features:
14-day free trial
Designed for creators wanting to build an online following
Advanced email sequences and list segmentation options
Personalised email automation to increase conversions
99% deliverability rate
Cost: 0to10 per month
Features:
Free plan allows for up to 12,000 emails to be sent each month
Very user-friendly interface
Customer support available 24/7
Free plan available for those who have less than 1,000 subscribers, although the free plan does not allow access to all of the features
$10 per month plan unlocks all of the available features such as a landing page builder and pop-ups
97% deliverability
Reports and analytics features, including the ability to see where emails have been opened by location
Cost: 29to349 per month
Features:
99% deliverability rate
Over 500 customizable templates
Automated follow-up options
Automated schedule for interactive consumers
Variable pricing depending on the number of subscribers, with monthly fees starting at $29
Cost: Plans start at $16 per month
Features:
14-day free trial
The favored email marketing platform for E-commerce.
Combines marketing across social media platforms, push notifications, text and more
Automation features which combine with interactive sign-up forms, email reminders, product reminders and notifications
Standard plan allows up to 15,000 emails per month
Cost: 0to30 per month
Features:
One of the most well-known email marketing platforms available
Different levels of pricing depending on your email contact list; the free package allows for up to 2,000 subscribers and 12,000 emails per month
Automated responses, transactional emails and analytics included as part of the free package
Wide variety of templates to choose from
App available for both apple and android users
Key Tips for Email Marketing
Personalise Your Email Content
Nobody likes generic and impersonal emails. By making an effort to add your subscribers' names or other personal details, you can dramatically increase the chance that they will open and read your email.
Some companies will take this a step further by offering promotions related to their customers' birthdays or other special events.
Create a Series of Emails for New Subscribers
Having a series of emails that are prepared and ready to go will mean that you will consistently be able to reach new subscribers.
Find Out When the Best Time Is to Send Emails
This could vary depending on customer activity or the time zone in which the majority of your consumers live.
Ensuring your emails are being sent at the right time of day can affect whether or not they are read.
It will also affect whether or not your clients respond to the email in the way that you want them to.
Final Thoughts
If you are running a business and have never considered email marketing before, then now is the time to do something about it.
The benefits of email marketing by far outweigh any potential negatives, and this opportunity for sustained growth should not be missed.
By using specially designed email marketing software, you can maximize your potential while minimizing the amount of time and effort that you will need to spend on this particular area of your business.
---