Best Data Migration Software 2022
What Is Data Migration Software?
You are at work and have been collating the analytics of your company's performances compared to other large corporate businesses.
A colleague of yours is impressed with how you have formatted the data and wants to take a closer look at your findings.
You have to transfer it by using data migration software for them to receive the data in a format that is compatible with their device.
Data migration software makes it possible for businesses and individuals to share the same datasets over multiple devices and applications.
The use of data migration software has increased with the expansion of applications that can run analytical services.
It is a safe way to stop the data from being corrupted or lost in the process of transfer.
This article will highlight why corporate businesses need to use data migration software and what the best ones are.
If you need to ensure that a set of important files are cloned and compatible with a different device, then this article is an essential read.
Why Use Data Migration Software?
Keeping things streamlined and simple is key to running a big business.
Imagine a corporation with little regard for how their data is transferred or integrated into their technological systems.
Not only would it be hard for employees to access this data, but it would take up resources and time to sort out the data for interpretation.
Before a business can engage with data to make calculated decisions, it must be able to have the data available.
Data migration software is an essential part, and it is often separated into three steps.
Extract, transfer and load (ETL) are the components that make up data migration. They must be emphasized as they help us understand why we need data migration software.
Extraction
This is the process of safely taking data from one application or source. Once this is done, companies can begin to move this data elsewhere.
Extraction is a sensitive process, and it can become complicated when, for example, your corporation may have recently installed a new firewall or protection service that requires a reboot of all previous interfaces. In the reboot, there is a possibility of existing data being erased from a system.
To mitigate data loss, the corporation will use extraction and storage software before the reboot.
This is just one circumstance; however, it is common and occurs often as we consistently need to update technology to avoid corruption or even data theft.
Transfer
In the transfer step, the data is moved from one system to another. It is simple to explain but can be problematic without the right technology.
A corporation interface may use a completely different platform than the one you have the data loaded on.
Without data migration software, getting this data from one source to another is challenging and expensive.
Data can be lost in the transfer process; therefore, it is imperative to have good data migration software to avoid this.
Load
The final step of data migration is loading upon a new system or interface.
You may successfully extract and transfer the data to a new corporate interface; however, without being able to upload it, the data is not usable.
Data migration software ensures that you can upload the secured over various platforms. It makes interaction with data much more efficient and possible.
Without the use of data migration software, a corporation may have to invest in a completely new interface just to upload the data.
This is incredibly expensive and cuts into the profits of any business.
Different Methods of Data Migration
Depending on how much data you want to put through the process of ETL and what type of data you have, there are different ways to migrate data.
Today more intricate systems are being created to transfer data safely. With such developments as cloud interface, we can transfer various sets of data even from our homes.
Here are the main types of data migration. Understanding the very basics of what these are will enable you to prioritize what type of data migration software you need.
Storage migration – The act of moving data from one storage source to another
Cloud migration – The movement of data from a storage component to a cloud platform
Database migration – The migration of a database management system
Big bang migration – The movement of all data in one big movement
Trickle migration – The transfer of data in smaller chunks
Before choosing what data migration software would suit your business, determine what data you are moving and how you plan on moving it.
What to Look For in Data Migration Software
Once you have identified what data migration approach you want to use, you can begin choosing your software.
Many of the software offers comprehensive programs that will fit with most migration strategies.
However, if you are dealing with particularly sensitive data or have much data to move, there are some things to look out for.
Firstly, ensure that the data migration software you want to use is compatible with your devices. Choosing software that is not compatible simply means it will not work.
In addition to this, ensure that you choose up-to-date software and one that undergoes updates regularly. Data is constantly being transferred, and as technology improves, the software must also keep improving.
As with updates, the data software you choose must be scalable with the operation that you want to use it for.
Some data migration software packages may only specialize in the transfer of data to cloud storage. You may want to migrate sets of data to both cloud and another database.
Ensure that the data migration software you use is multi-functional if you need to migrate transfer your data to various locations.
It is also important to consider if the migration software has customer support features.
Choosing software that is difficult to use will just make life harder. Furthermore, if there is a problem with the software, it is essential that you have the right network to report this.
Customer support is also important for solidifying the security of data migration software. If data becomes corrupted or lost during the process of ETL, you need to be assured that there is the possibility of retrieval.
Today, data theft is one of the most prominent cyber-crimes. The security of your software should be one of the first things to consider.
Finally, you must consider the price of the software. Depending on what type of data you want to move and how much data you plan on migrating, the price of the software available will vary.
There are many free packages and systems available; however, these may not offer the same security or customer support benefits.
Likewise, a costly software package may not be the most applicable choice available if you are simply moving some personal files onto a cloud database.
Your pricing range should be determined by the operation you are running.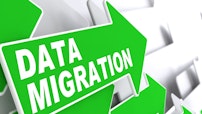 Best Data Migration Software 2021
Acronis cloud migration proves to be one of the most versatile platforms available.
With a hybrid system that allows data migration to both public and private platforms, users of Acronis can easily transfer virtual data in various ways.
The installation of the software is simple, compatible with most devices, and is completely free.
Further, Acronis includes free resources such as a quick start guide and a datasheet to educate users about how the software works.
Acronis is a great starting point for any company wanting to prioritize cloud migration.
There are three options available with EaseUS Todo software.
The free user package enables data backup and the restoration of software onto another device.
In addition to this, free users of EaseUS Todo can use the download to back up their device system, files, and disk storage.
The other options are available as a free trial but do cost for permanent use. The home package is for business users who are able to run their company from one computer.
A lifetime subscription costs $59 and gives subscribers full data protection on a Windows device.
The business user package is much more intricate and comes with developed features such as full system restoration and the option of disk clones.
There are four tiers to choose from in the business user package, with each one having a different pricing scale.
If you are looking for comprehensive migration software that will cover all facets of your business data, then EaseUS Todo has that option available.
The UK-based migration software has an excellent portfolio and outstanding reviews.
For as little as $58, subscribers can access software that allows them to transfer the data of their PC to a new one.
The software is renowned for its customer support and ease of use. Furthermore, Laplink offers 24-hour customer service every day of the week.
This package is best for those who need quick data migration with adequate support.
Minitool Partition Wizard offers two packages: the free disk partition wizard that serves those wanting to transfer personal files and the pro package that allows for dynamic disk ETL for professional users.
The pro package is priced at $159 for a lifetime subscription and comes with complete data recovery and the use of the software over five computers.
The dynamic disk management feature is a standout of Minitool and allows users to convert dynamic disks to standard disk space. This means that the software is very compatible with data that changes.
If you run a small business, then Minitool Partition Wizard's professional package may be a suitable choice for backing up your files and data.
For under $90, Paragon Drive offers comprehensive data migration software that covers three PCs.
Paragon Drive prioritizes essential disk management so that users have organized backups of their disk available.
The professional package also allows users to convert files to a USB flash drive so that they are able to use it anywhere.
If anyone is looking for a quick solution for disk management, then Paragon Drive's professional package is a great option.
The Clover DX enterprise offers a 45-day free trial where you can become comfortable with the operating system.
There are four steps of Clover DX's data integration: design, automate, operate, and publish.
Each step ensures that the migration of data is seamless and transparent. Users of this software will be adequately helped with their data management.
The user-friendly software also has a great support team available, and they even offer demo consultations to potential new users.
This software specializes in data recovery and migration across all Windows devices. Their features are constantly being renewed so that customers are given more options for data migration frequently.
There is a list of products available, and all have a different recovery purpose. The packages include system performance, data security, data recovery, enterprise management, and even system administration.
This software's comprehensive nature is what makes it so attractive to Windows users, and business owners who use Windows as their operating system will be wise to choose this.
If you have a portable Samsung device such as a Galaxy Smartphone, then the Samsung Smart Switch is an essential software package.
The smart switch migration software allows users to transfer data wirelessly to a new phone. Further, the package allows restoration from SD cards and PC devices.
In the app store, the download is completely free and is easy to install. It is also compatible with both windows and mac devices.
The Risks of Data Migration
Whenever there is an ETL process of data, there are sometimes unavoidable risks. Investing in good and reliable software reduces the chance of these risks happening; however, they should be taken into account whenever you need to migrate data.
Data loss and corruption are the two most common risks associated with data migration. Users may not be able to locate or open data if these risks occur.
Likewise, one should be aware of the risk of application stability. If a user is attempting to migrate data onto a very old device, it may not be able to handle the format of files that are being transferred.
If you are migrating data, ensure that the devices you are using are updated and run smoothly.
The same problem occurs when the roles are reversed.
For example, if you are transferring old data that has been left on a PC that has had no updates in years, then this will cause problems if you are migrating the data to a new device.
These migration procedures can often take a very long time, meaning the risk of corruption and loss increases.
The Key Steps of Data Migration
If you want to move personal and business data, you must take some simple steps to avoid the risks listed above.
Take an inventory of the data you are planning on migrating – This way, if you do lose files, you know which ones they are, increasing the possibility of recovery

Choose a data strategy and stick to it – If you want to move all data in one go (big bang migration) to cloud storage, do not deviate from this until it has been completed

Use the right compatible software – Complete your research on what data software you need and invest where you need to

Back up all of your data before migration – Sometimes, risks cannot be avoided during the process of migration. Have the data available if something goes wrong

Run diagnostics and maintenance once the data has been migrated – You need to understand if all the data has been successfully transferred and if they are usable

Migrate the data to multiple devices and platforms – If a problem occurs with storage or compatibility over time, you at least, therefore, have the data elsewhere in case you need it
Final Thoughts
Data migration is indeed a sensitive process and can be stressful. However, losing data is even more catastrophic to a business.
Invest wisely in data migration software and understand what you are getting with each package variation.
Some of the packages listed above may seem expensive; however, the investment will save you more time and money in the long run than you could anticipate.
---