Accounting Software Solutions
No matter the size and nature of your business, accounting software is a valuable asset.
At a basic level, it streamlines the process of managing your financials and gives you an at-a-glance view of your business's profitability.
On a wider scale, it can be used to automatically track accounts payable and accounts receivable, handle payroll, prepare in-depth financial reports and assist with tax preparation.
There's an accounting software solution for everyone, from freelancers handling their own accounts to larger businesses with dedicated finance teams.
In this article, we look at the benefits these platforms offer, and the best accounting software on the market today.
What Are the Benefits of Accounting Software?
Minimizes the Risk of Human Error
When it comes to keeping the books intact, accuracy is key. Even the smallest anomaly resulting from human error can have major consequences on financial records, making manual accounting practices risky.
With online accounting software, you minimize that risk.
Data entry and calculations are automated, records are stored and filed appropriately, and potential errors are flagged so you can fix them before they cause any complex issues.
Speeds Up the Accounting Process
With a manual accounting process, a lot of hours are given to repetitive tasks; for example, tracking and logging transactions, calculating tax, creating invoices or chasing late payments.
The best accounting software allows you to automate these tasks, dramatically reducing the time allocated to financial responsibilities.
Reduces Accounting Expenses
The efficiency offered through automation means you'll spend less money on manual hours. When you balance these savings against the cost of the software itself, you'll see an overall decrease in accounting expenditure.
For small businesses and sole proprietors, in particular, online accounting software is a cost-efficient alternative to outsourced bookkeeping.
Keep in mind, however, that it's strongly advisable to have a qualified accountant check your records regularly, and before you file any returns.
Integrates With Other Business Systems
Most solutions offer integrations with popular business systems. The more advanced platforms work with CRMs, allowing you to assign value to existing customers, or create a more effective sales strategy based on revenue streams.
Even simple accounting software allows you to connect your business bank accounts and credit cards, streamlining bookkeeping through automation.
Access to Analytical Data and Reports
One of the greatest benefits of online accounting software is the reporting functionality and access to real-time data.
Information that would otherwise take hours to collate can be retrieved at the click of a button or accessed through your dashboard.
This capability allows you to easily track key metrics, share timely information and make well-informed business decisions.
Helps With Legal Compliance
Though it can never fully cover you in terms of legal responsibilities, accounting software can help with compliance, particularly if you have a qualified accountant check over your financials from time to time.
Having your accounting documentation logged and filed correctly can minimize audit risk, and as we've already discussed, automation lessens the chance of human error that could bring legal consequences.
Assists With Tax Filing
When it comes to filing your tax return, accounting software is a great help.
Since all your financials are logged and reconciled throughout the year, there's far less work involved, saving you both time and money.
Additionally, some accounting software comes with tax-filing capability, automatically generating a report for you to check over, instead of having to manually compile the relevant information.
Types of Accounting Software
Accounting software comes in various shapes and sizes to meet different business needs.
The right solution for you will depend on the industry you operate in, the number of employees you have and the complexity of your financial activity.
Most businesses will find their needs met by one of the following:
Small Business Accounting Software
This includes both commercial off-the-shelf (COTS) and online accounting software.
Though there are programs available to purchase and install on your own systems, most small businesses and sole proprietors opt for cloud-based solutions.
These typically:
Come with different price plans
Are paid for by monthly or annual subscription
Cover most bookkeeping needs
They're popular because of their ease of use, flexibility and scalability, as you can usually upgrade your package as your business needs change.
Enterprise Accounting Software
Also known as enterprise resource planning, this is offered as part of a wider suite of programs, suitable for larger businesses with complex needs.
Alongside comprehensive accounting capabilities, you can also handle things like supply chain, inventory, procurement and customer relationship management (CRM).
All these programs work in sync with each other, giving you greater business control.
What to Look for in the Best Accounting Software
Banking Integration
No matter the size of your business, you should look for online accounting software that offers seamless integration with your business bank and credit card accounts.
This allows you to keep track of payments made and received through a real-time bank feed.
Most platforms are intuitive enough to explain transactions automatically; for example, matching payments received with invoices sent or outgoings with recurring expenses.
It also takes the hassle out of manual reconciliation since you can explain any unique transactions as and when they occur.
Invoicing Functionality
For service-related businesses, the ability to generate and send invoices from within your accounting software is a major bonus.
It keeps all your paperwork organized and when an invoice recipient is stored in your system, you get easy access to all financial information relating to that contact.
The best accounting software will allow you to set up recurring invoices and automatically send them at designated intervals, ideal for businesses that work with clients on a rolling basis.
Some solutions also facilitate online payments, either through a proprietary service or a third-party payment provider.
Time Tracking
This is a particularly useful feature for anyone who charges by the hour, like freelancers and consultants.
If this is you, look for accounting software that allows you to track billable hours assigned to specific tasks and convert them into timeslips for invoicing.
Alternatively, you may look for accounting software that integrates with your time-tracking software of choice.
Project Tracking
If you work on a project basis, you ideally want accounting software that has project tracking.
The best platforms will enable you to create projects, set and log both billable and unbillable time against specific tasks, add any related expenses and easily raise project invoices.
As a bonus, a lot of platforms allow you to generate profit-and-loss reports for each job, and many integrate with popular project-management software.
Automated Credit Control
Chasing payments is time-consuming, and if you're a freelancer or small business without a dedicated accounting department, that time could be better spent on fee-paying work.
Look for accounting software that takes care of the process for you with automated payment reminders.
Any platform that allows you to do this should also allow you to send automatic thank you emails on payment receipt, a nice touch that improves your customer service.
Inventory Management
This feature won't apply to a lot of service-related businesses, but if you operate in distribution or retail, it's a big bonus.
The ability to raise and store purchase orders and track inventory alongside your financials makes balancing the books much easier.
This functionality is rarely available in simple accounting software, so you may need to upgrade to a premium plan.
If you already use an inventory-management solution, look for an accounting platform that integrates. This will save you the time to learn to use a new system for stock control.
Financial Reporting
Most online accounting software offers some level of financial reporting, but your exact needs will determine the right solution for your business.
If you only need a top-level overview of your cash flow and invoice timeline, a basic program will give you this via your dashboard. You can usually generate profit-and-loss reports from these simple solutions too.
However, you'll need to look into a premium service for more complex reporting needs, such as balance sheets and statements of income or cash flow.
Mobile Applications
It's always worth checking if your chosen accounting software comes with a mobile app and what functionality this offers.
If you're a freelancer looking for personal accounting software, it's likely you only need the ability to upload receipts or track mileage on the go.
If you're in the trades, you may want to raise and send invoices directly from on-site.
If you want mobile access to your accounting software's full functionality, you'll need an app that offers the same features as the web-based version.
8 Best Accounting Software Solutions for 2023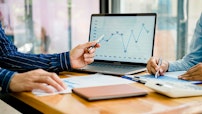 8 Best Accounting Software Solutions for 2021

Best for: Cloud software

Freshbooks is a cloud-based offering ideally suited to freelancers and small business owners looking for a cost-effective bookkeeping solution.

Depending on your needs, you can choose from four price plans, all of which come with a range of user-friendly features including:
Automated bank feeds
Customizable invoicing
Faster payments
Time and project tracking
Expenses tracking
Late-payment reminders
A great solution for any business where invoicing is a priority, the plan you need will depend on your client roster.
At just $15 a month, the Lite package is affordable but only allows you to add five billable contacts. The Plus package offers 50 billable contacts for $25 a month, and the Premium package offers 500 billable contacts for $50 a month.
For businesses with more complex needs, there's a scalable package with custom pricing.
Freshbooks might not be the right solution if you're in retail as it lacks stock-control functionality. However, there are a couple of integrations with inventory-management software, and custom integrations can be built with its API.
For service-related businesses, though, it's a solid choice.
Its mobile app also offers mileage tracking, ideal for those charging travel costs.
You can test-drive Freshbooks with a 30-day free trial before committing to a monthly subscription.
Best for: Free software
As far as free accounting software goes, Wave is the best of the bunch.
Whilst it won't meet the needs of bigger businesses, it's well suited to self-employed people who require basic bookkeeping functionality.
Free features include:
Real-time bank feed
Unlimited estimates
Invoicing (including recurring invoicing)
Late-payment reminders
Users get an at-a-glance view of key metrics through their dashboard, and Wave's financial reporting is actually on a par with many paid-for platforms, providing profit-and-loss reports, balance sheets, customer statements and sales tax reports.
It comes with two separate mobile apps, one for logging receipts, the other for generating and sending invoices.
Unfortunately, some features like time and project tracking are missing, and Wave's integrations are few, though it does work in conjunction with PayPal and a handful of eCommerce platforms.
There's also limited customer support, this being only available via email.
That said, for free accounting software, you can't really go wrong with Wave.
There are also additional features like online payments and payroll available for a monthly fee.
Best for: Mobile accounting
Kashoo is a cloud-based accounting solution designed with small-business owners in mind.
It can be accessed as a web version or mobile app on iOS, making it ideal if you need to manage finances on the go.
It offers all the features you'd expect from an affordable platform, including:
Bank integration
Billing
Invoicing
Expenses tracking
Financial reporting
Its smart technology matches incoming payments with invoices sent and categorizes expenses based on historical activity. You can also receive payments online and work in multiple currencies.
There's no time-tracking functionality and whilst project tracking is available, this is somewhat limited compared to other platforms out there. If you need these tools, you might find Kashoo somewhat lacking.
A good level of customer support is provided via phone, email and live chat, and while there are limited add-ons for scaling your solution as you grow, Kashoo's standard package offers a competitive range of features for small-business needs.
Prices start at $19.95 per month, or $16.65 per month with an annual subscription, and a 14-day free trial is available.
Best for: Features
Xero is one of the better-known names in online accounting software and has a well-deserved reputation for its feature-rich platform.
As with Freshbooks, it offers various price plans to suit different needs.
Along with the usual features covering estimates, invoicing, payment reminders and smart reconciliation, all Xero's packages allow for unlimited users.
Uniquely, all packages come with inventory-tracking functionality through which you can track stock, raise purchase orders, convert to bills and download inventory data. As such, Xero is a good option for retail and distribution businesses.
Another key feature of Xero is its customizable dashboard, allowing you to track key metrics at a glance. It also offers some 800 integrations so can be easily incorporated into your existing tech stack.
There are some limitations, however.
The Early and Growing price plans, $11 and $32 per month respectively, do not allow for project tracking or expenses management. For that, you'll need to upgrade to the Established plan at $62 per month. This also enables you to use multiple currencies.
You should also keep in mind your client roster, as the Early plan only permits you to send 20 invoices and quotes per month.
In addition to its rich features, Xero has video tutorials incorporated into the platform and 24/7 customer support.
Best for: Micro businesses
Next on our list of best accounting software is Zoho Books, a good fit for sole proprietors, very small businesses and startups.
You have three price plans to choose from. The Basic plan costs $9 a month or $90 for an annual subscription. With this, you can:
Add up to 50 contacts
Create custom invoices
Reconcile transactions
Manage expenses
Create projects and timesheets
The Basic plan permits access for one user and one accountant.
If you're looking for more, the Standard plan costs $19 per month ($190 annual fee) and the Professional plan $29 per month ($290 annual fee).
These offer more contacts, more users and additional features like billing and vendor credits for Standard, and inventory management for Professional.
An advantage of Zoho Books is its scalability. It has a range of proprietary integrations that can be bundled into any price plan, including Zoho CRM, Zoho Projects and Zoho Subscriptions.
Though most of these come at an additional cost, they allow you to customize your solution without paying for a service you don't need.
At present, there's no option to include payroll, so if this is a must for your business, you'd be better served by an alternative solution.
Best for: Small businesses
Regarded by many as the best small-business accounting software, Quickbooks Online has four price plans, all with impressive features and functionality.
The entry-level plan, Simple Start, costs $25 per month, gives access to one user and one accountant and covers the basics like:
Estimates
Invoicing and payments
Expenses
Mileage tracking
Simple cash-flow management
As you move up, Essentials costs $40, Plus $70 and Advanced $150 per month. Each tier adds more users and more capabilities to your plan.
Those with an Advanced package get a comprehensive set of features including inventory tracking, as well as support from a dedicated account team.
You can also add one of three payroll options to any plan for an additional monthly fee and price per employee.
Though the Simple Start and Essentials plans lack features like time and project tracking, you can upgrade as your needs change, and Quickbooks' plans are designed to cater to all small business types.
A 30-day free trial is available. Alternatively, you can opt for 50% off your monthly fee for three months.
Best for: Medium businesses
Sage is perhaps the most established name in accounting software, and whilst its Accounting Start entry plan offers basic bookkeeping, it's the Sage Accounting plan that's the best fit for medium-sized businesses.
This is priced at $25 per month and comes with a range of capabilities, including:
Invoicing and payments
Billing
Expenses
Inventory management
Payroll
Cash-flow forecasting
There's an impressive range of integrations available, catering to all industries, so no matter what sector your business falls into, you should find Sage works well with the relevant applications.
The downside to Sage is that it doesn't offer a variety of price plans like its competitors, but for most medium-sized businesses, the Sage Accounting plan is likely to cover most bases.
Best for: Large businesses
Last on our list of best accounting software is Oracle NetSuite.
Unlike our other entries, Oracle provides a suite of cloud-based business software solutions, covering not only financial and accounting, but also full enterprise resource planning, CRM and eCommerce solutions.
Features offered with its accounting solution cover all the basics and much more besides, including:
Supply-chain management
Procurement
Global accounting
It's essentially the full package for large businesses.
You can use the accounting software on its own or as part of a customized bundle with any of Oracle's other business solutions.
Prices vary depending on your exact needs, but don't expect them to compare with simple accounting software. This is a powerful platform designed for growing businesses and as such requires a decent budget.
Final Thoughts
In a business world where efficiency is key, accounting software is a must. It's both quicker and safer than manual practices and can result in major cost savings.
Choosing the right solution comes down to your individual needs. The best accounting software for you will cover all your current requirements at a fair price and allow you to scale up as your business grows.
---