10 Best Bookkeeping Courses
What Is Bookkeeping?
Bookkeeping is the practice of recording financial information to monitor income and outgoings. Managing finances in this way is necessary for every business.
'Keeping the books' fulfils legal expectations of how to report income for tax purposes and enables the management of cash flow – crucial for the health and survival of any business.
Without good bookkeeping, finances can get into a mess and, in the worst case, result in the collapse of a company.
For this reason, investing in accurate bookkeeping is high up on the list of priorities for business owners, and good bookkeepers are in demand.
Those unfamiliar with managing company finances might experience some confusion around the difference between bookkeeping and accounting. It's an important distinction as, although the two are connected, they require different skills and qualifications.
Bookkeeping refers to the act of monitoring and recording all financial affairs, including expenses, income, expected income and financial commitments of the business, such as loan repayments and staff wages.

Accounting refers to the next stage of the financial management process, which involves interpreting and analyzing this data to carry out audits, forecast business needs and file tax returns.
Both are vital parts of money management but are carried out by separate professionals trained in either one or the other.
Many small or medium-sized companies employ a bookkeeper to manage the day-to-day finances, monitor cash flow and swiftly highlight any potential problems or issues.
Accounting is more commonly outsourced to qualified accountants who provide a more in-depth but less frequent service.
Large companies and organizations typically employ both bookkeepers and accountants in-house to work alongside one another.
Of the two professions, bookkeeping is easier to pursue, as it presents a lower barrier to entry, and anyone with a good grasp of numeracy can learn the necessary skills.
For those aspiring bookkeepers who gained a high school math qualification, an online course can teach you the bookkeeping skills required to achieve a diploma or certification to demonstrate your ability to employers.
Online courses are easily accessible and are run by many different organizations and institutions, so you can decide which suits you best.
In this article, we will look at why bookkeeping is a desirable career choice, what you need to do to become a bookkeeper and how the various available online bookkeeping courses stack up.
What Qualifications Do You Need to Become a Bookkeeper?
In most cases, you don't need any particular qualifications to become a bookkeeper.
It goes without saying that you'll need a good grasp of math and be reasonably comfortable working with numbers to succeed. You need to really enjoy working with calculations and figures if you plan to build a career around them.
At the most basic level, you'll benefit from a high school math qualification. If necessary, you might want to think about attending a high school completion program or taking a high school equivalency test to learn the fundamental skills you'll need to build upon as you go.
If you want to secure an employed position, you will be expected to possess higher academic qualifications; for example, an associate's or bachelor's degree in business administration.
However, one of the draws of bookkeeping is that you have the option to set up your own freelance business rather than seeking employment.
Academic achievements are less important for this type of setup, where you will instead be judged on the quality of your work and the service you provide for your clients.
Your reputation is at stake if you don't have the skills and knowledge to offer a high-level service, so it is still worth investing in a dedicated bookkeeping online course to make sure you develop the necessary expertise before starting your own business.
Online bookkeeping courses are available at varying levels of difficulty, ranging from beginner bookkeeping skills to bookkeeping at a senior level. Your background knowledge and experience should help you decide which is most suitable.
It can help to start with a course that covers the fundamentals before progressing onto more advanced courses over time.
The course structure has a significant influence on how the content is delivered and the learning styles you are expected to use.
You can work through a self-directed course at your own pace, ideal for those with other commitments who need some flexibility. However, on the flip side, a self-directed course takes a lot of motivation to complete, and if you are someone who works better under pressure, you might find that this learning style doesn't work for you.
The alternative is a more tightly structured course, perhaps with live remote lessons and deadlines for each module. For this type of course style, you will need to be able to commit to the necessary dates and times to avoid falling behind and potentially failing.
It is also worth considering who is teaching the course; check their credentials, background and experience to make sure they can offer a good level of education.
Reviews from past students give a good idea of how a course runs and the effectiveness of the course teaching methods.
Why Should You Take an Online Bookkeeping Course?
Although there is no compulsory license required to become a bookkeeper (unlike accountancy), some national organizations do offer optional certification or licensing.
Many online bookkeeping courses provide certification upon completion, so you have evidence of your learning.
It is advisable to complete an online course to get hired or to have a chance of running your own successful bookkeeping business. The low barrier to entry and the wide range of courses available means you should find one that fits with your schedule and makes sense for you as you start your new career.
Reassuringly, you don't need to be a math genius to learn bookkeeping skills. A good grasp of math and a willingness to learn through taking an online course are enough to get you started.
You can assess your mathematical ability with a free online numerical reasoning test.
There are millions of companies in the US and, as every single one needs to keep financial accounts, bookkeepers are in high demand. Many of these companies are small or medium-sized and don't have an in-house bookkeeper or finance department, choosing to outsource the work instead.
This creates plenty of work for independent and freelance bookkeepers, and in theory, you should never run out of potential clients. There may be plenty of work out there, but you have to do a good job to succeed, which is another reason to give yourself the best shot by taking an online bookkeeping course.
Another potential client base comes from your fellow freelancers and sole proprietorships. These micro-businesses also need to manage their incomings, expenses and cash flow and are typically too busy or lacking in the necessary skills to do this for themselves.
Bookkeeping can be a very flexible career choice, and you can focus your work on areas you know well. You might choose to specialize in bookkeeping for schools, colleges, charities, brick and mortar stores or any other sector in which you feel confident and comfortable.
The fact that every company in the US needs to keep its books opens up a wide range of possibilities and directions to steer your business.
What to Look For in a Bookkeeping Course
As mentioned above, there is no compulsory requirement in the US for bookkeepers to have a license (although you do need to hold a license to run as a business, as per the Small Business Administration). However, you can apply for an optional bookkeeping license or certification, which you can earn by completing some online courses.
We advise checking the regulations in your state and looking for courses that award certification that fits your state's criteria.
Some of the organizations involved in licensing and certification of bookkeeping include the National Association of Certified Public Bookkeepers, which offers certification and licensing, and the American Institute of Professional Bookkeepers (AIPB), which offers certification.
If obtaining a license is something you'd like to do, check that your chosen course provides this before committing.
There are other factors to consider when finding the right course:
Try Before You Buy
Good online bookkeeping courses often allow you to access an online exercise to try out the teaching and lesson style before you sign up.
Cost
You will need to consider how much you can afford to pay for an online bookkeeping course, if anything. Many courses are accessible free of charge, while others command a fee or a monthly subscription to access.
Flexibility
If you have other commitments (for example, a full-time job), you might need a course that offers some flexibility, either in the times of the lessons or the length of time allowed to complete the work.
This could really affect your experience and success, so it should be a key factor in your decision.
Customer Service
It can be reassuring to know that the course provider offers a robust customer service in case anything goes wrong or you hit any stumbling blocks as you take the course.
The reviews of past students are usually a good place to read about customer service performance.
It's also worth checking how easy it is to access the course provider and how much contact you have as you work through the course content.
Length of Course
Make sure the length and intensity of the course fit in with your plans.
Access to Real Teachers
An online course can be delivered through live remote lessons, where you have contact with a real teacher, or through a premade course made up of slides, videos and activities.
Consider which option you work best with.
It is often a sign of a good course if you have access to a real teacher and can participate in live, interactive lessons.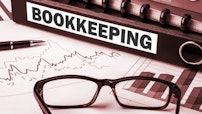 10 Best Bookkeeping Courses
Cost: £25
This beginners' course is run by two brothers, both professors of accounting, and introduces learners to:
Analyzing transactions
Recording the effects
Summarizing the effect
Preparing financial reports
Upon completion, you will receive a LinkedIn certificate of completion to display on your LinkedIn profile and can claim Continuing Professional Education (CPE) credits with the National Association of State Boards of Accountancy.
The course contains around one hour and 39 minutes of content, and once you sign up, you have lifetime access so you can work through it at a pace that suits you.
Visit LinkedIn Learning: Accounting Foundations: Bookkeeping
Cost: Free to access course materials, with the option to pay for certification through the Coursera platform.
This course is aimed at beginners and needs no prior experience or knowledge.
It takes approximately 14 hours to complete, and although the content is divided into five weekly sessions, the course has flexible deadlines so you can work at your own pace if necessary.
The content is delivered by a professor of business administration at the University of Virginia and involves a mix of videos, text and quizzes.
You can access the course materials for free, but if you want to take assessments and receive certification, there is a fee.
Upon completion, you receive a certificate to demonstrate your learning in recording transactions, preparing financial statements and drawing conclusions about a company's financial health.
Visit Coursera and University of Virginia: Financial Accounting Fundamentals
Cost: £59.99 full price (frequently on offer at up to 77% discount)
This beginner course is taught by Ron Trucks, a small business coach and college tutor.
It includes lifetime access to course materials with a mix of four and a half hours of video lectures and related downloadable resources.
You receive a certificate of completion when you successfully finish the course.
Visit Udemy: Bookkeeping Basics #1: Understand the Fundamentals
Cost: Free
This introductory course is provided by the Association of Chartered Certified Accountants (ACCA) and, although it doesn't offer certification, you can go on to sit the relevant ACCA exam that does.
It is taught by ACCA staff and covers:
business transactions
Entry systems
Ledger accounts
Reconciliations, and more
You can work through the course at your own pace, but as a guide, if you can dedicate five to eight hours per week to learning, you can complete it in six weeks.
Cost: Free access for 14 days with the option to pay to upgrade
This Open University course teaches a broad overview of bookkeeping and its relation to accounting, focusing on:
Financial accounting and reporting
eEssential numerical skills
Double-entry
Balance sheets and accounting
The course expects three hours of weekly study and takes four weeks to complete, but this is flexible to fit in with your other commitments.
If you pay to upgrade your access, you can receive a certificate of completion at the end of the course.
Visit FutureLearn and the Open University: Bookkeeping for Personal and Business Accounting
Cost: £59.99 full price (with frequent discounts of up to 77% available)
Training institution Integrity Training runs this course, offering over 14 hours of content in the form of 329 video lectures and 16 downloadable resources.
It is aimed at beginners but goes a little deeper than many of the other beginner courses featured here, covering:
Yearly budgeting
Implementing internal controls
Accounting for merchandising
Managing payroll
You can access the course content at any time to work around your existing schedule and will receive a certificate of completion at the end of the course.
Cost: Free
This beginners' course teaches the fundamental skills of double-entry bookkeeping, producing a balance sheet and managing profit and loss.
It involves around eight hours of study that you can undertake at any time without even signing up – simply click on the lessons directly from the OpenLearn website.
Upon completion, you will receive a statement of participation.
Cost: £59.99 full price (with frequent discounts of up to 77% available)
The enthusiasm of the course tutor, Certified Public Accountant and entrepreneur Brett Philips, is evident as he describes his background and passion for helping entrepreneurs learn about bookkeeping and tax.
The course is designed to teach you how to set up your bookkeeping business rather than the actual skills needed to complete the work.
The content includes two hours of video split into 10 lectures and six downloadable resources that you can access at your leisure.
The syllabus covers:
Business formation
Marketing
Advertising
The hardware and software to invest in to get going with your business
Cost: 479forAIPBmembersand574 for non-members
This course is aimed at intermediate-level bookkeepers in the US, already familiar with basic bookkeeping principles.
It is run by the American Institute of Professional Bookkeepers and awards official certification upon completing the national certification exam.
If you are thinking of up-levelling your business or seeking employment in a medium-sized company, this course prepares you for working with companies with up to 100 employees.
The syllabus covers:
Mastering depreciation
Payroll
Correction of accounting errors
Adjusting entries
You have three years to complete the requirements to become fully certified with the American Institute of Professional Bookkeepers, raising your credentials and being able to charge more for your services as a result.
Cost: £345 (monthly instalments available)
Suitable for UK bookkeepers, this course is recognized and verified by the Association of Accounting Technicians (AAT).
It takes an average of three months to complete and provides 1:1 tutor support for six months.
You can study at your own pace, accessing a range of live online classrooms where you can ask questions and interact with tutors.
Content covers bookkeeping transaction and controls suitable for beginners.
After completing this course, you sit two AAT exams to achieve the Foundation in Bookkeeping certification, which equips you for roles such as accounts clerk, finance assistant and accounts administrator.
Visit ICS Learn: AAT Level 2 Foundation Certificate in Bookkeeping
Final Thoughts
Due to the legal necessity for businesses to keep accurate and organized accounts, bookkeeping is a desirable and accessible career choice.
Bookkeepers can be employed within a company or set up their own sole proprietor company to provide freelance services to multiple companies.
It is advisable to take an online bookkeeping course to learn the fundamental skills necessary to succeed as a bookkeeper. The course you choose will depend upon your budget, time constraints and prior level of knowledge.
Some courses award certification upon completion, and it is beneficial to check the requirements for practicing in your local area to ensure you have the relevant qualifications.
---