The Best Free University and College Courses for Accounting
Every organization has a finance operation – whether outsourced or not. It's no surprise then that accountancy can be a great career choice for those with a passion for numbers.
According to Data USA, 1.64 million people make up the accounting workforce.
But not everyone is an accountant. In fact, accountancy is an incredibly diverse career and typically covers tax preparation, bookkeeping, banking, corporate finance and payroll services, to name the most obvious areas.
Given that every business has finances to control, the earning potential is quite significant. In fact, 2019 saw the median wage for accountants reach $71,550 per year.
This thirst for earning and carving a successful career in finance has seen a growth in people undertaking free university accounting courses.
Instead of opting for a degree in a slightly more ambiguous subject, school leavers are testing the waters with free university accounting courses as a direct route to employment.
Likewise, postgraduates of all subjects are completing these courses to improve their commercial understanding and supplement their resume as they enter the workplace.
Beyond this, those already working in finance, or where their job has an accounting component, also benefit from free online accounting courses. They are strategically upskilling themselves to further their career.
The Best Free University and College Courses for Accounting
All the free university accounting courses listed below are Massive Open Online Courses (MOOCs), meaning anyone can enroll and they are free to take.
Remember, you will often need to pay for certification if you want to have proof of your work credential.
However, all are designed to flex around your life and enable you to learn as you earn with a self-paced learning option.
Pros
Learn at your own pace
Suggested two-hour weekly study accommodates busy schedules
Flexibility to take one or all of the courses within the specialization
Cons
Certificate of completion requires paid access
Though aimed at beginners, the specialization covers many concepts and those with no prior knowledge may find it challenging
This is one of the best free online finance courses for beginners since you will learn core business skills in finance and accounting.
Built around real-world scenarios, this MOOC spans corporate finance, personal finance and financial intermediation.
Split into several courses, you work your way through the separate sections of the specialization.
The Fundamentals of Finance course provides:
Insight on foundational concepts in corporate finance
Skills for calculating risk and returns for investment optimization
The Introduction to Corporate Finance course teaches you about the:
Time value of money
Retirement savings
Risk-return tradeoff
Mortgage financing
Auto leasing
Asset valuation
The Introduction to Financial Accounting course enables learners to:
Read financial statements and understand accounting language
Understand bookkeeping basics
Analyze cash flow
Realize how accrual accounting works
Finally, the More Introduction to Financial Accounting course teaches:
How to understand and analyze essential information provided by companies in accounting statements
The fundamentals of different types of assets, liabilities, longer-term investments and debts
The difference between financial reporting and tax reporting
Depending on other commitments, most learners finish the course material within six months.
Visit University of Pennsylvania: Introduction to Finance and Accounting Specialization
Pros
Study at your own pace
Suggested five-hour weekly study can fit into busy schedules with sufficient planning
Suits those with some prior accounting knowledge who want to refresh their skills
Cons
Free access limited to four weeks
Certificate of completion requires paid access
Although this course is self-paced, you will need to commit to weekly study of at least five hours a week since the free course access is time-limited to four weeks.
Ideally, you will already have basic accounting knowledge since the program refreshes your understanding of the fundamentals.
It's great for anyone re-entering the profession who wants to cover the recent changes in International Financial Reporting Standards (IFRS) changes.
It's also a sound way for junior accounting professionals (chartered accountants) to keep up to date with IFRS modifications.
Built on a range of practical and conceptual activities designed to emulate real life, you will learn, among other things, how to:
Translate companies' operations and key decisions into numbers
Decipher accounting language
Package financial statements
Read and interpret financial statements
Apply accounting equations in ensuring recording integrity
You can start this free online finance course whenever you like – there are currently no set dates.
Visit University of Padova: Introduction to Financial Accounting
Pros
Study at your own pace
No time limit on free access
Suits beginners with little or no prior experience
Cons
Does not include a certificate of completion
If you like webinars, this is one of the best free online finance courses at Harvard.
Categorized as a self-paced free introductory course, learners are introduced to basic nonprofit accounting concepts and financial statements.
The course material is mainly for people who have little or no experience in accounting or finance.
The webinar features several highly experienced finance professionals, including Eric Schwartz, Managing Director of PricewaterhouseCoopers National Assurance Health Services.
Topics include:
Accounting concepts in nonprofit organizations
Understanding financial statements
How core operations and business decisions translate into numbers
Completely self-paced and free, you are not time-limited, although you will want to check the course open dates.
Visit Harvard University: Introduction to Accounting and Financial Statements
Pros
Short course with suggested three-hour weekly study suits busy schedules
Study at your own pace
Suitable for those with little or no prior accounting knowledge
Cons
Unlikely to suit experienced accounting professionals seeking in-depth content
Are you keen to learn how to make more informed business decisions using financial information? If so, this is one of the most suitable free university accounting courses for you.
If you are new to accounting or have recently stepped into a more senior role in your department, you may want to dig a bit deeper into what financial statements are telling you.
You will learn how to:
Accurately read and interpret financial statements
Understand precisely what income statements, cash flow statements and statements of financial position are telling you
Investigate the different types of accounting and how your business uses accounting information
Usually, the course has a start date listed on the FutureLearn website. If it has already started though, you can still join and learn at your own pace.
Visit Coventry University: Understanding Financial Statements
Pros
Learn at your own pace
Useful for accountants, managers, entrepreneurs and more seeking insights on how accounting information can be used to effectively guide business decisions
Cons
Certificate of completion requires paid course access
Quizzes may have errors in them
If you are looking to move into a more senior leadership role, this is one of the most useful free university accounting courses you could enroll on.
After all, accounting information is the lifeblood of any business. The course tutors teach how accounting information can help managers make wise business decisions.
You will discover how cost information is created and arranged to:
Analyze profitability
Develop and choose products
Make pricing and key business decisions
By the end of the course, you will be able to:
Identify the purpose of different types of accounting information
Create and communicate cost information depending on the business goal
Use accounting information to better manage products and services
Free to enroll at any time, you are not time-restricted. It's a flexible program that fits around your existing work commitments.
Visit University of Illinois: Accounting for Business Decision Making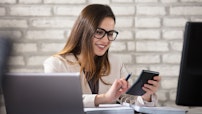 The Best Free University and College Courses for Accounting
Pros
Study at your own pace
Course takes around 14 hours to complete, fitting around busy schedules
Great option for beginners with little or no prior experience
Plenty of examples to aid learning
Cons
Certificate of completion requires paid access
Taught by highly experienced accounting academics, this is one of the most structured free university accounting courses.
You will be given all the tools you need to understand the basics of financial accounting.
Through a series of pre-recorded videos, real-life examples of financial records and 'your turn' activities, learners feel like they are learning on the job.
By the end of the course, you will be able to:
Summarize transactions in any accounting period
Use journal entries to record transactions
Know the three most common financial statements and how they work together
Understand precisely how to prepare financial statements
Make basic deductions about an organization's financial health
Being self-driven, you are free to complete the course program at a time that suits you.
Visit University of Virginia: Financial Accounting Fundamentals
Pros
Suitable for beginners
Study at your own pace
Suggested two to three hours of weekly study fits around busy schedules
Cons
Certificate of completion requires paid access
Final capstone project may be noticeably more challenging compared to the rest of the course
If you have very little understanding of company finances, yet you could benefit from knowing how financial decisions are made, this course is a good place to start.
The program's focus is on how businesses are valued as you are invited to step inside the world of corporate finance.
During the five-week course, you will learn:
The basic principles of financial valuation discounting (three hours to complete)
How to spend money using capital budgeting tools (two hours to complete)
To measure cash flow and creation (two hours to complete)
How to evaluate the cost of capital (three hours to complete)
Putting everything together using a case study (three hours to complete)
The course material includes pre-recorded and uploaded videos, readings and quizzes, meaning you can complete the course around other commitments.
Visit Rice University: Finance for Non-Finance Professionals
Pros
Learn at your own pace
Suggested four-hour weekly study can fit around busy schedules
Complete one or all courses in the specialization depending on personal preferences
Cons
Certificate of completion requires paid access
Though aimed at beginners, some prior experience in business, finance and statistical concepts is recommended
Have you been tasked with building a high-performing investment portfolio? Or perhaps you are an ambitious business owner.
Either way, if you are looking for free university accounting courses to help, this program from Rice University is highly rated.
The entire program helps you make informed choices as an investor and is structured into five courses:
Global Financial Markets and Instruments – You examine the markets' role and the vehicles available to an investor.
Portfolio Selection and Risk Management – You learn how to develop risk and return measures for a portfolio of assets and solve risks.
Biases and Portfolio Selection – You discover how to make informed choices and what behavioral biases to look out for when making your portfolio selection.
Investment Strategies and Portfolio Analysis – You learn about the latest investment strategies and performance evaluation.
Capstone: Build a Winning Investment Portfolio – You put everything together, using everything you have learned.
To earn your certificate, you will need to complete each component of the course. However, it is all self-paced and can be easily accessed and completed in stages.
Visit Rice University: Investment and Portfolio Management Specialization
Who Might Benefit from Taking a Free Accounting Course?
More people benefit from free university accounting courses than you may think.
Their ambitions vary wildly too. Some are simply curious and want to know whether accounting is for them; others are sharply focused, career-driven accountants, keen on developing their hard skills to stay one step ahead.
After all, free online finance courses from an established university such as Harvard are completely up to date with current finance legislation.
School Leavers Exploring Their Choices
As a school leaver, it can be difficult to know what to expect from college-level study. There's a lot more involved in accountancy than simply having an appreciation for detail and numbers, although that's a great place to start.
While the foundation year at college will introduce you to your degree program, taking free university accounting courses will make it easier to choose the right degree for you.
It's also an excellent way to jump-start your first year of study.
Postgraduates Looking for Work
It can be a tough gig leaving college and entering the workplace, which is why many graduates are choosing to be more proactive at upskilling themselves in accountancy.
For the leaders of tomorrow, free university accounting courses can educate graduates on the commercial world.
What's more, there are plenty of free online finance courses with certificates that you can pop on your resume.
It shows willingness and may well be enough to land you a place at a graduate group assessment center interview.
Those Seeking to Upskill
It's not just finance professionals who gain from free online finance courses.
If you work in an office, chances are there will be an element of your role linked to accountancy. Perhaps, though, you would just like to understand the bigger picture.
Maybe you're a sales and marketing manager who wants to interpret financial accounting information to accurately demonstrate your department's return on investment. Free university accounting courses can certainly help you with this.
Plus, having a demonstrable and more rounded understanding of your commercial impact is a great skill to add to your resume and talk about at an interview for that marketing director's role.
Accountants Vying for More Senior Roles
You never stop learning as an accountant. That's one of the appeals of the career.
The US Bureau of Labor Statistics expects to see a 4% growth in jobs between 2019 and 2029.
Those competing for more senior positions are already taking advantage of free online finance courses in corporate decision-making. They cleverly extract ideas from the course material and weave them into their everyday working life.
Meanwhile, they accumulate an impressive list of technical skills and core competencies demanded in future roles.
People Running Their Own Business
It can be a real task running your own business – especially if you're in a growth phase and need a better understanding of how to finance your ambitions.
There are plenty of free online finance courses for beginners aimed primarily at owner-directors.
You can quickly learn how to convert company decisions into numbers and make accurate projections.
Those Re-Entering the Profession
It can be a daunting prospect to return to the tightly regulated world of accountancy, especially if you have taken several years out to raise a family.
Laws and regulations change. That's where free university accounting courses can be hugely rewarding because you can quickly bring your knowledge up-to-date.
If you opt for a free online finance course with a certificate, you can instantly evidence that you are familiar with current practices on your resume.
What Should You Expect to Learn on Your Accountancy Course?
It really depends on your upskilling goals and the course content. After all, there are several different types of accountancy.
Free Online Accountancy Courses for Beginners
Free online finance courses for beginners will teach you the fundamentals of financial accounting concepts and language.
The aim is to give you enough knowledge to confidently interpret standard accounting information so that you can recognize fact from fiction.
There's no hard and fast rule as to what course to start with. Most are self-paced, meaning you can complete the program in your own time.
Accounting Courses for Business Decision-Making
Suppose you are interested in a career in helping drive businesses forward by providing information on the financial health of an organization. In that case, you may be interested in free university accounting courses for management accountants.
At an introductory level, and as a taster for a more in-depth degree program, a free course will teach you:
The fundamentals of planning and budgeting
Risk management with financial reporting
How to report on external financing
How to organize and communicate cost implications to suit various operational decisions
Profitability analysis skills
How to use accounting information to help control costs and manage production
Usually, the participant is either someone with a strong financial background looking to progress their career or a graduate in accounting interested in completing an MBA.
Free Online Finance Courses for Non-Finance Professionals
There are different capability levels of free online accounting courses for non-finance professionals.
Much like the beginner's courses, there are entry-level teaching materials you can freely access on specific subjects, such as payroll and bookkeeping.
These are ideal if your role involves learning a small but important aspect of business accountancy.
Going up a level, there are free university accounting courses intended for anyone interested in company valuations, corporate finance and trading.
For instance, you may be an operations director keen to learn more about the internal and external pressures that influence financial decision-making. Or you may be a finance graduate keen on pursuing a career specifically in corporate finance.
How to Improve Your Accountancy Skills Alongside Your Course
Gain industry experience – A free online accounting course alone may well give your skills a boost, but it's no replacement for real-life experience. Proactively seek opportunities to use your newfound skills either as part of your current role or perhaps voluntarily if you are out of work.

Keep up-to-date – Refinements to tax laws and regulations happen all the time. Make sure you keep abreast of any updates. If any free online accounting courses offer a refresher, consider completing it.

Job-shadowing – If you're lucky enough to work for a larger organization with a finance department, you could ask to job-shadow different people to supplement your online learning.

Home in on your communication – To be a great accountant, you must be a strong communicator. After all, your entire role involves transmitting information from one department to another. You need to be relatable, simplify complex information and help others make informed financial decisions. All free university accountancy courses place a great deal of emphasis on the value of communicating clearly.
Final Thoughts
A career in finance and accounting is wonderfully rewarding. It is, however, very fast-paced and requires a level of commitment to constant learning.
Considering the weight of financial decisions and the fundamental importance of accounting information, it is essential to keep up-to-date with changes and refresh your knowledge.
Whatever your accounting focus is, there are plenty of free university accounting courses to choose from, whether for study, re-entering work or career progression.
Remember, take the time to read course reviews and analyze each program's content to make sure it is right for you.
---