Top 7 Card Readers for Small Business
What Is a Card Reader?
Credit card processing is an important factor in selling goods and services.
A card reader (or card machine) provides an efficient way to process these card payments.
Card readers are also known as chip and PIN machines, card terminals or PDQ (Processing Data Quickly) machines.
Card readers:
Verify transactions
Accept or decline payments
Send secure data
Transfer monies into the merchant account
All these actions happen in a matter of seconds.
Mobile card readers help small businesses to efficiently process card payments.
Many businesses have chosen to replace large, stationary chip and PIN machines with smaller mobile card readers.
Small businesses can choose from a range of different mobile card readers. These are available either on a monthly contract or pay as you go basis.
In this article, you can learn more about the different card readers available.
You can use this knowledge to weigh up the pros and cons of each card reader to help decide which is the best card reader for your small business.
Why Do Small Business Owners Need Them?
Cashless transactions have been growing in popularity in recent years. They have become even more prevalent since the start of the pandemic.
With so few people choosing to carry cash, it is important to make the payment process easy for customers. Enabling them to pay by card or mobile wallet helps to increase sales potential.
As a result, a card reader is essential, regardless of the size of your business.
Investing in a high-quality card reader will help to improve the customer experience, leading to increased sales.
The best card machines for small businesses will depend on a few factors.
Consider the following questions:
Do your customers shop online or through an e-commerce website?
Do you have a physical store?
How many sales does your business make each month?
Do you need additional services, for example, an inventory or POS system?
What Is a Mobile Card Reader vs a Traditional Chip and Pin Card Reader?
First launched in 2004, the traditional chip and PIN system was designed to process credit and debit card sales.
It works by reading the microchip in the card and taking a payment from the customer's bank or credit account. Chip and PIN is a highly secure method for accepting card payments.
In 2007, contactless payments were introduced. Many retailers upgraded their chip and PIN readers to ensure they would be able to accept contactless payments.
For transactions under a certain amount, customers can tap their card on the reader, without having to enter their PIN.
For businesses only operating from one location, a traditional chip and PIN reader will probably be sufficient.
However, if your business operates from more than one place, a mobile card reader is a better option.
Mobile card readers are lightweight and compact: most are about the same size as a credit or debit card.
There are some stand-alone options; however, many mobile card readers must be connected to a mobile device.
This can be either with a cable or through a Bluetooth connection.
To use the card reader, you must download and run an app on the mobile device before entering the transaction details into the app.
The customer taps their card on the reader (for contactless payments) or inserts it into the reader to use chip and PIN.
In many cases, mobile card readers remove the need for a keyboard or printer at the point of sale, although there are some exceptions.
For the card reader to work, your mobile device will need to be connected to Wi-Fi or have a mobile data connection.
If you choose a stand-alone card reader (for example, the SumUp 3G) you will not need to worry about connecting the reader to a mobile device.
Equally, you will not need to have a Wi-Fi connection or use up your mobile data allowance to process transactions.
Mobile card readers vary in price. Some are available on a pay-as-you-go basis, whereas others have monthly rental charges.
Transaction fees vary between providers. These are often determined by how many sales your business makes each month.
It is important to choose a card reader that is compatible with the mobile device you will be pairing it with.
For example, if you intend to use an iPhone, you must make sure the card reader operates with an iOS app.
How to Tell Which Small Business Card Readers Are Good?
There are several key points to consider when choosing a card reader for your small business:
Upfront cost – Most mobile card readers are available for under £100/$100.

Set-up process – Is this fast and straightforward? How quickly will the reader arrive after you submit your order?

Ease of use – Is the app easy to use? Is the card reader easy to connect to your mobile device? Is the app supported by your mobile operating system (iOS or Android)?

Ongoing fees – Are there any ongoing fees to consider?

Transaction rates – What is the transaction fee for each sale? Is this a flat fee for every transaction? Some providers operate a sliding scale. This means that the more sales you make, the lower the transaction fee.

Cards accepted – Does the card reader accept Amex or Diners Club International cards?

Contract or pay as you go? – Will you need to pay a monthly contract fee? Some providers charge a fixed subscription fee per month, depending on which service tier you choose. Usually, the higher the subscription fee, the lower cost per transaction. If there is a contract, how long does it last? Are there any exit or cancellation fees if you change your mind?

Do you need software or gadgets to use it? – Is it a stand-alone reader, or will you need to connect it to a mobile device? Do you need a separate printer?

Is there an app? – Is the app compatible with the mobile device you intend to use?

Does it accept contactless payments? – If it does not, this could discourage potential customers from buying from you.

How clear is the display? – Does it have a color display? How big is the on-screen text? Is the font easy to read?

Is it durable? – Is the card reader sturdy? This will be especially important if you plan to move it between locations.

Is it portable? – How easy is it to move the card reader between locations? Will this be necessary within your small business?
It is unlikely you will find a card reader that meets all your requirements.
Consider which of the above points are most important to you. Then choose the card reader that is best suited to your priorities.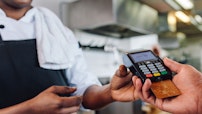 Top Seven Card Readers for Small Business

Priced at: £19 + VAT (UK)
Transaction fee: 1.75% for in-person payments. This is a flat fee for contactless and chip and pin payments. No hidden fees or long-term contracts.
Modern design. This sleek card reader will be aesthetically pleasing in any setting.
Accepts contactless payment.
Accepts mobile wallet payments (for example, Apple Pay, Android Pay, Google Pay).
Accepts all major debit and credit cards, including Amex. There is no keypad. For chip and PIN payments, the customer will need to enter their PIN on the connected mobile device.
Payments arrive in your business bank account on the next working day. Alternatively, you can pay a 1% fee for instant transfers.
PCI compliant with optional two-step verification.
App supports iOS and Android.
UK users can access free POS software, enabling them to track stock, sales, and receipts.
Priced at: £45 (including VAT – UK), it is more expensive than some other options. No fixed monthly costs, no long-term contracts.
Transaction fees: between 1.5% and 2.75%. A transaction fee is reduced after sales of £6,000 or more. Higher transaction fees for Magstripe or manually entering card details.
Connects directly with your PayPal account. This means you can access the funds received almost instantly.
Accepts all major credit and debit cards. Integrated keypad, allowing the customer to enter a PIN on the card reader.
Accepts mobile wallet payments.
PCI compliant.
Battery operated. Full charge lasts seven days on standby, or up to 100 transactions.
Pairs with your mobile device using Bluetooth connection.
UK-based customer service
App has POS functionality to help manage inventory and sales.
200 different people can access the account, each with their password and access rights.
Priced at: Card reader costs $199; countertop stand costs, $39; printer costs $79. Free shipping. No setup, contract or monthly fees.
Transaction fees: reduce according to how many sales you make. This happens automatically, based on a three-month sales average. There is no need to contact Helcim to renegotiate your transaction fees.
Lightweight, transparent, easy to use card reader and app.
Accepts major credit and debit cards, including Amex and JCB. Integrated keypad for PIN entry.
Accepts mobile wallet payments.
Accepts US PIN-Debit transactions from major networks, like Maestro, Interlink and NYCE.
EMV and NFC enabled.
App works with Windows or Mac desktop to create a traditional POS experience. App provides easy access to inventory and sales information.
Mobile app is compatible with both iOS and Android.
For in-person payments, the average credit card transaction fee is 1.92% + 8¢.
The average PIN-Debit transaction fee is 0.91% + 8¢.
Chargeback fees are a maximum of $15, and this is reimbursed if you win the dispute.
In-house customer service team offering advice through phone, email or call-back.
SumUp sells two card readers: the SumUp Air and the SumUp 3G.
Both include a virtual terminal and a secure web page.
This enables businesses to accept payments from computers or mobile devices.
SumUp's ordering process is quick and easy: it should not take you any longer than five minutes.
Your card reader will arrive within five working days.
SumUp Air
Pocket-sized card reader measuring 8.4 x 8.4 x 2.3 cm.
Connects to a smartphone – You must have a mobile signal or Wi-Fi connection.
Usually priced at £19 plus VAT.
Flat fee of 1.69% for transactions.
No fixed monthly costs or hidden fees.
Accepts contactless payments and all major credit and debit cards. Includes a 13-button keypad to allow the customer to enter a PIN.
Accepts mobile wallet payments and magnetic stripe payments.
PCI compliant.
Rechargeable battery life which lasts around 500 transactions once charged.
Optional upgrade to SumUp's POS software. This provides book-keeping, inventory, employee management and reporting services.
Best SumUp option for businesses operating from one fixed location.
SumUp 3G
Built-in SIM card; therefore, there is no need to worry about mobile data costs or having a Wi-Fi connection. Great option for businesses working from remote locations
No need to rely on using a separate smartphone or mobile device.
Usually priced at £69. SIM card provides free and unlimited data.
Accepts mobile wallet payments.
Payments transferred quickly to business bank account – Usually within one working day.
Costs: £39.99 including VAT. Comes with a 12-month warranty. There is a pay as you go payment plan; therefore, there are no monthly fees.
Transaction fees: between 1.95% and 2.75%.
Easy to set up. Must be connected to a compatible mobile device with mobile data or Wi-Fi.
Worldpay POS app is compatible with iOS and Android.
Issues electronic receipts through SMS or email (receipts can also be printed).
Includes virtual terminal, allowing you to accept telephone payments.
EMV and PCI compliant.
Accepts contactless payments, Magstripe payments, and major debit and credit card payments.
Color display and touch screen technology. Integrated keypad for PIN entry.
Leading merchant account provider in the UK.
Priced at: Monthly fee of $6.95 for Merchant One's base plan. Three-year minimum contract. There is an early exit fee – This could cost up to $750.
Transaction fees: Vary from 1.55% to 1.99%, depending on the transaction type.
There is no fee to buy or lease your card reader. All terminals are NFC and EMV compliant.
The card reader must be connected to a smartphone or mobile device via Bluetooth. This will enable you to accept customer payments if there is a mobile signal or Wi-Fi connection.
Add-on required if you want to accept Magstripe payments.
You will need to purchase a separate printer if you want to issue paper receipts.
Accepts all major credit and debit cards, including Amex.
Integrates with third-party software to help track sales and customer preferences.
PCI compliance fee of $100 per year.
24/7 customer support service.
Cost-effective, compact and user-friendly countertop solution for retail businesses.
Telium 2 technology supports quick and secure transactions.
Colorful, clear screen display and large keys.
Meets PDQ security requirements set out in the PCI and EMV guidelines.
Connects directly to the power supply and internet connection.
Fast in-built printer which can produce 18 lines per second.
Priced at: £29 plus VAT making it a cost-effective option. No set-up fees or monthly fees.
Transaction fees: 1.75%.
Run by PayPal – Zettle's Card Reader 2 is a key player in the card reader market.
Zettle Go app.
Accepts all major debit and credit cards, including JCB and Diners Club International. Accepts mobile wallet payments (Google Pay, Apple Pay, Android Pay).
Compliant with PCI and EMV.
Support available in the UK.
Battery-powered. Battery life is eight hours, depending on usage.
Final Thoughts
There is no simple answer to the question: "What is the best card reader for small business?".
This will depend on the individual needs and priorities of each company. The cheapest card reader will not always provide everything your business needs.
However, there is little point in buying the most expensive card reader if you are only going to use it in one place.
When choosing a card reader, you should consider:
The upfront cost of the device
Will you be tied into a contract?
Credit/debit card transaction fees
Settlement timescales – How long will it take for monies to arrive in your business account?
Accepted cards – Does the reader accept payments from all major credit and debit cards
Mobile wallet payments – Does the reader accept NFC (near field communication) payments such as Google Pay, Apple Pay or Android Pay?
Your chosen card machine will play a key role in enabling your business to make money.
In the same way that you need staff to help run your business, having a good card reader will be an important factor in the overall customer experience.
---