5 Best Meditation Apps for Work
If you have never tried meditation before, the concept may conjure up images of zen gurus atop patterned mats.
It can feel like something that is designed for other people and not for you, but meditation has become much more accessible in recent years.
No longer seen as the product of expensive retreats in Bali, meditation has grown in popularity thanks, in part, to the emergence of meditation apps.
What Is a Meditation App?
Meditation is the practice of focusing the mind on a particular object, thought or activity.
The aim is to train attention and awareness to achieve a mentally clear and emotionally calm state.
Meditation is a skill that needs to be learned, rather than an innate proficiency.
It is completely normal and expected if, upon your first try, you find yourself out of your comfort zone. What makes all the difference is how you overcome the initial barriers.
So, how can you get into it?
The perfect place to start is already within reach: meditation apps.
Meditation apps are an increasingly trending topic, thanks to how easily they can slot into our lives.
As a society, we are collectively glued to our smartphones. It is all too easy to spend countless hours scrolling on social media with nothing to show for it at the end.
Downloading a meditation app can reframe your relationship with your gadget and bring positive side effects to your life, such as reduced anxiety, better sleep and sharper focus.
Meditation apps are a bank of resources in your pocket, there for whenever you need a moment to breathe or reflect.
The best way to get the most out of meditation practice is to do it regularly as part of a routine.
This can sound overwhelming, but these apps are designed to gently guide you to a clearer mindset – so you can enjoy an induction to the basics before more complex ideas are introduced.
How Can a Meditation App Help at Work?
It is estimated that the average person will spend 90,000 hours at work over a lifetime. That is a lot of late shifts, big decisions and long meetings that could have been an email.
As work is such a prominent part of our lives, it is important that it makes us feel comfortable and happy.
This is the ideal, but we all inevitably face times of difficulty in the workplace. If you are feeling symptoms of stress, meditation apps could be a great help.
Meditation has well-known and widely reported benefits. Among others, it improves wellbeing, happiness and self-image.
Having a more positive perception of yourself can boost your career aspirations and help you realize your true potential.
When you are feeling overwhelmed in the workplace, even taking a few deep breaths can center your focus and force you to think clearly. So imagine the positive effects of using the features of a meditation app.
Once you have found an approach that suits you, meditation can help improve your focus, manage workplace anxiety, and make it easier for you to think clearly about pressing problems.
Using a meditation app could even help you achieve a better work-life balance, as it can act as a guide to properly switching off outside of your job.
Thanks to the apps' focus on accessibility, you can practice meditation pretty much anywhere. It is all about finding what and where works for you.
Some of our suggestions are:
During your commute to work (not if driving)
Before a particularly busy day
Waiting for the kettle to boil
On your lunch break
In preparation for an interview
With everything you need to know about meditation held in one tiny app, you can attain mental clarity in your own way – discreetly or openly, and with or without sound.
You may feel that meditating at work is some kind of new-age myth, but we guarantee you won't be the only one embracing mindfulness in the workplace.
Especially thanks to our investigation into the best meditation apps…
The 5 Best Meditation Apps
With so many meditation apps available at the tap of a screen, it can be difficult to know which one is right for you.
Some are perfect for newbies, others are best used when you understand the basics.
To give you some insight into this brand-new world, we have rounded up the five best paid and free meditation apps for anxiety. Find out which one is most suited to you and your lifestyle.
All are available for both iOS and Android devices.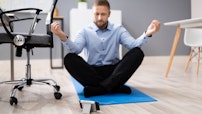 5 Best Meditation Apps for Work
Best for: Beginners
Cost: Available on a free trial. Subscription is £9.99 a month or £49.99 a year.
Headspace is one of the best-known meditation apps, and for good reason.
Self-described as the 'app that teaches you how to meditate', Headspace's approach is that less is more, as it instills in you life-changing mindfulness skills in just a few minutes a day.
The app is easy to navigate and very charming, with adorable animations that simply explain thoughts and emotions.
These features make it the best meditation app for beginners as it shows you exactly how the practice can help you.
Headspace boasts a library packed with full courses as well as single meditation sessions, all to suit your mood and lifestyle.
However you want to meditate, Headspace has a session for you. The extensive library features guided meditations, mini-meditations and sleep sounds.
The mini-meditation collection offers short sessions that are perfect for fitting into a coffee break.
There are even SOS meditations for emergencies, which could be an invaluable tool for handling unexpected workplace stresses before they lead to burnout.
Once you have experienced the benefits of meditation in the workplace, why not spread the word to HR and create real change? Headspace for Work is an employee mental health solution that can integrate mindfulness training for companies.
Best for: People with some meditation experience
Cost: Free to download and some free content is available, but a paid subscription to Calm Premium unlocks Calm's entire content library. Calm Premium costs £28.99 annually after a 7-day free trial or £299.99 for lifetime access.
The Calm app is exactly what the name suggests: a serene haven of relaxing meditation sessions. Its mission is to make the world happier and healthier through carefully designed mindfulness practice.
With a beautiful blue display, Calm feels slightly more grown-up than the cartoonish branding of Headspace – a welcome feature if you are skeptical about whether meditation is a practical skill worth learning.
If you find that you know exactly what you want from your meditation practice, Calm's specific topics are a perfect match for you.
The app provides guided sessions that range from three to 25 minutes, with dedicated practices on mindfulness at work.
The app's most popular feature is a 10-minute meditation called The Daily Calm. It explores a fresh mindful theme each day to keep you inspired.
Like a bedtime story for grown-ups, Calm's sleep sounds are a wonderful touch to help you drift into a peaceful slumber – perfect before a big day at work.
Best for: A feeling of community
Cost: Free to download and use. For £55.99 a year, the premium subscription unlocks even more courses and allows for offline listening.
The Insight Timer app has a huge library of content with over 95,000 guided meditations from over 10,000 teachers. Just a few of the 200 topics are stress, relationships, healing, sleep, creativity and abundance.
Meditating on your own at work can make you feel like you're the only one in the world who understands the benefits of this enlightening practice. Fortunately, Insight Timer has pre-empted this and harnessed a focus on a global community.
When you open the app, you are greeted by a world map that details how many like-minded people have meditated today and are doing so right now. Set your location, and you will even see meditators nearby and the tracks they are chilling out to.
As well as recorded sessions, Insight Timer also features daily virtual events that you can join in real time to learn more about meditation, yoga and sleep.
One of the app's most loved features is the customizable timer that provides an ambient environment for you to meditate for as long as you like. If your meditation window is a 15-minute break at work, you can create your own session and not worry about having to cut short a guided practice.
Best for: No subscription
Cost: Free
Developed by psychologists, Smiling Mind encourages you to see mindfulness practice as a pillar of wellness in the same way as exercise, healthy eating and good sleep.
The not-for-profit organization has a particular focus on equipping young people with the skills they need to thrive in life.
The free app offers workplace programs that have been a great success in its native Australia.
Smiling Mind is 100% evidence-based and is built around research that shows mindfulness can help staff manage their mental health, emotions and stress in the workplace.
With training and tools to support an open workplace culture, the flexible yet structured program is designed to make mindfulness accessible. So, not only can Smiling Mind improve your life, but it could also benefit your whole company.
You can enjoy 10-minute daily meditations at work or home on topics such as performance wellbeing, sleep, and attention and concentration.
One of the best features is the 'body scan', which encourages you to identify how parts of your body are feeling. If you are sat behind your desk and feeling anxious, the body scan can be a quick, efficient way to bring your focus back.
Smiling Mind truly feels unique to you as it identifies your needs and creates a customized list of guided meditations. Its holistic approach backed by research makes it one of the best subscription-free meditation apps.
Best for: Real-world application
Cost: Free for access to basic content. The premium version contains over 500 videos and more additional content for $99 a year.
The name of this app sounds promising, right? What if we told you its full title is '10% Happier: Meditation for Fidgety Skeptics'? Now you're fully invested.
This app is based on the 2017 book of the same name by ABC news correspondent Dan Harris. As the name suggests, 10% Happier is perfect if you are still unsure on whether meditation is for you.
As told in his book, Harris suffered a panic attack on-air in 2004. This prompted him to tame the voice in his head and reduce the stress that had a hold on his life.
The free version includes access to The Basics, which claims to increase tenfold your chances of becoming a regular meditator.
With the self-proclaimed fidgety, skeptical Dan Harris as your coach, you can delve into video lessons that teach the essentials, and guided audio meditations that introduce you to the practice.
Bestselling author Harris is joined on the app by Joseph Goldstein, one of the first teachers to bring mindfulness to America, so you are in safe hands.
The appeal of 10% Happier lies in its unpretentious honesty. The video lessons feature the two men sitting and talking about how meditation has improved their lives.
The ask of you is minimal: simply absorb their expertise and real-life applications and show up for the practice of meditation.
Final Thoughts
Your work is important to your life, so it is only natural that you will sometimes need to take stock and recenter yourself.
As you have hopefully discovered, meditation can be a useful tool in focusing the mind.
Whether you feel like indulging in a soul-searching session or a quick 10-minute breather, meditation apps can take you from mindless to mindful.
It is important to remember that the way you meditate is as unique as you are. You may like to follow the structured steps of a guided meditation or reflect in silence.
Keep an open mind and understand that we are not born knowing how to meditate, and it can be difficult to learn. Remember, it is meditation practice, not meditation perfect.
Thanks to the huge range of meditation apps available to download, you can feel safe in the knowledge that mental clarity and inner peace are just a few clicks away.
---