How to Write a Formal Business Report
Your manager has asked you to write a business report to evidence proof-of-concept for a new business idea.
You are eager to demonstrate that your concept is strong. There is a need and market for it, and the financials stack up.
So, how do you write an effective business report?
Before you start putting pen to paper, consider the basics.
Are you clear on what a business report is?
Do you know the differences between an informal and formal style and where to pitch yours?
Fundamentally, a business report communicates information that can be acted upon, knowing how to write one is a fantastic skill to have.
Its purpose is to help leaders within an organization make informed decisions.
As an informative document, it can have a variety of objectives.
For example, if you want to present a new product to investors or the Board, your business report template will likely include:
Executive summary of the new product and business benefits
Market analysis (competitor research)
Known opportunities and risks (including risk of inaction)
In depth overview of the product and how it solves specific customer problems
Marketing strategy (including break-down of costs)
Financial plan (including profit and loss projections)
Conclusion
What Is a Formal Business Report?
During the course of your employment, you may come across both informal and more formal business reports. Each serves a different purpose within a business environment.
Informal Reports
Much like an informal interview, informal reports tend to be far less structured than their formal counterparts.
They are much shorter and often a couple of pages.
There is a limited amount of verified research, if any.
An informal report usually follows either a business letter or memo format, and has a relaxed, personable tone.
Keeping with the new product example mentioned above, an informal business report may be an interim update to managers on the R&D team's progress.
It is usually an internal-facing document designed to update.
Meeting minutes, project updates and expense reports are all types of informal business reports.
Formal Reports
A formal business report, however, is different.
It is much more structured so that it answers specific business questions and objectives.
Consequently, it is worded and structured more objectively.
A formal report follows a prescribed business report format, is more factual in content, and is usually based on extensive research or study.
It aims to help business leaders make vital decisions and take calculated risks.
What Types of Business Reports Exist?
If you are writing a report for senior management or a client, you will usually adopt a formal business report format.
However, you may be surprised by how many different types of formal business reports exist.
Well known examples include:
Annual Report
A formal annual document used mostly by publicly listed companies to disclose key corporate and financial information to shareholders.
Feasibility Report
A feasibility report analyses potential solutions and opportunities for the business.
Compliance Report
A report detailing whether a company complies with the rules and regulations set by relevant regulatory and government bodies.
Financial Report
A written record that conveys the core activities of a business and its financial performance.
Sales Report
You could be asked to produce a sales report on the profitability of targeting a specific customer segment.
In this case, your sales report would include:
How much revenue the customer segment has generated to date, including performance against agreed KPIs, net sales and profits
What marketing and business strategies were used to attract the customer segment, including customer acquisition costs
Behavioral analysis (including research on emerging changes in buyer behaviors)
Competitor analysis (detailing existing and evolving rivals)
Unexplored customer acquisition activities and predicted costs
Social Media Business Report
Of course, your formal business report could focus on a niche area.
For example, you may be a marketing manager asked to provide a social media business report.
Again, you will want to be structured with what you present. You might have dozens of social media campaigns going on.
The key metrics you choose to present in your business report template will depend on your objective.
For example, you will want to focus on impressions and reach to evidence brand awareness.
However, if you will prove engagement, your focus will be on shares, follows, likes, comments and web conversions.
Inventory Report
An inventory report is another, perhaps less known, type of formal business report.
If you are in the retail trade, though, you will be more familiar with the term.
This business report summarizes the amount of inventory (any item of property held in stock) a business has at a given time.
It is used to evaluate stock movement, availability and risk.
An inventory report will follow a standard business report template, and usually contains:
An executive summary detailing current inventory situation
Sales count per product and type, including average customer spend and repeat order rate
Inventory turnover analysis (ratio revealing how frequently a company purchases and sells inventory)
Analysis of the products that are selling well and those that are not
Review of dead stock and aged inventory, including cost to the business
Analysis of backorder rate (percentage of orders that cannot be fulfilled on time)
Evaluation of fill rate (satisfied orders)
Recommended manufacturing, purchasing, and pricing based on findings
How Do You Write a Formal Business Report?
A strong business report should be objective, informative and factual, and have an easy-to-follow structure.
Much like a research proposal, this involves carving your business report template into purposeful sections.
Although the structure may vary depending on the type of report, most tend to loosely follow the arrangement below:
A Title Page
Almost every formal business report, even a social media report, will have a title page.
It is the first page the recipient will see and so the title must convey the purpose of the report.
You will also want to date the report and include the author's (your) name.
Executive Summary
Most business report templates start with a summary, which is usually no longer than a page.
It is an essential aspect since it provides the reader with a firm overview of the critical points raised without reading the document from cover to cover.
As an overview, you will want to outline:
The report's purpose, including why it has been created and what business objectives it serves
How the report has been created, including the research methods you have used and your data sources
The main discoveries from your research
Your observations and business recommendations
Contents
If your business report is longer than five pages, you should include a table of contents detailing where to find information in the report.
Report Scope
Building on the detail contained within the executive summary, the report scope (or introduction) sets out the business case for the report.
For example, you may be an accountant who has been asked to prepare a financial report for an Extraordinary General Meeting (EGM).
As such, you should make sure that you cover:
Business need – State that an EGM has been called and why a financial statement is required
Aims of the Report – Explain what the report is setting out to achieve
Report scope – Detail what is covered and what has been omitted, and the reasons for these decisions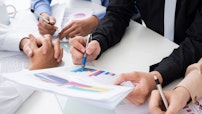 How To Write a Formal Business Report (With Examples)
Research Methodology and Findings
This part of your business report template should set out any research you have conducted and what the findings are.
For example, if you want to launch a new product or concept, your research is likely to include:
Product research (including any existing and pending patents)
Early stage research and testing (questionnaires and focus groups)
In-depth market and customer analysis
Competitor analysis
Thorough SWOT report of product/concept
Cost and speed of going to market (financial viability)
If you have a significant amount of data, present as much information as you can with illustrations and charts.
Even if you are not using a pre-set business report format, Microsoft 365 has made it incredibly easy to display data in many different formats.
Observations and Recommendations
You will need to draw conclusions and make recommendations based on the data once you have presented your research, and you will need to express clarity.
Finally, you will state what you have gleaned from the research and your recommended course of action.
You should make constant reference to your project scope and purpose.
For example, if your task were to consider the possibility of opening a new office in a different city, your findings and recommendations would need to prove the financial benefits and detail what needs to happen next.
References
You would likely have drawn information from many different sources, which you will need to cite.
List these numerically and in a bibliography format.
The numbers can then be referenced at the appropriate points throughout the text of the report.
If you want to include case studies, further findings from focus groups, interview transcripts or further data fields, you could include an appendix.
Remember not to overload the reader with too much information.
Visual Examples of Business Reports
One of the most significant challenges business report writers have is how to present data, particularly at a top-level.
The best piece of advice is to group statistics and present them in a way that is accessible and easy to understand.
Take the gym sales dashboard below (from a fictional company for illustrative purposes).
It is easy to see how each service performs in terms of sales and what the main expenditures are for the year.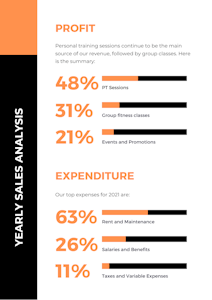 How to Write a Formal Business Report
There are numerous ways you can choose to present the same data, as in the example below.
The same gym sales data, just in a different visual presentation: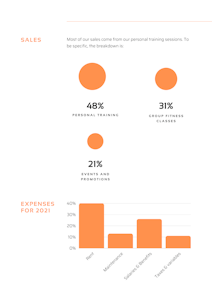 How to Write a Formal Business Report
It is not just numerical data that can be presented in a more visually appealing business report format.
For example, take a Strengths, Weaknesses, Opportunities and Threats (SWOT) report; there are many ways you could present the information.
Here are two examples from our fictional gym: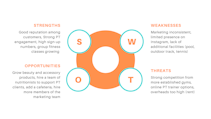 How to Write a Formal Business Report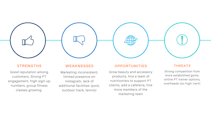 How to Write a Formal Business Report
Final Thoughts
In the words of Microsoft: 'Data is becoming the new raw material of business'. After all, information is what powers any organization.
Making big decisions without a thorough business report is very unwise.
That is not to say that there is no room for 'gut instinct' – there is, just so long as it is supported by sound analysis and recommendations.
Therefore, remember to remain curious during your business report writing.
Query something if you are uncertain about it, show it to another colleague, get somebody else to proofread it, and conduct further research if necessary.
Most importantly, use every available resource. If you know your colleague is sharper on numbers than you are, invite them to the table.
---