Best Online Course Platforms for Your Career Development
If you're keen to progress your career and achieve your ambitions, one of the easiest ways to improve your skills is to ensure that you pay close attention to your training and development.
These days, you don't need to wait for the go-ahead from your line manager to upskill yourself. You don't need to take time off to attend lengthy training courses.
Instead, you can take advantage of a wide variety of online course platforms.
You can use online learning platforms to gain qualifications in thousands of different courses, opening your career potential to new areas that you may have only dreamed of.
What makes online learning courses so exciting is that there is an array of free options available (as well as paid-for online learning courses) that make them accessible to all.
What Are the Top 14 Online Course Platforms That Can Help Your Career Development?
Here are some of the best online course platforms that can help you improve your career.
You should research each one before making your final choice. You may find that some options are more suited to your personal style of learning, or that individual online course platforms have distinct specialisms that can help you with your professional development.
Course types:
These are online college courses and video content that are collated from universities around the world, making education accessible to all.
Course categories:
You can choose from a wide range of categories and options regardless of whether you are studying for a bachelor's degree, a master's, a doctorate or a certificate or diploma.
The variety and easy-to-use search function makes it easy to find the right courses for you.
Is free content available?
All of the video content available through Academic Earth is free.
Course types:
Alison has a variety of course options suited to different needs.
Beginners can start with the online certificate programs, which are designed to be completed in less than three hours.
Those looking for more advanced options can benefit from the diploma programs, which typically last eight to 10 hours, and the niche learning paths offer 18 to 20 hours of training across a variety of subjects.
Course categories:
There are a wide variety of course options available, including IT, language, sales and marketing, health, management, and business.
Within each course category, you can drill down into specific niche areas, making it an ideal choice for those who are looking to upskill themselves for their continuous professional development.
For example, within the sales and marketing category, participants can choose to learn about brand development, legislation, such as GDPR, or learn how to manage customers using technology.
Is free content available?
All of the courses on Alison are freely available. There are over 3,000 courses on the website and it is Alison's belief that learning should be accessible to everyone.
All of the courses are self-paced, allowing you to study in your own time.
Pass requirements?
To pass an Alison course, you must achieve an 80% pass mark on your assignments. However, you can retake an assessment at any time.
Additional fees:
Although the learning itself is free, you can choose to purchase certificates to confirm your learning.
A digital certificate starts at $21, while a digital diploma certificate starts at $65.
You can also choose to purchase hard-copy or even framed variations of your certificate to showcase your hard work.
Course types:
BitDegree offers online education powered by blockchain. It offers a variety of scholarships powered by BitTokens – if you earn these tokens through learning, you can exchange them for further learning opportunities.
Course categories:
As you may expect, course content is heavily aligned towards blockchain and cryptocurrency topics.
You can learn about coding and programming, as well as IT security and software and data science.
Is free content available?
There are opportunities to study for free certificates through BitDegree.
Course types:
The Codecademy courses are split into two distinct areas: career paths and skill paths.
The career paths allow you to learn everything you need to develop the core skills of coding.
In contrast, the skill path short courses allow you to meet short-term goals and improve your skills in key areas.
Course categories:
As you may expect, this is about helping you to learn how to code. Topics include how to learn HTML or JavaScript, the basics of data science and introductions to cyber security.
There are options for individuals and teams, and the course content is suited to those who want to improve their skills as well as complete beginners.
It's also designed to be of use to children, helping them to develop new skills and add extracurricular activities to their resumes and college applications.
Is free content available?
The basic subscription allows you to access courses free of charge. However, there is limited functionality within the free package.
Course fees:
If you would like to experience more options, the paid-for package is available for just £15.99 per month if paying for a year's subscription.
If you want to pay as you go, the costs increase to £31.99 per month.
Course types:
Coursera specializes in professional certificates and online degrees, designed in collaboration with over 200 universities including Stanford, Penn and Imperial College London.
Course categories:
There is a wealth of available subject areas from Coursera including business, IT, health, languages and social sciences.
Is free content available?
There are over 1,700 free courses available from Coursera, each devised in partnership with universities such as Yale, Johns Hopkins University and Stanford.
Course fees:
This depends on the type of course you choose to do. Online degrees can cost over $15,000, making it a more affordable alternative to traditional academic study.
Course types:
Courses are split between careers and skills. This means you can choose whether you want in-depth study or simply to update your skills in a particular technical area.
Course categories:
DataCamp is about ensuring that everyone can easily update their data skills. It wants people to understand how to use data science and analytics and how this information can be used to make data-informed decisions.
Is free content available?
Some data literacy courses are available within the free plan, which includes the first chapter of each course.
Course fees:
A standard subscription is £17.99 per month, a premium subscription is £23 per month and there are professional/enterprise options available as well.
Course types:
edX works closely with institutions such as Harvard, MIT and Berkeley. Therefore, you can expect to benefit from high-quality courses that are designed for those with existing knowledge.
edX offers a variety of MicroBachelors and MicroMasters courses, as well as professional certificates and online degrees.
The unique XSeries allows you to delve into detailed knowledge about subject areas such as data science, food sustainability and introductory mechanics.
Course categories:
There are thousands of courses available in subject areas including architecture, biology and life science, data science and analytics, and engineering.
There are also options for humanities subjects such as modern languages, literature and communications.
Is free content available?
There are plenty of opportunities for MOOC study, ensuring that high-quality online education is available to everyone.
Additional fees:
The fees depend on the type of course. If you are using the free audit track, the content is free of charge. If you are studying for a certificate, the cost may vary between $50 to $300.
The MicroMasters programs have a higher charge.
If you are concerned by the pricing structures, then edX has launched its own financial assistance scheme to help users who are affected by economic hardship while studying.
Course types:
FutureLearn offers a wide variety of short courses, micro-credentials and online degrees, giving great scope for diverse learning.
Course categories:
There are many different subject areas available including business management, healthcare and medicine, history, IT, and law.
Within each subject area, you can drill down into niche topics and find courses that are ideally suited to you regardless of whether you are at a beginner, intermediate or advanced level.
Is free content available?
Yes, free content is available and is clearly marked. There are options to upgrade to a premium account for £72 per year, which allows you to participate in the tests and receive a certificate.
An unlimited account is available at £189 per year, and this allows you access to hundreds of short courses available on FutureLearn.
Pass mark:
To pass a FutureLearn course you must have achieved 90% of the course steps with a 70% test score.
Additional fees:
Certificates can be purchased for £32.
Course types:
Full-time, part-time and online courses are available, and these are designed to have a mix of live face-to-face teaching as well as remote study.
With a vast network of campuses across the world, hiring partners and an extensive alumni network, this is similar in tone to the distance learning you may find from postgraduate academia.
The firm also offers a series of face-to-face training workshops and events specifically for continuing professional development purposes.
Course categories:
Courses are developed in accordance with employee needs. Here you can find options including data science, web development, UX design and product management.
Is free content available?
There is one free course on learning to code.
Course fees:
The course fees are expensive, but quality is always at the forefront.
Your fees will depend on your type of learning – a full-time, 12-week course can cost as much as AUD$13,000
However, payment plans and tuition assistance options are available to aid affordability.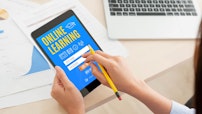 Discover the Top 14 Online Course Platforms for Your Career Development

Course types:

These are a collection of short courses that are tailored to you based upon the skills you have shared on your LinkedIn profile.

These courses are expert-led video content, and allow you to learn from others in as little as 45 minutes.

Course categories:

There are thousands of courses available and these will be tailored to your own skills.

It's an ideal option for those who wish to benefit from continual professional development rather than learning something new.

Is free content available?

You will be offered a free 30-day trial, before being charged $29.99 per month.

Additional fees:

Many employers subscribe to LinkedIn Learning as an effective tool to offer continuous training opportunities for their employees.

If you are a LinkedIn premium member, you may benefit from a free subscription as part of your paid-for account.

Course types:

Positioned as a community rather than an online learning platform, Skillshare is a place where you can take part in short courses taught by other members.

It's packed full of informative and instructional videos that are posted by its members in a bid to share their skills.

Course categories:

Skillshare is very creative-led. It's aimed heavily at those working in creative industries, and as such, you are likely to find niche courses on such topics as DSLR photography.

The broad categories available include animation, illustration, design, as well as lifestyle tips and tricks.

As the courses are self-published by members, there are over 35,000 courses to choose from, which you can download and view at any time.

Is free content available?

There are a series of free courses available in relevant areas that employers may be interested in, including introduction to SEO tactics, eCommerce essentials and graphic design basics.

Course fees:

If you want to work as part of a team, there are team options available. The Skillshare team plans are ideal for two to 20-plus users.

Prices start at $99 USD per user, per year, billed annually.

Course types:

Courses vary. There are some courses that are designed specifically for beginners, ranging up to online degrees.

Each course is identified at beginner/intermediate or advanced level, making it easy to determine what is suitable for your needs.

There are different options for individuals, for enterprise and for government.

Course categories:

The courses on Udacity are heavily aligned with companies, such as Google.

Options include subject areas such as data science, automation, cloud computing and cybersecurity.

Course fees:

The fees depend on each course. There are options to pay upfront for the entirety of the course or split the costs on a month-by-month basis.

There are often discount codes available and flash sales to help reduce the costs further.

Course types:

The Udemy Academy is designed to be a series of short courses, helping individuals to develop an interest in new areas, or improve their existing knowledge.

Course categories:

This is one of the largest online learning platforms available, with over 130,000 video courses available and new additions each week.

The courses are complete with on-demand video, learning articles, home reading, and downloadable resources and exercises.

You also benefit from lifetime access to your chosen course, meaning you can fit your study around your lifestyle.

Is free content available?

Some courses are free; others have a low cost. The pricing structure is clearly defined next to the information about your chosen course.

Course fees:

Many courses start from just £13.99 and can offer a 30-day money-back guarantee.

The volume of courses available means that there are often flash sales on offer, reducing the price you may need to pay to access the courses.

Course types:

These are a series of short courses designed to help you identify solutions to common workplace issues. The relevant body fully accredits each course.

Course categories:

Vector Solutions is ideal for those looking to learn more about IT and security, HR, business and project management.

The course libraries are designed for specific industries such as casinos, construction, education and public safety.
What Is the Benefit of Learning Online?
Gone are the days when you needed an employer's buy-in to let you participate in face-to-face training workshops and seminars.
Many employers may have been reluctant to invest in training opportunities, fearing that they would suffer the effects of reduced productivity in your absence. They may have also been concerned by the cost implications of investing in external training programs.
However, thanks to online learning courses, investing in your future is easier than ever.
You can study using online seminars and workshops and factor this into your workload accordingly.
This means that you can choose to study during your working day (and benefit from reducing business travel times).
Alternatively, you could choose to learn out of working hours at home.
The growing flexibility of online course platforms means that more people than ever before take responsibility for upskilling themselves or preparing for a career change.
Do Employers Recognize Online Learning Platforms?
Employers will think favorably of candidates who have taken the initiative to upskill themselves.
They want to employ people who will add tangible value to their business.
Therefore, your participation in an online training course (however big or small) will add new information to your resume and demonstrate you are a hard worker, capable of using your initiative to get ahead.
How Do Online Learning Platforms Differ From Formal Academic Qualifications?
Many candidates may choose to stick with traditional academic qualifications and focus their training and development on formal academia via MBAs and other postgraduate courses.
There will always be a place for formal learning – especially when you have the opportunity to learn from your peers and benefit from face-to-face teaching.
However, online course platforms offer additional flexibility.
There's potential to participate in short, quick and easy courses (which last a few hours or days) as well as MOOCs (massive open online courses). These can last for several weeks or months.
It's also important to realize that you can also achieve a formal degree or other qualification using online course platforms.
Can Online Course Platforms Help Your Career Development?
If you have participated in any online learning opportunities, you should reference them on your resume or within your cover letter.
Employers want to see that you have expanded your skill sets. They want to know that you've taken the initiative to develop new and relevant skills – especially if you're seeking a career change.
Your choice of online learning platform can be an exciting conversation starter within an interview. The recruiter will be interested to learn why you chose to upskill yourself and how you decided which course was right for you.
They may want to know how your additional training has helped you in the workplace. Your answers to these questions can help you to stand out from other candidates.
From an employer's perspective, a decision to participate in online learning shows an evident willingness to learn. It provides evidence of who you are as a person. It can demonstrate you are motivated, hard-working and dedicated.
It can help the recruiter learn a lot more about your character traits and help them understand why they should hire you.
What Are the Different Types of Online Courses Available?
If you choose to upskill yourself, you must take the time to understand the different types of courses available.
The flexibility of online learning platforms means that there is something available for everyone.
Short Courses
These are often free of charge (or cost little) and may last a few hours or a couple of days.
The purpose of a short course is to help you benefit from continual professional development, update your existing knowledge and skills, or to allow you to see if something new is right for you.
For example, you may choose to participate in a short course to help you learn about a new hobby or see if it's something that you may be interested in ahead of a potential career change or longer course.
MOOCs (Massive Open Online Courses)
A MOOC is an entirely free online course that enables you to study with some top universities.
Although they do not give you a formal academic qualification, they allow you to expand your knowledge and skills and explore new interests.
Typically held over a few weeks, a MOOC will consist of video lectures, assignments and networking opportunities with peers.
Universities have continued to expand their MOOC offerings, with options available in subject areas such as management skills or computer programming.
The accessibility of these courses means that they are ideal for anyone who wants to invest in their career potential.
Micro-Credentials
A micro-credential will provide you with a formal certificate, recognizing your achievement in a specific skill or area of expertise.
These courses are personalized to you; you outline your aims and objectives at the start with the educator.
Upon completing the course, you will be presented with a certificate to upload into your portfolio.
Online Degrees
You can complete undergraduate or postgraduate degrees entirely online, where the vast majority of your learning occurs remotely.
These courses can be full time or part time and are a great way to continue formal academic qualifications.
How to Find the Right Online Learning Course for You
If you want to complete an online learning course, the first place you should look is classcentral.com.
This is a highly efficient search engine for online learning platforms, with over 30,000 online courses listed.
You can search for your preferred course by subject name, by university or you can browse to see what catches your attention.
What You Should Know Before Enrolling in an Online Learning Platform
Before you sign up for an online course, make sure you pay attention to the terms and conditions.
You must consider what type of course it is, how the course is taught (is it live teaching times, or are the lectures available on-demand?) and what you can expect to learn from that course.
As you move into more complex online learning courses, make sure you pay close attention to the deadline schedules and feel confident that you can balance the workload with your day-to-day job. You must have enough time to complete the work set to a high standard.
It would help if you also considered the entry criteria – pay attention to the course level.
Most short courses and MOOCs will be designed for novices, whereas a micro-credential or an online degree may require prior expertise.
You should be aware of the entrance or certification fees – will you be charged extra for any certificates or learning materials?
Finally, make sure you do your research.
Try to see what previous participants have said about the course. Read reviews and try to get some independent feedback from those who have completed the course to establish if it's made a difference to that person's career prospects.
Will My Employer Pay for My Online Learning Course?
While some short courses and MOOCs are free of charge, other online courses have a set entrance fee.
You may find that your employer is happy to allocate a budget to your training and development – after all, they will surely benefit from your increased expertise and newfound knowledge.
You should talk to your line manager or your HR team to inquire if they have any available training budgets. Some businesses may allocate departmental funds purely for training purposes, while others may need to prepare a business case for additional investment.
When asking a line manager to fund your training, you need to showcase how the investment will directly benefit them. You need to explain how the training will enhance your work and give them a reason to understand why they should pay.
Should You Add Details of Your Online Course to Your Resume?
Absolutely. You want to show your prospective employer that you are highly trained and have the skills they need.
There are a few ways that you can reference your newly acquired skills and training credentials.
Cover Letter
Use your cover letter to explain what training you undertook and how it helped you.
If you can provide examples of how you have changed your work due to that training, it will showcase your new skills and qualification.
Resume
Use the education section of your resume to list the course title, the duration and key dates.
If possible, try to include a few bullet points from the course relevant to the job you are applying for.
If your training has helped you improve new skills, reference these within your professional development section or your skills section.
If you've learned new technical skills (such as proficiency with computer software), then make it clear on your resume.
Potential employers want to see at a glance what you can do for them. With this in mind, make sure you are clear on what the employers are looking for within their job description and remain relevant.
Final Thoughts
As you can see, there are a vast number of online course platforms available for you to choose from.
Employers are keen to see employees use their own initiative to upskill themselves, and it's never been easier for you to take that next step to improving your skills and expertise.
It will help to take the time to think about what you want from your online learning. Do you want formal accreditation? Or are you happy to participate in short courses and improve your knowledge across a variety of areas?
Whatever you choose, make sure that you include details on your cover letter or resume so that you can stand out from other candidates in your next job application.
---