How to Become a Pharmacist
Almost everyone will meet with a pharmacist at some point in their life, whether you're prescribed a course of treatment by your doctor or need advice on how best to treat hayfever.
Pharmacists provide a vital service to citizens, in hospital settings and in their local communities.
If you are considering a career as a pharmacist, you may be wondering what steps you need to take and what exactly you would be doing.
What Does a Pharmacist Do?
Pharmacists are responsible for filling prescriptions, checking for potential medication interactions and informing patients how and when they should take their prescribed medicines.
As well as handling medications, pharmacists are often responsible for overseeing the administration of vaccinations and advising people about general health topics.
They also fulfill different administrative tasks, such as communicating with insurance companies on behalf of patients and keeping accurate records.
There are four main types of pharmacist, each of which works in a slightly different way.
Community Pharmacist
A community pharmacist works in retail, drug stores or independent pharmacies.
They will fill your prescription medication from your doctor, and provide over-the-counter services.
Clinical Pharmacist
A clinical pharmacist works in hospital and medical settings. They will often deal with stronger and more restricted forms of medication compared to community-based pharmacists.
They may go on rounds in a hospital with doctors to advise patients on the best ways to take their medication.
Consultant Pharmacist
A consultant pharmacist can advise a wide variety of individuals and organizations on the best use of medications and how services can be improved.
They are able to work with insurance companies and directly with patients to help them effectively manage their prescriptions.
Pharmaceutical Industry Pharmacist
A pharmaceutical industry pharmacist will predominantly work in areas such as research, marketing and the development of new medications.
They may also work on clinical trials, working to develop new drugs and medications as well as on safety regulations.
How Much Does a Pharmacist Earn?
The exact amount that a pharmacist can earn will vary depending on the area they choose to go into and their level of experience.
In the US, the average annual salary for a pharmacist is $120,000.
How Long Does It Take to Become a Pharmacist?
The exact length of time it takes to become a pharmacist will partially depend on the level of education you have when you begin your master's degree.
It is possible to qualify as a pharmacist in around six years from high school.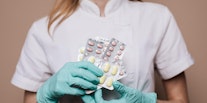 How to Become a Pharmacist
Steps to Becoming a Pharmacist
Educational Requirements
Anyone who wants to become a pharmacist will need a Doctor of Pharmacy degree.
As with all doctorate or master's degree courses, the Doctor of Pharmacy degree is a postgraduate course.
This means that you will need to have previously completed an undergraduate course.
If you are planning on running your own pharmacy, it can also be useful to gain qualifications in business or public health.
Before Starting Your Pharmaceutical Degree
Before you can begin studying for a Doctor of Pharmacy degree, you will be required to sit an exam called the Pharmacy College Admissions Test.
This is a standardized exam that covers areas such as:
Biological processes
Critical reading
Writing
Quantitative reading
There are 200 questions on the test, and you will be unable to begin your degree without a passing grade.
What Training Do You Need?
To further your education and solidify your knowledge, you will probably need to complete some kind of internship or training program once you have completed your doctorate.
This is usually a one- or two-year residency, although the exact requirements vary depending on the state in which you are planning to practice.
If you wish to move into a more specialized area of pharmaceuticals, you need to complete a longer internship. This offers practical training and an opportunity to put into practice the skills that you will have learned at college.
What Are the Licensing Requirements?
After you have completed your degree-level education, you will need to successfully complete two exams to gain your license.
These are:
If you don't want a license that covers you to work in all states, you can take a state-specific exam, but always check the requirements for your state and chosen workplace.
Specialization
If you have trained to specialize in a specific area, you can gain extra certifications on top of your licensing certificates that show your advanced level of knowledge.
You will also need to gain extra certification if you have been trained to administer vaccinations.
Continued Education
Once you have completed all the educational and licensing requirements, you will be ready to work as a pharmacist. This doesn't mean, however, that your education is over.
The world of medicine is constantly evolving and changing. For this reason, you will be required to complete a set amount of continued learning to maintain your license.
This learning is designed to ensure that pharmacists are kept up to date with the latest treatments and drug options.
Which Skills Does a Pharmacist Need?
Communication
As a pharmacist, you will need to be able to communicate clearly and accurately with a variety of people. This is likely to be a combination of patients and medical professionals.
Therefore, it is important to be able to communicate in a way that is appropriate for the situation. Unclear communication can lead to dangerous mistakes when it comes to medication.
Organization
Organizational skills are an essential requirement for a pharmacist. You will need to manage large amounts of paperwork, patient information and controlled substances in an organized, safe way.
A lack of organizational skills could potentially lead to mistakes being made, paperwork being lost and patients being given the wrong medications.
Scientific Aptitude
If you are planning on working as a pharmacist, it is essential to have scientific knowledge. At times, you will be responsible for making the medications that people need.
You will need to understand how medications interact, the appropriate quantities and the possible effects they might have.
Efficiency and Multitasking
There will be times when you are in high demand. It could be that the hospital you work in is very busy or that it is the cold and flu season for the pharmacy you own.
No matter what the situation, it is important to be able to work efficiently. You must be able to complete prescriptions quickly without making mistakes and enable patients to get the medications they need in a timely manner.
Attention to Detail
It is important to pay attention to the smallest details of a patient's prescription. This will enable you to provide safe treatments for the patients who need them.
Computer Skills
More and more pharmacists are finding that computer skills are essential for their work. This could be because prescriptions are sent electronically or perhaps you need to update a patient's information on a centralized database.
You will need to know how to use the systems in your workplace, and how to use simple data-entry systems to keep files and information up to date.
Final Thoughts
If you have an aptitude for science and a love of helping people, a career as a pharmacist could be a good choice for you.
As a pharmacist, you will be working directly with patients, helping them to receive the medications they need and explaining how best to take their drugs to achieve the best possible results from their treatment.
---