How to Answer the Interview Question: "Why Are You the Best Person for This Job?"
During your job interview, you will be asked many questions. Some will require a specific technical answer. Others will be more open-ended.
One of the hardest questions that you will be asked is "Why are you the best person for this job?" It feels like such a broad question and that you have to prove yourself against unseen competitors.
This article will discuss the many ways that you could answer this common question and it's worthwhile planning an answer to it.
"Why are you the best person for this job?" is your opportunity to provide the hiring manager with a compelling reason, or many, to hire you.
Why Do Interviewers Ask This Question?
Before you start preparing your response, it's important you understand why employers ask you this question, so you can formulate a response that meets their needs.
Firstly, they want to know that you match the key competencies required for the job role.
Consider the competencies that the employer is looking for. When phrasing your answer, try to use the same terminology that the employer has used within their job description to make it clear you have the skills they want.
They also want to know that you understand what the job role entails.
They want you to show that you know the anticipated daily tasks, responsibilities, working patterns and expectations. This is your chance to show that you understand how the role fits into the wider business strategy and how your work can directly lead to business success.
Subsequently, it is your chance to shout about your previous experiences and provide examples of your achievements and your proudest career moments.
The way that you answer the question can subtly reference confidence in yourself without hitting arrogance.
If you provide a strong answer and are clear about what you are saying, you will give the impression that you are the best person for the job.
Again, it's about demonstrating that you are capable and confident. It's also about demonstrating your personality and helping the hiring manager understand how you could fit into their corporate culture and existing team.
Finally, within the answer, the employers are looking to find out what you think are your most valuable skills. When asking this question, employers want to learn about your perceptions of your strengths and weaknesses.
They want to know how you describe yourself and why you think you stand out from other people – what you could bring to the role that few others could.
How Else Could This Question Be Asked?
The phrasing of the question is important. Some interviews may ask different variations of the same question – these variations could have different implications for how you plan to answer the question.
Options include:
"What makes you think that you are a good candidate for this position?"
"What makes you a good fit for this role?"
"What do you think is the perfect candidate for this role, and what qualities do you share with this ideal worker?"
"What makes you different from the other candidates applying for this position?"
As you can see, these are similar questions, but they may be asking for slightly different responses.
For example, when answering the question "What makes you a good fit for this role?", you could focus more on your personality traits and how you can fit into the existing team.
Or the question about "Who do you think is our perfect candidate?" is a chance for you to showcase that you know exactly what the employer is looking for and how you fit into those needs.
How Do You Prepare for the Question "Why Are You the Best Person for This Job?"?
As this is an open-ended question, different employers may be looking for different answers.
Therefore, if you are an active job seeker and regularly attend job interviews, you shouldn't have a standardised response to this answer.
Your response to this question should be tailored to the job description.
You want to showcase that you've paid attention to their job and what skills they need; it's about taking your understanding of their company and showing that you've listened to what they are looking for.
To prepare your answer to the question "Why are you the best person for this job?", look at how your skills and qualifications match the attributes that the employer is looking for.
Your answer should showcase your strengths and your interests and demonstrate who you are as a person.
It is important to remember that hiring managers aren't just looking for someone with the technical capabilities to do the job. They also want someone with the personality fit to match the role – they consider whether that person has the right character traits to fit into the team seamlessly.
Take a moment to consider how you have developed as a person and how you could grow further.
How to Answer the Question "Why Are You the Best Person for This Job?"
Here are some practical tips to help you formulate your response to this interview question.
Tailor Your Answer to the Organization
As mentioned above, you must form your answer around the job description.
You may have been asked this question several times before, and while you can have a 'boiler plate' answer, this needs to be updated and adjusted for every single job interview.
Be Concise but Comprehensive
As always in a job search, you need to have the fine balance of giving enough information but not waffling on.
Your answer needs to focus on the pertinent points:
Where possible, include examples of your career achievements and moments of success relevant to the job.
Don't Be Afraid to Showcase Your Personality
One of the biggest aspects of recruitment is finding the right people to fit into the team.
Don't be scared to show who you are and what your personality is.
If the employer doesn't do personality testing, they need to feel confident that you will seamlessly fit into their team.
Quantify Achievements That You Discuss
In a similar way to what you may have written in your initial cover letter, it's not just about saying what you did. It's about being able to explain what impact those achievements had on the business.
The STAR method is a good framework to use.
Think About the Value You Could Bring to the Role
If you believe you have something that only you can bring to the table, then this is your opportunity to share it.
For example, perhaps you have unique project management skills that could improve productivity, or maybe you have distinct contacts that could provide new business to the employer.
Share what makes you special.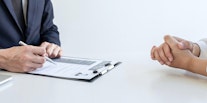 What Is a Hiring Freeze? Definition and Overview
What You Should Avoid When Answering This Interview Question?
Don't Talk About the Other Candidates
When you are answering the question, you must focus solely on yourself.
Don't compare yourself to other candidates because you want the hiring manager to focus on your attributes, not other people's capabilities.
Don't Memorise Your Answer by Rote
The key to a successful interview is to make your responses sound authentic and react to the conversational flow.
If you've memorised a response word-for-word, it may jar with how the conversation has run.
For example, you may inadvertently repeat something that you've already discussed, or it could reference something that you've not yet mentioned.
Employers want to meet the "real you" during an interview, so it is important improvise upon the bullet points of your preparation rather than a prepared monologue.
Don't Stray From the Topic
Remember to be relevant to the job role.
Where possible, try to stick to the pertinent points.
Be well aware of what attributes the employer is looking for and stick to them.
Don't Be Modest
This is your time to sell yourself and make a compelling argument to the employer about why they should hire you.
It's not a time to be modest – you need to be confident and authoritative without moving into the realm of arrogance.
Example Answers
Hopefully, this article has made it clearer how you could answer this interview question.
But if you're not sure how to pull this together cohesively, then here are a few examples of how you could answer this question effectively.
Example Answer for Admin Assistant
I am an extremely experienced admin assistant; I've supported the senior management team for the largest employer in my hometown for over five years.

I'm adept at multi-tasking, and I'm used to working in an ever-changing environment, providing administrative support for three different people.

My strengths lie in project management and organization, and I am proficient in computer software such as Microsoft Word, Excel and adding in new updates to corporate websites via WordPress.
I am passionate about what I do and, when I'm not working, I'm constantly looking to be inspired by the marketing campaigns of other brands.

Further, I enjoy collaborating as part of a team and I have a network of external contacts that I can tap into if you need to benefit from additional resourcing for skills that you may not have available in-house.

Finally, I've worked on numerous digital campaigns, one of which resulted in a 17% increase in sales, and I enjoy being able to learn from what works well and taking that knowledge into new projects.
From this response, you can see that the candidate immediately showcases an enthusiasm about the sector.
They focus on their core attributes (the ability to work well as part of a team) and provide added value to the potential employer by sharing their network of contacts.
The candidate also offers a concrete example of what they have previously achieved for their previous employer and how they plan to do something similar for the new employer.
Example Answers for a Graphic Designer
Because I believe that I have the skills that you are looking for. I'm proficient in software such as Photoshop and In-design, on top of being a competent illustrator and photographer.

My strengths are not just in creating a compelling and eye-catching design. They're also in being able to understand and interpret briefs.

I work closely with various marketing and sales teams to identify what messages they want to portray in the final design, and I make sure that I can collaborate with different teams to work to different deadlines.
This response immediately clarifies what proficiencies the graphic designer has, and the mention of specific design software likely links back to the job description.
In addition, there is more of an understanding of how the person works and a discussion of how they can work well as part of a team.
Final Thoughts
You need not be daunted if you are asked to explain "Why you are the best person for the job?". Employers aren't trying to trick you with the question – they are using it as an opportunity to find out more about who you are.
It's your first opportunity to really 'sell yourself' and share reasons for why you are better than other people.
To make the most of this question, make sure you spend time preparing for it in advance. You could even practice selling other things to become used to strongly emphasising positives.
Don't have an answer memorised by rote, but do create a list of bullet points that you want to include within your response so that you don't miss any chance to highlight your strengths and capabilities to the best of your ability.
---