What to Bring to an Interview
Preparing for a job interview is a nerve-wracking process.
If you've reached this stage, you will have already completed an application and passed any aptitude tests, so this meeting could be the final step in securing the position.
It is probably the first time you will meet the recruiters in person and it is vital to make a good impression.
In this article, we will look at what to bring to an interview to look and feel organized, professional and well-prepared. We will also give a few tips on what you should not bring to an interview.
What Should I Bring to an Interview?
1. All the Details About the Interview
This includes:
The job description
The name and telephone number of the person who will be meeting you when you arrive
The names of the people who will be interviewing you
The address and directions
Where to park
Any details for getting into the building, such as a code
Sometimes, you may be asked to bring ID or other official documents with you. Always check the instructions you have been given and don't forget anything.
2. A Notepad and Pens
Make sure the notepad looks professional and that you have a few spare pens in case one breaks or runs out.
You can use the notepad to keep track of all the details listed above and to jot down anything interesting that comes up during the interview.
Making a few notes will show that you are genuinely interested in and enthusiastic about the job. But don't keep your head buried in your notebook – you should stay engaged in the conversation. It's probably best to make any notes at the end of the interview.
3. Several Copies of Your Resume
Although the hiring manager will already have seen your resume and cover letter and should have a copy in front of them, they may have brought the wrong one or not have enough for everyone on the interview panel.
Having a few spare copies to hand around or refer to if necessary is a good way to demonstrate your organizational skills.
Keep these in a folder or portfolio so they stay neat.
4. Your Portfolio
Depending on the job you are applying for, you may need to bring some examples of previous work.
This is most common for roles in digital, creative and media industries.
You may be specifically requested to bring some work samples, but even if you are not, it is a good idea to bring a portfolio where relevant. Again, this should be presented neatly and professionally.
5. Emergency Items
These could include Kleenex, a bottle of water, breath mints, deodorant, makeup, comb or hairbrush, umbrella, stain remover, band-aids, or a spare shirt and/or pantyhose.
Being prepared for accidents or mishaps will help you feel calmer and more confident ahead of the interview.
6. Some Examples to Demonstrate Why You Are Perfect for the Job
It's important to answer interview questions with specific examples of how you have performed in the workplace.
You shouldn't arrive with memorized answers but you could jot down a few ideas in your notebook, using the STAR technique to prepare some bullet points.
Don't read from these during the interview – they should only be there to refresh your memory before you go in or to refer to briefly if your mind goes completely blank.
7. A Few Thoughtful Questions
Again, you can write these down in note-form in your notebook before the interview.
Having some intelligent questions prepared will show that you are genuinely interested in the job.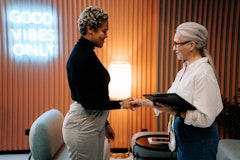 What to Bring to an Interview
8. A Smart Bag or Briefcase
Everything you bring with you should be kept in a bag that looks professional and isn't too bulky.
Make sure items are stored in an orderly fashion so you aren't rooting around trying to find what you need.
9. A Positive Attitude and a Genuine Smile
However well prepared you are, unforeseen events do happen and nerves can lead to slip-ups and mistakes.
Interviewers understand this and a lot will be overlooked if you can keep smiling and show that you are genuinely enthusiastic about the job.
What Not to Bring to an Interview
Now we've looked at what to bring to a job interview, here are a few things you should leave behind:
Your phone. It is probably not realistic to leave your phone at home but it should not be seen or heard in the interview room. Leave it in your car if you can, or switch it off and keep it in your bag.

Takeout coffee or your lunch. Bringing food or drink into the interview is distracting and looks unprofessional. If you need a coffee or something to eat ahead of the interview, make time to have it before you enter the building and dispose of all rubbish before arriving at the interview.

A suitcase. Ideally, you would avoid bringing any luggage at all but sometimes you may have to – for instance if you have just got off a flight or are going to catch one immediately afterward. If this is the case, ask someone on reception if there is somewhere you can store your luggage before you go into the interview room.

Strong smells. Overpowering perfume or the smell of cigarette smoke can be off-putting. Go easy on the scent and, if you're a smoker, save your cigarette until after the interview.

Salary demands. During the interview, you should be focusing on convincing the hiring manager that you are the best person for the job. Once you have done this, you will be in a much stronger position to talk about pay. Save salary negotiations for later unless you are specifically asked to discuss it by the interviewer.

Your mother. It sounds obvious, but apparently, it does happen. Job interviews should not be a family event. Be brave and always arrive on your own.
Final Thoughts
The last thing you want to be worrying about on the day of your interview is whether you have everything you need.
As soon as you receive an invitation you should start planning and preparing the items you will be taking with you.
Feeling confident that you know the right things to bring to an interview, and having them all ready in advance, will give you a much better chance of performing your best on the day.
If you want more tips on preparing for an interview, our Interview Advice page has a range of useful articles.
---