What Is Retail Banking?
What Is Retail Banking?
If you're thinking of a finance career in banking, you may be undecided on which type of banking to pursue.
One of the first things you'll want to explore is whether you're interested in corporate or retail banking.
In simple terms, retail banking refers to Main Street (or high street) banking. Corporate banking, on the other hand, involves advising businesses on the financial vehicles available to them. The main differences will be discussed later on in this article.
What Does Retail Banking Mean?
A career in retail banking involves supporting customers with all manner of personal finance transactions.
Therefore, you may find retail banking jobs categorized as 'consumer banking' or 'personal banking'. This is because the role involves providing a service to the general public.
Retail banks generate a business income through the cash deposits made by consumers.
These deposits are then used to make loans to other retail banking customers. It works because retail banks charge a higher rate of interest on these loans than what they pay on customer deposits.
What Do Retail Banks Do?
What is retail banking? Well, the answer is relatively simple: Banking services that are classed as retail banks engage in the following:
Transferring money between personal banking accounts (transacting banking)
Providing a retail banking customer with a loan
Issuing debit cards and credit cards
Exchanging monies (foreign exchange services)
Providing financial advice on investments and savings
Offering specific financial products, including mortgages and insurance
Working at a retail bank, you'll always deal directly with an individual (the consumer), or two people in the case of a joint retail banking account.
Essentially, the role of a retail banking manager is to help individuals manage their money in the best way possible.
Therefore, they provide advice on where and when to access credit and how to securely deposit money.
The Different Types of Retail Banks
Believe it or not, there are quite a few different types of retail banks. After all, retail banking businesses can be small community banks or established divisions of commercial banks.
To put this into context, some of the largest US commercial banks offering retail banking services include:
US Bank
Bank of America
JPMorgan Chase](/interview-advice/company-interview-questions/jp-morgan)
Wells Fargo
Although all the above are successful commercial banks, retail banking consumes a significant proportion of their revenue. It makes up between 50% to 75% of the bank's total revenue in many cases.
There are many small community banks too. These tend to focus on creating customer relationships with local people and typically have under $10 billion in assets.
Likewise, you'll also find some fintech companies that offer retail banking services through online portals and apps.
Additionally, credit unions offer retail banking services. However, there is one major difference. They operate on a non-profit cooperative basis, which means members pool their assets to provide loans and financial products to other members.
This type of retail banking is popular in the US, as credit unions usually offer better interest rates than commercial banks. Furthermore, members do not have to pay corporate tax on earnings.
Mobile and online banking is one of the biggest shifts in retail banking, which has been accelerated by the COVID-19 pandemic.
As a result, retail banks are adding hyper-personalized services, from cashback for using certain stores to lowered insurance premiums depending on a person's lifestyle choices.
Still, many consumers prefer to use local banking services that provide a physical customer service presence.
Here, retail banking personnel provide one-to-one personal banking advice. As such, they are usually the main contact for recommending a full range of credit-approved products.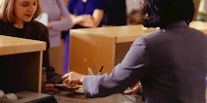 What Is Retail Banking?
How Are Retail Banks Different From Corporate Banks?
If you're still grappling with the difference between retail and corporate banking, it's helpful to think about who the bank helps.
Retail banking customers will always be members of the general public (so, consumers). Corporate banking clients, on the other hand, are always businesses, governments and other institutions.
As you'd expect, the financial products and advisory services in corporate banking are usually more complex and include:
Loans and credit management and application
Cash and treasury management
Commercial real estate advice
Trade finance
Asset management
Securities underwriting
Obviously, the financial value of transactions is usually far greater in corporate banking because the profit source is different.
In corporate banking, profits are made from interest and fees charged on services. In contrast, retail banking relies on the margin of interest between borrowing and lending activity.
Working in Retail Banking
By far, most graduate retail banking roles are in local branch management or consumer relationship management.
However, there are several closely linked opportunities in financial product development, IT, compliance, risk management and marketing.
Mostly, those offering graduate training schemes tend to be large commercial banks, credit unions and other organizations such as superstores.
Typically, when you enter a graduate training scheme, you can expect to spend your first year receiving in-depth training while working towards financial qualifications. If you're vying for a management position, you will usually have several different placements. While on placement, you will balance your time between managing a team and advising customers.
In your second year, you will usually move into a specialist area of retail banking, after which you will be offered a branch management position.
In fact, the career prospects are very favorable for graduates. After two or so years as a branch manager, they usually move into an area manager role. But, of course, it all depends on your skillset, mindset, career aspirations and employer.
What Are the Different Retail Banking Jobs?
There are far more retail banking jobs than you'd realize. Below is a list of some of the more commonplace banking roles:
Customer services representative (most often at a branch and the first point of contact for customers)
Local branch manager (overseeing day-to-day activities and with people management responsibilities)
Area branch manager (responsible for the management of more than one branch)
Retail banking analyst (uses data to champion innovation and help create new financial products)
Financial crime investigator
Complaints handler
Mortgage or investments advisor
Compliance consultant/officer
Foreign exchange consultant
There are more roles besides those mentioned above. However, these tend to be the main ones.
Entry Requirements for Retail Banking
At most retail banks, to apply for a banking position, you'll need a bachelor's degree (graduating with a GPA of approximately 2.7 or above, or a 2.1/2.2 undergraduate degree in the UK).
Although retail banking recruiters accept a degree in almost any discipline for entry to graduate schemes, those with the following degrees may have an advantage:
Economics
Business studies
Banking and finance
Financial services
Computing
Most retail banking employers will also expect you to have strong high school scores in math and English, so higher education qualifications alone may not be enough.
What Skills Do Retail Bankers Need?
Retail banking is a fundamentally customer-driven sector. Therefore, candidates with good quality communication skills tend to be highly regarded by potential employers.
Additionally, you'll also be asked to evidence at the interview, your:
Strong customer service skills
Appreciation and ability to meet set targets
Understanding of retail banking legislation
Ability to inspire, nurture and manage others (important if you are looking for a management scheme)
Commitment to continuous learning
Willingness to be flexible (more on this in a moment)
In terms of technical skills, you will also need to pass a series of commercial banking financial exams to work in retail banking, and these vary from state to state.
What Else Will You Need To Consider?
You must be incredibly flexible if you want to have a successful career at a retail bank. Indeed, in your first few years, you may not get too much choice about where you are based. So, you must expect to move around a fair bit between branches.
Of course, depending on your chosen bank, you may be able to state where you'd be willing to travel or move. However, it's not always guaranteed, so this is worth keeping in mind before applying for a position.
Constant learning and keeping up to date with banking regulations is also a must for anyone working at a retail bank.
Therefore, there will be times when you'll be studying while working and this can trickle into your time outside of work. However, retail banking is certainly a great career for those looking to climb the career ladder quickly.
After all, we will always need banking, even if the landscape is forever changing.
Final Thoughts
With the average salary for retail banking being $51,725 a year, there's quite a lot of scope for a promising career.
If, for example, you are particularly ambitious and make it into central management, you can easily expect to earn a yearly salary of over $100,000.
A career in retail banking is a career for life. How you get there, though, and at what pace, is entirely up to you.
---