Top 10 Recognized Finance Certifications (US)
Whether you are planning to establish a new career in the finance industry or advance your existing career, you will need qualifications that prove your expertise in your field of work.
Apart from specific financial sectors, you may even need a finance certificate if you work in other sectors, such as retail.
A finance certificate can add value to your CV and help you obtain expert-level work positions.
It's important to look into several types of qualifications to see which one is best suited to you.
What Is a Finance Certification?
A finance certificate is a document that validates knowledge attained in a specific financial niche. Continuing education is a must, as the financial industry is expansive and changes rapidly with the advancement of technology.
A certificate can be earned through either short-term or long-term courses, followed by an exam on which you need to achieve the minimum grade required.
If you hold a certificate, it can show your potential employer or clients that you possess sharp financial skills and the capability to apply them in your chosen line of work. Due to the sensitive nature of financial matters, you must also abide by strict ethical standards and a certificate can attest to this.
Most recognized finance certifications in the US offer proof of practical skills and knowledge that goes beyond your current work experience on your CV. This is often tied to a specific niche, making the documents even more valuable.
Careers in finance can include risk analysis, investment management, accounting or trading. The certifications valued in each sector show the same diversity and can encompass a wide array of qualifications.
Similar to accounting certifications, a certificate in a particular financial sector will help you to properly position yourself on the market.
This will result in finding the job that fits your skills and meet your needs. It also enables clients looking for financial specialists to locate a professional who meets their exact requirements.
Are Finance Certifications Valuable?
Obtaining niche-specific finance certifications can indeed be valuable to use in your career. The following examples highlight the importance of having the appropriate qualifications in the finance industry.
Verifying Your Knowledge and Skills
Whether you are embarking on a new financial career path or have just graduated, your potential employer will first look on your CV for proof of your aptitude in the finance field.
There is no better way to demonstrate your skills and knowledge in a specific finance sector than having a document that confirms it.
As with business certifications, obtaining a finance certificate can show that you understand industry practices and can apply them.
The certificate you are getting may also indicate your readiness to become a top professional in your field.
Moving Into Another Sector Within the Finance Industry
Most certificates and degrees in finance often apply to specific sectors. If you already have a certificate or degree but are planning to move into another niche, make sure you check the requirements in that area.
Depending on the type of qualifications you need, they can take several months to gain.
Fortunately, there are several options for part-time scheduling and finance certifications online, so you can acquire your qualification while working at least part-time. This cuts down your expenses, allows you to earn a salary and still advance your career.
Seeking Certification to Obtain a Promotion
If you work in a professional industry, but not necessarily in finance, your employer may offer a promotion that require a little more financial aptitude than you currently possess.
The best way to secure this promotion is by showing your boss you possess the dedication you have to advance in your career.You can do this by earning a certificate that provides you with the knowledge to competently fulfill the requirements of the role.
The more extensive the course is, the more it shows commitment, builds trust and credibility.
When used alongside the practical knowledge you already possess, a finance certificate can create a combination your employer will definitely value.
Top 10 Recognized Finance Certifications
There are plenty of recognized financial qualifications across the US. Some of them are only relevant for national affairs, while others qualify you to work on international finance matters too.
Here are some of the best financial qualifications that can help you in your career.
1. Certified Financial Planner (CFP) – Financial Planning Standards Board (FPSB)
The Certified Financial Planner certification is recommended for those who already work in the financial planning sector and wish to advance their careers.
It takes 18 to 24 months to complete the course, after which you must pass a competency exam, which covers subjects such as:
General finance principles
Risk management
Investment and tax planning
Professional conduct
Requirements for taking the course include having a bachelor's degree or higher, passing a background check, and having at least 4,000 hours of supervised work experience.
You will also have to become a member of the CFP, for which there is an annual fee of $325.
The exam and application fee is around $800 per exam. After obtaining your CFP, you must complete 30 hours of continuing education every two years to retain your certificate.
2. Chartered Financial Analyst Certificate – CFA Institute
The Chartered Financial Analyst Certificate is suitable for those who work in the investment sector, including stock analysis and institutional money management.
After studying the course curriculum, you must pass three exams to test your aptitude in applying investment tools, asset valuation and portfolio management. On average, it takes at least 300 hours to prepare for each exam.
The entry requirements for getting a CFA certificate include at least three years of unsupervised work experience and a high level of English proficiency.
You must also hold a bachelor's degree or be close to obtaining it. To earn and maintain your certificate, you must become a charter holder at the CFA Institute. Depending on when and where you register, your costs of getting a CFA charter can vary from 3,000to5,000.
3. Chartered Life Underwriter (CLU) Certification – American College of Financial Services
The CLU certification provides you with an in-depth understanding of life insurance law, life insurance underwriting concepts and risk management within this area.
It requires you to study an eight-course program. However, you can proceed at your own pace and tailor your education to your requirements.
Out of the eight finance certificate programs, five are core courses. You can choose the other three to fit your intended career.
The requirements include three years of business work experience and agreement to comply with the American College Code of Ethics and Procedures.
The costs of getting the certificate can range between 5,000and6,500. This includes necessary material for the self-study model, exam fees and integrative support.
Participation in the annual Professional Recertification Program (PRP) is obligatory to keep the certification.
4. Certified Public Accountant (CPA)
The Certified Public Accountant (CPA) certificate is granted to licensed accounting professionals. It proves you have the ability to put together and review financial statements and maintain financial transactions for companies.
While the process of certification varies by state, in all of them, you must complete 150 hours of education and pass the Uniform CPA Exam to get your CPA license.
To qualify, you must meet the educational and work requirements, and hold a bachelor's degree in either accounting, business administration or finance. Having two or more years of public accounting experience is also mandatory.
The CPA Review Course costs 1,500to2,000, while the registration and exam fee is around $1,000 for each exam.
5. Certified Valuation Analyst
For those seeking a position as a merger and acquisition consultant, financial officer or investment analyst, earning the Certified Valuation Analyst designation is a must.
This will require you to pass a multiple-choice exam, complete a case study and submit a comprehensive business valuation report within 180 days.
You can take advantage of the five- to six-day intensive course that can help you prepare for the exam.
To obtain your certification, you must have a business degree and two to three years of work experience in business valuation.
References will also be required along with membership with the National Association of Certified Valuators and Analysts (NACVA).
Total entry and examination fees are around $2,300 per exam. To maintain your certificate, you will need to complete a minimum of 36 hours of continuing education.
Frequently Asked Questions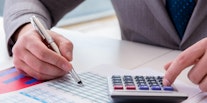 Top 10 Recognized Finance Certifications (US)
6. Financial Risk Manager – The Global Association of Risk Professionals (GARP)
The Financial Risk Manager credential can provide you with the skills and knowledge needed to conduct risk management in financial organizations and regulatory agencies.
After gaining knowledge about finance theories, risk management concepts and the application of risk management tools, you must pass a two-part exam, both sections consisting of multiple-choice questions.
Some of the prerequisites include at least two years of professional experience in the financial risk management field and a comprehensive management portfolio.
Enrollment for individual candidates costs around $1,000, while businesses may be eligible for discounts. GARP's Continuing Professional Development (CPD) Program is recommended.
The annual membership fee is $150, or it is free of charge for affiliate workers.
7. CPEP Certification – US Private Equity Council
Earning CPEP certification can enhance your current aptitude in finance, accounting business or investment management.
It's recommended for anyone wanting to establish a path of professional growth in the private equity and venture capital industry.
After an easily tailored self-preparatory process, you must pass a qualifying exam.
To qualify, you must hold an MBA or master's degree in finance or accounting and have at least two years of experience, or a bachelor's with a major in finance or accounting with at least three years of professional experience.
A CFA or being enrolled in an MBA or master's program in business schools and institutions can also get you qualified.
The certification fee is currently $775, and it includes registration costs, a comprehensive study and exam preparation kit, a digital badge and a printed certificate upon completion.
8. CMA Certification – Institute of Management Accountants (IMA)
Professionals with a Certified Management Accountant Certification show expertise in accounting and financial management in the corporate sector.
A two-part exam will determine your competency in decision analysis, corporate finance, performance management and more.
While the course and the examination schedules are flexible, you must pass both parts of the exam within three years of each other.
The most important entry requirements for getting a CMA certificate include holding a bachelor's degree or Professional Accounting Certification, at least two years of work experience and a valid IMA membership.
The overall costs of the exam are around $1,700.
To maintain your certificate, you must complete 30 hours of annual continued education.
9. Certified International Investment Analyst – ACIIA
The Certified International Investment Analyst title is an indicator of your knowledge of corporate finance, economics, portfolio management, fixed income valuation and analysis, equity valuation and analysis, and more.
You must pass a three-tiered exam which includes an in-depth essay and case study questions regarding national or regional legal and regulatory topics.
You will have three years to pass all parts of the exam.
The prerequisites are three years of professional experience in portfolio management, financial analysis or investment, and membership in a participating national or regional society.
While there is no re-certification process, continued education is recommended.
The total costs of certification are between 1,000and1,300, which includes application fees and exam fees for all three parts.
10. Chartered Investment Counselor certification – Investment Adviser Association (IAA)
The Chartered Investment Counselor (CIC) title is given to professionals who show extensive skills and experience in the investment counsel industry.
You must pass five of the seven exams offered by the IAA. After completing your first exam, you have five years to complete the rest and earn the certificate.
There is no educational requirement for obtaining a CIC certificate. However, you must hold the Chartered Financial Analyst (CFA) designation.
To maintain it, you will also be obligated to fulfill the IAA's annual continuing education requirements.
You must work with an IAA member company for at least one year beforehand and have a minimum of five years' experience working as an investment adviser.
There is no application fee, but each course costs around $470.
Whether you are starting your career in finance by moving from another sector or you are just entering the financial job market, the certifications you need depend on various factors.
Your planned career path and your previous education will have the most significant impact on your choice of financial certificate.
The most in-demand finance certifications in the US are the ones that offer the prospect to gain specialist knowledge in financial functions in the digital age.
Compliance or risk management specialization courses are also highly sought after.
Not all employers require a finance degree from their new employees, but many often encourage applicants who have one by offering incentives such as a promotion or paying for the finance certificate programs.
If you don't have a finance degree, you will need to have relevant work experience and a certificate that proves your aptitude in the financial sector.
This depends on several factors, including the course you are attending, your schedule, budget and your willingness to put in the hard work.
Some certificates can be earned in just under three months, while others can take up to 24 months.
You may also be provided with a specific number of hours to complete your course, which you may distribute over a convenient period of time.
Final Thoughts
Finance is an incredibly competitive industry, and professionals working in this sector must possess and maintain specific skill sets.
That said, the industry offers a variety of career options in banking, tax services, risk management, investments and more.
Fortunately, there are many finance courses that can be studied part-time or online, so you can earn your certificate while maintaining your current role.
Whether you are looking to secure a promotion or are beginning your financial career, the certifications mentioned in the article can help you obtain your goals.
Before applying for any of these courses, it's a good idea to look into the certificates that may be required for your dream job.
---