What Is a Training Contract? Updated for 2022
A training contract is a compulsory period when an employee must undergo a fixed training period.
The term is usually applied to positions in the field of law.
If you have ever worked as a solicitor, a lawyer, or in any legal practice, you have likely had to complete a compulsory training period.
Law firms typically treat a training contract as an apprenticeship. An individual working within this field must gain the right experience before they become a fully fledged lawyer or solicitor.
Legal training contracts are primarily used in the UK, Australia, Singapore, Ireland and Hong Kong. They are an assured way to provide a prospective legal advisor with the right skills. They usually encourage hands-on experience, giving the right candidates vocational experience.
Those undertaking training contracts are referred to as a trainee in their field. For instance, someone undergoing a training contract as a solicitor will be referred to as a 'trainee solicitor'.
In this article, we will discuss the requirements you need to obtain a training contract and the terms and conditions you must abide by.
In addition, the top training contracts are outlined as well as the best opportunities for graduates and students.
Training Contract Requirements and Specifics
Before choosing a training contract, both candidate and employer need to fulfill certain requirements.
Employers should take the time to find out what their organization needs from trainees, so that they choose the right type of training contract.
Prospective trainees should carefully read the terms and conditions of any contract they are considering. As the application process can be rigorous, pay careful attention to the requirements and timeframes.
Terms and Conditions
Training contracts will run for a specific length of time, and this must be included in the contract. Otherwise, it won't be clear to the trainee how long they will be contracted for.
Law training contracts usually run for around two years, and this will be under the supervision of a qualified professional. For other industries, the timescale may vary.
Before signing any contract, discuss the expected timeframe and the specifics of the practical training to be given.
Most training contracts follow the Legal Practice Course (LPC) and Professional Skills Course (PSC).
Once the vocational training is completed, those enrolled on a training contract will typically sit an examination.
These examinations determine whether you can officially be admitted as a legal advisor. Passing these examinations allows the candidate to practice in their respective law field.
Contracts differ with each law firm, but the general framework should abide by the guidelines presented by the Solicitor's Regulations Authority (SRA)
In addition to these basic standards, like all employment contracts the terms and conditions should outline the following:
The hours you are expected to work and the pay you will receive
The location
Any stipulations regarding holiday and sickness
Disability and inclusivity clauses
Personal Requirements
Your academic capabilities will be the first measure of whether you are suitable for a training contract.
As training contracts are limited – there are only between 5,000 to 6,000 positions each year – you must have a strong academic record. Only 18.3% of graduates receive offers for training contacts, so ensure that you have the right academic requirements in place.
In the field of law, you must have graduated with at least a 2:1 to be deemed suitable.
It is possible to be accepted onto a training contract with lower grades, but you will need good work experience and a strong explanation of your grade.
You must also have a strong resume. Any prior work experience in a relevant or professional field will serve you well.
Consider whether you have any criminal convictions or legal discrepancies. As training contracts primarily apply to legal fields, it is expected that those entering these professions have no serious convictions.
To test your character, most legal firms will run a suitability test. The SRA administers these tests to determine the following traits:
Criminal offenses
Discriminatory beliefs or opinions
Cheating or plagiarism
Financial discrepancies
Any previous disciplinary breaches
Finding the Right Contract
Choosing the right contract depends mostly on the field in which you want to specialize.
As discussed above, law firms tailor their training contracts to the services they offer. If you want to become a human rights lawyer, the requirements will differ from a training contract for a firm specializing in marriage and divorce.
Focus on your career goals. You may want to use the training contract as a springboard to a certain law firm or company. Depending on your expertise and interests, choose a firm for your traineeship that matches the career you desire.
As most of the contracts are designed around LPC and PSC standards, look towards your referrals to determine what your best skill set is.
Identifying what others have said in previous positions of employment and in academia will help you choose the most suitable contract.
You must also consider the level of pay you will receive with the contract. If you consider pay to be more important than the training you will receive, navigate your applications toward the more financially rewarding positions.
Bear in mind that training contracts usually pay less than positions for fully qualified employees. Do not expect training contracts to be as lucrative as other positions.
The major incentive of training contracts is to distinguish the most appropriate individuals to work in the field of law.
Ending a Training Contract
After completing your training and the tests at the end of your contract, there are two ways in which a training contract will end.
The first way is the preferable offer of a position, most likely a full-time contract to work for the law firm where you carried out your training. Like the training contract, this offer will include the basic requirements of pay and working hours.
You will also receive admission to the SRA roster and you will be able to begin applying your practice. Depending on your preferences, you can accept the firm's offer, look for jobs elsewhere or begin to build a career as an independent representative.
The second way your training period will end is with a rejection. As disheartening as this may be, it is not uncommon and there are many ways to deal with the scenario.
Firstly, if you are unsure why you have received a rejection, it is worth asking the employer. Understanding where you can improve may be a valuable step in your career in the long run.
If you want to still pursue a career in law, or the profession for which you received the training contract, you can begin preparing another application.
With the experience you have built up, you are more likely to succeed the second time around. Most careers are built upon the willingness to revise and learn from previous mistakes.
The time spent completing a training contract may also serve you well in finding a career in another area. For instance, careers in paralegal fields rely upon knowledgeable individuals.
Bear in mind that the largest firms usually require applications to be filed two years in advance, so plan your time wisely when considering submitting an application.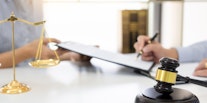 What Is a Training Contract? Updated for 2021
Top Training Contracts: A List
Regional Law Firms
These types of contracts suit individuals who have an in-depth knowledge of a certain geographical area. They are great for people interested in the legal procedures of a county or a state.
Typically, regional law firms offer a good work-life balance. The location is often fixed, and you will be concentrating on one area.
If you are successful after your training contract, you will have a level of expertise in a certain area that is hard to find elsewhere.
Property law and council law often fall under this category.
International Law Firms
If you are seeking a career with an internationally established law firm, prioritize finding contracts offered by international firms.
Work for international law firms will be more diverse. You will have more opportunities to work with national and globally reaching organizations, but gaining expertise in these areas is harder.
It is hardly surprising that your location may not be fixed. International law firms like the DWF Group have offices across the UK and Europe.
You may be asked to move house, or commute to different locations. If this lifestyle appeals to you, finding a contract with these types of firms could be the perfect choice.
City Law Firms
Like regional law firms, city law firms operate in a fixed geographical area.
City law firms tend to be located in large metropolitan areas, where the city itself exerts a strong influence, not only nationally but internationally. London, New York, Chicago and Paris are classic examples.
However, you can also find city law firms in smaller built-up areas.
If you have a special interest in a specific city, finding a contract with a city law firm is a great way to pursue this.
Rural Law Firms
Do not be discouraged if you find the city and international lifestyle overwhelming. Rural law firms are a viable way to specialize in non-urban areas.
Rural law firms tend to be smaller and operate within a small population. Small law firms are often referred to as boutique law firms.
These types of law firms are a great way of working directly with people within a specific population. Most legal advisors in this sector specialize in more personal legal administration.
Having an interest in marriage, will writing and solicitor work can stand you in good stead in a rural or boutique law firm.
Other Firms and Professions
As already discussed, law firms are not the only organizations that use training contracts.
Business schools have started to use the same framework to find suitable candidates. Local councils and government bodies also use training contracts.
Any corporation that deals with difficult administrative and legal procedures are likely to offer training contracts.
Keep your eyes open for opportunities for training contracts in these types of professions. Just as for law firm training contracts, ensure that you have a good academic record and relevant work experience before you apply.
Final Thoughts
Training contracts are offered to graduates and students specializing in the field of law. However, as most professional positions require specific skills and talents, they are also used in other fields.
They are hard to obtain and even harder to finish, but they are the best gateway for a prosperous career as a solicitor or a lawyer.
During your undergraduate degree, begin preparing your resume for application and identify what field of law you want to specialize in.
If you approach a law firm with a clear pathway, they will be more likely to offer you a contract, and they can provide you with the right training to succeed.
---