Best Motor Trade Insurance in 2022
The motor trade industry includes a wide range of diverse businesses, such as motor dealerships (both new and second-hand), repair and maintenance garages, motor vehicle restoration and vehicle-valeting services.
Whether a motor trade business works from a static base or travels to the customer, motor trade insurance is required to cover the employer and their workforce to drive or carry out work on vehicles that are owned by customers or the business itself.
Other types of business that the motor trade also encompasses include:
Scrap yards
Breakdown and recovery
Repossession
Vehicle delivery
Parking of customer cars
Sellers and fitters of vehicle parts and accessories
Any business that has care, custody and control of customer vehicles
If a business buys, sells, repairs, maintains, valets or drives vehicles, motor trade insurance is a legal requirement in the UK, accompanied by registration on the Motor Insurance Database (MID).
For motor trade businesses outside the UK, it is advised to check any legal requirements for insurance with the relevant local authorities.
Top Picks for Motor Trade Insurance Policies
Your motor trade insurance protects your entire business, from the work you carry out on vehicles to the premises you work from, so it is important that you choose a reputable insurance provider. Here are our top picks for 2022.
Most of the following are UK insurers, but you will also find top picks for businesses in the US too.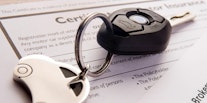 Best Motor Trade Insurance in 2022
Partnered with the Go Compare comparison site, Swinton is also highly rated on Insurify.
Swinton covers all the key areas for an insurer, including motor trade cover, and has been in business for over 60 years.
Its motor trade policies are available in comprehensive, third party fire and theft, or third party only cover.
Countries covered: UK
Quote Me Today is also partnered with Go Compare and has an expert team of motor trade insurance advisors to handle your quotes and queries.
Quote Me Today pulls from a wide range of insurers to get you the best deal for your business insurance.
Countries covered: UK
Similar to Quote Me Today, One Call Insurance pulls from a range of UK insurers to find the best policy for your business.
Established in 1995, One Call Insurance receives a 4.5+ rating on most review sites such as Trustpilot. Its business insurance is catered to the specific type of business you run.
Countries covered: UK
Tradex is the trading name of Clegg Gifford, which started out in 1968 as a general insurer.
Since then, the company has established a strong reputation as a motor trading insurance specialist.
Countries covered: UK
Gallagher offers a wide range of business-related cover, including motor trade insurance.
Gallagher's dedicated motor trade team are happy to advise all sizes of motor trade businesses, from sole traders to large companies.
Countries covered: 150 countries globally, including the UK and US
Established in 1904, Sentry offers a wide range of commercial cover for an even wider range of sectors, including the motor trade industry.
You will find insurance information on its website for car dealerships, haulage and many motor trade services.
Countries covered: US
The American Automobile Association (AAA) is a federation of motor clubs based in the US.
As a motor trade business owner, you will find a range of AAA insurance policies ranging from vehicle and driver insurance to commercial cover.
Visitors to the website are asked for their US zip code so that they can be directed to their local AAA insurance advisor.
Countries covered: US
Rated highly on US comparison site, Insurify, USAA offers a wide range of coverage, including an extensive range of commercial insurance that is suitable for a motor trade business.
With a good reputation for pay-out and a community approach, USAA specialises in offering its commercial products to small businesses.
Counties covered: US
Best of the Rest
You may also like to consider the following insurance companies for your motor trade insurance:
What Do the Best Motor Trade Insurance Policies Cover?
A motor trade insurance policy will protect your business against a range of hazards and risks.
The best motor trade insurance policy will cover your business for the following:
Damage to a Vehicle on Your Premises
This damage may be caused by:
A collision between two vehicles
Collision with some other item, such as a wall
A person entering the premises for criminal purposes, such as theft
Fire or flood
The motor trade insurance policy should cover you for all the above situations and any other scenario that leads to the damage of a vehicle on-site. This may be a customer's vehicle or one that belongs to the business.
Road Risk Policy
A road risks policy covers you and your employees to drive vehicles belonging to the business and those belonging to someone else, like a customer, on public roads.
This might be to deliver a car to a customer, repossess a vehicle or to drive a company-owned car for business purposes. The reason for driving the vehicle must be related to the business, such as delivery or recovery.
The policy insures the driver and vehicle against any hazard they may encounter off-site, such as a collision.
You should, however, check the requirements for personal driving insurance in addition to road risk cover.
Claims Made Against the Business and Employees
Your motor trade insurance policy should also protect you, your business and your employees against any claim that may be brought against you.
This protection of you and your employees, however, is only in relation to the business. This could be claims made by customers or by general members of the public.
Reasons for these claims might include the use of defective parts when repairing a vehicle, theft of an item that was stored in the vehicle during repair or an injury that takes place on the premises.
This element of the policy will generally be provided by employers liability insurance if the business employs staff, public liability insurance and product liability insurance.
Business Premises Cover
If you work from a business premise – for instance, a repair garage site – then you should protect your work-base as part of your motor trade policy.
This will guard against damage to your premises that will be costly to repair, especially where that damage may prevent the business from operating.
Fully Comprehensive Options
Motor trade insurance is available in three formats:
Third party only
Third party, fire and theft
Comprehensive cover
While third party motor trade insurance is usually acceptable for UK legal requirements, the best motor trade insurance will generally be at comprehensive cover level.
What Else?
It is important that your motor trade insurance fits your business's individual needs.
Other than what is discussed above, you might also need:
Breakdown insurance
Cover to drive abroad
Personal accident and sickness
Insurance for haulage of goods
Business interruption
Stock and asset cover
How to Reduce the Cost of Your Motor Trade Insurance
You want to get the best policy that covers your entire business needs, but you also want to keep the price as affordable as possible.
While using comparison sites can help, there are other ways you can reduce the cost of your motor trade insurance.
Only Buy What You Need
It can be tempting to cover every eventuality, however unlikely, just to give yourself peace of mind. Or you might find yourself buying a package policy from a recommended provider that has lots of unnecessary extras.
For instance, if your business only handles standard cars, make sure your policy reflects this.
Do not pay extra money for a policy that charges more for covering specialist vehicles, such as HGV vehicles.
Keep the cost of your motor trade insurance down by only buying the cover that you need. It might take a little more time to find the exact policy and provider, but it will be worth it when you see the end cost.
Safeguard Your Premises
If your motor trade policy includes cover for your business premises, you can reduce the cost of that element by making sure that your worksite is secure and guarded.
For instance, you may wish to install security cameras and an alarm, lock up the site outside business hours or even limit public access to portions of the site.
Expensive parts could be locked away to guard against theft. Hazardous materials should be stored in a way that limits risk.
Carrying out a regular health and safety assessment goes hand in hand with safeguarding your premises too.
Limit the Vehicles on Your Policy
Limit the number of personal vehicles you include on your motor trade policy. Can these be insured separately or more cost effectively?
It may take extra time to look at all the insurance options for the vehicles involved in your business and that you drive personally, but ultimately you will end up with the best price for you and your business.
Use Experienced Drivers With a Clean Licence
You can reduce the cost of your motor trade insurance by employing drivers who are experienced and have a clean driving licence with no points or penalties.
This will not only cut the cost of your insurance policy, but it can also be used to reassure customers that their vehicles are safe in your hands and to build your business reputation.
Apply for a Higher Excess
The excess is the portion of your claim that is not paid back to you. This means that you are responsible for paying this amount.
If you have rarely made claims in the past and feel that you are unlikely to make many claims in the future, then you may wish to volunteer to have a higher excess on your policy. This may reduce the overall cost you pay for motor trade insurance.
However, if you have made several claims in the past and see your business as high risk, this is not the right option for you.
Claim Wisely
Obviously, you buy insurance to protect your business and so that you can claim back the costs incurred by a vehicle collision or a claim made against you.
However, the more claims you make, the higher the cost of your insurance will be, regardless of how large or small those claims are.
Before you make a claim, consider whether you need to make that claim for legal or financial reasons. Remember that there is an excess in place, even if it is a low amount.
This will affect how much money you will receive in response to your claim. There is also your no claim bonus to bear in mind.
Deciding whether to make a claim is a balancing act between what you will gain (the amount of money you are paid by the insurance company) and what you will lose (excess, no claim bonus and how much the price of your motor trade insurance policy increases by).
What Else?
You might also like to consider:
Paying for your cover annually, instead of month by month
Purchasing your insurance from a motor trade insurance specialist
Using the no claims bonus from your personal insurance
Building up your motor trade policy no claims bonus
Reviewing your insurance annually and shopping around for the best deal
Using accurate vehicle values; remember that their value will depreciate each year
Checking the different levels of cover – third party only, third party fire and theft, and comprehensive cover
Placing the responsibility for paying insurance excess on your drivers, should they be involved in an incident that leads to a claim
Considering the location of your business premises; a high risk location will increase the cost of your motor trade policy
Removing vehicles from the MID as soon as they are no longer used; the number of MID registered vehicles will affect your motor trade insurance costs
Keeping the number of drivers on the motor trade policy as low as possible; each driver not only adds to the cost, but their personal driving history also has an impact
Frequently Asked Questions
A motor trade vehicle is any vehicle owned by the business or a customer that you interact with within your motor trade business. It could be a car you buy or sell or a customer car that you work on.
Your own car is only covered by your motor trade insurance if you actively include it in your policy.
If you wish your personal car to be covered by your motor trade insurance, then you must ask your broker to add it to the policy. If you do not, then your car will not be insured as part of your motor trade insurance.
However, it is always worthwhile to compare the costs of including your personal car in your motor trade insurance policy against taking out separate car insurance.
If you meet the eligibility for a motor trade business, then where you work does not matter. You still need to have motor trade insurance.
A motor trade business carries out any of the following on customer vehicles or their own vehicles:
Driving and parking
Buying and selling
Repair and maintenance (including MOT and valeting)
Alterations and renovation
If your business is doing anything to motor vehicles, then it is part of the motor trade industry, whether you work from a business premises or your home.
If you meet the eligibility for a motor trade business, then the number of hours that you work is of no concern. You must have motor trade insurance in place.
If your business is concerned with motor vehicles, be that driving those vehicles, carrying out repairs or any of the tasks mentioned in the previous question, then you are a motor trade business and must have the necessary insurance.
For an overall motor trade policy, 24 years old is the minimum. You may be able to buy motor trade insurance when you are aged between 21 and 23 years old if you repair and maintain motor vehicles.
However, you will not be able to buy motor trade insurance at that age for buying and selling vehicles. You may also find that the cost of motor trade insurance for a 21 to 23 year old is more expensive than for an older motor trade professional.
The insurance industry sees drivers under 25 years old as less experienced and more prone to accidents. Hence, they are more likely to make insurance claims.
This higher risk is reflected in the higher cost of insurance for this age group. This attitude to young drivers is the main reason why anyone under 25 is advised to gain experience by working for someone else in the motor trade industry before they start their own motor trade business.
If you have a motor trade business, motor trade insurance is necessary. In fact, it is a legal requirement in the UK that you have motor trade insurance and are registered on the MID.
Motor trade insurance protects you, your business and the people who work within your business.
There are four main factors that will affect how much you pay for your motor trade insurance.
These are:
The drivers included in your policy – their levels of experience, driving qualifications, driving history and whether they have a clean licence
The location of your business, regardless of whether you work from home, on the road or have a business premises
The type of motor trade business you run and the activities involved
The type of motor vehicles that you work on within your business
---