Best Last-Minute Websites for Booking Flights
All products and services featured are independently selected by WikiJob. When you register or purchase through links on this page, we may earn a commission.
OneTravel was launched in the mid-1990s from a barn in Pennsylvania. One of its biggest draws is the 24/7 customer service.
OneTravel specializes in business-class travel, with special consideration for senior and student travel options. You can find cheap, last-minute flights as well as hotels and complete holiday packages.
You can choose a preferred airline as part of your search, and look at the different options available based on the class of travel – last-minute flights are sometimes available in first class and business class.
Once you choose a destination, you can look at a calendar that lists the lowest price for each day over a two-month period, making it easy to choose the cheapest day to travel.
The Expedia Group is a travel behemoth that includes 20 brands and more than 200 travel sites – a real development from their launch in 1996 as one of the first online travel agents.
Expedia has a great reputation for finding amazing package deals, where buying flights, car hire and hotels together will save you money.
The search function for Expedia's last-minute flights includes searching by departure and destination as well as date, and there are special deals available every day based on the flights that are under capacity. You can also use filters to narrow down your search.
The huge reach of the Expedia Group means that users can take advantage of a really wide range of travel options, and there is a rewards scheme available for regular users.
Founded in 2005, CheapOair is part of the wider company Fareportal, and uses intuitive and innovative technologies to make finding travel options easier.
With both a website and a mobile app available, CheapOair allows passengers to book flights, hotels, car hire, and even packages and activities using a simple search function.
Choose your departure airport and destination, whether you want to book a return or one-way flight (there is also an option for multi-city) and the dates you will be traveling. State how many passengers and whether you want to travel coach, premium economy, business or first class.
The results returned are listed in price order, and you will also see recommendations for potentially cheaper dates and airports or flights that are shorter or faster as well. The prices shown are all in, including fees and taxes per person.
If you are not ready to fly just yet, you can sign up for price alerts to be notified of any last-minute deals or exclusive discounts to certain locations.
CheapOair also offers a reward scheme for booking through its site, and a credit card backed by VISA that earns reward points on travel, dining and other purchases.
With headquarters in California and a staff of 125 travel enthusiasts that are 100% US-based, CheapAir is a progressive and technology-driven flight comparison site for expert travel advice, deals and inspiration.
Originally established in 1989, CheapAir has sold more than five million airfares and uses a proprietary shopping engine to search for the best deals available online, including last minute and first-class options.
CheapAir has many payment options – not only does it offer a monthly payment system, but it also began accepting bitcoin as payment for flights back in 2013, and it now accepts Litecoin, Bitcoin Cash and Dash, as well as fiat currency.
The search engine itself has similar options to other sites – you can select the basic information like departure and arrival point (by airport or city) and whether you are looking for a one-way or round-trip ticket. There is also an option to find multi-city travel tickets too.
Once you have selected your preferred dates, you can choose the number of travellers and the class – including economy, premium economy, business and first-class.
The results are loaded with the cheapest options first, but you can refine the choices by other class options, airlines and whether there are any stops. The results also show you what amenities are available on the flight.
FlightHub has lofty ideals as a place to find flights – describing the business as being 'founded on the principle that broadening travel possibilities and connecting people across borders increases human consciousness, reduces fear, and inspires positive change.'
Established in 2012, FlightHub is a place to find the cheapest deals in Canada on flights and hotels, using a simple search engine with the benefit of a map to help you decide on your preferred destination.
To begin the search, just choose your destination and departure airport or city, and the number of passengers that are travelling.
You can use the pop-up calendar to choose your dates, and decide in which class you want to travel, including economy, premium economy, business and first-class.
If you aren't ready to travel just yet, you can sign up for fare alerts to your chosen destination, to get the first look at new deals and last-minute bargains.
The results are shown starting with the cheapest, but you can also filter by the shortest or most direct. All prices shown include taxes, and you can see at a glance what the onboard amenities are with each flight. If you have a preferred airline, you can show flight options specifically from them.
Skyscanner was founded in 2003, and what started as a simple flight search engine has become a global leader in travel, helping 100 million people around the world through the app and website every month.
Covering deals on flights, hotels and car hire as well as package deals, Skyscanner's mission is to "lead the global transformation to modern and sustainable travel" through their search engine.
Skyscanner has an 'everywhere' search function, as well as the ability to search for flights using a 'whole month' and 'cheapest month' option.
You can sign up for price alerts on specific flights, so you are emailed when prices change.
Whether you have the app on your smartphone or you use the website, there are last-minute deals available that change every day.
Launched by Google in 2011, Google Flights is part of the Google Travel web app which is a complete trip planner service. The flights part of the service allows for airline tickets to be bought through third-party suppliers.
With Google Flights, you can search for destinations by continent as well as by city or airport. You can also start with a departure airport and use a map to identify the cheapest destinations.
Choosing a destination allows you to see a graph that shows the cheapest (and most expensive) days to fly.
As Google Flights allows you to book through a third party, you can earn airline rewards as if you were directly booking through the airline.
This service is simple to use, but some of the price details can be a little out of date compared to other search sites, so it is worth double-checking prices before booking.
Kayak is a multinational travel company that is more than just a metasearch for travel options. Covering seven international brands that focus on excellent customer service and making it simple for travelers to make the best choice, Kayak is a long-standing leader in last-minute flight booking.
Founded in 2004, Kayak actively searches through hundreds of travel sites to find the best deals on flights as well as hotels, car hire and discounted holiday packages.
As you search for a last-minute flight, you can choose to look for a specific date, a weekend to travel, or extend the dates to the current month and next month. You can also use multiple filters to narrow the search parameters.
Kayak has a sturdy email notification system for price alerts, so it is worth setting this up. You can also get special offers sent directly to your inbox that aren't always available to everyone.
StudentUniverse is a website dedicated to finding deals and discounts for students. To this end, they offer a metasearch engine for low-cost flights.
Flights on this site are aimed at students and those under the age of 26, with discounts available from certain airlines on certain flights. StudentUniverse works directly with 90 major airlines to get the best discounts.
You can search for particular flights, destinations, departures or dates, or you can choose to be more flexible about when you travel. All classes of flights are available to students, with the StudentUniverse discount available.
Searching over 900 travel sites for the cheapest last-minute flights, Cheapflights is part of the Kayak family.
Known as both a flight search and a general travel inspiration site, Cheapflights has a wide range of search functions based on flight details like baggage allowance and meals, as well as the departure airport and destination.
Much like the Kayak site, you can also search for flights on a specific date, any day, on a weekend or a full month.
If you can be flexible about your destination, you can also search not only by city, but by country.
Cheapflights also sends emails about travel deals and complete holiday deals.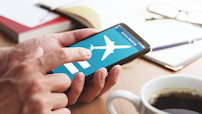 Best Last-Minute Websites for Booking Flights
Why Book a Last-Minute Flight?
People who are planning a break tend to fall into two distinct groups – those who book months in advance, and those who are more last minute. There are benefits to both approaches, and with the development of booking websites that search all flights from different airlines, as well as hotels, car hire and entire holiday packages, booking last minute can be simpler than you think.
Last-minute flights can be cheaper because flight operators obviously prefer to have every seat booked, even at discounted rates, than to have empty seats. Finding out which flights traveling to your chosen destination have empty seats on the dates that you want to travel is easy if you have a good flight search engine to hand.
Booking last-minute flights can be a gamble, as some flights may be overbooked rather than have empty seats. Leaving it too late might mean no flight at all, but if you can be flexible, you'll find it easier to find low prices.
Using a last-minute website to book a flight is the online equivalent of walking into an airport and booking the next flight to wherever it is going. It is an exciting way to get flights at a hugely discounted price, but it is important to remember that cheaper flights might not actually be as good a deal as you think – they might not include baggage, for example.
How to Get Cheap Last-Minute Flights
Be Flexible on Your Location
If you don't have a specific destination in mind, then you can use comparison websites to find cheaper flights.
Some booking websites have the option to search 'everywhere', while others can be narrowed down by continent or country.
If you have a hotel booked in a specific city, it might be cheaper to get a flight to a different airport and hire a car to travel to where you are staying rather than paying extra for a more direct flight.
Check Different Airports
Being flexible on your departure airport can be a great way to save on last-minute flights. There are often flights from multiple airports to the same destination.
Most websites offer the opportunity to choose your departure airport from a number of local options – such as 'all UK airports' – which can make searching easier.
Use the Month Search Tool on Comparison Sites to Find the Cheapest Deal
If you can't be flexible on your destination or departure location, you can use the 'month search' tool on some websites to see which days have the cheapest flight options.
There is also the option to search for the 'cheapest month' on some sites. If you can see that flights to your destination tend to be cheaper in a certain month, you can book to go there last minute in that month.
Follow Airlines on Social Media for Last-Minute Deals
Pinpointing specific flights that are not at capacity is a lot of work. One way around this is to follow airlines on social media, as they sometimes announce discounts and cheap flights.
Sign Up for Price Alerts
If you have a destination in mind, or a particular search you carry out regularly, most websites provide a price alert service so that you are updated when there is a change in cost.
These are often updated in real time, so you do need to be on the ball and ready to book to take advantage of the discounts.
Be Flexible on Timings
Flights that are overnight, very early in the morning, or include long layovers are often cheaper, so this is an important point to remember when looking for cheaper flights.
Going for unpopular departure times can be a great way to get to your destination without paying more.
Is Tuesday the Best Day to Check for Cheap Flights?
A popular internet rumor is that Tuesday afternoon is the best time to check for cheap flights. The story goes that some airlines announce their flight deals on a Monday evening, so by midday on Tuesday the other airlines are trying to match them.
There is no obvious truth to this, but it is true that flights tend to be cheaper if you depart on Tuesday, Wednesday or Thursday. Checking regularly, keeping up with price alerts, and following airlines are more reliable ways to get cheap flights, rather than relying on booking on a particular day.
Frequently Asked Questions
A last-minute flight is a flight that is booked very close to the time that the flight is due to take off. It can be a cheaper way to book a flight for a holiday or trip.
However, it can also be a bit of a gamble.
If you leave it too late to make arrangements, you might not be able to book a flight at all.
Many people find booking a last-minute flight exciting, but it is important to check that you are getting a good deal before spending any money.
You can buy last-minute flights from the airport, but you can also book them online.
There are many different websites to buy last-minute flights from, including OneTravel, Expedia, Skyscanner and Kayak.
Last-minute flights are not always cheaper. When booking, you need to read the small print carefully.
Some last-minute flights do not include an allowance for luggage, so you may end up paying much more when you arrive at the check-in desk.
If you can be flexible about your destination, departure airport or dates, you will probably be able to find a cheap last-minute flight.
If you are looking for a specific last-minute flight, you may find that the price is very high.
Flight prices tend to rise on the days leading up to departure. The airline will want the plane to be as full as possible.
As the day of the flight approaches, the number of available seats drops, so supply and demand kicks in and prices are increased to maximize revenue.
You can get last-minute flight deals at the airport or online. If you want to get the best deal on your last-minute flight, try to be flexible about your destination, departure airport, dates and timings.
You can find last-minute flights at the airport or online. To ensure the best possible price for your last-minute flight, be flexible on your destination, departure location, flight timings, dates and trip duration.
For the cheapest prices, it is best to book last-minute flights that are scheduled to depart on a Tuesday, Wednesday or Thursday.
Keep an eye on a range of different last-minute flight websites to secure the best deal.
If you book last-minute flights, you may find that they are cheaper. However, this is not always the case. It really depends on whether you can be flexible about your travel plans.
If it is July 2nd and you are trying to book a very specific last-minute flight (for example, a morning flight to New York from London Heathrow on July 3rd) you will probably find that the flight price is very expensive.
As the date of the flight becomes closer, the airline will want to make sure they sell as many seats as possible, so prices may drop in the weeks leading up to the departure date.
When there are only a few seats left, supply and demand kicks in and prices increase accordingly, as there are limited resources available.
Being flexible about your travel plans in terms of your destination, departure airport, flight times and trip dates is the best way to find a good deal on last-minute flights.
Many people believe that Tuesday is the best day to book last-minute flight deals. However, there is little truth in this.
Flights departing on a Tuesday, Wednesday or Thursday tend to be cheaper than flights departing on other days of the week.
The best way to secure a good deal is by browsing a range of different websites for last-minute flights. You can also buy last-minute flights at the airport, however, the choice will be more limited than if you book online.
Always read through the small print to find out what is included in the price quoted.
It can be better to wait last minute for flights, but it depends on your plans. If you can be flexible about your departure airport, destination or flight dates, you are more likely to be secure a cheap last-minute flight deal.
If you are looking for a specific flight, you may find that it is cheaper to book earlier on.
Final Thoughts
Finding the best last-minute flights is all about being in the right place at the right time, doing the research, and being prepared to be flexible.
While early booking for some flights might be cheaper in the long run, booking a last-minute getaway can get you a real bargain.
Be sure to follow different travel companies on social media, and be patient when searching for opportunities. Find a deal, and get ready for that perfect last-minute break.
---