How to Find Average Salary Information for UK Workers
We all like to think that we're paid what we're worth, but the truth is that for many of us here in the UK, it can be difficult to know if we are receiving the average salary for the work that we do.
Although we have effective minimum and living wage legislation that protects workers from being exploited, it is a fact that not everyone is paid a comparable wage.
They may be doing the same job in the same company, but if your job role isn't paid on a sliding scale, it can be difficult to know if you are being paid appropriately.
The reluctance to talk about salary expectations and a fear of talking openly and honestly about financial matters means that many workers may be unaware of what their peers may be earning.
There may be many reasons for discrepancies in salary terms; educational attainment, location, industry and experience are just some of the reasons for wage differences.
Of course, some employers, such as the NHS (which is the UK's largest employer) publish clear and transparent salary expectations using a unique banding system. This provides salary brackets depending on the employee's level of expertise and experience.
It's important to note that salary expectations differ enormously depending on whether you are employed by the public sector (for example, government/state jobs) or the private sector. There are also huge differences between the employed and the self-employed.
This means that it's increasingly difficult to ascertain for certain what the average salary is in the UK.
However, in this article, we'll use the information published by the Office for National Statistics (ONS) to provide an accurate overview of what the average UK salary is in 2022.
For information on the average US salary, check out our separate article here.
How Much Does the Average Brit Earn?
For the tax year ending 05 April 2020, the median annual salary for full-time employees in the UK was £31,461.
This represents the workforce from 06 April 2019-05 April 2020.
As an average income, it represents the middle value – there will be a considerable number of UK residents earning far greater salaries as well as a significant proportion earning much less.
Many different factors could impact the average salary in the UK. Although legislation is in place to protect UK employees from discrimination (such as minimum/living wages), there is still a wide range of social issues that can impact your earning potential:
Age
In the UK, the highest earners are typically men aged between 40-49.
This is because they are likely to have gained considerable working experience and are at the peak of their full-time earning potential.
Those aged under 21 typically earn the least.
This could be because a significant proportion of those aged 16-21 will be in some form of education. As such, they will likely only be working limited hours.
It's also important to note that the minimum wage requirements are lower for employers under the age of 21.
Ethnicity
The UK is a multicultural society, and much work is being done to reduce any ethnic pay gaps.
'Most of the minority ethnic groups analysed continue to earn less than White British employees but, in 2019, those in the Chinese, White Irish, White and Asian, and Indian ethnic groups all earned higher hourly pay than White British employees'
(Source: ONS)
Ethnicity pay gaps can differ across the UK; this may depend on the type of work available within that area.
For example, those living in large cities such as London may have access to better educational opportunities as well as a broader selection of industries.
In contrast, those living in smaller areas in the Midlands/the North of England may rely on manual or factory work which is paid less.
Gender
The UK government recognises that many women are paid proportionally less than their male counterparts.
This is often because women have traditionally taken career breaks to have children/look after family members. As a result, women have often noted that their careers and their earning potential have been affected.
To overcome this, the UK government has introduced Shared Parental Leave (SPL).
This means that new parents or adoptive parents can take up to 50 weeks of leave (37 weeks paid) in a bid to share parental responsibilities.
Reducing the gender pay gap is also a priority. Organisations with more than 250 employees are legally required to publish annual reports detailing their gender pay gaps.
Location
The UK is densely populated and, as a result, your choice of location may have a significant impact on your earning potential.
Much of the UK's economy is based in London, and many people choose to work in the capital in a bid to earn more money. However, it should be noted that the higher living costs/commuting costs may outweigh the higher salaries.
There are also clear sector-specific locations across the UK. For instance, much of the UK's media is now produced in the North West, in Manchester.
The Midlands is known for its manufacturing capabilities.
Rural locations, such as Cornwall or East Anglia, may have limited career opportunities which could result in lower average salaries.
Educational Attainment
Your level of education will impact your salary opportunities.
Those with a degree will be more likely to earn far more than those with just GCSE or A-Level qualifications.
However, many employers advocate for experience above results. They will be actively looking for those who have taken the initiative to gain relevant work experience, undertake voluntary roles or sign up for work-based opportunities to enhance their CV.
There are many initiatives in place (such as The Prince's Trust, which was established by HRH Prince Charles) that set out to ensure equal access to job roles, regardless of your background or educational success.
Public Sector vs Private Sector
There are significant pay gaps between comparable roles within the public and private sectors.
Public sector employees typically work for organisations such as local councils, schools or the NHS.
As government employees, they benefit from exceptional benefits such as high pension contributions and/or a generous holiday entitlement, as well as comprehensive sick leave.
In contrast, a private sector employee may be paid a greater financial value but will likely only have a statutory entitlement to benefits such as pensions, sick leave and holiday entitlement.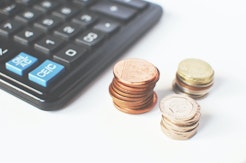 Average Salary Information for UK Workers
Employed vs Self Employed
There are also significant differences in the salaries of employed and self-employed workforces.
Those who are employed will have access to statutory benefits such as maternity or shared parental leave, holiday pay, sick leave, and pensions. Employed workers do not need to worry about their tax as this is taken care of by their employer.
The self-employed workforce can set their own wage requirements, but they are responsible for all outgoings as well as their tax payments.
Self-employed workers often charge more than employed workers to cover the shortfall as they may not be entitled to the same statutory provision as their employed peers.
What Are the Legal Minimum Wage Requirements in the UK?
On 06 April 2021, the UK minimum wage will increase.
The minimum wage differs depending on your age.
Age 23 or over (national living wage rate): £8.91 (up 2.2% from £8.72)
Age 21 to 22: £8.36 (up 2% from £8.20)
Age 18 to 20: £6.56 (up 1.7% from£ 6.45)
Age 16 to 17: £4.62 (up 1.5% from £4.55)
Apprentice rate: £4.30 (up 3.6% from £4.15)
From April 2021, the national living wage will apply to anyone over the age of 23. Previously it was only for those aged 25+.
What's the Difference Between Minimum Wage and Living Wage?
The minimum wage is the minimum amount that an employer is legally allowed to pay you.
The national living wage is slightly higher; it's deemed the amount of money needed for an employee to be able to have an acceptable standard of living.
In the UK, many large employers such as Aviva, Ikea, Nestle, Nationwide and KPMG have been certified as paying their employees a fair and generous salary.
How UK Salaries Compare Across Different Subgroups
To help establish the average UK salaries, we've broken them down per subgroup.
All statistics have been provided by the latest releases published by the Office for National Statistics.
What Is the Weekly Average Salary by Gender in the UK?
The weekly median salary for all employees in the UK in 2020 is £479.10.
For men, this rises to a median salary of £570.90, and for women, it's significantly lower, at £397.70.
What Is the Weekly Average Salary by Age in the UK?
The annual estimates of paid hours published by the ONS show a huge difference in the average weekly salaries for employees in the UK.
The table below shows a breakdown of how this differs between age as well as gender.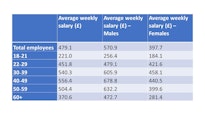 How to Find Average Salary Information for UK Workers
How Can Location Impact Your Average Salary in the UK?
According to the Annual Survey of Hours and Earnings (ASHE), the median earnings for employees working in London is £640 per week, making it the highest region in the UK.
It is followed by the South East which is £498 per week.
If the salary is broken down into large cities, employees in Manchester could expect £600 per week, Newcastle Upon Tyne is £575 and Cambridge is £658.
If we look at smaller, rural areas this continues to change dramatically.
Employees in Ipswich could earn £506 per week, Northampton is £519 per week and Cornwall would be £462 per week.
What Is the Average Salary by Ethnicity in the UK?
There are clear discrepancies between the hourly pay of different ethnicities in the UK.
The most recent ethnicity pay gap report was published in 2019.
For those aged 16-29, most ethnic minority groups earn more than White British, yet when it looks at those aged 30+, White British people earn more than ethnic minority groups.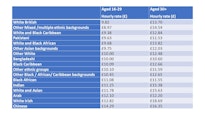 How to Find Average Salary Information for UK Workers
What Is the Weekly Average Public Sector Salary in the UK Compared to the Private Sector?
In November 2020, private sector employees earned an average salary of £523 (excluding bonuses).
This was significantly less than public sector employees who earned an average salary of £569.
What Is the Weekly Average Salary by Industry or Occupation in the UK?
UK salaries vary hugely depending upon the sector or occupation.
In November 2020, those working in finance and business services were paid an average salary of £653 per week.
Those working in manufacturing earned an average salary of £604 and construction was £624.
Employees working in wholesaling, retailing, hotels & restaurants earnt a substantially lower £352 per week.
Why Is It Important to Know if You Have a Good Salary?
There are many reasons why you may wish to know if you have a good salary whilst working in the UK.
You may be researching a new career or you may be looking to see if your pay grade is in line with your peers.
You may even be trying to establish if you have any basis to ask your line manager for a pay increase.
You may even be considering relocating to another area and want to gauge whether you will be financially advantageous.
In the UK, there is a reluctance to talk about financial matters, even with family and friends. This can lead to many employees being unaware if they are being paid their worth, especially when compared to co-workers.
Some companies may discourage staff from discussing salaries but, legally, under the Equality Act 2010, you have the right to discuss salaries, especially if these discussions are for collective bargaining or protection.
The Importance of Gender Pay Gap Reporting
Another reason why it's vital to know what you should be paid is that keeping salary expectations under wraps is how gender and ethnicity pay gaps emerge.
As we've already mentioned, the UK requires large companies to publish details of their gender pay discrepancies. They need to produce an annual report (which should be freely available on their website) that outlines any differences in pay between genders.
As well as the financial figures, most firms choose to publish a statement explaining any reasons for the discrepancies and how they plan to overcome them (such as appointing more women to senior roles or encouraging women to apply for promotions).
Where Can You Find Out About Typical UK Salaries?
There are many places that you can learn about what an 'expected' salary should be – although they should always be used as a ballpark figure or a suggestion rather than an exact amount.
The informative information available on payscale.com will allow you to research specific industries/sectors in the UK and understand what you may expect to get paid.
Each subcategory is broken down into specific job roles, allowing you to get a comprehensive look at your specific area of expertise.
It's also beneficial to look at some current job adverts on recruitment sites such as Reed, Indeed or Glassdoor.
By finding comparable job roles in the location where you wish to work, you can find the right job that matches your skills. If two or three separate adverts are advertising for a similar salary range, then you can expect that it is accurate.
You may wish to look at the careers section of your professional membership organisation (if relevant). They will often have details about entry-level requirements and career advancement that will help you to identify what stage you are at in your career.
Similarly, many university websites will report details on further careers in a bid to showcase the job prospects beyond their academic study.
The job profiles section on the Prospects website is particularly useful for potential students to research the job requirements and opportunities.
Finally, we recommend using the information available from the Office for National Statistics. As the authoritative voice for statistics in the UK, their information is based on informed research, and as such will give you an indication of how the economy is changing each month.
Final Thoughts
There are many different facets to the average salary in the UK, and you must consider any nuances such as experience, location and sector.
The average full-time salary in the UK is £31,461. For many people living outside of London, this can provide a good lifestyle, although that may depend on your outgoings.
It's important to be aware of the minimum wage legislation and, if you receive any state benefits, how these can be affected by your income. For example, if one person in your household earns over £50,000 per year, you may lose your Child Benefit allowance.
As we've discussed, your choice of working in the public vs private sector may also influence your salary expectations, as well as your job security.
In 2020, those working in public sector roles were far more likely to have job stability than the private sector. Equally, those in employed roles often have far more advantages than self-employed peers who may charge higher rates.
Ultimately, your salary will depend on a variety of different factors and you must consider all of them.
---