The Best Free University and College Courses for Leadership
What Is an Online Leadership Course?
Leadership is an essential skill for anyone wanting to progress in their careers.
Over the decades, there has been extensive research into leadership best practices. As workplace trends evolve, so does the role of the leader.
Before, leaders held a more authoritative position in the team. Now, their role is more collaborative.
Online courses or MOOCs (massive open online courses) allow leaders and potential leaders to keep up to date with new findings and develop new skills.
Why Should I Take an Online Leadership Course?
Studying to improve or learn about leadership has several benefits.
The first is that to be a good leader you need to know your leadership style.
There are many courses that can help you find your style and teach you how to maximize its strengths.
Learning about other styles and methods can also benefit you and your team. For example, if your style is more bureaucratic, could you begin to incorporate visionary-style elements?
The second benefit is that some people struggle with leadership and need further training to build confidence.
They suffer from imposter syndrome and feel that they should not be in a senior position. Yet, taking on a leadership role is part of their career development plan.
Completing additional online courses may benefit those who don't find decision-making or delegating easy.
The third benefit is that of being a better leader. Having strong leaders has many benefits:
Who Might Benefit From an Online Leadership Course?
Those Interested in Continuous Learning
As mentioned, leadership roles are continuously evolving, so it is important to keep up with new developments.
Technology is constantly changing the work landscape. Employees look to their leaders for help and support when a new program or software is introduced. Therefore, it is essential for you to stay ahead.
Those Interested in Expanding their Current Skill Set
Anyone can complete leadership courses. You don't have to be in that role or in line for a promotion to start exploring the subject.
The skills you learn from being a leader are transferable skills that can be utilized in all areas of your life.
Those Preparing for a Promotion
Having a good foundation before starting your official training can help you progress further and understand the subject better.
It also shows that you are dedicated and ready for this new challenge.
If your employer sees that you are using your free time to improve yourself, they are more likely to consider you for promotions.
Those Considering a Career Change
Before making a move into another career, it is essential to explore the topic first.
You don't want to change your entire career only to discover it isn't what you thought it would be.
Taking some online courses can help you decide if the topic is of any interest to you.
Those Starting their Degree
You may be about to start your college course or an MBA in leadership and want to make a good impression.
Completing a few foundation courses will give you a good understanding of the subject.
If you want to study any part of leadership further but it isn't in your curriculum, you can always complete a MOOC to show future employers that it is something you have an interest in.
These courses are also useful if you are unsure of which topic to study. Degrees are costly, and you don't want to invest in the wrong one.
Completing some free courses will allow you to decide if it is the right subject for you.
What Can I Expect to Learn From an Online Leadership Course?
The exact leadership skills you can expect to learn will vary depending on the course type and content. However, you can expect to learn:
Communication
Communication is an essential part of leadership. How we communicate determines how another person interprets that message.
You want to ensure that all your communication is received positively. Any course that improves that skill is worth taking.
Motivation
Knowing how to motivate people positively isn't always an easy skill to master. It takes emotional intelligence and patience.
Constantly improving your motivation skills will benefit both you and your team. It will teach you to deliver better constructive criticism and goal-setting sessions.
Delegation
This is a skill that many leaders struggle with.
Completing courses that teach you how to delegate and help you discover why you have a problem delegating will make you a much better leader.
Team Building
Almost every leadership course will touch on team building.
As teams and projects change, you must know how to build a new team and get the best from them.
Handling Conflict
Conflict in the workplace is never a good thing. As a leader, you are expected to take an active role in conflict resolution.
Taking courses around this specialization will make it easier for you to handle should conflict arise.
More importantly, they will also teach you how to prevent conflict.
Improved Confidence
Taking the time to develop existing skills and learn new ones will improve your confidence in the workplace.
These courses may also encourage you to implement a new system or way of thinking that improves productivity.
Increased Opportunities
The more you put yourself out there and showcase your new skills, the more likely you are to be noticed by your employer.
If the work you do is good, this may lead to promotions or new opportunities.
How to Improve Your Leadership Knowledge Alongside Your Free Online Leadership Courses
Career growth and development is essential for most people's long-term goals.
Very rarely do these things happen naturally. You have to be proactive in your life and find opportunities where you can develop and thrive.
Here are some tips:
Find a mentor – Finding a mentor isn't always easy. Use networking events and schemes to find someone who shares your values. Learning from someone you admire can change your professional life for the better.

Self-reflection and evaluation – Take the time to evaluate your strengths, weaknesses and how you react to situations and people. Do you have biases that influence your decision-making? Do you easily judge? Learn all you can about yourself, so you know what areas you need to improve on.

Take advantage of everyday opportunities – Leadership skills can be used in everyday situations, from ordering your coffee to catching up with friends. Take every opportunity to practice skills like active listening, learning people's names and speaking in public.

Do something you care about – When you are passionate about something it shows, and it inspires. Try to lead projects you enjoy or work in a setting that suits you. That way, you are in a position to make the best possible decisions.
The Best Free University and College Courses in Leadership
The below courses are all MOOCs, meaning that they are free to access and complete, but you may need to pay for an official certificate and additional course material.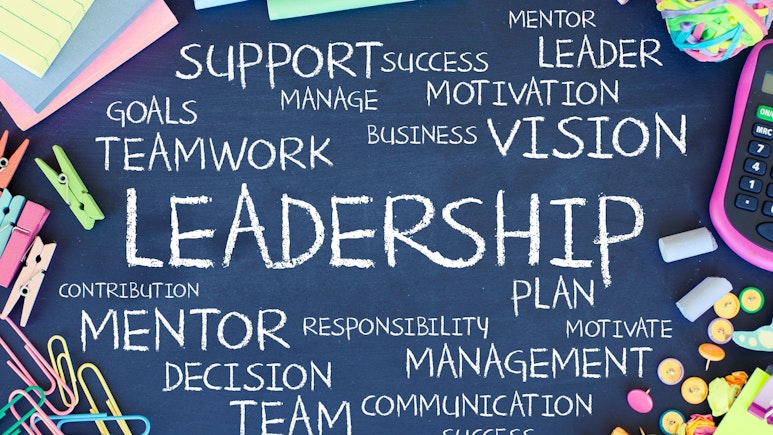 The Best Free University and College Courses for Leadership
General Leadership Courses
Duration: Eight months, approximately two hours per week
Level of enrollment: Intermediate
Additional fees: £42 for certificate and unlimited access
Delivery: Self-led and fully flexible schedule
50% of learners have started a new career after completing this specialization.
The course teaches you to overcome chronic stress and renew your body to become a better leader.
The modules taught include:
Inspiring leadership through emotional intelligence
Women in leadership
Conversations that inspire
Leading positive change
All Coursera specializations come with a mandatory capstone project, should you want your certificate.
Visit Inspired Leadership Specialization – Case Western Reserve University
Duration: Two weeks, three hours per week
Level of enrollment: Those with existing management responsibilities and experience
Additional fees: £52 for a verified certificate and unlimited course access
Delivery: Self-led
A thought-provoking course that helps you discover your leadership style and influencing power.
The topics covered are:
Why leadership is different to management
What effective leadership is
How individual differences shape the perception of leadership
This course introduces the Deakin University postgraduate degree in leadership, which is 100% online and available on FutureLearn.
Visit What is Leadership? – Deakin University
Duration: Four weeks, two to three hours per week
Level of enrollment: Beginner
Additional fees: £101 for a verified certificate
Delivery: Self-led but limited start dates
This introductory course teaches the main principles of leadership, including:
Identifying the work that needs to be done
Lead with, beyond and without authority
Take action – think politically, build trust and orchestrate conflict
The course is taught by Ronald Heifetz, founder of the Center for Public Leadership.
Visit Exercising Leadership: Foundational Principles – Harvard University
Duration: Four weeks, two to three hours per week
Level of enrollment: Advanced
Additional fees: £144 for a verified certificate
Delivery: Self-led
Agile leadership focuses on facilitation and communication skills rather than traditional leadership traits.
Its goal is to train inspiring leaders to suit new working environments and attitudes.
The topics covered are:
Overview and key roles
Building self-organizing teams
Decision science and human mind heuristics
Managing bias through mindfulness and emotional intelligence
Visit Agile Leadership Principles and Practices – University of Maryland
Duration: Five months, approximately three hours per week
Level of enrollment: Beginner
Additional fees: Monthly subscription for additional features and certificate
Delivery: Self-led and fully flexible deadlines
This specialization promises to teach you the essential leadership skills needed to inspire, influence and motivate.
The course is led by professors from the Ross School of Business.
It features guest lectures from the Global Head of HR at Morgan Stanley and the Head Coach from the University of Michigan's Men's Basketball Team.
The five-month course covers:
Inspiring and motivating individuals
Influencing people
Leading teams
Leading people
Additionally, the top-scoring students will receive one of the following:
Office hours with a member of the faculty
One credit towards the Michigan Ross Distinguished Leader certificate
A waived application fee to Michigan Ross graduate programs
LinkedIn recommendation or endorsement from a faculty member
Visit Leading People and Teams Specialization – University of Michigan
Decision-Making Courses
Duration: Five hours
Level of enrollment: Designed for those wanting to build on their knowledge
Additional fees: Will need a Coursera subscription for certificate
Delivery: Self-led and flexible deadlines
This course is also part of two other programs:
Career Success Specialization
Project Management and Other Tools for Career Development Specialization
It aims to instruct students on using critical thinking for analysis, synthesizing and positive inquiries.
The course covers:
Introduction to problem-solving
Decision-making models
Implementing decisions
Course reviews say it is concise, informative and enjoyable.
Visit Effective Problem-Solving and Decision-Making – University of California, Irvine
Duration: Seven weeks, five hours per week
Level of enrollment: Intermediate – knowledge of economics, financial institutions, maths and logic needed
Additional fees: £52 for certificate
Delivery: Self-led
This course provides students with the scientific background needed to develop into a forward-thinking decision-maker.
The course features guest lecturers and real-life case studies.
The modules covered are:
Complexity and uncertainty
Emergence and networks
Evolutionary dynamics
Individual decision-making and entrepreneurship
Visit Decision-Making in a Complex and Uncertain World – University of Groningen
CEO and Innovation Courses
Duration: Two weeks, three hours per week
Level of enrollment: Beginner
Additional fees: £52 for certificate
Delivery: Self-led
Designed for anyone wanting to be more innovative in their personal and professional life, this course will get you to critically reflect on your past experiences to improve future decision-making.
Topics include:
Personal experience of change
Strategic thinking and drift
Leadership and strategic purpose
The play to win model
Reviews of the course say it is insightful and thought-provoking.
Visit Leading Strategic Innovation: How to Lead with Purpose – Coventry University
Duration: Two weeks, two hours per week
Level of enrollment: Designed for any level, from any profession
Additional fees: £25 for certificate
Delivery: Self-led
The majority of new opportunities come through the professional relationships we cultivate. But not everyone finds networking easy.
This course aims to provide those who struggle with networking actionable steps to implement immediately.
The course focuses on:
Leveraging different networking tools
Face-to-face relationship building
Visit Building Effective Professional Networks and Relationships – Central Queensland University
Duration: Four weeks, four to six hours per week
Level of enrollment: Intermediate
Additional fees: £145 for a verified certificate
Delivery: Self-led
Babson is considered one of the top universities for entrepreneurship education.
The course is designed to prepare you for that corner office or for running your own business.
This course covers:
Getting results
Creating culture
Driving innovation
Formulating strategy
Visit Rise to Leadership: Become a CEO – Babson
Final Thoughts
MOOCs come with both advantages and disadvantages. They are an excellent resource for learning new information and skills. They are often short and can be completed on any smart device, laptop or computer.
However, they can become costly if you need certificates or additional material.
But regardless of your level of understanding, there is a free university or college course that will help you develop the leadership skills you want.
---