Top 50 Team Motivational Quotes
As a leader, motivating your team is essential to setting the right tone and creating a positive work environment. This is especially important when doing teamwork.
Using team motivational quotes as a manager is a great way to inspire your team since the information is read in just a few seconds and is easy to absorb.
Why Motivational Quotes?
A good team motivational quote can inspire your team to work hard and achieve their goals.
Motivational quotes can give your team members new perspectives, leading to a more practical way of doing a task or even starting a whole new project.
It can also give them new ways to process information and handle stress and their emotions when dealing with difficult situations.
When inspirational and successful people talk about their way of working or mindset, there are often snippets that, even out of the wider context, offer crystalized insight into what allowed these people to succeed.
These quotes can be relatable to your employees and are a great way to motivate people to not give up, work hard and reach their goals.
Who Should You Quote?
There is likely an endless number of motivational quotes. But you will have to sift through a lot of chaff to find them.
Further, you must choose the right quotes for your team. This is why it is important to know your team members' personalities and preferences.
The motivational quotes that you choose should apply to a common goal across your team and ideally entire company.
Additionally, if they are a quote from a recognizable person, they will likely have more impact.
While motivational speakers make a living off of inspiring strangers, this works because of their charisma and charm in person, which a poster on the wall cannot have – motivational quotes carry more weight when they can be connected to a person your employees already have a positive image of.
Therefore, the quotes contained within this article are all from recognizable, famous people.
How to Use Quotes in the Workplace
There are a few different ways that you can use motivational quotes in the workplace.
Include Quotes in Your Meetings
It can be difficult at times to motivate your team if they arrive with low energy – consider a Monday morning meeting where your team is fighting off the weekend blues and aren't showing much drive.
This is where you can bring in your motivational quotes to inspire your employees to crush their goals.
Quotes are a great way to instil some motivation into the teamwork, can be worked into any leadership style and may resonate in your teammates' minds long after the meeting, continuing to motivate them subliminally.
When motivating your team with a speech or in a meeting, it's important to try to relate to your employees. Make sure that they feel you understand their difficulties and show that you really want to help them.
Create an Opportunity to Allow Team Members to Share Their Favorite Quotes
Allowing your employees to contribute is a great way to motivate them.
Helping others is a sure-fire way to make yourself feel good and by offering an opportunity for team members to share what inspires them, not only will the shared quotes be motivating them but the feel-good factor will increase team-bonding and improve relationships.
Team members may also resonate better with quotes shared by other team members instead of those by management.
Creating an inspirational Slack channel or seeking suggestions to share on your social media channels can be ways to prompt this.
Display Motivational Quotes Around the Office
Finding creative ways to display motivational quotes around the office is another great way to share inspirational team-building quotes around the office.
For example, you could print out quotes and stick them to the front door, the coffee machine or the water cooler. Or you could get more creative and reward everyone with a personalized mug or mouse pad with a handpicked quote to show you care.
If your team is mostly remote, you could use the office's default screensaver to show a few different positive team quotes throughout the day.
You could also put that email marketing software to use and send out a daily or weekly email with a motivational quote and what you personally gain from it.
What Makes a good teamwork quote?
A good teamwork quote is something that resonates with your employees.
It should be relatable and by a recognizable person.
It should also ideally not be overused – there are several quotes that have made their way around the internet many times that have lost their meaning by over-sharing.
Top 50 Team Motivational Quotes
Without further ado, here are the top 50 motivational quotes that would be a great inspiration to any team:
1.
If everyone is moving forward together, then success takes care of itself
– Henry Ford, founder of the Ford Motor Company.
Henry Ford is hailed for kick-starting the American middle-class by giving his factory workers over twice the daily minimum wage, which other car manufacturers were then forced to follow. Here's another of his inspiring quotes:
2.
Coming together is a beginning, staying together is progress, and working together is success.
No one can whistle a symphony. It takes a whole orchestra to play it.
– H. E. Luccock, a prominent anti-fascism Methodist minister, who is often quoted.
4.
Great things in business are never done by one person; they're done by a team of people.
– Steve Jobs, founder of Apple.
Steve Jobs instilled in his employees a strong desire to share hard work, passions and a clear vision. Creating truly great products was Jobs' desire and what drove him, as opposed to what customers thought they wanted.
5.
It is amazing what you can accomplish if you do not care who gets the credit.
– Harry Truman, the 33rd president of the US.
6.
The only place where success comes before work is in the dictionary.
– Vidal Sassoon, world-renowned hairstylist, businessman and philanthropist.
7.
If it scares you, it might be a good thing to try.
– Seth Godin, an innovative and successful marketing director.
8.
Talent wins games, but teamwork and intelligence win championships.
– Michael Jordan, popular basketball player and businessman.
9.
Find a group of people who challenge and inspire you, spend a lot of time with them, and it will change your life forever.
– Amy Poehler, famous actress known from Saturday Night Live and as Leslie Knope in Parks and Recreation.
10.
None of us, including me, ever do great things. But we can all do small things, with great love, and together we can do something wonderful.
– Mother Teresa, Catholic saint, missionary and charitable worker.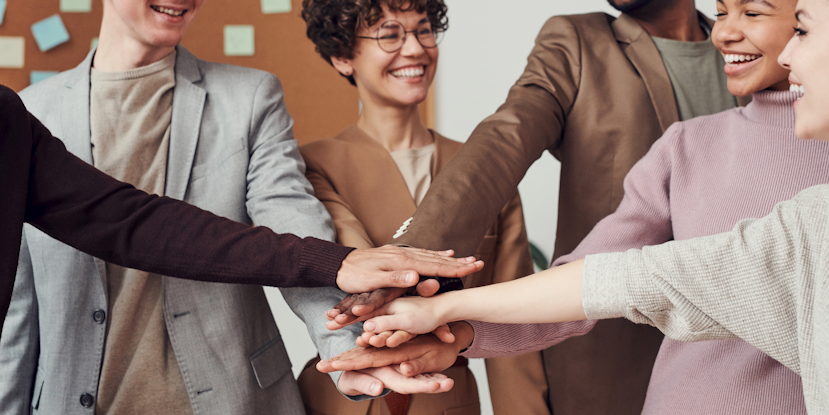 Top 50 Team Motivational Quotes
11.
Teamwork is the ability to work together toward a common vision, the ability to direct individual accomplishments toward organizational objectives.
– Andrew Carnegie, one of the richest Americans in history who helped expand the American steel industry.
12.
It is the long history of humankind (and animal kind, too) that those who learned to collaborate and improvise most effectively have prevailed.
– Charles Darwin, founder of the theory of evolution.
13.
There is no such thing as a self-made man. You will reach your goals only with the help of others.
– George Shinn, former owner of the Charlotte Hornets basketball team and other sports teams, and the founder of scholarships foundation.
14.
If you want to lift yourself up, lift up someone else.
– Booker T. Washington, a former slave who became one of the Black elites in the early 20th century.
15.
I'm not the smartest fellow in the world, but I sure can pick smart colleagues.
– Franklin D. Roosevelt, 32nd president of the US.
16.
The strength of the team is each individual member. The strength of each member is the team.
– Phil Jackson, an executive in the US National Basketball Association (NBA).
17.
Setting a goal is not the main thing. It is deciding how you will go about achieving it and staying with that plan.
– Tom Landry, professional American football player and coach who developed many new football tactics.
18.
To build a strong team, you must see someone else's strength as a complement to your weakness and not a threat to your position or authority.
– Christine Caine, an Australian evangelist, author and activist who campaigns against human trafficking.
19.
It takes both sides to build a bridge.
– Fredrik Nael, popular Indonesian author.
20.
Individual commitment to a group effort – that is what makes a team work, a company work, a society work, a civilization work.
– Vince Lombardi, US National Football League (NFL) executive and the head coach of the Green Bay Packers who lead them through five NFL championships.
21.
If I have seen further, it is by standing on the shoulders of giants.
– Isaac Newton, founder of modern physics.
22.
To win in the marketplace you must first win in the workplace.
– Doug Conant, former long-time CEO of the Campbell Soup Company.
23.
Growth is never by mere chance; it is the result of forces working together.
– James Cash Penney, founder of J. C. Penney.
He attributed the success of his own business to the application of the 'Golden Rule', which was to treat others as we would like to be treated.
24.
One piece of log creates a small fire, adequate to warm you up, add just a few more pieces to blast an immense bonfire, large enough to warm up your entire circle of friends; needless to say that individuality counts but teamwork dynamites.
– Jin Yong Kwon, Korean martial arts grandmaster.
25.
No matter what accomplishments you make, somebody helped you.
– Althea Gibson, a professional tennis player and golfer, and the first Black American to win the Grand Slam in the French Championships.
26.
It is literally true that you can succeed best and quickest by helping others to succeed.
– Napoleon Hill, author best known for his book Think and Grow Rich, which is among the 10 best-selling self-help books of all time. Hill believed passionate expectations are essential to improving one's life.
27.
The tragedy in life doesn't lie in not reaching your goal. The tragedy lies in having no goal to reach.
– Benjamin Mays, grandfather of the American civil rights movement.
28.
If you take out the team in teamwork, it's just work. Now who wants that?
– Matthew Woodring Stover, American novelist.
29.
Alone we can do so little; together we can do so much.
– Helen Keller, disability rights advocate and political activist.
30.
Keep away from people who try to belittle your ambitions. Small people always do that, but the really great make you feel that you, too, can become great.
– Mark Twain, American author, famous for works such as Tom Sawyer and Huckleberry Finn.
31.
I'm a greater believer in luck, and I find the harder I work, the more I have of it.
– Thomas Jefferson, Founding Father and third president of the US.
32.
What separates the good players from a great player is that a great player is willing to give up their own personal achievement for the achievement of the group.
– Kareem Abdul-Jabbar, American former professional basketball player who retired as the NBA's all-time leader in 10 categories including points scored.
33.
Every responsibility you get, make it a pocket of greatness.
– Jim Collins, American business researcher and consultant.
34.
Excellent firms don't believe in excellence- only in constant improvement and constant change.
– Tom Peters, author of In Search of Excellence.
35.
No individual can win a game by himself.
– Pelé, world-renowned soccer player.
Pele led Brazil to three World Cup championships. He scored 12 goals in World Cup play and tallied over 1,000 goals in first-class matches.
36.
Teamwork is the secret that makes common people achieve uncommon results.
– Ifeanyi Enoch Onuoha, Nigerian author, life coach and evangelist.
37.
You can get everything in life you want if you will just help enough other people get what they want.
– Zig Ziglar, successful salesman and motivational speaker.
38.
We may have all come on different ships, but we're in the same boat now.
– Martin Luther King, Jr., the most visible activist of the American civil rights movement.
39.
A business is like an automobile. Its people its wheels, their passion its fuel.
– Ajeet Sharma, Indian businessman and politician.
40.
Don't bunt. Aim out of the ballpark. Aim for the company of immortals.
– David Ogilvy, British advertising tycoon, known as the 'Father of Advertising'.
41.
Diamonds are nothing more than chunks of coal that stuck to their jobs.
– Malcolm Forbes, son of Forbes magazine founder B. C. Forbes, known for his extravagant lifestyle funded by publishing the magazine.
42.
Great teamwork is the only way we create the breakthroughs that define our careers.
– Pat Riley, American basketball executive and president of the Miami Heat time since 1995.
43.
I never dreamed about success. I worked for it.
– Estée Lauder, founder of the eponymous cosmetics company.
Estée Lauder smashed glass ceilings and was the only woman on Time magazine's 1998 list of the 20 most influential business geniuses of the 20th century.
44.
The nicest thing about teamwork is that you always have others on your side.
– Margaret Carty, American author of William Broughton and the Kennedy Connection.
45.
Setting goals is the first step in turning the invisible into the visible.
– Tony Robbins, American self-help author and coach.
46.
I invite everyone to choose forgiveness rather than division, teamwork over personal ambition.
– Jean-Francois Cope, a French politician who has served as Mayor of Meaux, Government Spokesman and member of the National Assembly.
47.
The smallest of contributions made collectively makes the biggest difference.
– Shahenshah Hafeez Khan, sales author.
48.
We're all part of one another. I would want people to understand who we are as human beings. I want us to look at the similarities more than the differences.
– Miss Major Griffin-Gracy, feminist activist and considered a founder of the modern trans rights movement.
49.
Concentrate all your thoughts upon the work in hand. The sun's rays do not burn until brought to a focus.
– Alexander Graham Bell, inventor of the telephone and founder of the American Telephone and Telegraph company.
50.
If we lift everyone's voice, then we can change the world.
– Laverne Cox, an American actress and trans rights activist famous for her appearance in 'Orange Is The New Black'.
Final Thoughts
To sum up, using inspiring positive teamwork quotes is a great way to motivate your employees. It can give them a unique insight into a problem they're facing or the drive to stick with a tough project.
Motivational quotes about teamwork are also a great way to encourage your employees to work better together and can give them the motivation to face any difficulties head-on and improve communication to ultimately achieve the team's goals.
There are a few different creative ways that you can use team inspirational quotes in the workplace, so you can certainly find one that fits your environment.
---